The main difference between Cloud ERP and On-Premise ERP is that Cloud ERP hosted on vendor servers and accessed over the Internet offers advantages such as cost-effectiveness, rapid deployment, and automatic updates, but can present challenges with data control and setting On the other hand, an on-premises ERP installed directly on a company's infrastructure provides greater data control and customization flexibility, but comes with higher upfront costs and slower deployment.
Further in the article, we will consider their fundamental differences, implementation features, advantages, and disadvantages. We are sure it will help you make the right choice!
What Is Cloud ERP?
Cloud ERP is software that is stored on the vendor's servers and is available over the Internet.
That is, we are talking about ready-made software solutions that can be quite easily integrated into your business environment and used out of the box. The software provider provides the infrastructure, updates, support, storage, and secure data.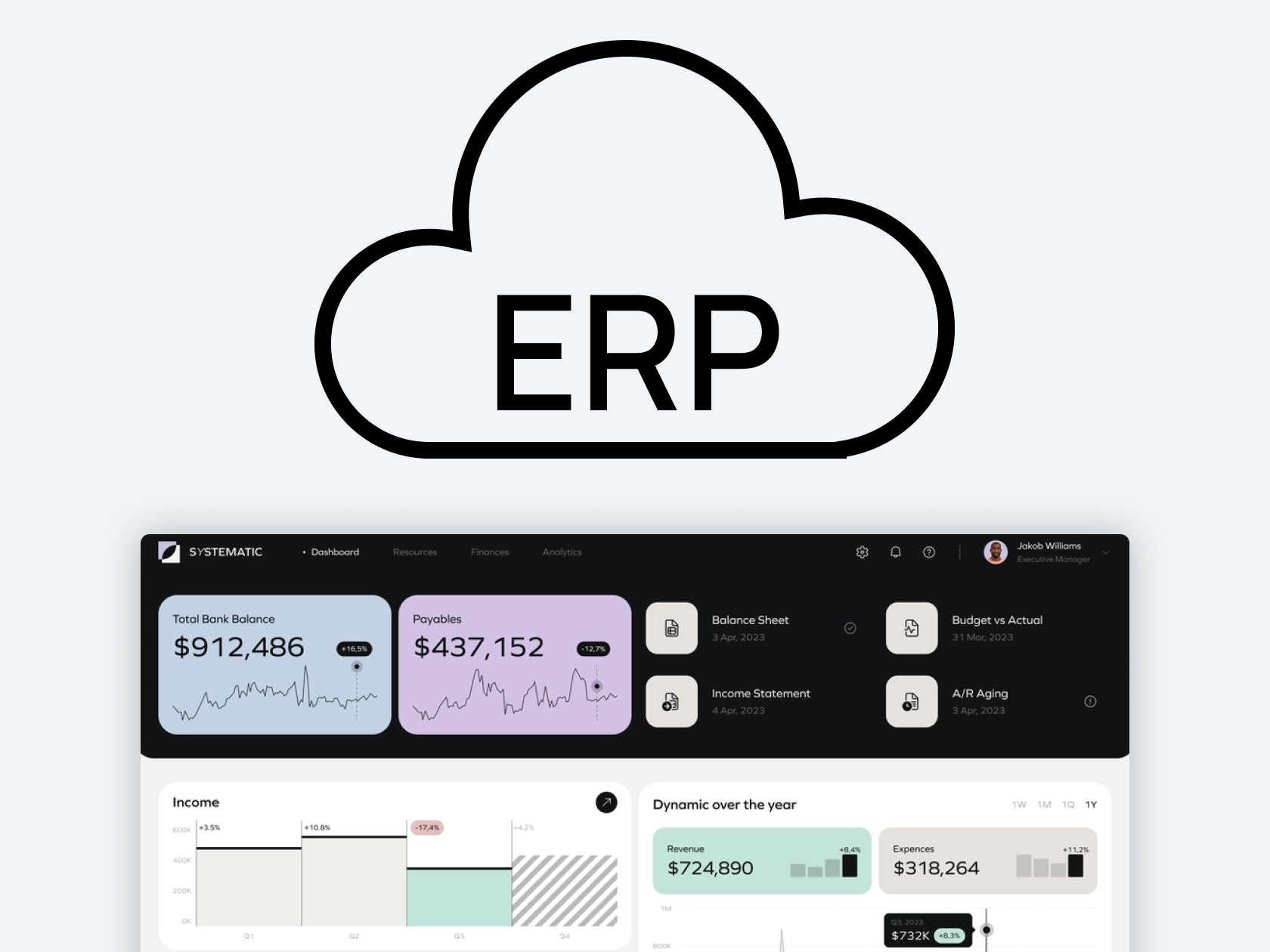 What Is On-Premise ERP?
On-Premise ERP is a local enterprise resource management system installed directly on company computers and servers.
In this case, the company itself is responsible for installation, maintenance, software updates, as well as data security and storage.
Market Share of Cloud and Local ERP
In fact, it is quite difficult to say exactly what market share is occupied by certain systems at the moment. However, we can rely on the results of the Oracle NetSuite study in 2022. So, according to Oracle, the distribution of the share of ERP systems is as follows:
SaaS ERP - 64%.
Cloud ERP - 21%.
Local ERP - 15%.
Relying entirely on these results is not entirely correct, because Oracle made a rather small sample. However, the general trend is in any case very obvious - local ERP is currently noticeably inferior to cloud systems.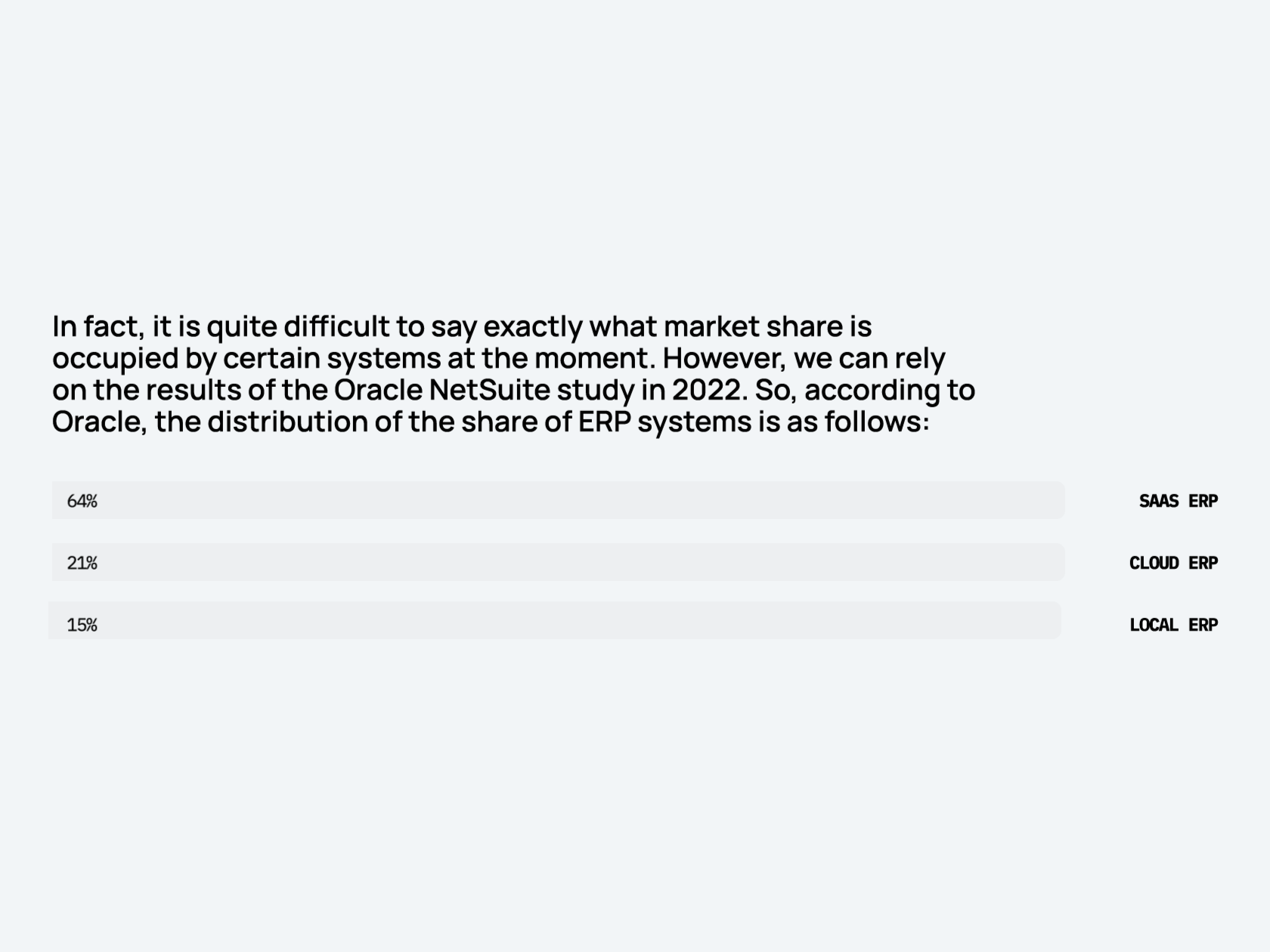 Cloud ERP vs On-Premise ERP Choice Factors
The popularity of cloud-based ERP systems is in fact absolutely justified in many cases. There are several key factors that make business owners prefer such ERP systems.
Price
Cloud systems in the vast majority of cases are noticeably cheaper than local ones because they are paid mainly by subscription. In addition, ERP cloud services save businesses from additional costs for the purchase and support of equipment, personnel, and electricity. For many, the issue of price is the decisive argument in favor of cloud ERP. This is not always a 100% correct solution, but we will return to this later.
Deployment Speed
An ERP cloud solution can be deployed much faster than an on-premises one, in days or even hours. The supplier is responsible for setting up and running the system, and the client, by and large, only needs access to the Internet. But the deployment of a local ERP system is a process that can take several weeks, months, and in rare cases even years. It requires complex integration with the client's existing infrastructure and business processes.
Safety
This aspect is not as unambiguous as the previous ones. On the one hand, cloud ERP systems can provide a higher level of data protection if the provider uses the latest encryption, backup, and recovery technologies. On the other hand, an on-premise ERP system gives the client much more control over the data, as it is stored on its own servers. But in the latter case, it is the client who has to bear the responsibility for maintaining the security of his system.
Implementation
The approach to the implementation of these two types of systems is also significantly different. Cloud ERPs are turnkey solutions that are flexible and relatively easy to set up. As mentioned above, the implementation process can take only a couple of hours. However, local ERP systems give the user much more opportunities for individualization and differentiation, they are easier to modify for the needs of a particular business, making them tailored specifically for your tasks. Accordingly, the efficiency of such a system will be higher.
Updating and Configuring the System
Cloud systems are updated automatically by the provider and do not require any specific actions from the user. This is a big plus since the business owner does not need to worry about updates and system updates - the supplier will do everything. However, on the other hand, local systems allow you to update and improve them as you see fit. Again, you can even more fine-tune and control the operation of the ERP system for yourself, rather than waiting for the vendor to roll out an update with the features you need.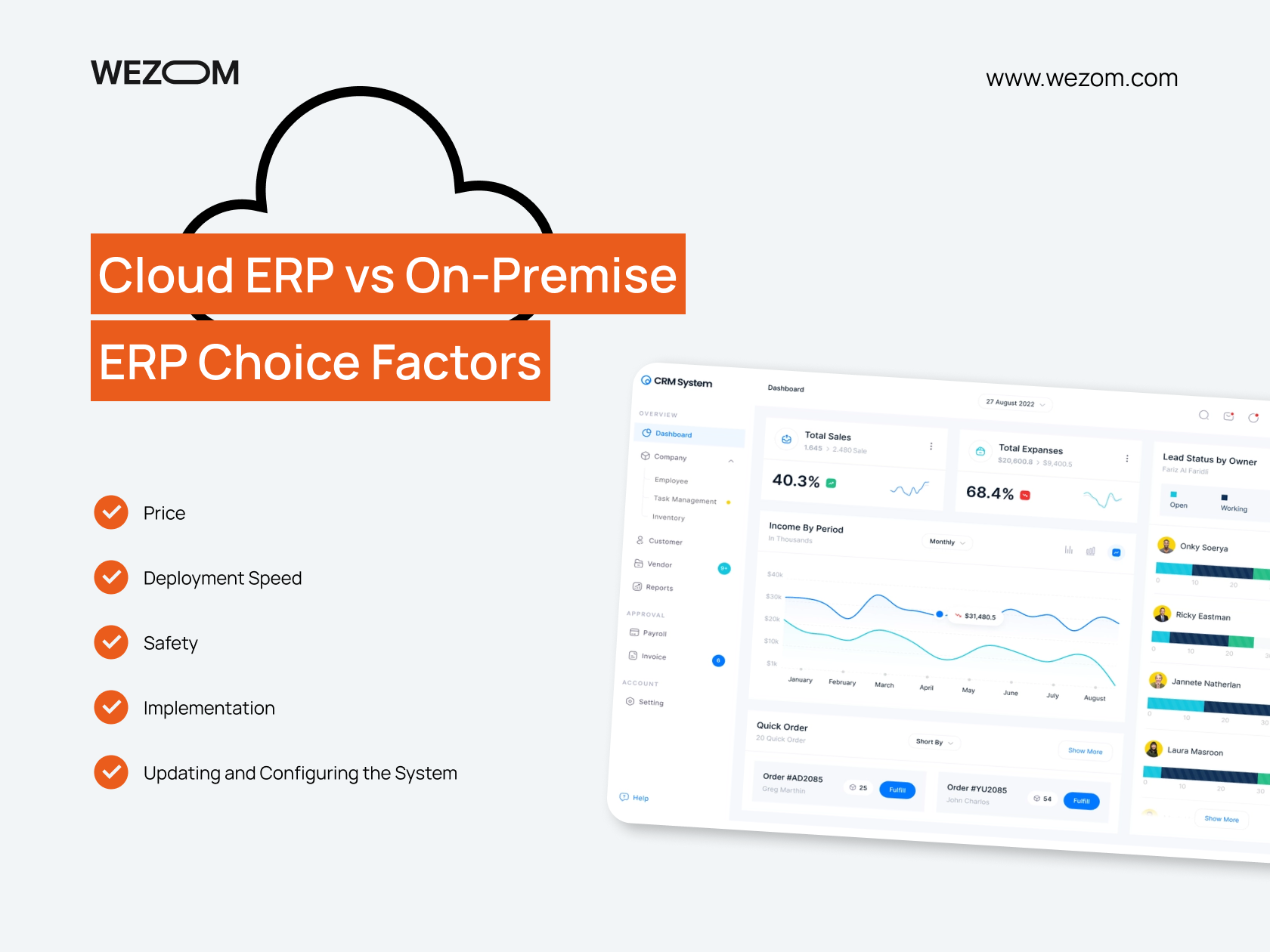 Advantages and Disadvantages of Cloud ERP
So, let's consolidate the benefits of cloud ERP systems:
Low initial cost as the customer pays for a service subscription rather than a software license.
Fast deployment speed as no installation is required on every computer or server.
High level of security, as the provider uses state-of-the-art encryption, backup, and recovery technologies.
Flexibility and standardization - the supplier provides ready-made solutions for different industries and with a certain set of functions.
Automatic updating, making all improvements and corrections to the system without client intervention.
But behind the obvious advantages, no less obvious disadvantages are hidden:
Weak control over data and systems, as they are stored on the provider's servers and not on the customer's own servers.
Limited customization, because the system can be less adapted to the specifics and requirements of the client.
Dependence on the Internet connection, because access to the system usually requires constant communication with the provider's servers.
Potential compliance issues due to data being stored in different jurisdictions.
Advantages and Disadvantages of On-Premise ERP Systems
Local on-premise ERP software in the enterprise also has a number of advantages:
Comprehensive control over data and systems, because they are stored on the client's own servers, and not on the supplier's servers.
Flexible configuration, with which the system can be modified to the specifics and needs of the client.
Independence from the Internet connection, since access to the system does not require constant communication with the provider's servers.
Better compliance with regulatory requirements due to the fact that the data is stored in one jurisdiction.
However, there are also disadvantages, as we have already mentioned:
High initial cost – the customer must purchase and install software and hardware.
Low deployment speed, because it requires complex integration with the client's existing infrastructure and business processes.
Not always a high level of security, because the client is solely responsible for maintaining the protection and compliance of his system with current security standards.
Sometimes – insufficient efficiency and innovation, because the client must keep the system up to date, scale it, update it, and so on. Many of these processes are not automated.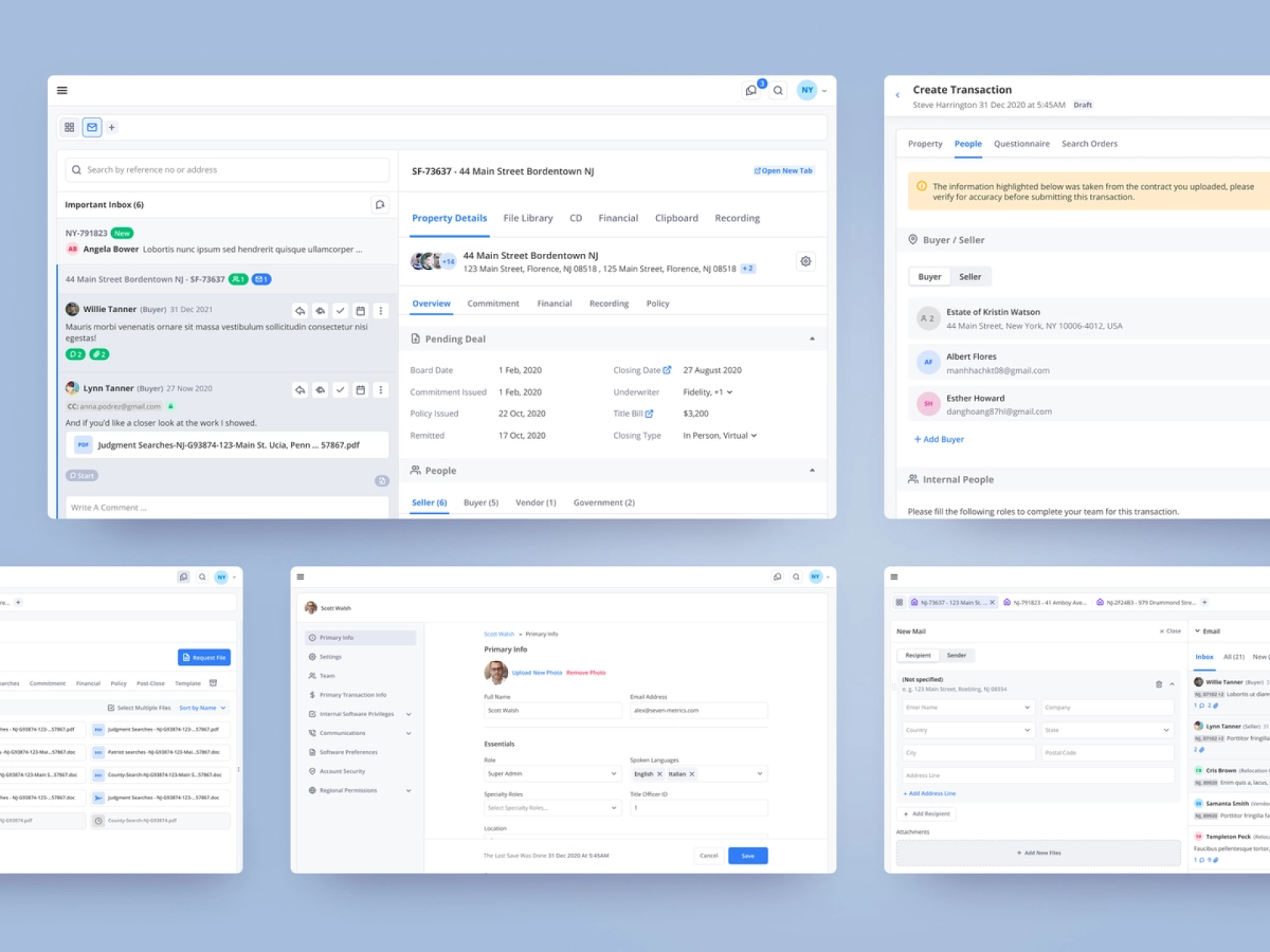 What Is Best for Your Business?
Given the combination of all the advantages and disadvantages, you most likely think that cloud ERP systems will be the best option for business. In fact, in most cases it is. The cloud system will be the best solution if the following factors are important to you:
Low initial cost and predictable costs for IT infrastructure;
High speed of deployment and readiness to work "out of the box";
Good level of security and data backup;
Standardization of business processes;
Automatic updates and system support.
However, there are many situations where On-Premise ERP is a much more reasonable solution. Such a system is suitable if the following is important to you:
High control over data and systems;
Stringent requirements for the control and configuration of data and systems;
Offline access and independence from the Internet;
Compliance with specific regulatory requirements for data storage.
At the moment, the main categories of users of local ERP systems are:
Banks and financial institutions for which a high level of data security and confidentiality, as well as compliance with applicable regulations and legal regulations, are critical.
Manufacturing companies with complex and unique business processes for which typical ERP solutions are not suitable due to the inability to fine-tune them and integrate them with other systems.
Government organizations need to store data in certain jurisdictions and prevent information from being shared with third parties.
Be that as it may, we strongly recommend that you do not rush to choose one or another system. Explore this topic in more detail, study other important articles on our website, like the possibility of using small business ERP systems and even better - ask for a consultation from a company specialist so that he will familiarize you in more detail with all the intricacies of different types of ERP systems and help you make the right choice.
Interested in a Custom ERP Solution for your Business?
Choose our ERP software company and receive complete automation of your digital and offline workflows!
How do you rate this article?