Android App development service
Creating a successful Android app can help to tap into a huge market, take advantage of more customization opportunities and less restrictive Google Play App Store policies to deliver unique value and great usability.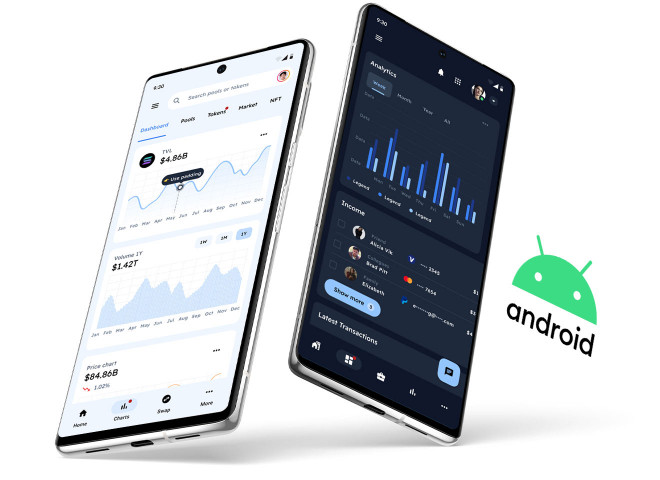 Great UI
Our Android development experts will provide the best user experience and exciting, unique visuals for your mobile app.
Scalability
We will ensure the longevity of your Android application by creating a scalable and flexible architecture.
Reasonable cost
Cooperating with our custom android app development team, you will never overpay for development services.
Code review
Our team of experts will review the program code so that you can be sure of its quality and clarity.
Using trending technologies
Together with the implementation of the best development approaches, we will introduce trending technologies at your request.
Full-cycle development
After launching your application on the market, we will continue its support and take responsibility for its updates.
Get the best Android app development experts at your disposal to create a high-performance and user-friendly mobile solution.
Full-cycle development
Using trending technologies
Code review
Reasonable cost
Scalability
Great UI
Web Platform
Database
Cloud & DevOps
Mobile apps
Questions & Answers
Check out some of the most common questions asked by the clients
What are Android app development services?
Android app development services comprise the design, development, and enhancement of mobile software that runs on all supported Android OS versions. Targeting Android with native, hybrid, and cross-platform Android app development services guarantees a sustainable and seamless mobile experience in application development for Android.
What is the cost of Android mobile app development?
According to Salary.com Android app development hourly rates, which currently hover around $50 / hour, the US app development price cost for application development for Android with a basic user interface and a set of basic features ranges from $16,000 to $32,000, Medium complexity Android app development services cost between $32,000 and $48,000.
How long does mobile app development take?
Mobile app development with android will usually take 3 to 4 months for an app that is ready for public release. When I say develop, I mean the engineering part of the process. This timeframe doesn't include the product definition or design stages of mobile Android app development.
Which language is Android app development?
The primary language used for Android app development is Java. It is the traditional and official programming language for Android development. However, Kotlin, a modern and more concise language, has gained significant popularity and is now widely used for Android app development as well.
Let WEZOM implement your Android solution at a reasonable price
If you are looking for experienced Android application development developers to bring your business idea to life, feel free to contact us.