Enterprise CRM Software Development
Wezom consultants and software engineers can implement a custom CRM solution to help you fulfill even the most ambitious strategies within your organization.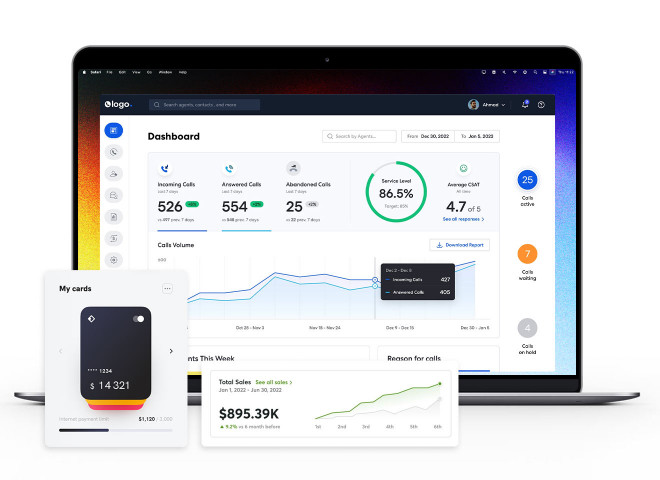 Better customer service
With us, you will provide top-quality service for your customers through a custom customer relationship management system that covers all stages of interaction with them.
Increased sales
Our development services will open up new opportunities for you to boost revenue by automating your business processes and, as a result, increase the number of transactions.
Improved customer retention
We will ensure that your support staff interacts with customers carefully at all stages of the sales funnel so that the number of completed deals constantly grows.
Workflow optimization
Our customer relationship management tools will help your support staff get the job done faster and more efficiently than ever before.
Higher productivity of your team
Your team will be able to concentrate on interesting tasks, while the routine ones will be entrusted to our custom software.
Managed communications
Thanks to our CRM software development services, you will be able to more closely control all stages of communication with your customers.
We will help you Get the best experts for customer relationship management software development at your disposal.
Managed communications
Higher productivity of your team
Workflow optimization
Improved customer retention
Increased sales
Better customer service
Web Platform
Database
Cloud & DevOps
Mobile apps
Questions & Answers
Check out some of the most common questions asked by the clients
CRM (Customer Relationship Management) software is a tool that helps businesses manage and streamline their interactions with customers. It enables organizations to store customer data, track interactions, manage leads and opportunities, and improve customer relationships through effective sales, marketing, and customer service activities.
A CRM, or customer relationship management system, is a digital solution that helps companies acquire new customers and nurture the existing ones.
What are the four types of CRM?
The four types of CRM systems include operational CRM systems, analytical CRMs, collaborative CRM solutions and strategic CRMs.
Why your business needs a CRM Software
●Improves customer relationships by centralizing and organizing customer data. ●Enhances sales and marketing effectiveness through lead management and targeted campaigns. ●Streamlines customer service processes and enables personalized interactions, leading to increased customer satisfaction and loyalty.
Make WEZOM your trusted software provider
If you are faced with the problem of non-compliance of ready-made customer relationship management systems with your needs, there is a way out. Contact us and we will discuss in detail the development of a custom solution for your company that will help you reach new business heights.