iOS App development service
By combining business objectives and smart technology solutions, you can tap into this market to boost your revenue and establish your brand's image with a professional user base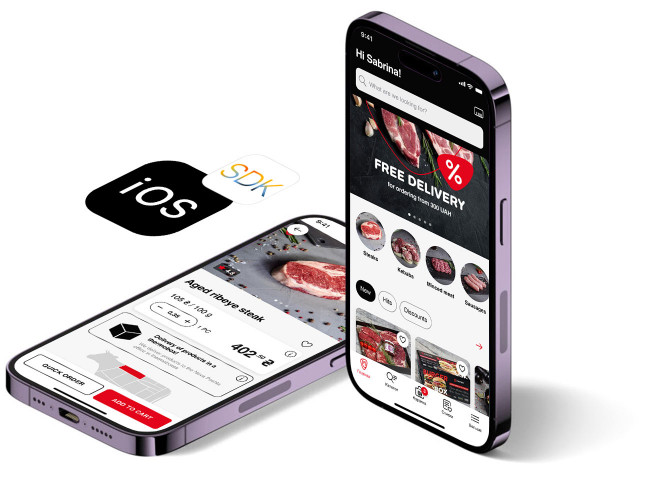 Individual approach
We will carefully analyze your business requirements for the project to implement them using the right technologies and software tools.
Stable code
Our experts will create a stable code for your iOS solution that will be easy to upgrade and expand over time.
Reasonable pricing
Our team will offer you the best price for development services so that you do not have to wait long for your project to start paying off.
Transparent workflows
We will regularly provide you with reports on the work done so that you understand what you are paying for.
Great prospects for modernization
Great prospects for modernizationOur iOS development team will create an easy-scalable architecture so that you do not have to create an update from scratch.
Impressive UI/UX
We will make sure to provide your target audience with an immersive user experience and eye-catching design.
Contact our iOS app development company to create a high-performance mobile solution.
Impressive UI/UX
Great prospects for modernization
Transparent workflows
Reasonable pricing
Stable code
Individual approach
Web Platform
Database
Cloud & DevOps
Mobile apps
Questions & Answers
Check out some of the most common questions asked by the clients
What is iOS in mobile development?
iOS is Apple's mobile OS that runs on iPhone, iPad, and iPod Touch hardware. iOS app development refers to the creation of applications for iOS. Apple provides tools and resources for creating iOS apps and accessories for these devices, as well as for mobile app development for iOS.
Which language is used for iOS app development?
What language is used for iOS development services? When it comes to iOS development, app development for iOS typically includes one of the two main languages, Swift or Objective-C, or JavaScript with the React Native framework.
How much does it cost to develop iOS?
As for iOS app development costs, you can learn how to develop apps for Apple platforms for free without enrolling. With just an Apple ID, you can access Xcode, software downloads, documentation, sample code, forums, and Feedback Assistant, as well as test your apps on devices. If you don't already have an Apple ID, you can create one now.
Choose us to create a competitive mobile solution
Order our iOS app development services to create a custom solution without harming your budget.