UX Review service
Successful products and services are not only visually appealing to your audience but are also highly tailored to users' needs. UX Design Review can ensure you are providing your users with the ultimate user experience and increase business value.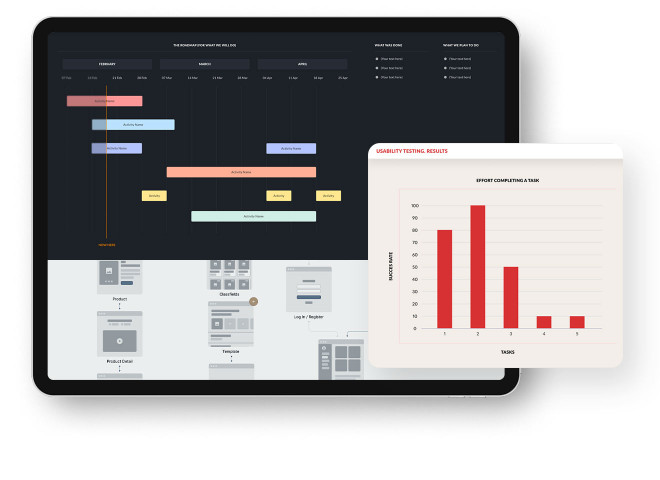 Improve conversion
Successfully increase the number of leads and sales from your website.
Refine your website structure
Create intuitive and user-friendly navigation with effective information architecture.
Reduce costs
Identify user experience errors early in the design process to avoid redesign costs.
Keep you brand consistent
Design a visual identity and brand assets for multiple channels.
Enhance productivity
Build design systems to create new visual assets in the blink of an eye.
Design web and mobile apps
Create seamless UX and beautiful UI for different platforms and devices.
Get an expert user experience review of your digital solution.
Comparison with competitors
Gaining new prospects
Tailoring the product to TA's needs
Issues identification
Product improvement
Product value estimation
Comparison with competitors
Web Platform
Database
Cloud & DevOps
Mobile apps
Questions & Answers
Check out some of the most common questions asked by the clients
What is a UX expert review?
A UX expert review is a type of design review that includes the inspection of a system (a website or an application) by a UX expert. The aim of such review is to check for possible usability issues.
How long does a UX review take?
It takes a minimum of one day for an experienced UX expert to perform a UX review. The analysis provided within one day allows for important insights and key recommendations.
Why is UX review important?
This kind of review helps to identify and fix a range of issues that may include problems with user interface, mobile usability, and other aspects.
Choose WEZOM as your trusted tech partner
Choose our UX review service and receive a detailed roadmap for improving your UX design. This will help you stand out from your competitors and save on marketing costs since your product will sell itself!