Marketplaces Development Services
Create your own marketplace that would start bringing you a stable income in the first months after its launch.
What Are Marketplaces for eCommerce Businesses?
An eCommerce marketplace, also known as a service marketplace, is a special type of online resource that helps facilitate transactions between customers and vendors. This type of eCommerce platform provides possibilities to collaborate to a diverse range of vendors, offering a variety of products online all in one convenient location. There are also different types like design marketplaces and software marketplaces for various businesses.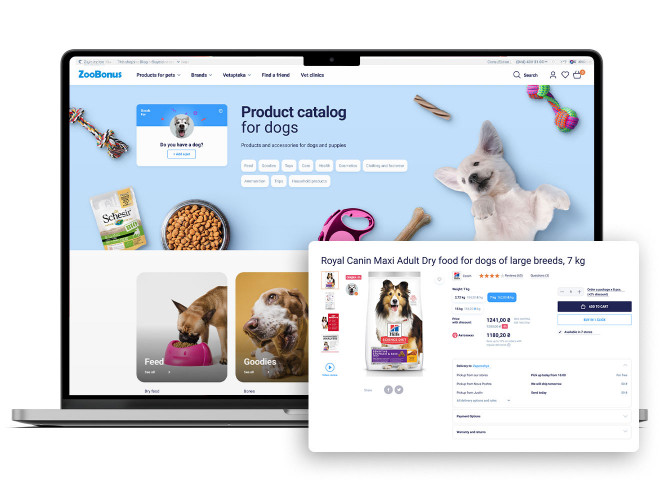 Marketplaces offer businesses a chance to find a wider and more dedicated audience online.
2. Enhanced Discoverability
Marketplaces make it more convenient for users to find the goods they are looking for through advanced search and filtering tools.
3. Simplified Transactions
Marketplaces optimize the payment and shipping processes for eCommerce businesses, making it easier for them to sell their products online.
4. Branding and Marketing
This can include sponsored product listings, targeted advertising, and email marketing campaigns. Businesses can increase their visibility and drive more sales.
The Main Modules and Structure
These are some of the main modules of eCommerce marketplaces. Additionally, there can be different modules included if they match the needs of businesses.
Product catalog management
This module is responsible for managing product information, including images, descriptions, pricing, and other relevant details.
Order management
This module deals with the processing of orders, including tracking, inventory management, and shipping.
Payment gateway integration
This module allows customers to make payments through various payment methods such as credit/debit cards, net banking, or digital wallets.
Customer management
This module helps businesses to manage customer information, such as orders, preferences, and feedback.
Questions & Answers
Check out some of the most common questions asked by the clients
What are the marketplaces?
Online marketplaces are digital platforms that offer products from different companies to their customers. Digital marketplaces enable a convenient shopping experience as the benefits of eCommerce marketplaces to include convenience and efficiency that can be achieved with the help of marketplace software. There are also service marketplaces that allow professionals to promote their services.
Why do I need to build a marketplace?
Building an online marketplace will help you increase revenue, get a scalable business model, attract new clients, and get more potential advantages. eCommerce marketplaces are also a great way of attracting new business partners. With the help of a digital marketplace, and, especially, a service marketplace, you can get a better shopping experience. As a result, they provide benefits to both sellers and customers and are easy to use. It is possible, in particular, with the help of marketplace software.
What is the best way to build a marketplace?
The best way to build an online marketplace is to find an idea and determine your professional goals. Then, you will need to choose a business model and pricing level, which is especially true for eCommerce marketplaces. The creation of a digital marketplace also requires you to build an MVP (minimum viable product, launch your marketplace or service marketplace, and, eventually, grow your online business. Don't forget to use robust marketplace software as it will help you boost the efficiency of your business.
Grow Your Business with Online Marketplaces and their Potential
By building marketplaces for the companies' various needs within the field, we help the field of eCommerce because it provides them with a platform to offer their services to a new audience, which can lead to improved sales. Marketplaces also offer businesses access to a range of features and tools.