A venture by four young programmers incorporated in Ukraine in 1999 has become a leading custom software outsourcing company with offices in the United States of America, Poland, Germany, and Ukraine. It is 'WEZOM,' and it has been ruling the world's custom software development market for over two decades. WEZOM's story from a small web studio growing into a full-fledged tech service provider is quite interestingly demonstrated by the Founder and CEO of the company Serge Guzenko in this GoodFirms interview. Let's read this article to know more about WEZOM's success story driven by its CEO - Serge Guzenko.
WEZOM believes in collaborating and developing an environment of shared success for its employees, clients, and partner companies. The company specializes in providing tailored IT solutions for mid-level businesses and organizations. It creates outstanding product quality by developing an effective interface and takes pride in its work and the clients they serve.
WEZOM digitally accelerates the professional growth and development of IT businesses in a wide range of industries around the globe. Expert developers at the company create custom solutions for Logistics, Oil & Gas, eCommerce, Healthcare, Fintech, Real Estate, Energy and Utilities, Agriculture, and Education industries.
WEZOM's Inception Story
Serge Guzenko was 21 when he and his friends launched a small web studio. With a computer, a modem with internet access, and a few books - they studied technology and made their first site in a couple of months for $100. It was the time WEZOM professionally entered into the business world, and they moved from developing static websites to highly complex web application development..
Today, that small venture has turned into an international holding company with approximately 300 professionals working towards digitizing their client businesses and creating custom products that help meet their business goals. The company tops the GoodFirms ranking charts as the top mobile app development company in Ukraine and has also started expanding into the US and European markets. It has completed 132 projects with a 300% growth rate and is already working with 30 to 40 clients.
As the Founder and CEO of WEZOM, Serge Guzenko makes all the strategic decisions that determine the company's fate.
WEZOM's Business Model and How it is Different from Others?
Serge explains that WEZOM, as a service company, develops unique products to meet the customer's needs. Their client base includes prospective and large companies that hardly depend on cloud software technologies and IT giants. The company's strategic choice is to believe in its capabilities, migrate to its ecosystem, and develop its technologies.

Serge proudly shares the advantages that make them stand out in the market compared to its competitors. According to their 23 years of professional journey, their experts have implemented more than 450 projects in several industrial sectors. They have developed their nine-step development process that always produces results. The best business analysts of the company conduct a comprehensive analysis of the market and present a genuinely effective product. Their approach is maximumly client-oriented and assures complete transparency and 24/7 project communication. Primary emphasis is given to quality control. Products are tested at every stage of development, i.e., even before release, and all the technical problems are eliminated during the warranty period.
WEZOM's Services Package
The company's supply chain optimization and logistics products have recently been in demand. The company specializes in custom TMS, WMS, CRM development, web and mobile app service development, route optimization systems development, custom software development, and MVP launches.
Client Satisfaction Ratio and Support
Serge gives all the credit to a strong communication process, as because of that they are able to analyze client feedback at all development levels and fulfill their requirements.he experience of their product managers, designers, and business analysts, enable them to win the trust of their partner companies and customers. He clarifies that WEZOM measures results based on the impact of their products created on the performance of their client business rather than merely launching the products.
A personal manager is assigned to each of the company's projects, who stays in contact with clients 24/7 and promptly solves customer issues. All the technical problems are resolved without delay, and this approach eliminates all types of misunderstandings due to communication differences and working in different time zones.
Positive client reviews depict what customers think about the company and how it is valued among the customers.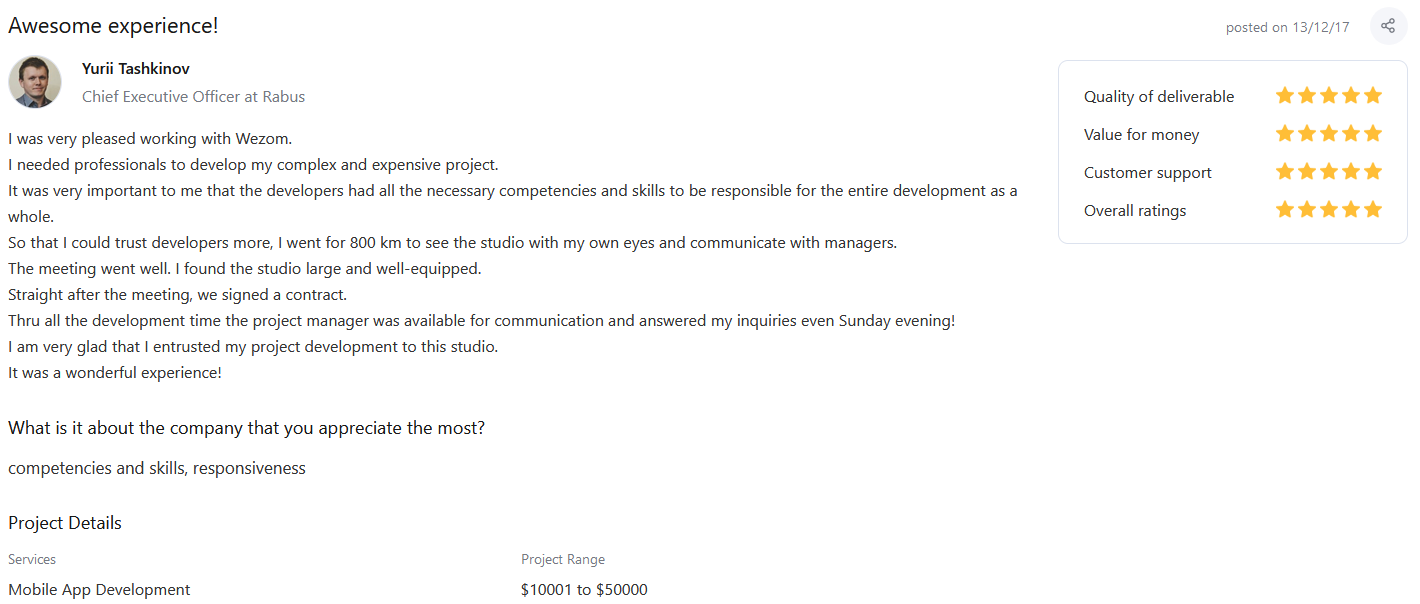 Payment Structure Followed at the Company
Most of the time, the company works on the Time and Material method, where the customers pay only for the total time spent by the experts on the project, and the new changes arrive during the project. Flexibility is maintained while creating complex custom products. Simultaneously, the clients can save a lot of money as only the development fee is charged for the project, excluding charges for the amortization of risks.
Mr. CEO confirms that the Fixed Price model is also practiced in the company per the payment per stage scheme. An individual approach is undertaken to treat all the company's partners involving different payment models.

WEZOM's Future as per the CEO
Serge Guzenko sees his company as the market leader in integrated IT services in the United States and Europe. The CEO is optimistic about the future of the company and has a strategic plan for the development of his product.
Here concludes GoodFirm's interview with Serge Guzenko. The detailed interview can be found on the company's profile page on the GoodFirms website.
About GoodFirms
Washington, D.C.-based GoodFirms is a trendsetting B2B research and reviews firm that aligns its efforts in finding web development and web design service agencies delivering unparalleled services to its clients. GoodFirms' extensive research process ranks the companies, boosts their online reputation, and helps service seekers pick the right technology partner that meets their business needs.
About the Author
Created by Anna Stark, a Content Writer at GoodFirms, who bridges the gap between service seekers and service providers. Anna's dominant role lingers to form every company's achievement and critical attributes into words. She strongly believes in the charm of words and equips new approaches that work, always with concepts.

How do you rate this article?