The digitization of business processes in the transportation industry has helped companies improve their productivity, primarily through automation, but also exposed them to the risks of data breaches. Thus, the introduction of ready-made solutions that use the Internet for data transmission has increased the potential security risks for both companies and their customers. We will explore this issue in detail below.
How Can You Solve Problems with Data Security?
Security is one of the deciding factors when looking for software for business. In particular, transport companies may consider this problem in terms of the dilemma of choosing between off-the-shelf and custom software.
Off-the-shelf software
Off-the-shelf software are usually positioned as safer and more reliable by default, but is this true? The fact is that when a third party is responsible for security, especially when it comes to digital giants, users of such software may feel that they have saved themselves from the problem of data leaks.
However, in practice, this only means that when this software is hacked, these users will be the ones who will face the consequences and not a third party.
For example, just a few years ago, about one and a half billion Facebook records were hacked, and this became a big problem not only for the company itself but also for its customers. It only means that even such digital giants cannot guarantee their users that their data will be safe.
In addition, some off-the-shelf can collect data on their own. For example, if the user sees an offer to agree that the data within the system belongs to the platform, one day when that system is transferred to a new owner, the user's data will also be transferred along with that platform.
Custom software solution
In turn, when creating a custom solution, the company takes full responsibility for how secure it should be. That is why if a company uses its own (custom) software, it gets the opportunity to store the data it operates independently – for example, on its own servers. This provides the increased security they may need.
Moreover, custom solutions can be deployed on a non-public domain. Thus, no one except the company's employees will know that such a system exists. As for the risk of hacking, it is usually expensive and difficult to hack into a particular company, so it doesn't havee any sense.
Therefore, such solutions are very rarely subject to data leakage. As for the possibilities to avoid data leakage from employees, developers can always set up permissions, so that each of employees will see only the information they need. As an additional precaution, a custom solution can log out a user after a fixed number of minutes of inactivity on the system.
Finally, two-way authentication can be implemented in the system, where to log in, the employee will need to enter a unique code from Google Authenticator, which is valid for only 30 seconds. Also, all user actions can be logged in the system, i.e. the company will always be able to track who and when used its software.
Therefore, to get all these benefits, companies need to be puzzled by the choice of a reliable software development service provider who has the appropriate expertise. However, this is a completely different problem.
Thus, if your business has non-standard data security requirements that will be handled by the software you use, you should definitely consider the custom development option.
Final Thoughts
The use of non-standard solutions has a lot of advantages, for example, better data security, simpler and more convenient deployment processes, as well as adaptation to specific tasks that may be unique for a particular business.
Also, the transport company will not have to overpay for default features inherent in ready-made software, which this company does not need. As a result, despite the initial costs, in the long run, such development pays for itself and turns out to be more profitable.
WEZOM has vast experience in developing automation solutions for transport and logistics companies, both web and mobile. You can learn more about specific cases in this video. If you decide to choose us as your technology partner, contact us right now.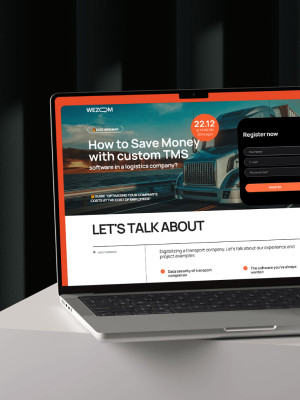 Free webinar!
Register for a webinar by WEZOM
How do you rate this article?