The content of the article:
eCommerce is now a rapidly evolving field with thousands of processes and high competition as the COVID-19 pandemic has changed the reality of the transportation business. Nowadays, having an eCommerce store means presenting yourself in the world of digital commerce, and it implies many important aspects. Effective shipping strategies ensure having a better professional reputation and fewer risks, but developing it may take a lot of necessary steps and the assistance of software.
The forced isolation caused by the pandemic resulted in people buying more goods online and the eCommerce industry becoming more popular. But eCommerce is not just selling goods online, it implies a strong strategy of commercial interactions and measures that aim for customer satisfaction.
In the near future, it is expected that the whole field of transportation and logistics will show a significant technological breakthrough, but how will the process of shipping be handled, and how technology can help make it more developed? Let's have a look at possible challenges in eCommerce shipping and potential technological solutions.
The Process Of Shipping In eCommerce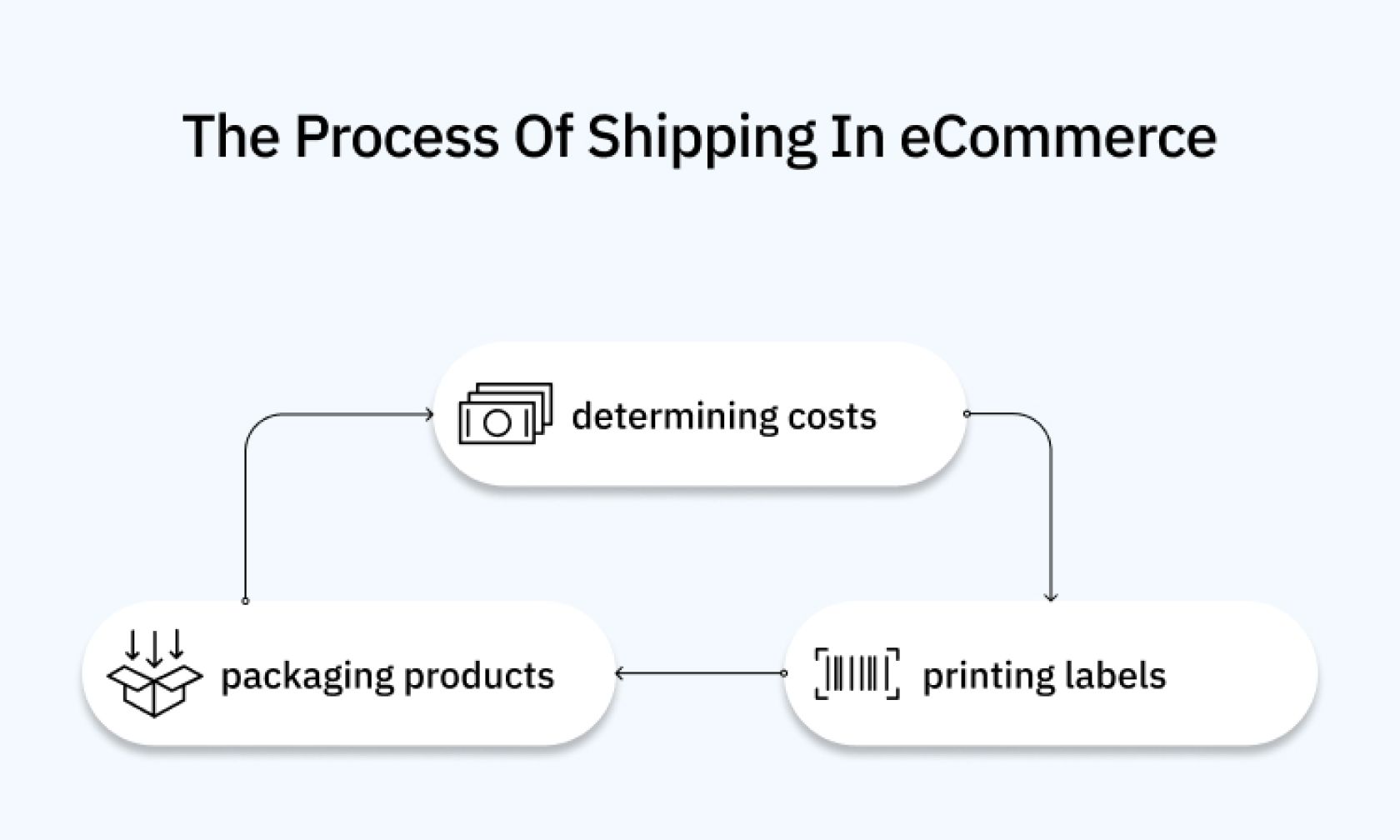 Though there are different shipping strategies that are implemented by eCommerce company owners, some situations are common for all businesses. The issues may relate to tracking, determining shipping costs, printing shipping labels, returns management, etc. All of the potential problems should be taken into consideration and handled with attention. You can ship products on your own with the help of carriers or by choosing the services of a third-party logistics company, there are things that need to be handled constantly.
Since challenges that occur in the process of shipping are just a part of a bigger process, the whole workflow needs to be streamlined and organized. In order to make sure the efficiency of your service is high enough and customers get what they want, you can use software solutions that will automate various aspects of your work and enhance your productivity.
Usually, when it comes to shipping in eCommerce, this process has various components, including:
determining costs;
printing labels;
packaging products.
These steps are usually followed by shop owners providing customers with tracking information and status updates to ensure the process goes smoothly and clients are well-informed. Lack of information may lead to a bad customer experience and create additional issues for your business.
Delivery completion often means all the necessary steps were made and a customer received his goods successfully. The automatization of processes usually helps build a more efficient shipping strategy. That means, you spend less time and get a more quality result. e-commerce shipping solutions ease management and monitoring of different aspects and help you streamline your work for better results
Main Challenges In eCommerce Shipping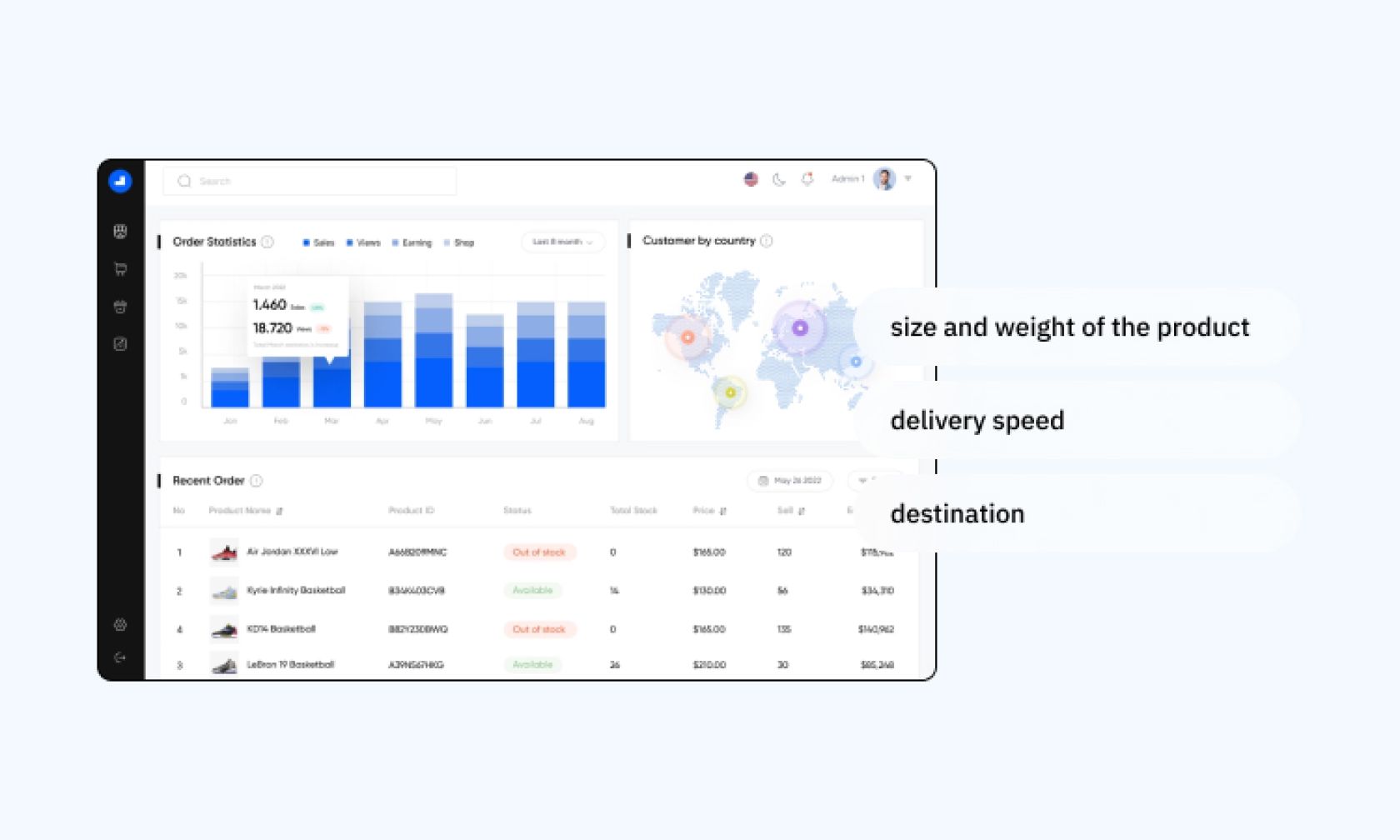 The process of shipping has numerous aspects that can be challenging for business owners. Some of them lead to customers refusing to make purchases. Among the main reasons for that, there are high shipping costs and delays and delivery, but there are a lot of minor issues you need to pay attention to, as it may lead to your customers being dissatisfied and you bearing financial losses.
Calculating Costs
If you aim for choosing the right carrier for shipping the orders yourself, you need to know the prices that are offered. Usually, carriers calculate costs based on:
size and weight of the product;
delivery speed;
destination.
High delivery costs result in customers refusing to buy products, so there is no need to risk your work efficiency and go for a high price. You may take time to compare different delivery costs that are offered by carriers.
Knowing the dimensions of the product, not just size, is important, as so-called "dimensional weight" is usually included in setting costs. Also, low delivery speed and possible delays may result in a bad customer experience and harm your reputation, so fast shipping is an important component of efficient delivery though it may cost more. Large distance results in higher expenses on delivery, but sometimes it is inevitable so you may reduce shipping costs by changing other parameters.
Order a Dispatch and Shipment management software
Plan and execute all your shipping processes to ensure their smooth functioning and improve efficiency!
Tracking
Providing tracking information is essential for effectively shipping eCommerce orders. You need to keep your clients informed about delivery time and other details, as sending updates is important to make your communication with customers effective and beneficial. The secure delivery process is crucial for many other aspects of business, and it also helps you avoid unnecessary reputational risks. Some of the most important aspects for clients are the date and time of delivery, so you need to inform them to ensure a successful customer experience.
You have several options for providing clients with tracking information, which includes:
giving customers a tracking number;
creating integrations with multiple carriers;
investing in eCommerce shipping software.
By providing customers with a tracking number, you let them see the status of delivery of your e-commerce shipment, but it is generally not comfortable for a client. Such an approach is usually done with the help of a carrier's website where the customer can see the details. This way is not the best for providing tracking data as it is inconvenient and does not include all the necessary information.
The method of creating integrations with various carriers implies certain steps that are not easy to make, for example, dealing with the API documentation. However, it will be more convenient for your customers as they will not have to spend much time tracking orders.
Getting a full-fledged shipping solution will allow you to have all the tracking and delivery information in one interface. Software may be costly but it usually saves you a lot of money and time so you can make your work more effective.
Returns Management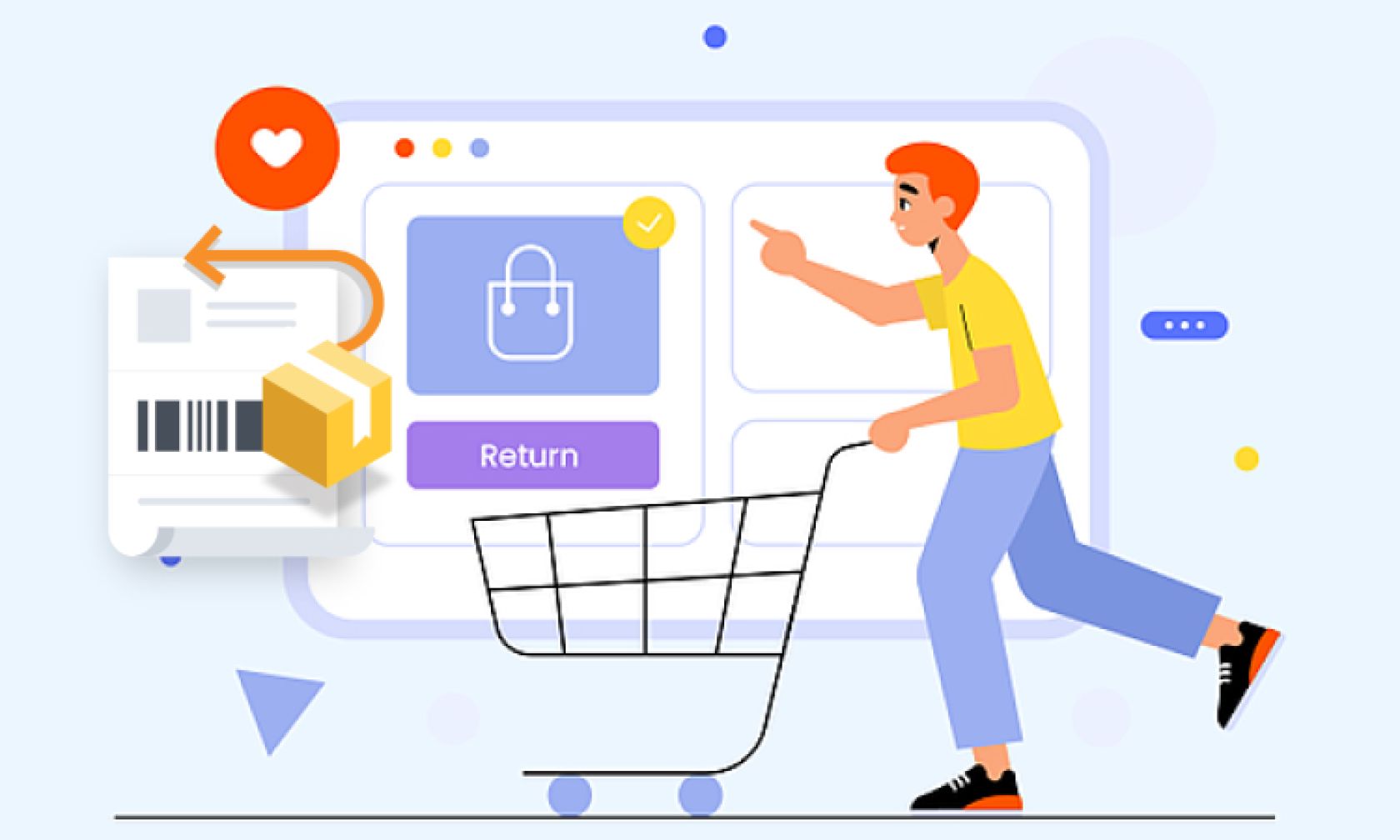 Returns management is a permanent part of the eCommerce industry. The most important thing is whether you are prepared for making your returns management effective or not. Like any other part of a retail business, returns require attention and some serious steps that need to be handled responsively, so your readiness to make them may be the key to saving your professional reputation.
Again, the automatization of processes saves a lot of time and effort. In case you offer free returns, the assistance of software is essential. Shipping solutions can help you organize different details of returns management and make sure the reverse process goes smoothly. Also, special solutions for returns management can make your work easier, but they are not as versatile as full-fledged equivalents.
In general, after a customer initiates a return, you create a return shipping label with the necessary address, check the condition of the product, and issue a refund. With specialized software for eCommerce shipping, it will be easier for you to organize and automate returns, so you won't need to take additional measures.
How Can Software Help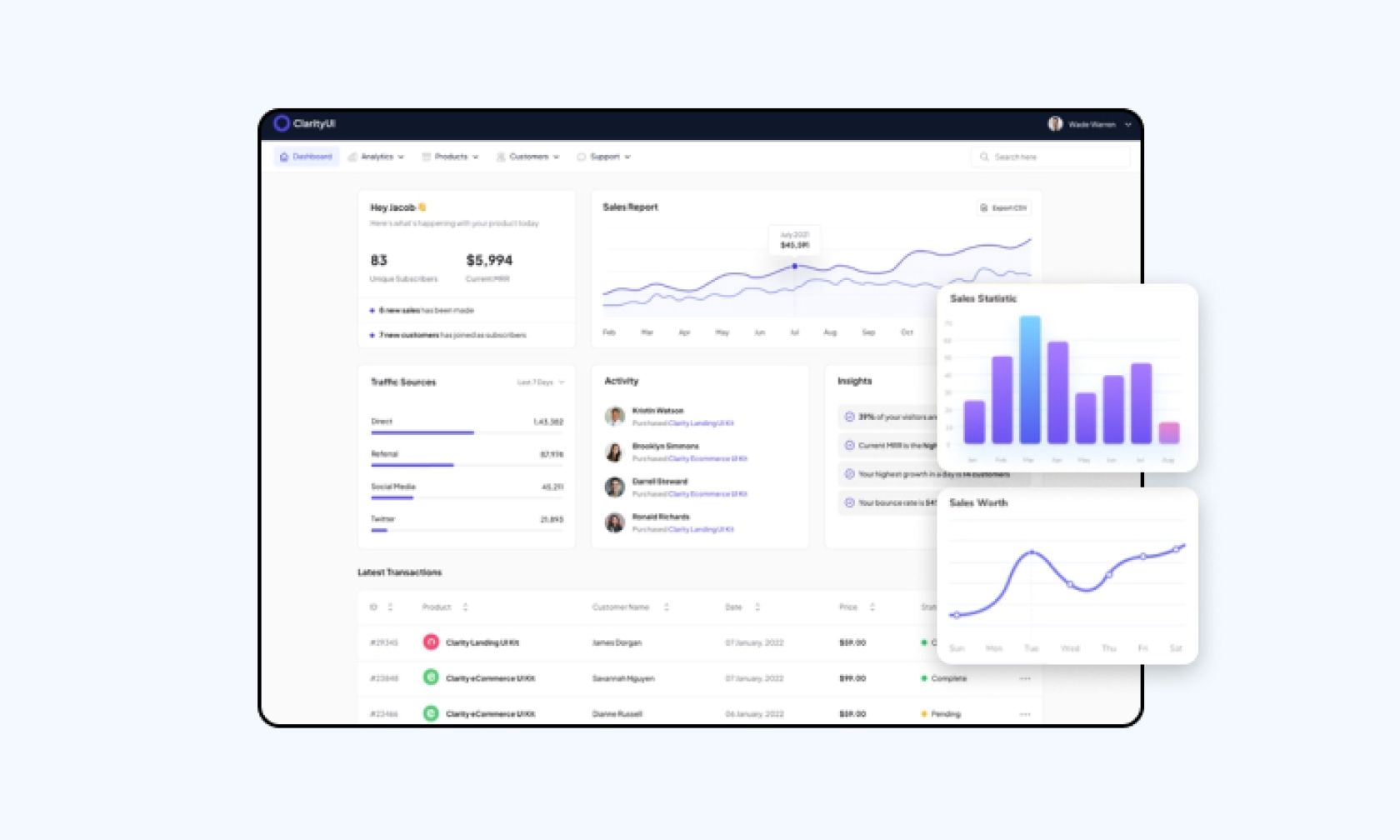 Software solutions for eCommerce shipping allow you to automate and streamline processes, which is important for the whole process of delivery to go seamlessly and result in customers being satisfied. Having shipping strategies organized will allow you to perform all of the tasks easily and not spend much time on them.
Generally, there are different types of software or different sizes of business as companies have various needs. Although small firms do not usually need specialized software, for large-sized ones, things are a little bit more complicated. Mid- and large-sized businesses often require the help of software for managing and automatizing various processes, including shipping. By having a handy digital solution, you may be sure that your tasks are handled properly and are not left unnoticed. Also, it helps keep all of the important details in one place.
Creating a custom solution may be more difficult and time-consuming than getting a ready-made one, but it will guarantee that your needs will be met with precision and this kind of software will be more flexible for different purposes. A high level of customization ensures you have the exact set of features that you need and the solution is versatile enough.
Large-sized companies with multiple sales channels often need the help of third-party logistics services providers rather than shipping goods on their own. For big businesses, it is always time-consuming to deal with a large number of orders. In order for your delivery to be successful, you will need to integrate with the solutions that are used by the third-party logistics firm, and in order to do that, you need to know the software options of different companies. Do a little research before partnering with a 3PL business so there are no additional issues regarding digital solutions.
Conclusion
If you are an eCommerce business owner and trying to make progress and strengthen your business in the age of constant technological changes, you need to know the strategies for adapting to the new reality. But also, you need robust shipping solutions for eCommerce to make your business goals easily attainable. Technological assistance affects your ability to make the right business decisions and manage major tasks. In order to make your process of shipping smooth and easy, trust your professional experience, make the necessary steps and rely on technology! We can significantly improve our approach to business and the way we handle things by combining deep expertise with helpful tools.

In order to be successful in the field of eCommerce, you need to develop a strong strategy for selling and shipping goods. Every detail may be important as it may constitute a quality customer experience and help your business grow online. The software helps millions of eCommerce store owners progress and profit without investing much time, energy, and money into routine tasks.
How do you rate this article?