Today, the training of employees, partners, and company customers, like any other process, can be improved with the help of digital solutions such as LMS.
So, what is an LMS? The Learning Management System (LMS) is a comprehensive software solution to administer, document, track, report, automate, and share learning materials. In the context of use by companies, such systems help to quickly onboard and improve skills with a minimum allocation of human resources. Below we will analyze in more detail the need for LMS implementation, consider the LMS selection consisting of four key market players, as well as explain how to choose an LMS.
Why You Need An LMS
Learning with an LMS has a number of advantages over traditional alternatives. In particular, they provide organizations with a range of tools to optimize the storage, organization, and delivery of learning materials. LMSs open access to these resources through a web browser so that anyone with appropriate access rights and the Internet can study.
In addition, LMS provides students with complete control over their progress, which was unattainable with other less modern solutions. Thus, by deploying learning management systems, companies get the opportunity to solve the following tasks:
Onboarding new professionals

Training and certification of employees

Training partners and clients of the company
LMS Types
Modern Learning Management Systems are divided into two main types.
Cloud-based
Online solutions are delivered to companies as a monthly subscription. This is a cost-effective and comprehensive solution, as it allows companies to delegate the task of managing its server side to a provider company and, thus, focus their efforts on finding suitable training materials. In addition, such systems instantly scale to new user loads, which means that the same system can accompany your business at all stages of its development.
Self-hosted
Solutions based on a company's on-premise server facilities are typically required where sharing learning materials in the cloud is a violation of data privacy standards. The inconvenience of such systems is the complexity of scaling caused by the limitations of the company's equipment, as well as the inability to access the necessary information from non-corporate devices.
Common LMS Use Cases
Education, including offline seminars and courses, had ceased to be the standard since the time of the COVID-19 pandemic when many business processes were forced to move to the digital plane. Today, the pandemic has already ended, but the new format was so positively received by the vast majority of businesses that it would not make any sense to abandon it in favor of the old one. Below we propose you overview the most common LMS use cases that demonstrate the benefits of such a transformation.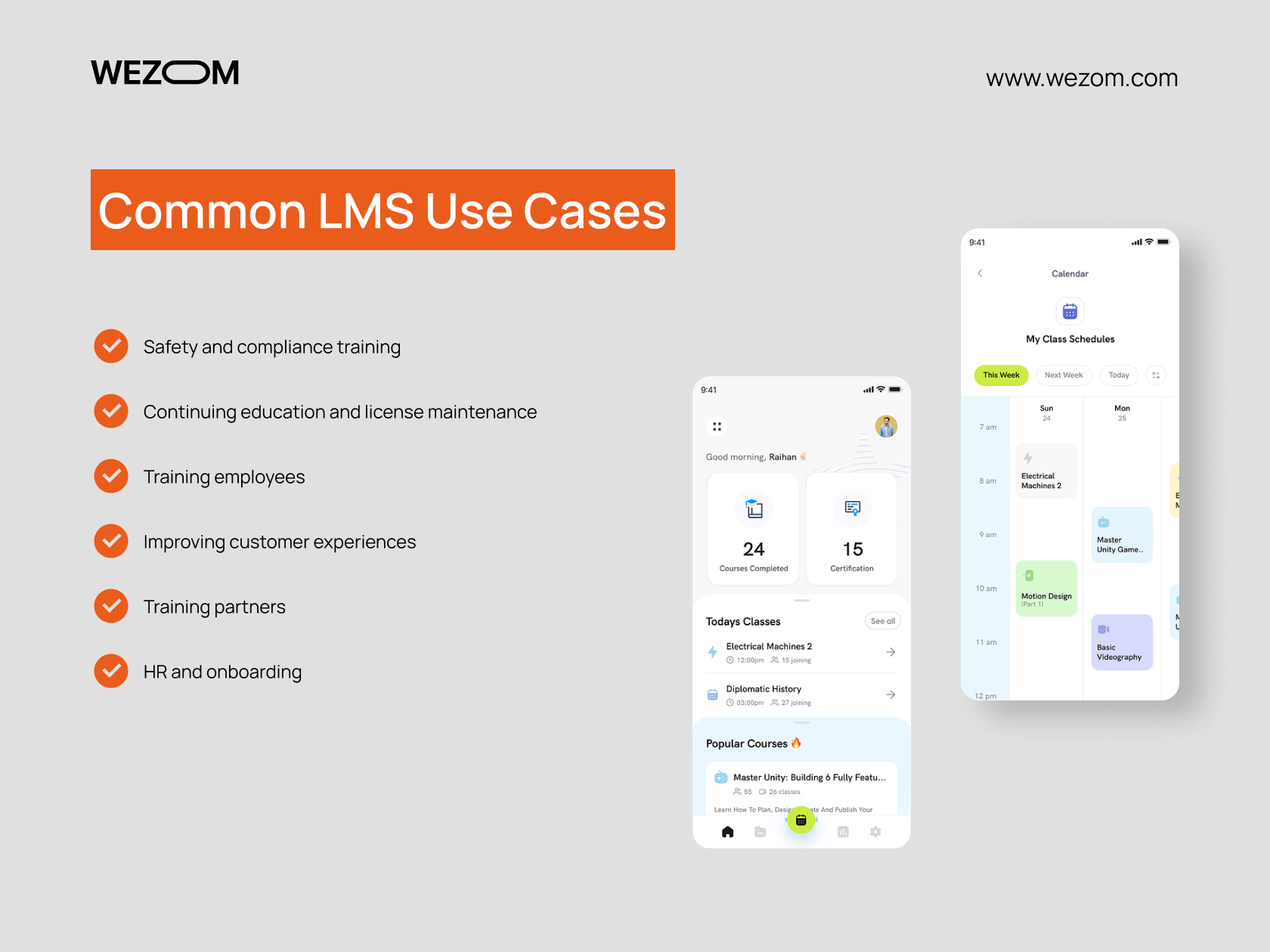 Safety and compliance training
LMS simplifies the planning and organization of employee training. Specifically, you will be able to form a centralized database of electronic materials, with the help of which both new and experienced employees of your company will undergo certification. Moreover, such systems provide transparency and objectivity in assessing employee professionalism, as they exclude the influence of the human factor on this process.
Continuing education and license maintenance
Most employees without mandatory training within the company do not improve and expand their skills, thereby slowing down the development of the company as a whole. This problem is easily solved with the help of an LMS, which can be configured to monitor the quality of tasks performed by your employees and determine which of them need additional training or have good career prospects.
Training employees
If your company does not have enough free human resources and time to organize continuing education courses, you can delegate this task to an LMS. Thus, your employees will be able to choose the optimal pace of learning and, at the same time, gain the knowledge and skills they need.
Improving customer experiences
If the products you supply to your customers are difficult to master, you can create a single source of knowledge that will train them from scratch and make them advanced users. Thanks to this approach, you will significantly improve the user experience, allowing them to use your product to the fullest.
Training partners
LMS is one of the most cost-effective ways to train your partners. By deploying such a system within the company and sharing access with partners, you can significantly expand the geography of sales by explaining in detail to them how to best use your product or service. You will also be able to send them webinars and online master classes through LMS, describing in detail your updates.
HR and onboarding
Finally, companies can deploy learning management systems to remotely onboard new employees. Thus, these companies' management can centrally track progress and make decisions about their admission to work duties.
Comparison of Current Players in The Market of Ready-Made LMS Solutions
Now let's look at the list of learning management systems that are the most popular worldwide and, in particular, analyze their functionality. As an example, we decided to overview such top solutions as iSpring, AcademyOcean, Connecteam, and 360learning. Note that all of them have such features as customization, search, user profile, assigned courses, course catalog, access to training materials, and personal progress. Along with this, we found differences in the following core functions.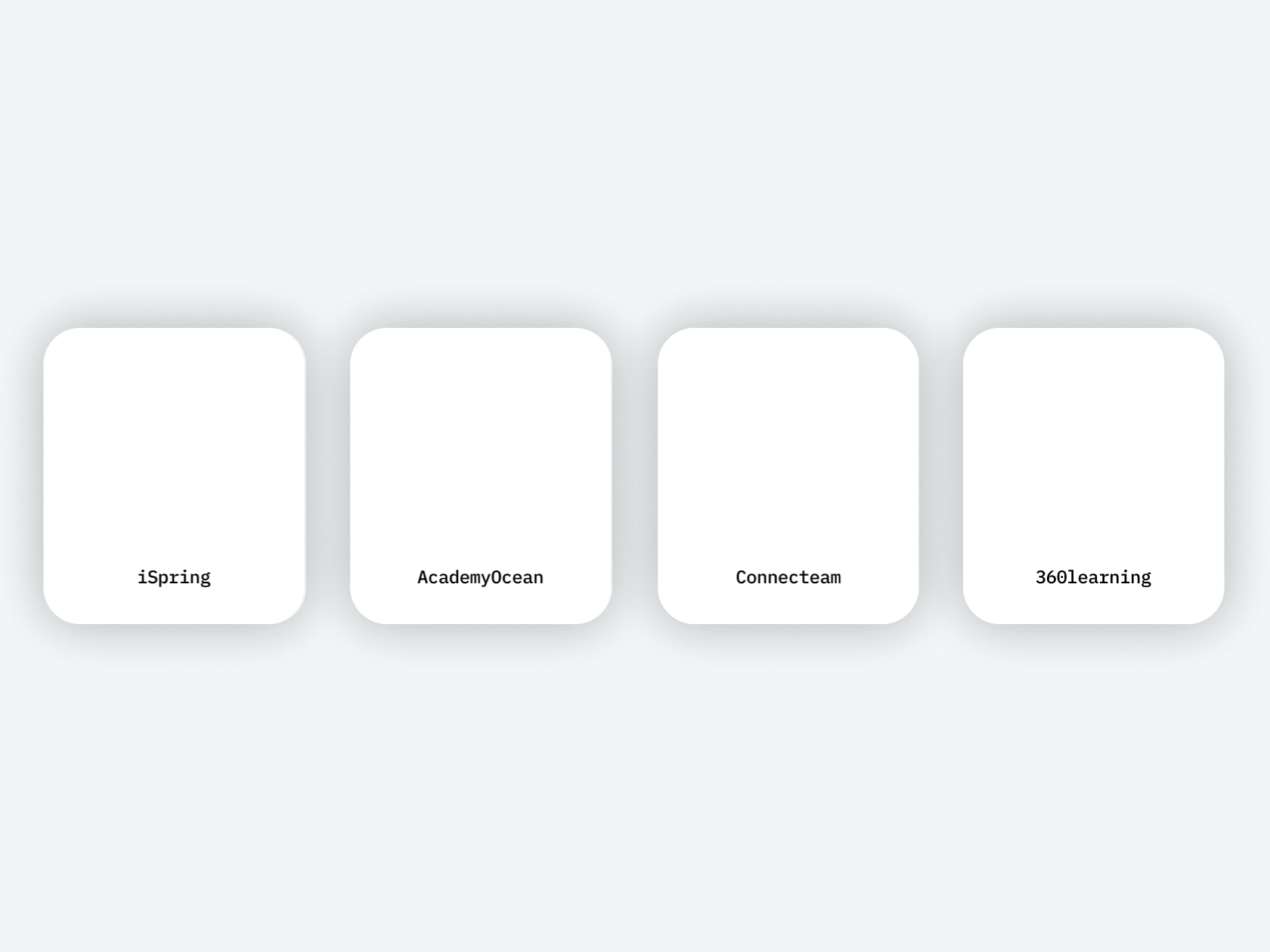 Availability in different formats
Let's start our review with the fact that while competitors, along with the desktop and web versions, have mobile applications, in the case of AcademyOcean, the development of mobile software is still in progress. In general, in this era, mobility is an important factor, as it allows users to access the necessary information wherever they are, as long as there is an Internet connection. Thus, students can make their learning process as flexible as they need.
Free Trial
While other LMSs in our selection offer a one-month trial (in AcademyOcean's case, it's only five days), iSpring only provides a corporate account. Obviously, the longer the trial period, the better, since you will have more time to fully evaluate all the features of the selected software.
Testing
Post-course testing is only available at iSpring and AcademyOcean. This means that only in these two solutions you will be able to organize the procedure for assessing the knowledge of your students. In the other two cases, you will probably have to look for third-party software, which can be quite inconvenient.
Gamification and a rating board
There is no gamification in Connecteam only, and there are no rating boards in 360learning as well. All these features make the learning process easier for the students, involving them in classes and stimulating them to improve progress indicators. This is especially important for courses of advanced complexity, which, without auxiliary elements, cannot keep students' attention at a high level all the time.
User chats
This feature is missing from AcademyOcean and 360learning. Because of this, your students will not be able to communicate within the platform and provide each other with mutual assistance, which, in theory, could contribute to an increase in overall performance of group learning.
In general, with a more detailed analysis, this list of differences will be longer; we just wanted to emphasize that none of even the most advanced LMSes has exhaustive functionality. This means that when implementing certain learning scenarios, you may need third-party software, which, in addition, may not integrate with your LMS. All these difficulties lead to a dilemma between ready-made software solutions and custom ones.
Interested in creating Learning Management Systems?
Contact us to create a custom solution that provides your audience with a convenient learning tool.
What Is Better for You: A Ready-Made LMS Solution or Custom Development?
Finally, it's time to talk about choosing an LMS. Which one will be better for your business – a ready-made and working out-of-the-box or a custom solution? Earlier in this article, we did not cover the benefits of a custom LMS.
However, after analyzing the paragraph above, you probably could notice that each system lacks certain functionality that may be critical for some companies. On the other hand, even its presence does not guarantee that you will be able to configure some features in the way you need. This is why many companies, as they work with off-the-shelf solutions, eventually decide to resort to custom development services.
Indeed, in the first stages after making such a decision, you may encounter certain challenges, from the need to allocate a budget for a new project to a lack of understanding of what your "ideal solution" should be. Fortunately, if you find a team of real professionals with in-depth LMS expertise, this process will go smoothly, and, as a result, you will get a product that is fully adapted to your business needs and does not require monthly license fees. In particular, you can contact us for this. If you would like to know about our relevant case studies, we invite you to read the story of one of our clients below.
In particular, recently, we were contacted by the owner of a large company in the energy sector. The client previously used ready-made solutions for employee training; however, since there were several of them that did not cover all the needs associated with training processes, were insufficiently transparent, and did not provide feedback, the client decided to resort to custom development.
After discussing the problems that the client encountered when using ready-made products and the tasks that a custom one had to solve, we formed a detailed list of requirements. As for the main purpose of the project, it lied in onboarding and training the company's employees with the ability to store the company's reference materials and delimiting access depending on the department where a particular specialist works. A special requirement of the client was the synchronization of the new solution with Active Directory.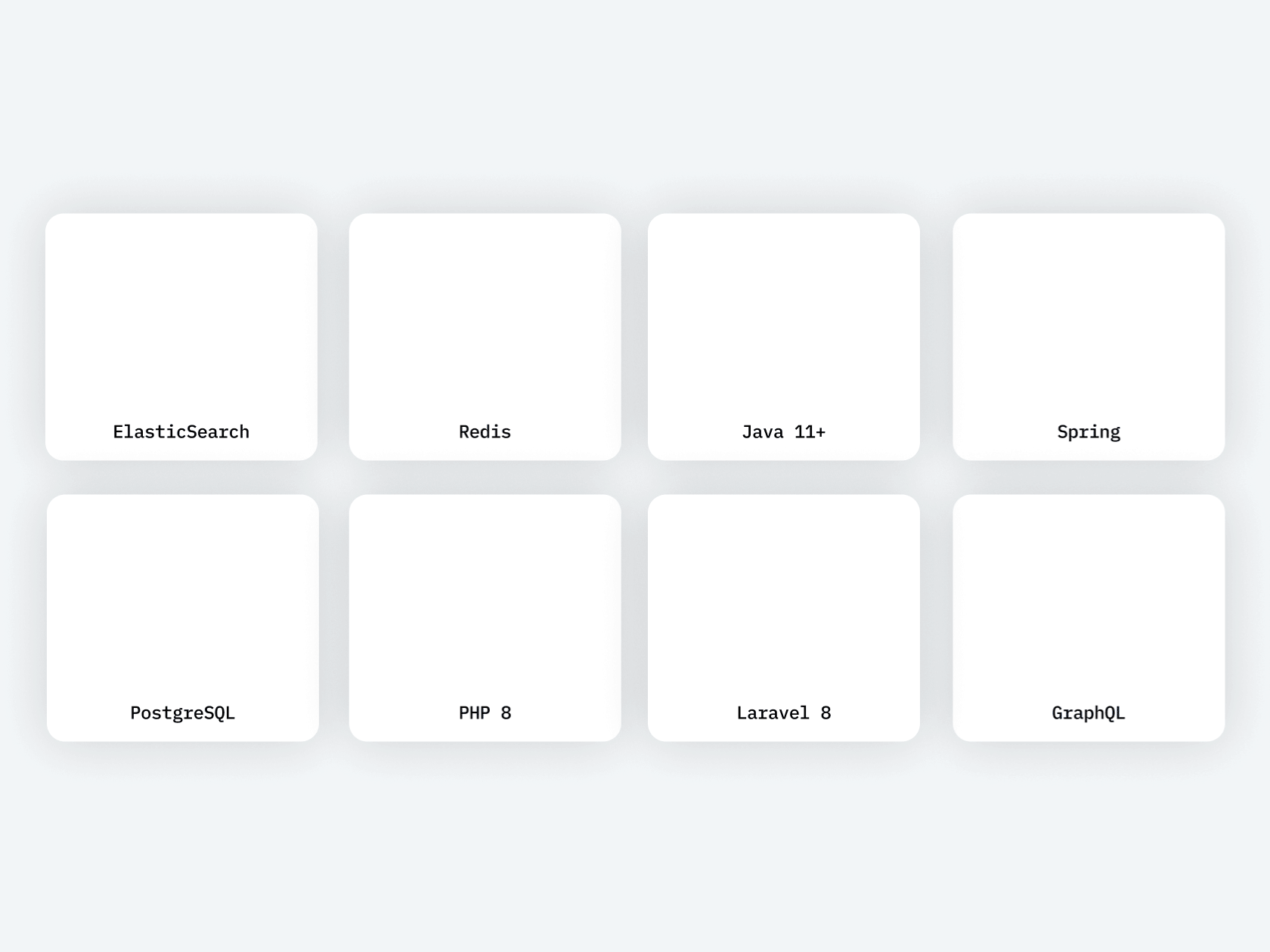 We moved the formal requirements for the project to the technical ones and, as a result, settled on the following tech stack:
ElasticSearch

Redis (cache/queue)

Java 11+

Spring

PHP 8

Laravel 8

GraphQL

Message broker (RabbitMQ|Nats)

API Gateway (Spring Gateway|Appolo GraphQL Federation|Tyk)

PostgreSQL
As for the composition of the development team, it involved 12 specialists in total: a Project Manager, a Product Owner, a UX designer, three Front-end Developers, three Back-end Developers, two QA, and a DevOps. Also, given the requirement to integrate a custom LMS with a client's ERP system, we also had to join a Delivery Manager, a Product Portfolio Owner, and a UX Designer-lead. By the way, the need for such integration added additional requirements to the project in the form of ensuring its compliance with ISO 31001, ISO 27001, and GDPR standards.
As a result of our collective work, we launched an MVP after only 30 sprints. Currently, a custom LMS, presented in the form of a mobile application, is actively used by the company's employees, and the client finally received exactly the LMS that they expected to receive from ready-made solutions before.
If you are inspired by the story of one of our clients and would like to entrust us with the development of your learning management system, write or call us right now. We will discuss the details of the implementation of your project, calculate the budget, and also explain to you the prospects for our further cooperation.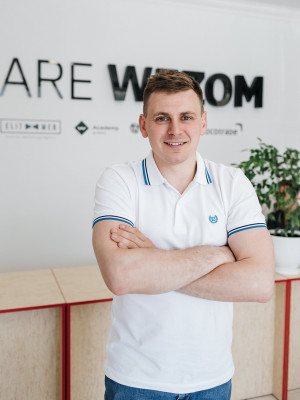 Interested in a custom solution?
Of course, this will require some financial investment from you at the beginning of the path to automation, but over time, this approach usually fully pays off. I can talk about it in detail.
How do you rate this article?