Learning Management Systems (LMS)
Create, manage, organize, and deliver online training materials to your audience through your custom-made learning management system.
What is a Learning Management System (LMS)?
A Learning Management System (LMS) is software that helps you administer, document, track, report, automate, and deliver training courses and complete training programs. If you would like to hire a team of experienced professionals to carry out such a project, feel free to contact us.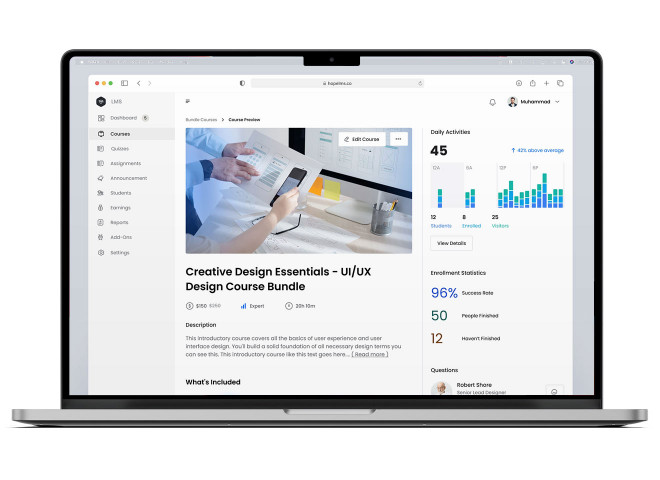 1. user-friendly LMS system
We will create a user-friendly and scalable LMS system, inspired by the latest technology trends
Offer advanced online learning experience to users
Fix technical issues with an already deployed project
4. development of updates
Request development of updates to keep it relevant for many years to come.
Components of a Learning Management System
Let's take a closer look at the core features of an average LMS learning management system.
User interface
Our team will create a simple and understandable user interface to lower the entry threshold for newbies.
Gamified dashboards
Our experts will make the learning process more interesting and engaging by introducing gamification tools.
Advanced tracking
Our team will develop parameters for monitoring the progress of individual students so that teachers can choose the optimal pace for their further education.
Customized learning analytics
We will create a convenient and customizable panel for demonstrating analytical data so that your users can track the dynamics of the learning process.
Questions & Answers
Check out some of the most common questions asked by the clients
A learning management system (LMS) software is a type of a software application or web-based technology that is used to plan, implement and assess a specific learning process. Learning management system development helps make educational processes better. This is even easier with custom learning management system development.
Why is LMS important in education?
Among the benefits of LMS, or learning management systems, is the fact that they help schools maintain the integrity of educational programs by enabling educators to effectively and efficiently develop courses, deliver instruction. Learning management systems (LMS) can assist in facilitating communication. A learning management system in education also helps to foster collaboration between students.
How much does it cost to build an LMS?
Learning management system costs depend on many factors. On average, building a learning management system will cost you about 1000-1500 hours of development work. This means the cost of a learning management system with basic functionality will range between $37000-$53000.