Learning Management Systems (LMS)
The Learning Message System (LMS) - Redefining Software Development Communication and Learning. Create, manage, organize, and deliver online training materials to your audience through your custom-made learning management system.
What is a Learning Management System (LMS)?
Our Learning Message System is a revolutionary software that fuses the worlds of communication and learning into a cohesive, intelligent platform. Designed to streamline the software development process, the LMS is equipped with a range of impressive features that make it a valuable addition to any development team or organization. An LMS is software that helps you administer, document, track, report, automate, and deliver training courses and complete training programs. If you would like to hire a team of experienced professionals to carry out such a project, feel free to contact us.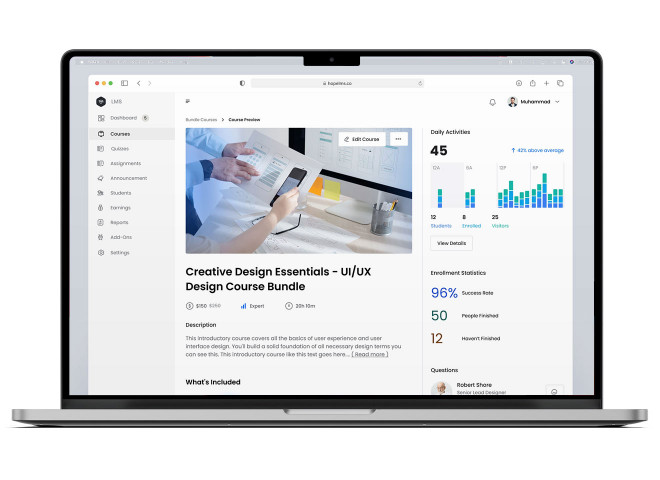 1. AI-Powered Personalization
The LMS leverages advanced machine learning and AI algorithms to deliver a personalized learning experience. It intelligently adapts to the learning curve and pace of individual team members, suggesting resources and learning paths accordingly.
2. Real-Time Communication & Performance tracking
The LMS serves as a dynamic communication platform. It supports real-time messaging, file sharing, code snippets sharing, and even live collaborative coding sessions, fostering efficient teamwork.
The LMS can catalog and manage learning resources, project documentation, past discussions, and decisions. It acts as a knowledge base, making information readily available and reducing time spent on searching for resources or past discussions.
With integrated task management features, team members can assign, track, and manage tasks within the LMS. This contributes to clear goal setting, accountability, and progress tracking.
The LMS supports instant feedback and issue resolution. This helps in maintaining code quality and in enhancing individual skills.
Interested in developing a custom LMS? Order a Free Demo to see what your Learning management system could look like using one of our developments.
Components and Advantages of a LMS
Let's take a closer look at the core features of an average LMS learning management system.
Learning Management Module
This module offers personalized learning paths, using AI to adapt to each individual's learning pace and style. It can recommend resources based on an individual's role, skill level, and ongoing projects. The learning content can be in various forms, like articles, video tutorials, online courses, webinars, etc.
Communication
This real-time messaging platform allows team members to communicate quickly and effectively, sharing ideas, code snippets, files, and more. It also supports group conversations, direct messages, and threads, facilitating organized discussions.
Feedback and Issue Resolution
This module provides a platform for providing and receiving real-time feedback. It also allows team members to flag issues with the code or project, facilitating quick resolution and ensuring high-quality output.
Collaborative Coding Module
This live coding environment allows team members to collaborate on coding projects in real-time. It is equipped with features like syntax highlighting, code formatting, and integrated debugging tools.
Reporting and Analytics
This module offers comprehensive reporting and analytics capabilities, providing insights into individual and team performance, project progress, resource usage, and more. This data can be utilized for process improvement, resource planning, and performance management.
Integration
This module ensures the LMS can seamlessly integrate with other tools used in your software development process, like version control systems, CI/CD tools, IDEs, testing tools, and more.
Integrations for Custom LMS
WEZOM advises merging a specialized LMS with corresponding corporate infrastructures to optimize eLearning processes, bolster educational effectiveness, and enhance the learning journey for users.
CMS, ERP​, HRMS, CRM
eCommerce, Social Media, Data Analytics, VR / AR Platforms
Video Conferencing, Email Marketing, Project Management Tools​
Single Sign-On (SSO) and Identity Management and Cloud Storage Providers
Learning Record Store (LRS)
We take care of your projects with proven agile methods that are designed to get all stakeholders in alignment. Our workflow faster turnarounds to achieve even the most ambitious goals.
Define the Scope and Objectives​
Conduct Market Research
Design a Project Plan
Architectural Design
Develop UI/UX Design and Start Development
Integration and Comprehensive Testing
Deployment, User Training, and Documentation
Launch, Maintenance, Updates, and Scale
Define the Scope and Objectives​
Web Platform
Database
Cloud & DevOps
Mobile apps
Questions & Answers
Check out some of the most common questions asked by the clients
A learning management system (LMS) software is a type of a software application or web-based technology that is used to plan, implement and assess a specific learning process. Learning management system development helps make educational processes better. This is even easier with custom learning management system development.
Why is LMS important in education?
Among the benefits of LMS, or learning management systems, is the fact that they help schools maintain the integrity of educational programs by enabling educators to effectively and efficiently develop courses, deliver instruction. Learning management systems (LMS) can assist in facilitating communication. A learning management system in education also helps to foster collaboration between students.
How much does it cost to build an LMS?
Learning management system costs depend on many factors. On average, building a learning management system will cost you about 1000-1500 hours of development work. This means the cost of a learning management system with basic functionality will range between $37000-$53000.
Elevate Business Education with a Robust Corporate Learning Management System (LMS)
In the digital era, a robust Learning Management System is crucial not only for educational institutions but also for businesses. At Wezom, we specialize in providing innovative software solutions for Learning Management Systems, including business and corporate LMS. Our comprehensive technology is designed to streamline learning processes, enhance learner engagement, and maximize educational outcomes.
On-Premise LMS: Complete Control and Customization
At Wezom, we understand the unique needs of businesses and educational institutions that require a high degree of control over their data and content. Our on-premise solutions are designed to meet these needs. With an on-premise LMS, you have complete control over your data, content, and the overall learning environment. This allows for unlimited customization, enabling you to tailor the LMS to perfectly fit your organization's specific requirements. Our on-premise LMS also integrates seamlessly with other enterprise applications, providing a unified platform for all your learning and training needs.
Cloud LMS: Accessibility and Scalability
In addition to our on-premise solutions, we also offer cloud LMS solutions. A cloud LMS is hosted on our secure servers and can be accessed from anywhere, anytime. This provides unparalleled flexibility and accessibility, making it an ideal solution for businesses and educational institutions with remote learners or multiple locations. Our cloud solutions are highly scalable, allowing you to easily expand your learning environment as your organization grows. With regular updates and upgrades, our cloud LMS ensures that your learning environment is always at the forefront of technology.
Transform Corporate Learning with Cutting-Edge Business LMS Solutions
Are you searching for ways to optimize your learning environment and deliver exceptional educational experiences? Look no further! Our software solutions are meticulously crafted to address the unique challenges faced in managing and delivering effective learning programs through a business LMS. Here's how our advanced technology can revolutionize learning:
Streamlined Course Management
Our LMS solutions simplify course management tasks, allowing administrators and educators to efficiently create, organize, and deliver learning content. From course creation to enrollment and progress tracking, our LMS solutions provide a user-friendly interface that saves time and enhances organization.
Engaging Learning Experiences
Promote learner engagement and active participation with our interactive LMS solutions. Our software enables the incorporation of multimedia elements, quizzes, and gamified learning experiences to make learning enjoyable and effective. Foster knowledge retention and learner motivation.
Personalized Learning Paths
Tailor learning experiences to meet the unique needs and preferences of individual learners. Our LMS solutions offer personalized learning paths, allowing learners to progress at their own pace, access relevant resources, and receive targeted feedback. Enhance learner autonomy and foster personalized growth.
Robust Assessment and Progress Tracking
Efficiently assess learner performance and track progress using our comprehensive LMS solutions. Create and grade assignments, quizzes, and exams, providing learners with immediate feedback. Monitor individual and group progress, identify areas for improvement, and measure learning outcomes.
Collaboration and Communication
Facilitate collaboration and communication among learners and instructors through our LMS solutions. Foster discussion forums, group projects, and real-time messaging features to encourage peer interaction and knowledge sharing. Enhance learner-to-learner and learner-to-instructor engagement.
Business LMS: Empowering Businesses with Effective Learning Solutions
Wezom's business LMS solutions are designed to empower businesses of all sizes and industries. Whether you're a small business looking to train your employees or a large corporation needing a comprehensive learning platform, our business LMS solutions can be tailored to meet your specific needs. Our solutions streamline the training process, enhance employee engagement, and improve performance, helping your business achieve its goals.
Corporate LMS for Training and Education: Streamlining Learning and Development
Wezom also specializes in creating corporate LMS platforms for the training and education sectors. Our solutions are designed to streamline the learning and development process, making it easier for you to train your employees and educate your clients. With our corporate LMS, you can easily create, manage, and deliver training programs, track progress, and assess performance. Whether you're a company looking to educate your employees or an educational institution needing a robust learning platform, our corporate LMS solutions can help you achieve your learning and development goals.
Partner with Wezom for Advanced Business and Corporate LMS Solutions
Embrace the digital transformation of learning with Wezom's innovative software solutions. Our advanced technology revolutionizes the management and delivery of learning programs through robust business and corporate Learning Management Systems. Empower educators, engage learners, and maximize educational outcomes with our highly customizable software solutions.
Contact us today to schedule a consultation and discover how Wezom can transform your learning environment into a seamless, efficient, and future-ready system. Experience the future of education with Wezom's cutting-edge software solutions for business and corporate Learning Management Systems.