The very first step before the creation of your customized app, platform, or soft starts with choosing the right person to develop your product. But where to start and whom to decide? The easy way is if you already have a team of developers in your company. In case you don't have that team, you can find a huge variety of professional developers, and we are here to help you find the right person for your project.
App Developers
Applications developers create and manage programs for use in businesses by converting software requirements into executable computer code.
They will have in-depth knowledge of at least one computer language and work in a specific development field, such as mobile applications, accounting software, office suites, or graphics software.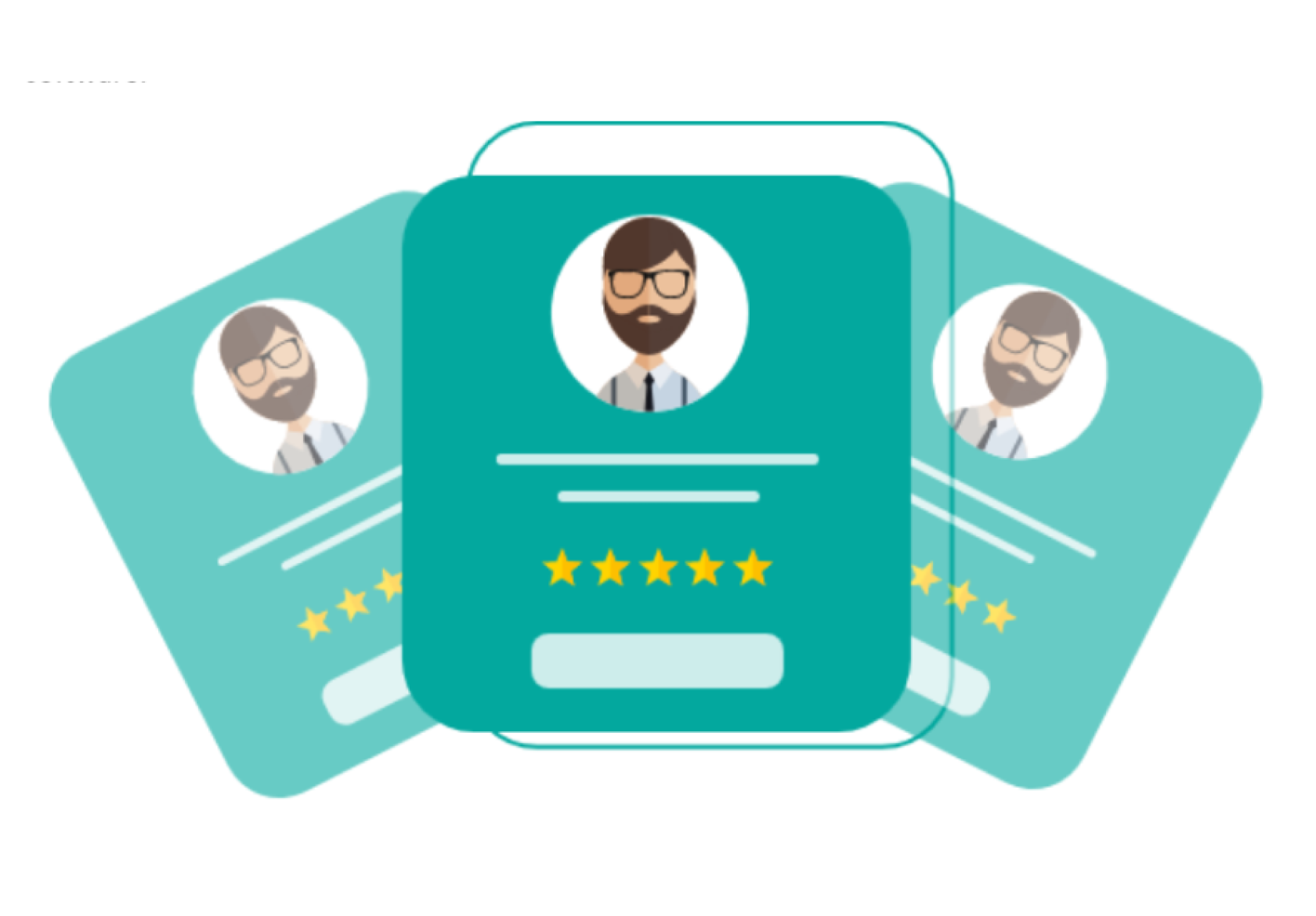 Tasks for Developers
As an applications developer, you must be able to:
Write the program, which requires breaking down the program specification into its simplest components and translating this logic into a programming language.
Collaborate with a team to write a specific section of the program, which may be formed exclusively for a given project.
Test sample data sets to confirm that output from the software functions as intended.
Devise possible solutions to predicted difficulties.
Writing thorough instructions for users and computer operators to follow while using the program.
Consulting manuals, periodicals, and technical reports to learn new ways to develop programs and maintain existing skills and knowledge.
Updating, repairing, and developing existing software and generic applications.
Choose our cross platform app development company
Our experts will ensure that your cross platform mobile app updates are performed smoothly and cost-effectively!
In-house Vs Outsourced Development
The next step in developing your app with a developer is to choose whether to hire a full-time developer on the team or find a specialist from another agency or freelancer.

Benefits of In-House Development
Good culture fit
In-house developers are already accustomed to the company's culture.
Communication is simpler
In-house talents find it simple to interact in person because they are employed by the same company and frequently find themselves in the same physical location.
The capability to change quickly
The process of creating software and websites is not always simple; before the finished result is released, there are frequent revisions, modifications, and updates.
Disadvantages of In-House Development
Hiring an internal team comes at a hefty price
Depending on the skill level necessary for the project, the cost of hiring IT specialists might range from $29.90 per hour to $74,001 per year.
High employee turnover rate
The high rate of employee turnover is another issue with hiring in-house personnel. IT has the highest employee turnover rate of any industry, at 13.2%.
Why it's your responsibility to upskill
You must make sure that any in-house teams you hire are upskilled to your company's standards.

Benefits of Outsourced Development:
Economical
With an outsourced workforce, you may employ skilled developers for less money while still using them for other projects.
Access to a vast talent pool
Finding the ideal candidate for each role is significantly simpler when employing offshore software development than when using a team from within your organization.
Shorter turnaround periods
In contrast to in-house teams that require time for training and onboarding new staff, outsourcing enables businesses to move quickly from one stage of production to another without any delay.
Disadvantages of outsourcing development
Trust issues
Look for a business with a solid reputation for openness and communication, and before you begin, be sure your contract is unbreakable.
Poor communication
Differences in time zones, languages, and cultures may interfere with communication.
Quality assurance issues
Participate in the recruiting of the engineers and insist that they demonstrate their abilities. In this manner, you can choose only the people who best fit your needs.
Freelance Vs Digital Agency
Imagine you want to find a specialist outside your company, so let's find out all the pros and cons of this choice.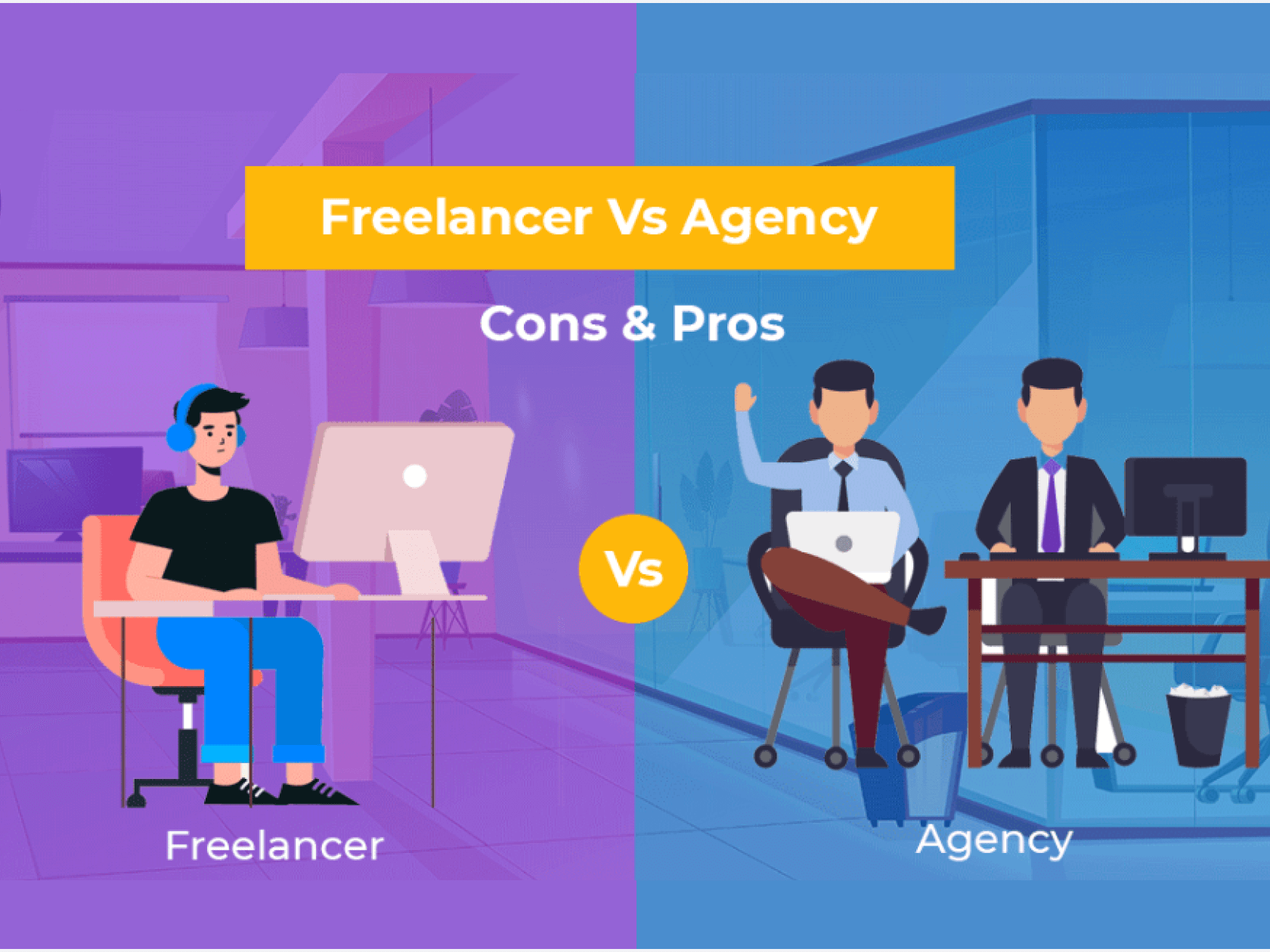 1. Administration
You assume the position of the project manager when you hire independent contractors.
Project management is minimal with an agency.
2. Price
When you hire a freelancer, you can anticipate paying less upfront. Freelancers establish a rate in accordance with the assignment, which may be an hourly rate or a fixed rate for the project.
Although hiring a digital agency cost more than hiring a freelancer, you won't have to put in as much of your own time, and there's less chance that you'll need to pay for modifications.
3. Skills
Those freelancers who have been in the industry for a while usually have a speciality. The drawback is that getting someone who can perform a wide range of tasks to a high degree could be more challenging.
A digital agency will be the best option if you're seeking a wide range of capabilities. Simply request a certain service, and the organization will locate a professional with the necessary experience for you.
4. Scalability
Scalability applies to both working with an agency and recruiting freelancers. However, when hiring freelancers, necessitates a new round of screening and interviews. When working with an agency, all you have to do is request more hours.
5. Resources
Although freelancers have subscriptions to the software and tools they use most frequently, they still count on you to supply everything else. However, an agency is a preferable choice if you'd like to have access to such technologies without having to make a larger investment.
6. Options
You get to pick the freelancer you wish to work with when you hire them. Since the job necessitates extensive communication, personality may be just as crucial as knowledge.
You frequently can't choose the experts who will be on your team when working with a digital agency. Instead, a team is given to you by the agency based on your requirements.
7. Communication
Freelancers typically have strong communication skills and ensure that the job meets your needs.
Working with a digital firm doesn't make communication any better or worse. To arrange the job you require, you will mostly deal with the agency's owner or a project manager.

Best countries to outsource software development
A quick summary of the best countries to outsource software development, plus how much you can expect to spend, based on web developer salary ranges in each country: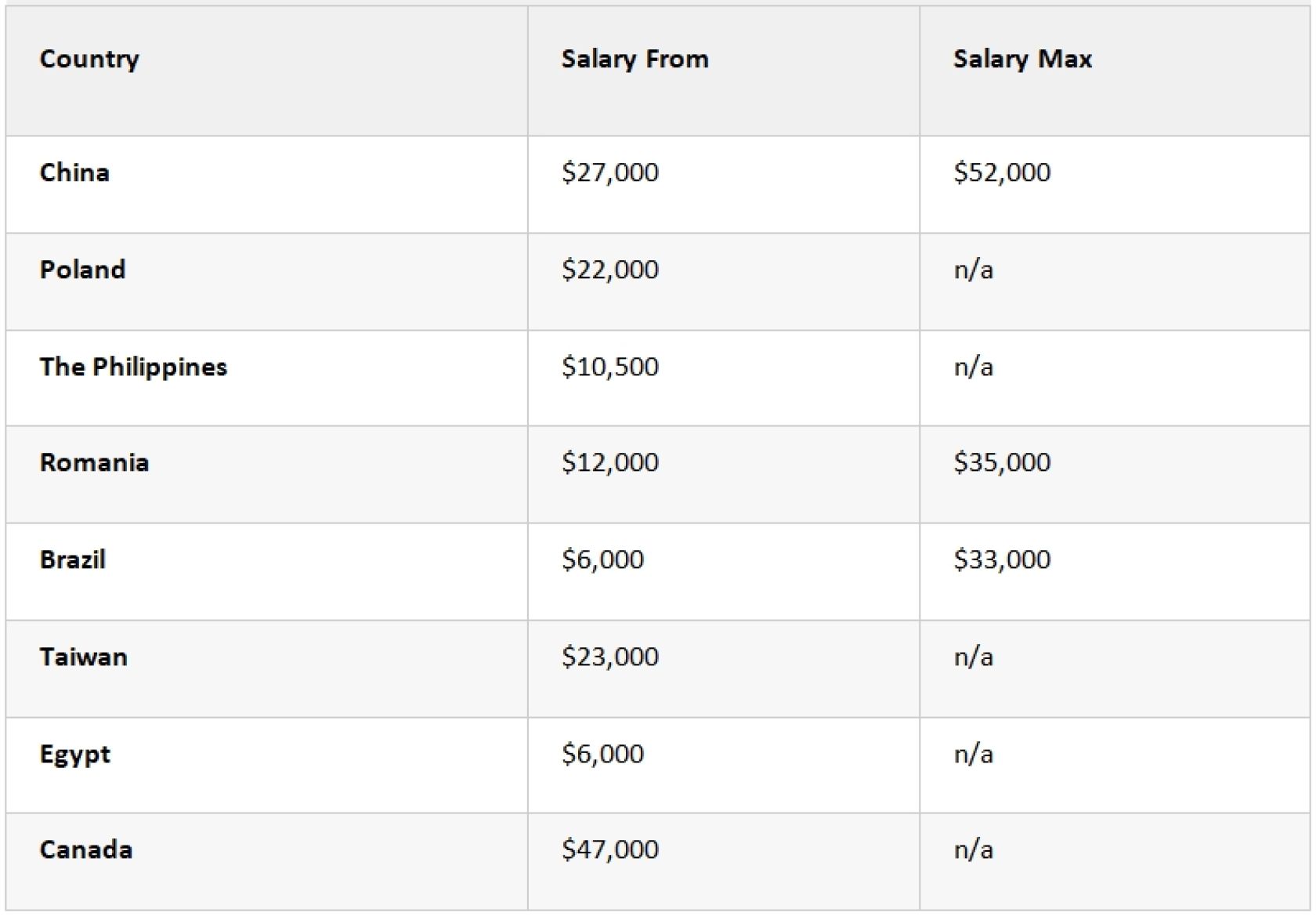 Platforms to Find Developers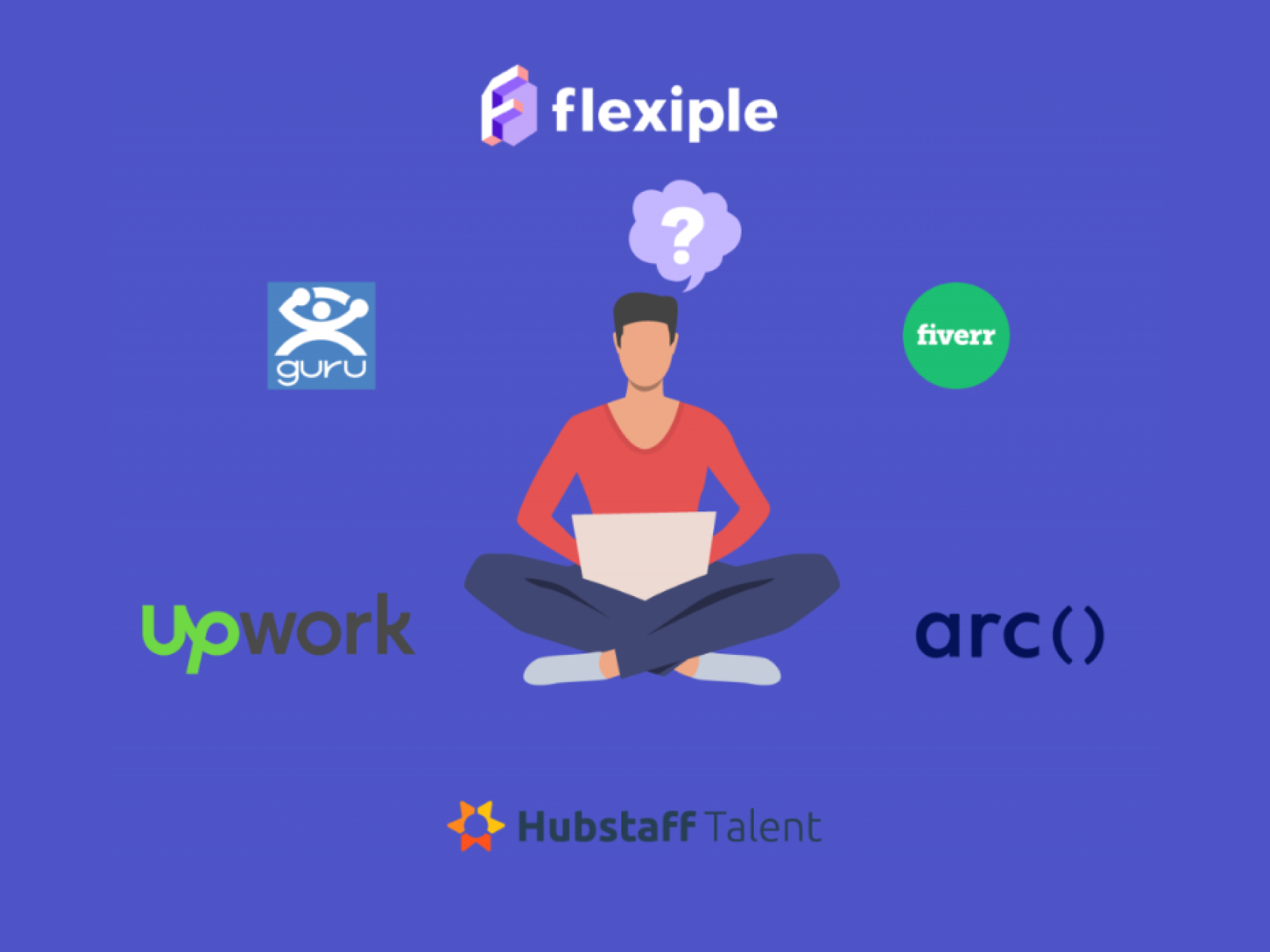 Here's a list of some of the best freelance platforms:
1. Flexiple
5. Upwork
6. Guru
7. Fiverr
Steps of Examination Before Hiring the Employee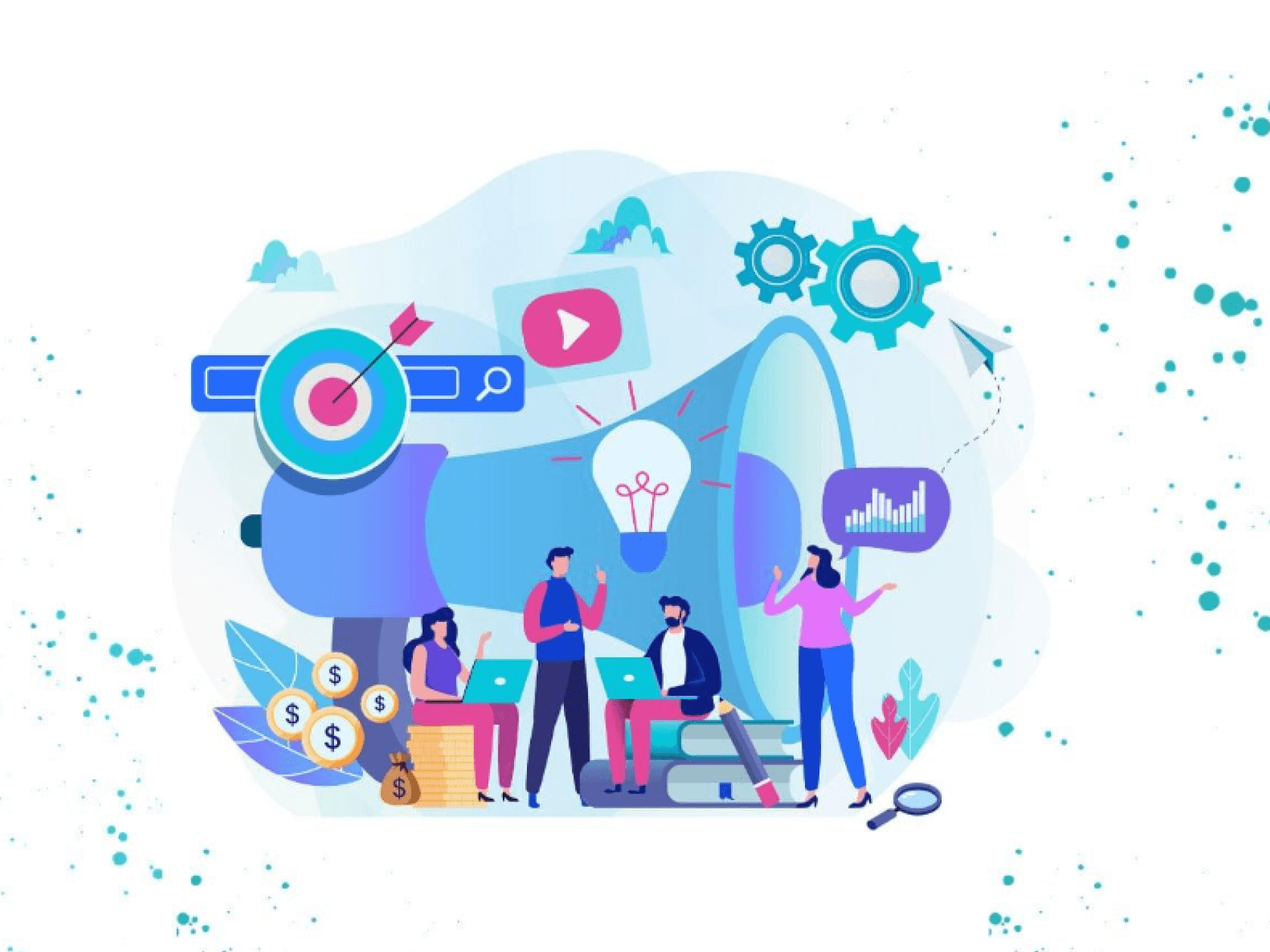 Now it's time to prepare yourself for interviewing and hiring specialists before you will make the final choose.
Step 1. Specify your business challenges
Step 2. Decide on the developer's skills
Step 3. Finding necessary specialists
Step 4. Check out the web development team's expertise
Step 5. Select a working model
Step 6. Choose a payment model


Must-have skills for a developer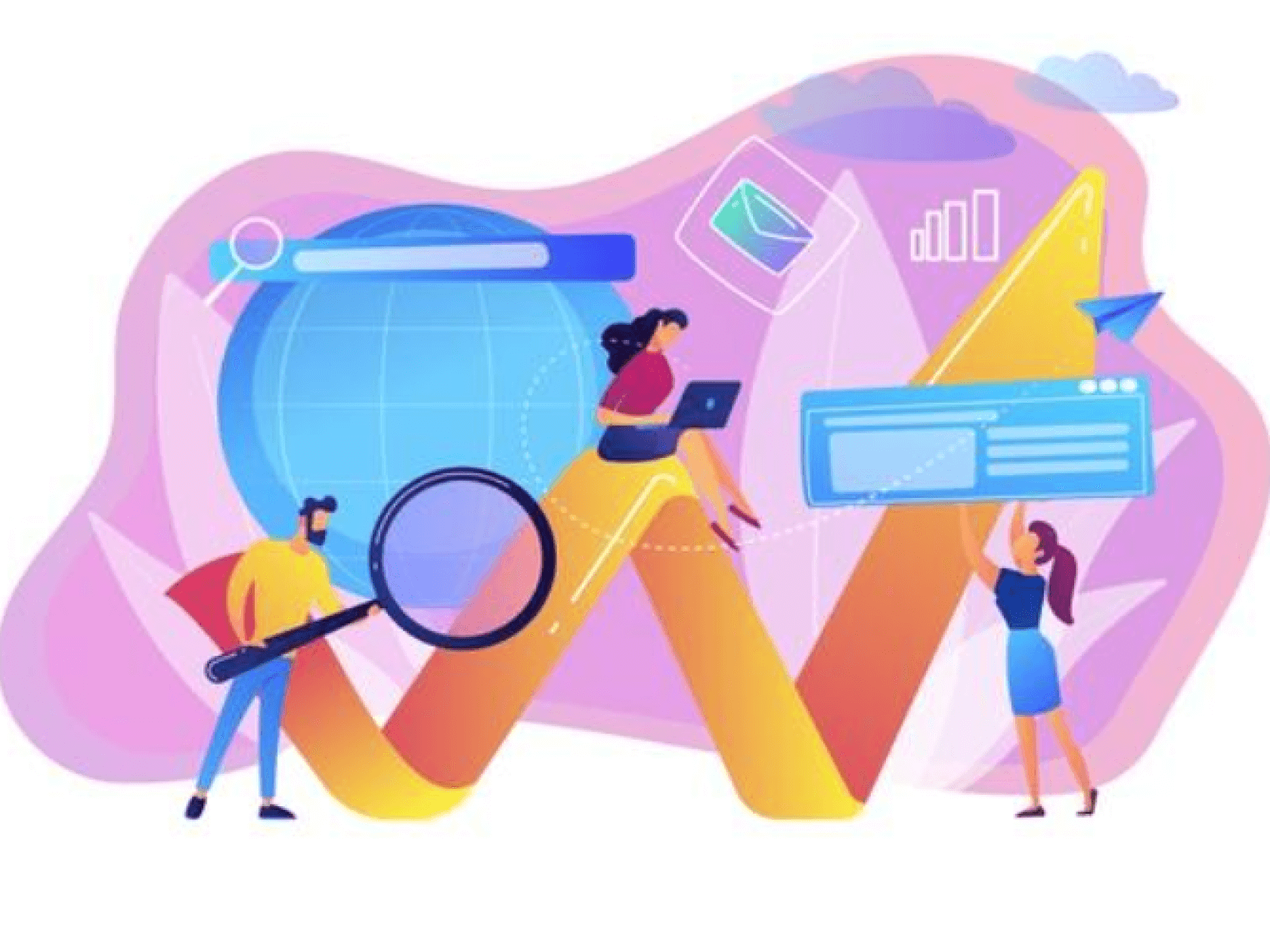 1. Knowledge of programming languages
Programming expertise is essential for creating mobile apps, particularly for languages like JavaScript, C++, and C#.
2. Computer literate
Software is used by mobile app developers to create their applications. In addition to developing mobile apps, many developers also produce computer software or other applications, which broadens their skill set and improves their computer literacy.
3. Back-end technology
Knowing about back-end computing can help you spot and fix system problems before they become public knowledge. A mobile app developer frequently works with the following back-end concepts: Framework; Database management; Hardware interaction; Security.
4. Designing user interfaces
You may create user-friendly application interfaces for users by using effective user interface design techniques.
5. Knowledge of cross-platform development
You may increase your competitiveness in the market by developing a variety of skill sets and understanding cross-platform ideas like code reuse, service support, and basic testing.
6. Cybersecurity expertise
Because they assist safeguard information and make mobile applications safe to use, cybersecurity skills are crucial for developers of mobile apps.
7. Knowledge of product management
Product managers are often the team leaders with the most business and development expertise.
8. Knowledge of the Internet of Things (IoT)
This ability might be useful for creating more intricate commercial apps and the systems that support them.
9. Agile development
This approach usually focuses on improving delegation to speed up and streamline the development process.
10. Responsibility
You must acknowledge and take responsibility for your errors if you want to advance as a software developer.
Conclusion

As far as you already know about how and where to find a software developer, you can decide for yourself where to go and where to start. If you value your time and for you the advantage of such factors as efficiency – quality – affordability, then we advise you to pay attention to the choice of the specialist team. It will save your most valuable and irreplaceable resource – your time.
How do you rate this article?