A Content Management System or LMS is a software solution that provides companies with the infrastructure to implement all aspects of the learning process in a digital environment. In fact, this is a repository of educational materials – video tutorials, lectures, presentations, books, and courses, which can be accessed from anywhere in the world where there is an Internet connection.
Currently, there are a lot of ready-made off-the-shelf LMS solutions, but not every one of them can cover business processes typical for a particular company.
Actually, this becomes the main reason for contacting software developers to create a custom product (like it was with our client, a large transport company needed to implement a turn-key learning management system).
But what exactly should be the request to your dedicated development team? What features should your learning management system have? In general, while the most advanced custom LMSs are based on artificial intelligence, machine learning, business intelligence, and other advanced technologies and concepts, below we propose to talk about a basic (i.e., default) set of LMS features that will be enough to meet the needs of the vast majority of companies.
15 Must-Have Features for Each LMS
In practice, LMSs usually consist of two parts: a student interface and an administrative panel. The first part provides students with all the necessary learning materials, course plans, progress statistics, and much more. In turn, the administrator interface includes tools for automating course management processes, particularly student groups, training materials, testing, certification, etc. Together, all this is achievable thanks to fifteen key learning management system features and benefits they cause. It is their presence that you will need to discuss with your development team, who will take on the implementation of your custom business solution.
Couse management
The main task of any LMS is initially to manage courses, so this feature is a key one for this type of software. In particular, it is responsible for digitizing all educational materials and providing them in an easy-to-learn format for students. This means that your solution must have a database that supports various formats of educational materials (media, PDF, text files, presentations, documents, etc.), which could be accessed via links or through other easy-to-use approaches. That's why most LMSs are presented in the form of a cloud based training platform, allowing easy sharing of any type of file to all users with internet access.
Learning portal
If your company implies several training formats for students (for example, you are going to separately implement courses for advanced training, separately – an onboarding procedure for new employees, separately – a course for your partners that would provide them with all the necessary knowledge to master your products and/or services, etc.), you will need such a feature as learning portals.
In fact, each of these portals is a small integrated LMS with unique functionality tailored to the needs of each course you plan to implement. Thus, by adding new students to your global LMS database, you will be able to set their specific learning goals and thus provide access to exactly the courses and materials they need.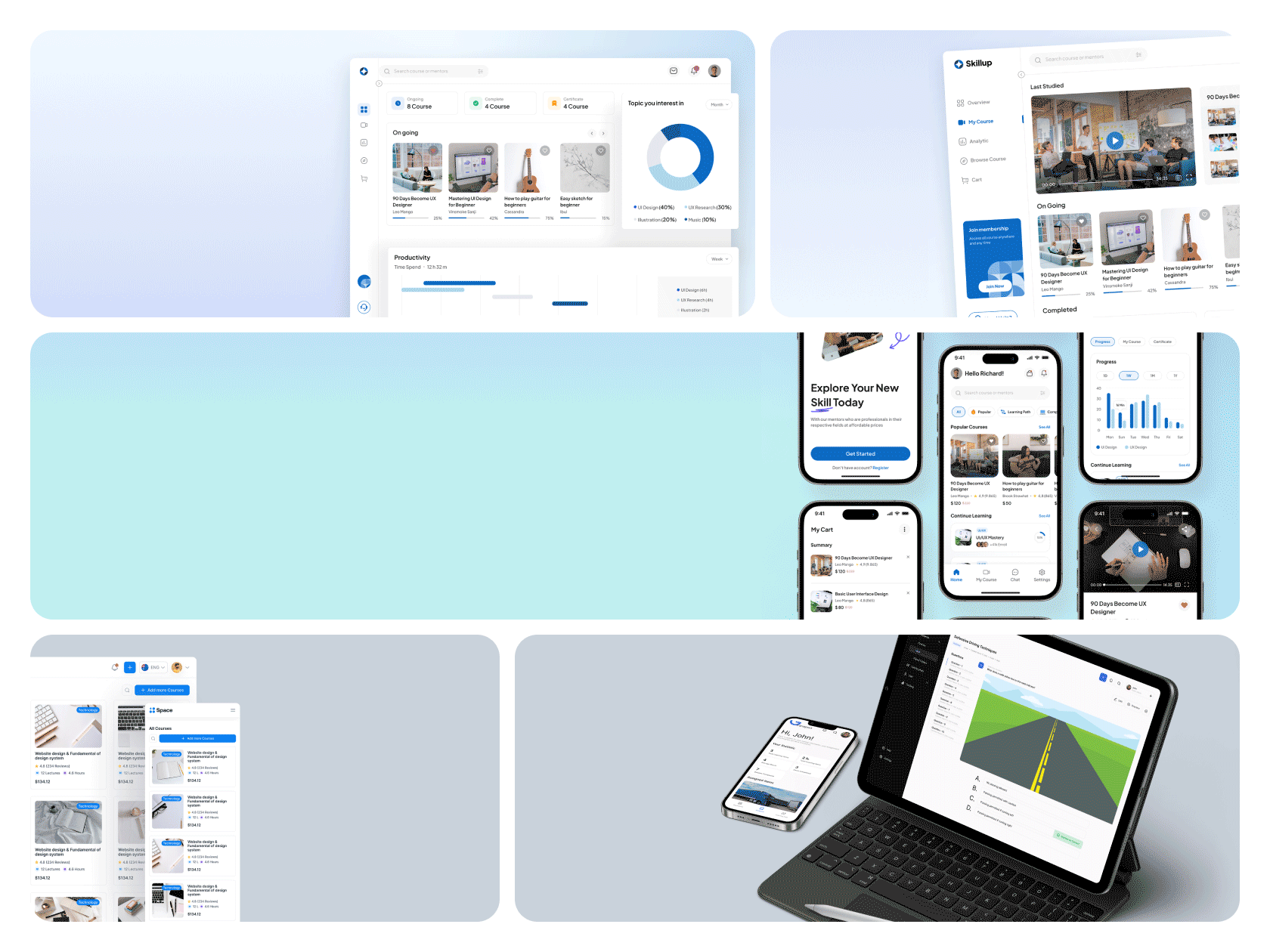 Branding
Because LMSs often act as company-owned solutions, your courses may need to be able to brand your learning materials (for example, by adding a logo or watermark). And the "correct" learning management system should include the appropriate functionality.
First, this approach will increase engagement in online learning. Secondly, it will create a certain image and reputation for your company. And, of course, do not forget that branded content will be much harder to steal, which means you will strengthen your competitive advantage against other companies in your business industry.
Third-party integrations
Also, you must understand that the presence of third-party integrations makes a good learning management system as well. The fact is that no matter how hard your development team tries to automate learning processes within your custom platform, you will still have some stand-alone software solutions that are already actively used in your business and that you are not going to refuse. In turn, synchronizing them with your new LMS will make all the processes in which it takes part seamless and eliminate the risks associated with the use of outdated data.
It is also important to integrate your LMS with social networks and other software solutions that your students may use. These integrations will simplify and speed up the registration process on your platform, as well as help them share events that are significant to them (for example, obtaining certification) for the benefit of your company's image.
Tests
Tests, quizzes, exams, and other skill assessment activities are an integral part of any learning process aimed at getting good results for students. At the same time, many ready-made LMS do not contain the proper functionality to implement these tasks. That's why you can turn to your development team to add the appropriate feature to your custom product and thus eliminate the need for additional software tools to assess your students' knowledge.
Moreover, your dedicated developers will also be able to automate the certification process of your employees by introducing a testing procedure that will independently check the skill level of your personnel.
Gamification
Gamification, as you may know, is not something that is only found in educational courses for preschoolers – on the contrary, this technique is often used in the process of teaching complex skills and techniques. The correct implementation of eLearning gamification elements can keep your students engaged in the learning process at the proper level and make even the most complex things simple, understandable, and easy to learn.
eLearning gamification can also be useful in assessing the level of knowledge of your employees: introducing a digital rating and awards system will create a kind of competition between the students of the group and thus provide them with an additional incentive to improve their academic performance.
Access rights
As you build up your learning capacity within your company, you may want to be able to restrict access to specific elements of your learning management system. In particular, as we said above, you can form several groups for training with different goals: for example, for partners, beginners, and employees who want to improve their qualifications. Depending on which group a particular student belongs to, they will receive access to the knowledge and courses they need.
In addition, you can provide different access rights to course administrators, teachers, and students by giving them individual permissions to add, edit, and view student materials and test papers. Thus, you will eliminate the redundancy of functionality for individual user groups and ensure the transparency of all learning processes within your platform.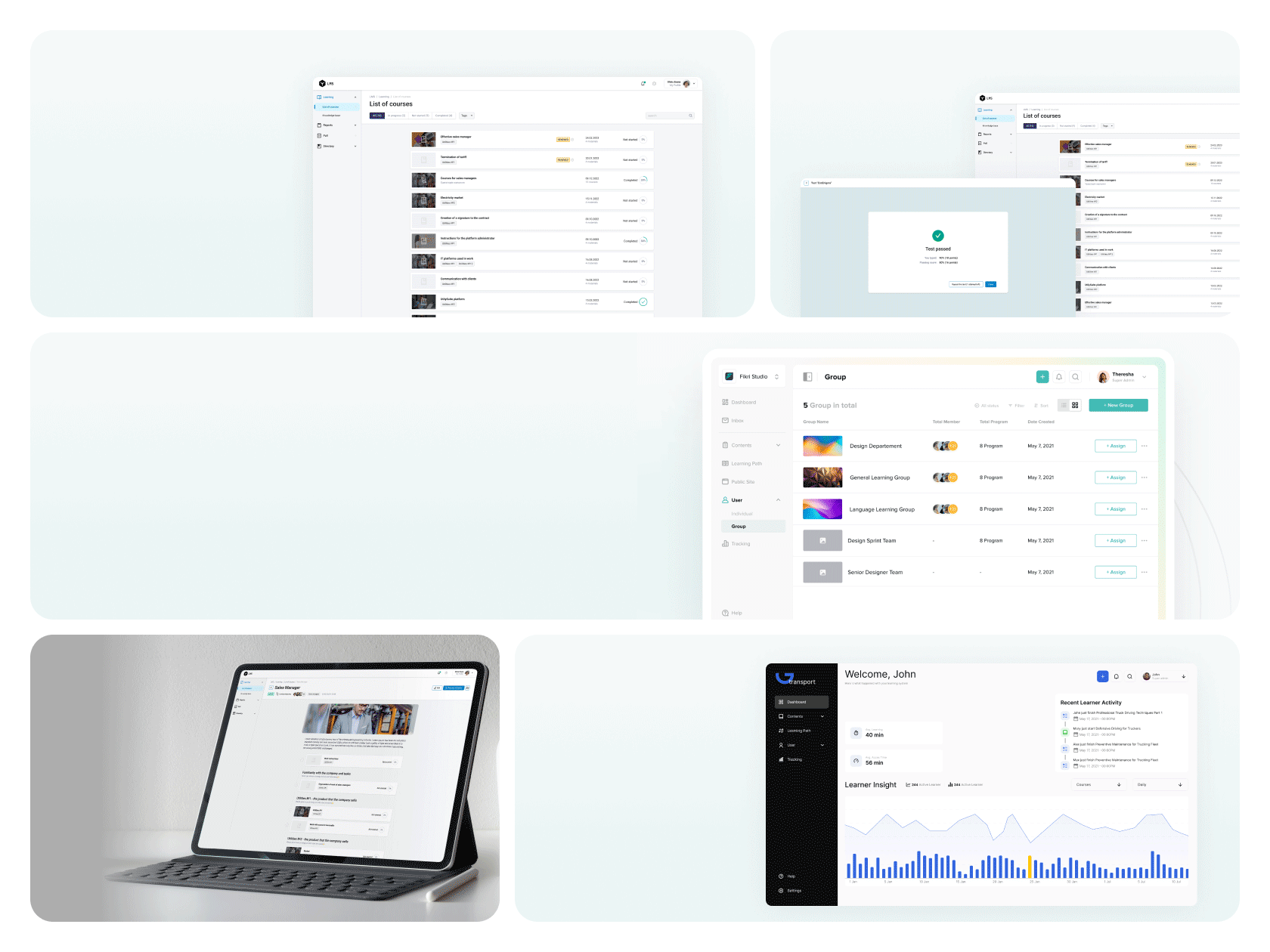 Students groups
As a separate feature, you have to implement the division of students into groups: even if you assume the implementation of only one course (for example, to obtain certification for your employees), as your organization scales, the number of applicants for a certificate will grow, and thus you will be able to start several groups at once without overburdening your training staff.
In particular, you can group your students according to their location, level of knowledge, or any other characteristics that your development team may specify after your request.
Reporting
Reporting is also an integral part of the vast majority of modern LMS, as it allows you to quickly evaluate the effectiveness of training both your individual employees at a particular point in time and the entire group as a whole.
For example, reports can display up-to-date student progress data, include exam results, and more. More advanced solutions also include exporting these insights and generating reports that are automatically emailed to training personnel and your company's management. Thus, you will be able to use these analytics to identify general trends or find opportunities for improvement.
Interested in creating Learning Management Systems?
Contact us to create a custom solution that provides your audience with a convenient learning tool.
Progress monitoring
Imagine that with the help of your learning management system, you can "pick up" your students from the learning process to implement specific business tasks as part of their new job responsibilities. In practice, this can be a simple task if you have access to data on the progress of each of your students within a training course. Thus, some of them will be able to get certification earlier than planned and start new, more complex business tasks.
It is equally useful to have this information at hand for the students themselves. Thanks to properly visualized analytics, they will be able to identify their gaps in knowledge at an early stage and eliminate them in a timely manner to get a better score on the final assessment.
And, of course, you can use this feature to automate the recertification process to protect from the overload of your company's management departments.
Course planner
As the number of students grows and the structure of your course becomes more complex (or at some point, you decide to run several courses for students with different backgrounds), you may need an auxiliary tool that will simplify the process of creating these courses.
In particular, many modern LMSs come with course planners - this is a kind of constructor that will help you sort and structure learning materials, attach appropriate homework and/or tests to each lesson, and also determine the access rights to information for each individual student. In essence, it is an automation tool that will help you quickly launch courses, regardless of the number of students and the size of the knowledge base.
Data migration
Perhaps, before you decided to develop a custom LMS, you already used some ready-made products with similar functionality. Now that you have a platform at your fingertips tailored to your individual business requirements, it would seem that all learning processes should be optimized.
However, in practice, things may be different: the fact is that migrating an old database from off-the-shelf software can be a daunting task if your new LMS doesn't include functionality designed to simplify and secure this process. In turn, if you need migration, you must notify your development team that works on your custom LMS. In this way, the migration will occur as quickly and painlessly as possible regarding the safety of your previous training materials and student data.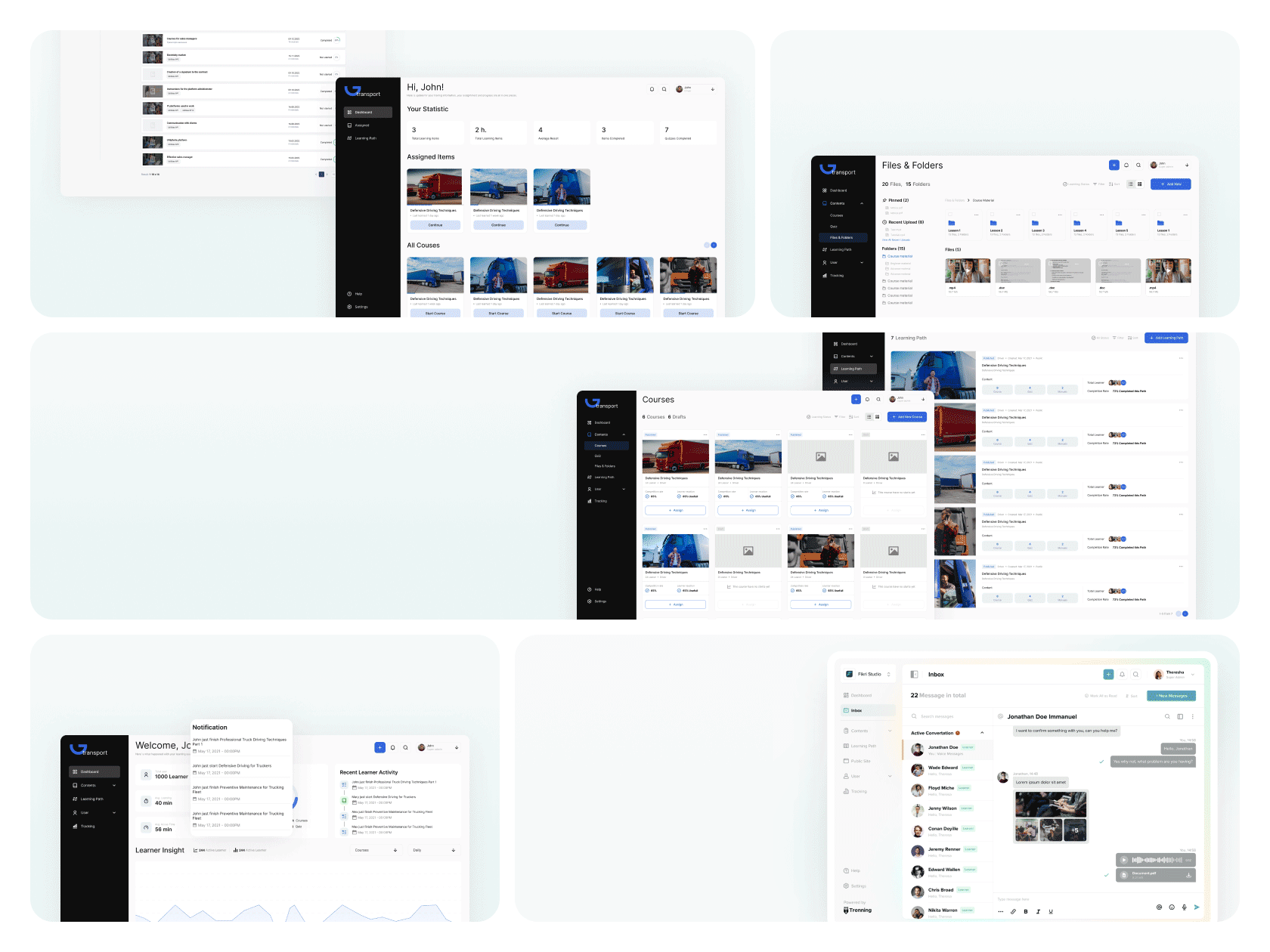 Automation
It will be great if your LMS has such a feature as introducing dynamic rules. In particular, implementing such rules will help you automate the vast majority of tasks related to your students' education. These include enrolling students in courses, distributing them into groups, sending reminders, certification and testing, and much more. This way, your training staff can devote more time to creating high-quality materials and reviewing completed assignments than organizational tasks.
Notifications
The automatic notification feature, whether it's a reminder of upcoming classes or the results of a passed exam, plays a much more important role in LMS than in many other applications, where they are commonly used as part of marketing strategies. Indeed, such notifications can take on the task of a "personal mentor" or "supervisor", which would force your students to keep their finger on the pulse in those moments when you personally do not have the opportunity to do so. In this way, your teaching staff will not have to spend a lot of time reminding each of the students about the "debts" and upcoming key events (for example, tests) since now you can delegate these responsibilities to your LMS.
Chats and communities
Communication within the learning process framework is usually great for stimulating the progress of each student. However, since LMSs usually involve remote learning (although they are sometimes used as an additional tool in mixed learning techniques that combine offline and online classes), this communication should also be transferred to the digital plane. Of course, you can always create a separate chat for your students in popular messengers like Telegram, Viber, or Slack, but it is much more reasonable for this feature to be present within the LMS. In this way, it will be easier for your students to share complex tasks, and some will not have to install additional software they did not originally intend to use for personal needs.
Conclusion
Summing up the above, we would like to clarify that the final set of learning management system functions directly depends on your individual business goals. Along with this, whatever your desired functionality, you can be sure that we will implement it in the best possible way and exactly as you want. For example, you can find out the details of one of our success stories in the custom LMS development for Wezom Academy. Contact us right now to share your business idea with our experts and discuss its implementation and budget.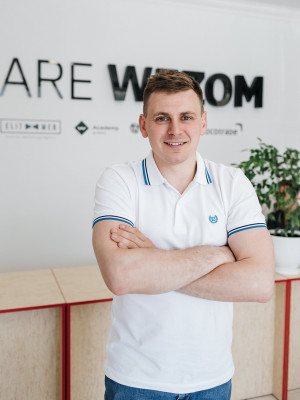 Interested in a custom solution?
Of course, this will require some financial investment from you at the beginning of the path to automation, but over time, this approach usually fully pays off. I can talk about it in detail.
How do you rate this article?