About the Book
For years, academic librarians have been exploring innovative approaches to cater to their users and meet their research requirements. Now, they're utilizing learning management system (LMS) embedded librarianship to team up with faculty, offering students research aid directly within their LMS course sites. This edition of Library Technology Reports illustrates the LMS context within the broader digital resource landscape of academic libraries. The discourse covers:
Strategies for integrating digital collections and search tools
Techniques for developing tailored content for specific courses
Digital instruments for interaction, teamwork, and source citation
Trends in LMS embedded librarianship
Fundamental principles of universal design, pedagogical design, digital accessibility, and copyright.
You can download and read book here: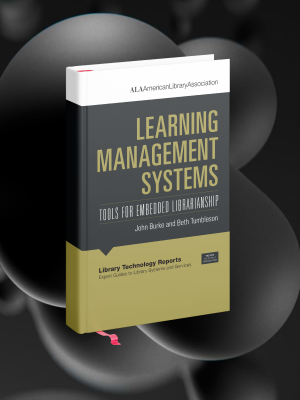 John J. Burke, Beth E. Tumbleson
Learning Management Systems
This book examines the interplay of Learning Management Systems and digital resources in academic libraries, highlighting the emergence of integrated librarians, strategies for digital collection, and essential concepts such as instructional design and copyright rules.
How do you rate this article?