About the Book
In Joseph Hilyard's latest book, readers are taken on a comprehensive journey through the various operations involved in the oil and gas industry, with a primary focus on the United States.
From exploring new resources to transporting them, the book covers the equipment and processes used in every stage of production. Additionally, the book explores the evolution and current structure of the industry, as well as future challenges and oil and gas trading. Three appendices provide key industry terminology, recommended reading, and organizations for further information. This book is a valuable resource for anyone seeking a deeper understanding of the oil and gas industry.
Mr. Hilyard's book on the oil and gas industry is a must-read for anyone seeking an understanding of this complex and important field. The book covers a wide range of topics, including:
Fundamentals of oil and gas discovery, exploration, and development
Product development, distribution, and marketing
Industry structure and emerging challenges
Despite the technical nature of the subject matter, Mr. Hilyard presents the information in an accessible and informative manner, making it an excellent resource for professionals and laymen alike. As someone with a background in data management in the financial services industry, I found the book extremely useful in gaining a deeper understanding of Houston's dominant industry. Kudos to Mr. Hilyard for his fine efforts in producing this well-written and informative book.
You can download and read book now: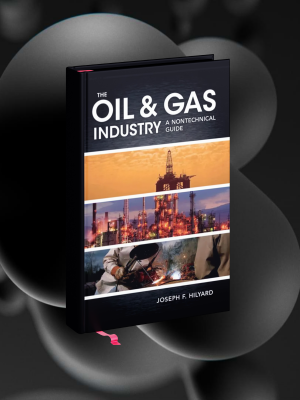 Joseph Hilyard
The Oil & Gas Industry: A Nontechnical Guide
Mr. Hilyard's book covers a wide variety of topics in the oil and gas industry, from discovery to marketing and emerging challenges. It's informative and easy to read. We applaud the author and recommend this important book as an excellent learning opportunity.
How do you rate this article?