eLearning is some of the trends that are now exceptionally widespread in our reality. We need to pay attention to it to know how to get the most out of it. When it comes to the question "What does eLearning mean?", we need a detailed picture to understand this complex issue. eLearning can be highly beneficial so knowing about it may help us use it for our profit.
The concept of eLearning is a digital phenomenon so we need to know the potential it provides. Also, it is necessary to know its influence in the field of education as it can help provide this professional field with new horizons.
In this article, we will analyze eLearning from different perspectives and will try to conclude how to use it and what benefits it has. Also, we will try to analyze how you can use online e-learning software to benefit from vaious practices.
What Is eLearning?
ELearning training refers to a concept that is described as learning with the means of digital tools and media. This approach makes learning faster and more convenient. Also, there is a huge potential if you use this method to improve your learning experience.
eLearning includes ways like degrees, online courses, and other forms. ELearning is the process of disseminating information via a variety of media, including eBooks, CDs, webinars, and more. A traditional approach to teaching kids--using chalk and a board--has transformed. eLearning education makes giving and receiving learning easier, more prolific, and more fruitful.
Two primary models of web-based instruction have been developed: synchronous (instructor-facilitated) and asynchronous (self-directed and self-paced). Synchronous eLearning requires all participants to be present at the same time, whereas asynchronous eLearning does not.
Why Is eLearning Important?
eLearning is a highly important approach in our digital age, when education and business are inseparable. eLearning is not just an approach that has the potential to transform the field of education, allowing more and more people to engage in accessible and comfortable learning activities. It has other positive sides as well, allowing us to have cost-effective, time-saving, and powerful means for education in a world that has its limitations as COVID-19 has already shown.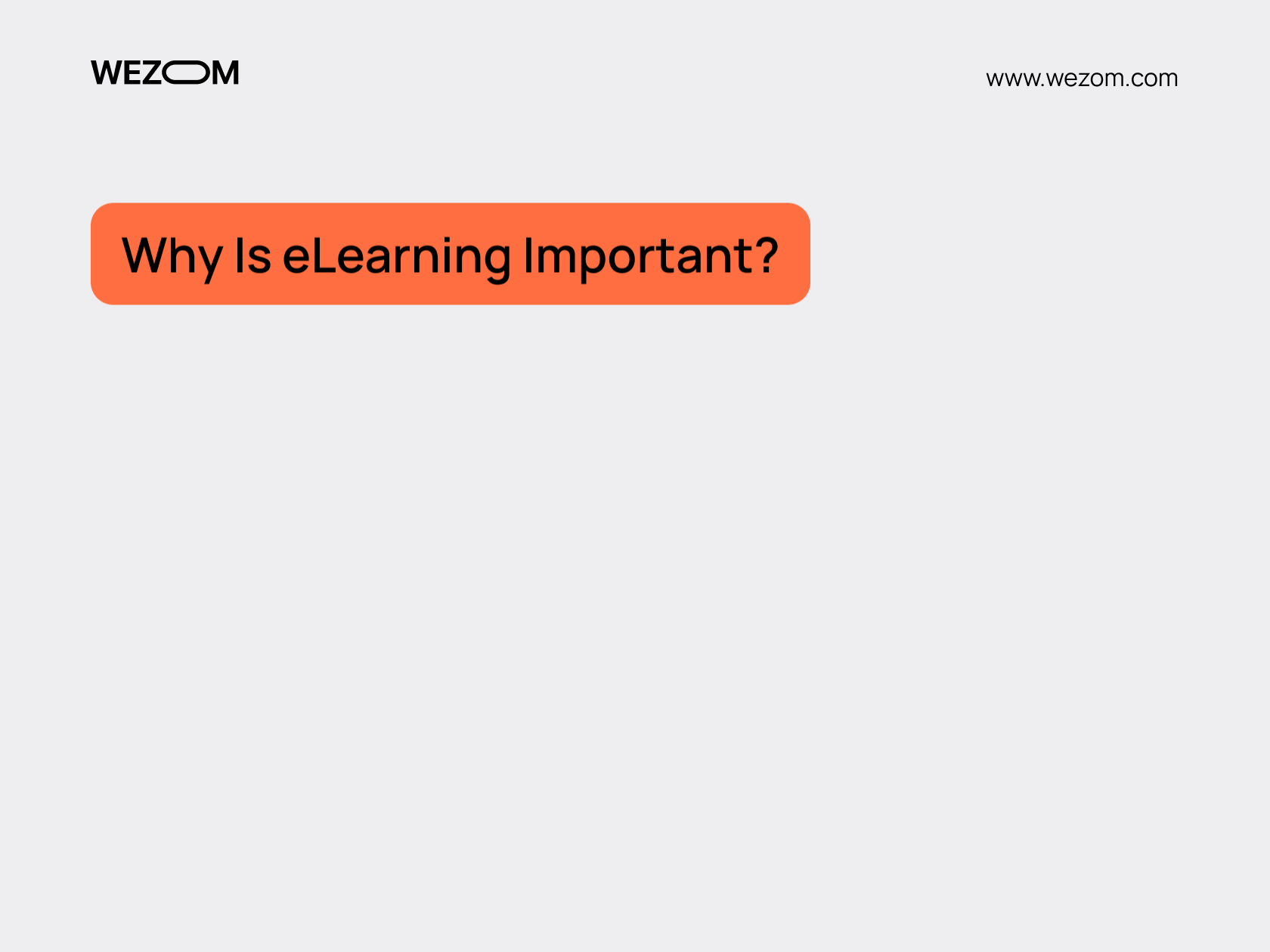 Types of eLearning Training
People use eLearning for a variety of reasons. Here, we'll explain the different types of eLearning that we provide:
Employee Training
Among the various types of eLearning employed by organizations, employee training stands out as the most prevalent. Its primary purpose includes onboarding new employees and enhancing overall employee performance. Leveraging a Learning Management System (LMS) to streamline training delivery renders it significantly more efficient than conventional methods.
In contrast to traditional training approaches, eLearning proves to be exceptionally effective in fostering professional development by cultivating a knowledge-driven eLearning culture. Moreover, an ideal LMS should offer capabilities such as exam creation, report generation, and feedback collection to enable continuous assessment and refinement of training performance.
Interested in creating Learning Management Systems?
Contact us to create a custom solution that provides your audience with a convenient learning tool.
Compliance Training
For many organizations, compliance training is an indispensable requirement. It plays a vital role in educating employees about the laws and regulations relevant to their roles and industries, encompassing areas like health and safety, anti-harassment laws, and diversity. Several examples of compliance training include Diversity Training, HR Law, and Anti-Harassment Training.
Efficiently managing a compliance training program not only mitigates the risk of non-compliance but also safeguards your organization's reputation. Additionally, it fosters a safer workplace environment for your employees. The use of eLearning through a dependable LMS facilitates staying updated with evolving legislation and modifying training materials as needed, making the process considerably more streamlined.
Customer Training
Training your customers might sound strange, but it's actually very beneficial! Customer training programs teach your customers how to use and understand your product or service, which is especially common among software providers.
This not only improves the customer experience but also benefits your organization. With customer training, you'll have smoother customer onboarding, more engagement with your product or services, and better customer retention.
Partner Training
Partner training is a way to help your partners succeed as members of your network. Partner training can include product information training, sales training, support training and marketing guidance. Often certified partner training is required before becoming a partner. Partner training presents many benefits including engaging partners, reducing support costs and scaling growth.
Benefits of eLearning for Your Organization
The advantages of each of these four training streams have been outlined, and you will now have a better understanding of what eLearning offers you and your learners. In this section we will talk in more detail about the broader benefits you'll experience when you use eLearning in your organization.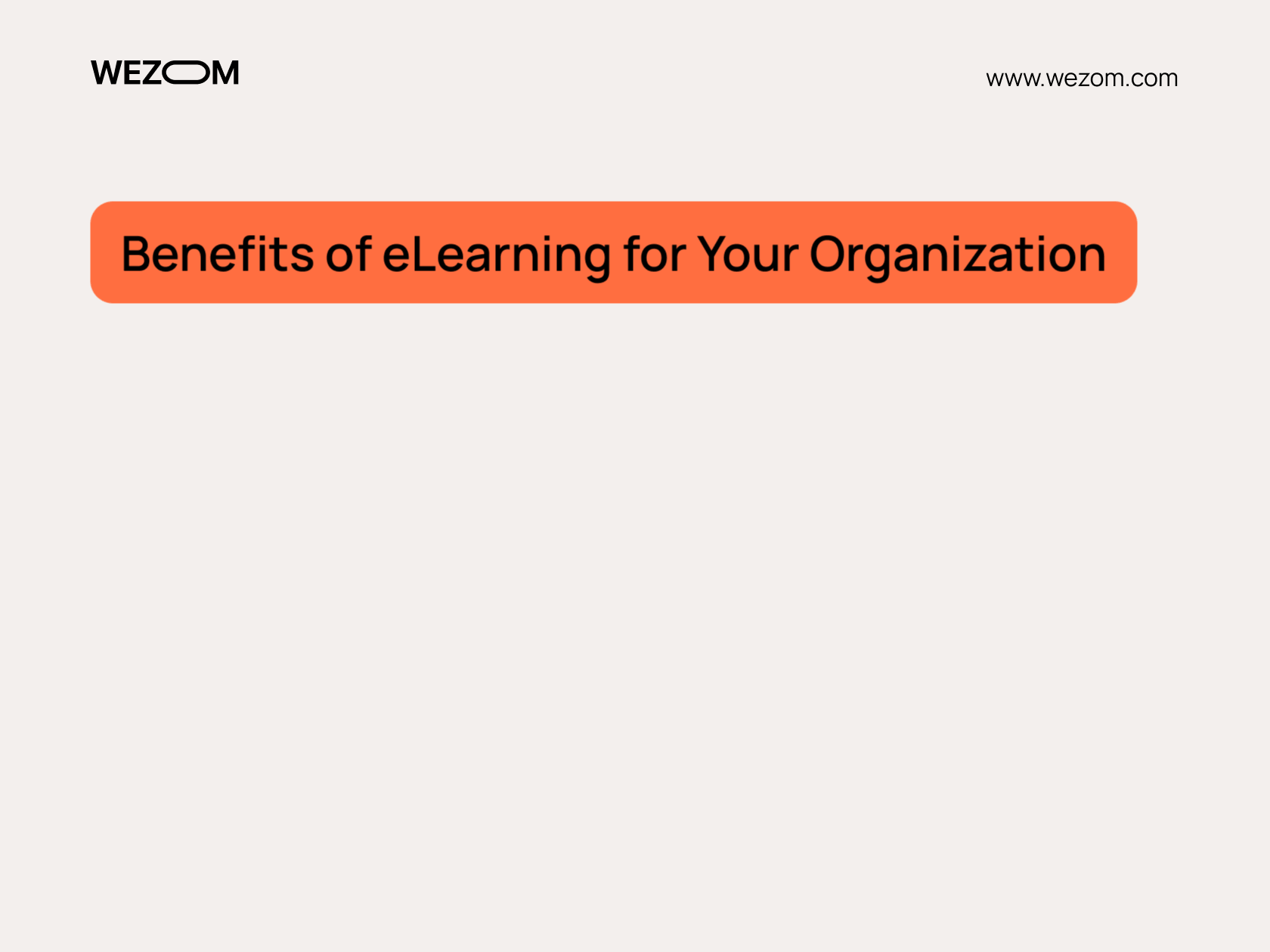 It Is Cost-Effective
Cost-effectiveness is one of the significant benefits of eLearning, especially when it comes to a larger employee audience. Cost-effectiveness allows you to concentrate on other financial goals while your educational issues are handled.
It Saves Time
Time is a valuable commodity, so why not save as much of it as you can? An eLearning platform allows employers to add updates and information to their training programs quickly and easily, saving them time on the organization of reprints, etc. Learners also save time by accessing content where and when they need to, rather than relying on scheduled training. And you can use your LMS to automate manual tasks, making training management more time efficient.
It Improves Performance and Productivity
eLearning lets learners complete their training at their convenience, which can lead to greater productivity and improved performance. Learners also like that they can learn from home or on the go – and at their own pace. This flexibility makes them more likely to be motivated in their professional goals.
It Has a Lower Environmental Impact
eLearning not only offers numerous benefits in terms of training effectiveness and cost-efficiency but also holds significant promise in reducing environmental impacts, making it an eco-friendly choice for organizations.
According to a report by Articulate, eLearning courses consume approximately 90% less energy and produce 85% fewer CO2 emissions per student compared to conventional face-to-face courses.
By adopting eLearning, organizations can actively contribute to sustainability efforts and demonstrate their commitment to environmental responsibility. Embracing this digital learning approach not only enhances learning outcomes but also showcases a dedication to creating a greener future for the planet.
eLearning Platforms That Are Created for Your Business
eLearning for businesses is not only a range of powerful tools and an approach that can revolutionize education, it has much more sides and edges. Also, eLearning software is cost-effective, time-saving, and has other positive sides that affect your organization's work
Conclusion
In conclusion, eLearning presents a powerful and flexible approach for organizations to enhance their training and development initiatives. With its convenience, accessibility, and self-paced nature, eLearning allows employees to learn at their own pace and on their preferred devices.
This not only boosts engagement and knowledge retention but also fosters a culture of continuous learning within the organization. Moreover, eLearning enables companies to streamline training processes, significantly reducing costs associated with traditional in-person training.
By embracing eLearning, organizations can empower their workforce, stay ahead in an ever-evolving landscape, and achieve their goals efficiently, making it a strategic investment with long-lasting benefits for both the employees and the overall success of the organization.
Powerful oftware enables businesses to be competitive and to bring allthe positive effects of eLearning in a fun and easy way. WEZOM has experience in creating robust systems in the field of education, from custom LMS solutions to special learning management systems for transport, and SaaS-based LMS solutions. By choosing us, you get real value and new possibilities.
Trust us with your educational experience and consult for a more personalized experience!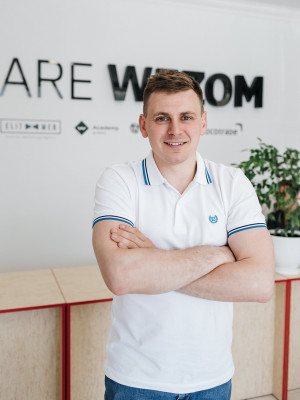 Interested in a custom solution?
Of course, this will require some financial investment from you at the beginning of the path to automation, but over time, this approach usually fully pays off. I can talk about it in detail.
How do you rate this article?