An interesting fact is that according to Statista, about 90% boomers and about 79% zoomers agree that if store employees know the product well, thay are more trustworthy and the desire to buy from this store is much higher.
This may be one of the main reasons why having expertise in your product has such a significance for business. And one of the main questions is how to create trainings and systems of employee education. This is exactly the topic we will discuss today.
Why Does Product Knowledge Matter?
Do you agree that educating customers about your product and related topics allows for a more effective process of product selling. But what about educating the staff?
Well, we have at least several good reasons why it is equally important!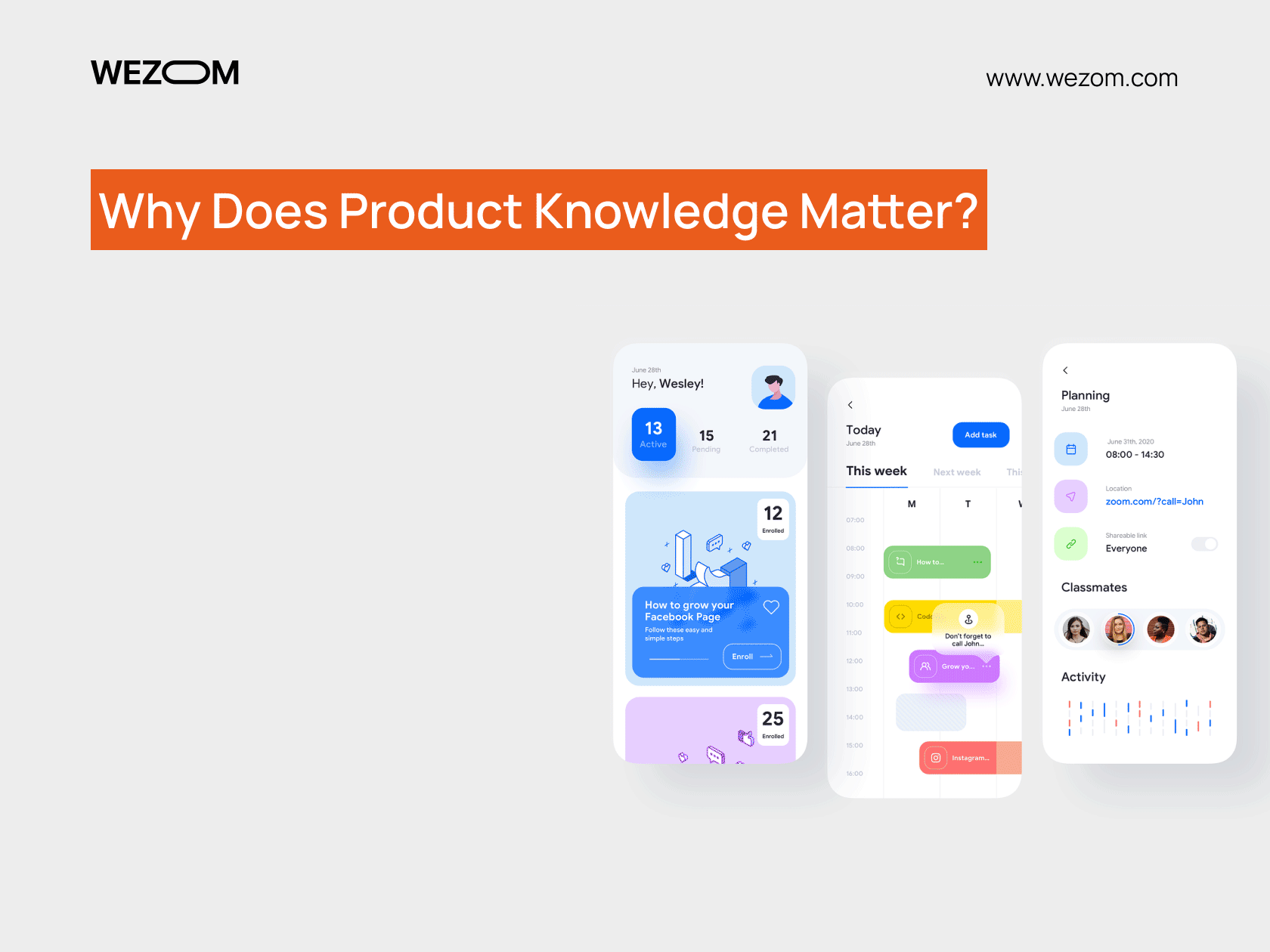 Creating a Team of Productive Enthusiasts
A specialist who knows the product perfectly is not just a salesperson. He is a kind of "guide", the purpose of which is not only to sell the product, but to show its value and relevance to the client. He is more motivated and understands better how this product can really help a person. The result is more sales and more satisfied customers.
Earning Trust and Building Long-Term Relationships with Clients
As we said above, employee awareness is a good "signal" for the client. Yes, a potential buyer has most likely already explored your site, read reviews and looked at product reviews. But he may still have doubts that a qualified specialist can dispel on the spot.
Turning Customers into Experts on Your Product
When the buyer receives all the necessary and up-to-date information about the product, he himself is quite capable of becoming a kind of expert or even a brand advocate who will recommend you and your product to his friends, relatives or acquaintances. But this, again, is only possible if there are specialists in your company who will make experts out of customers.
Business Development through Partner Networks
Your potential partners, as well as direct customers, also want to get as much expert information about the product as possible. And who, if not employees, will provide them with this information? Therefore, it is worth considering product knowledge training not only as a benefit for B2C, but also for B2B. And this is a completely different opportunity for profit.
Types of Product Knowledge Training
There are several learning formats you can use. We will not go into each of them in detail, because this is too big a topic. But at a basic level, it's still worth talking about them.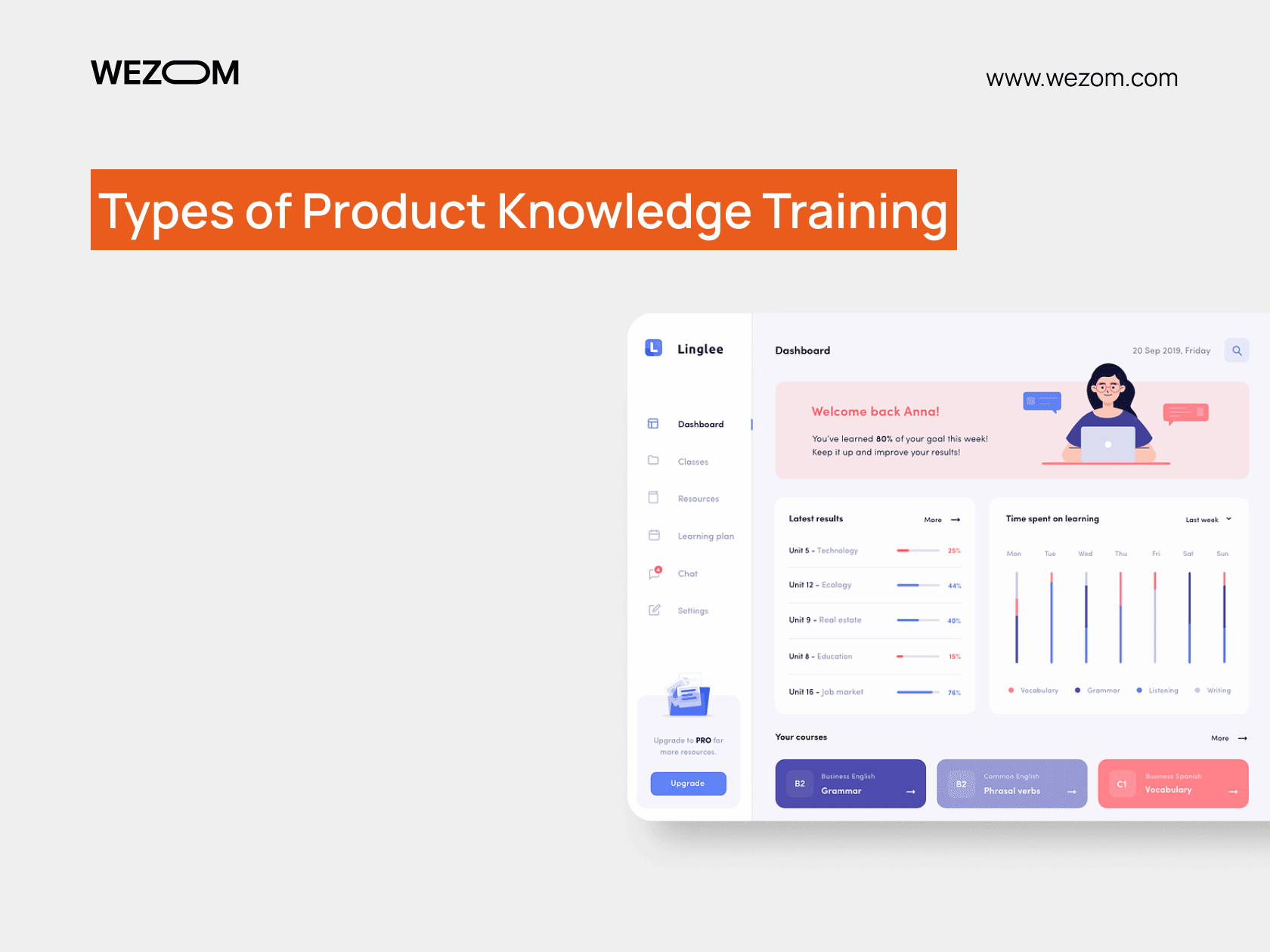 Offline and Online Product Knowledge Training
Offline trainings and courses are good because they allow you to "touch" the product and better feel the corporate spirit. But at the same time, they put many restrictions: you need a place to study, not all students can adapt to the schedule, and more importantly, they can live in different countries and cities.
Therefore, today online training still comes to the fore, providing more flexibility and opportunities to simultaneously train a large number of employees.
Synchronous and Asynchronous Product Learning
Synchronous learning means that all students go through the program at the same time. The main advantage of this format is speed. The disadvantage is that this format is not suitable for all participants in principle because of the need to adapt to the general schedule.
Asynchronous learning involves providing students with learning materials that they can review at their convenience, as well as, as a rule, setting a deadline for completing the training.
Blended Learning
This format implies a combination of the above formats in various variations. With the right approach, this can be very convenient and effective. The main thing is to develop a blended learning scheme that is comfortable for students and does not become too burdensome for those who teach.
In most cases, blended learning is implemented by companies that already have experience with other learning formats and know how to combine them effectively.
Product Knowledge Training
To achieve really good results, product knowledge training must be truly comprehensive. We offer our clients and partners to act according to the following scheme.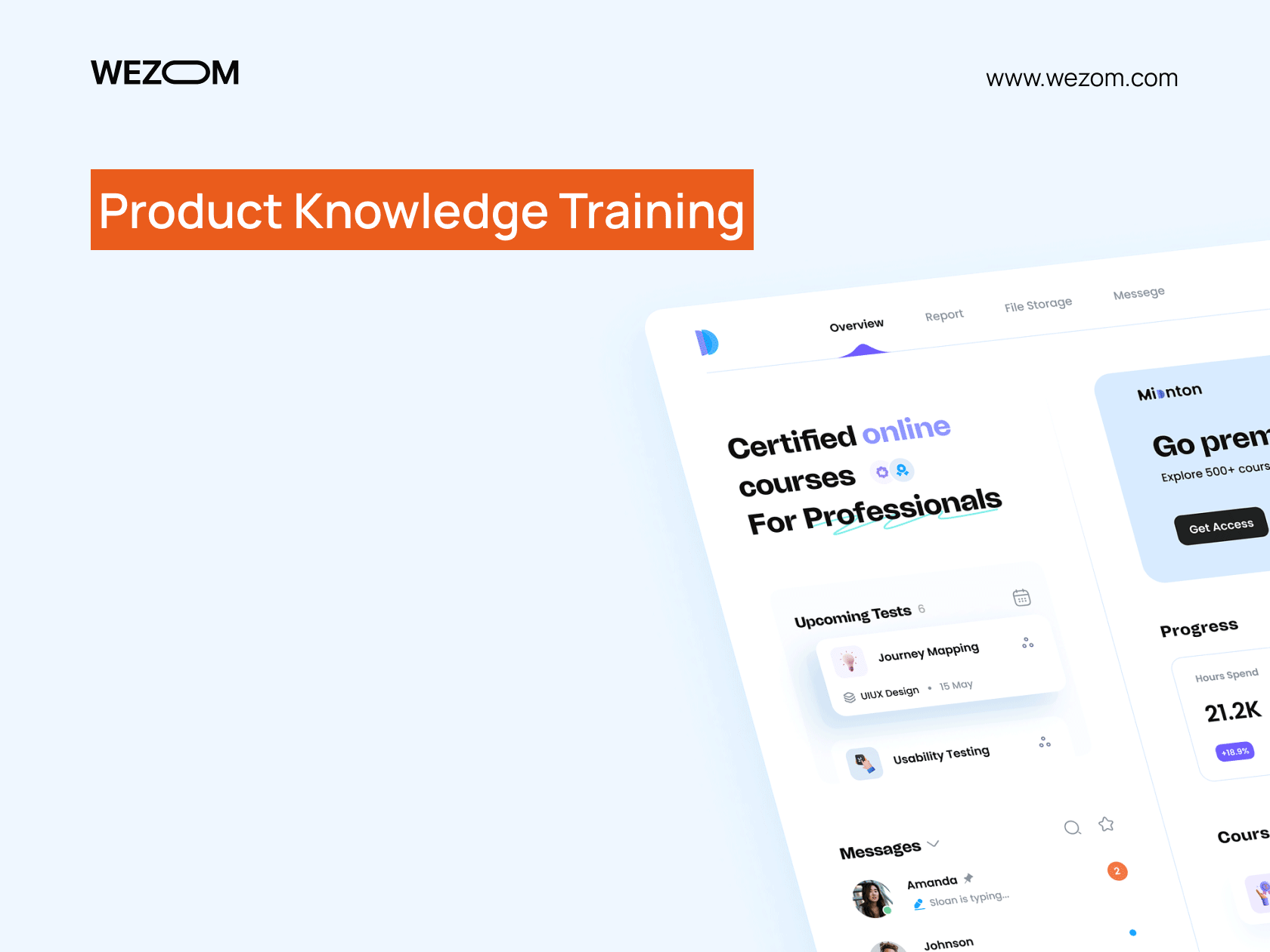 1. Create a Consistent Training Program
Perhaps the main priority is consistency in training. Every employee should receive the same high level of training and acquire valuable product knowledge skills. And the best solution for this is the implementation of an integrated LMS system tailored specifically for your business.
We have already talked about how to choose an LMS and not make a mistake. Check it out if you missed it.
2. Ease of Use for Both Administrators and Employees
Your learning system should be equally simple and accessible for both the administrator managing the learning process and for each of the students. And here one point is important: ready-made LMS are often not suitable for most companies (especially large ones), because they are not tailored for specific goals and objectives.
To understand why a custom-designed LMS is better than a "boxed" solution, we recommend that you read our LMS Mobile App implementation case for an energy company. You will see that an LMS with a mobile application is a really effective and convenient solution.
3. Scalable Product Knowledge Training
Business cannot stand still. This means that your LMS should also easily scale and adapt to new requests and requirements. It must be manageable and easily adapt to the growing number of employees, as well as allow them to be divided into teams and departments. And even take into account their work in different time zones for convenience and efficiency.
4. Automation of Labor-Intensive Work Processes
The tools of a modern LMS, which provides customer service training and product knowledge training, should be automated and allow you to quickly add new users in many ways:
through the personnel management system;
automatically create new user profiles;
register users for relevant courses or whole groups of courses;
notify participants when they are added to courses, etc.
All this and much more can be done by our LMS, which is developed and implemented individually for each business.
5. Mobile-Enabled Learning
It is important to bear in mind that not always a person has the opportunity to study at a computer. Therefore, LMS should be adapted for mobile devices and have the same functionality. Or at least basic functions for learning.
6. Teach How You Want
Modern LMS gives dynamics to learning. You can match and merge content, add videos, audio, PDFs, Word documents, slides, entire webinars, and more. All this helps to create a more complete picture of the product and at the same time emphasizes the importance of product knowledge.
7. Exciting Study Sessions
Interest is a powerful stimulus in the learning process, and therefore the LMS is obliged to use elements of gamification, a system of rewards and incentives, in order not only to give new knowledge, but also to make the learning process interesting, to create a spirit of competition.
8. Measurable Learning
And the last important component is measurability. An LMS should provide an opportunity to objectively evaluate the learning outcomes of groups of employees and individual students. This will help, if necessary, to improve and optimize the learning process to make it even more effective.
How to Develop Online Product Knowledge Training
Let's say right away that it is very difficult to develop a comprehensive product knowledge training system for a large (and for a small) company. This requires a lot of time, effort and well-coordinated work of a whole team of specialists from different industries.
And ready-made LMS solutions, as we said earlier, are very difficult to adapt to the needs and specifics of a particular business. Therefore, the optimal way out in most cases is the development and implementation of an individual LMS. And this is where we are ready to help you!
Contact the manager of our company to learn more about our offer and get a free expert consultation.
Interested in creating Learning Management Systems?
Contact us to create a custom solution that provides your audience with a convenient learning tool.
How do you rate this article?