In March, our team had the opportunity to attend ProMat 2023, held at Chicago's McCormick Place from the 20th to the 23rd. This event served as a crucial meeting point for industry leaders and innovative minds focused on revolutionizing the manufacturing and supply chain sectors.
ProMat 2023 offered an engaging and immersive experience, showcasing the latest trends and cutting-edge technologies poised to redefine the way businesses operate. Our team benefited greatly from the chance to network with fellow professionals, learn about emerging solutions, and explore how these advancements could be applied to our own processes.
Throughout the four-day event, we attended informative sessions and hands-on demonstrations, witnessing first-hand how artificial intelligence, robotics, and automation are shaping the future of the industry. The event also facilitated meaningful discussions on sustainability, energy efficiency, and the integration of smart systems within manufacturing and supply chain management.
By the end of ProMat 2023, our team left feeling inspired and well-equipped with valuable insights and newfound knowledge. We are eager to implement the lessons learned and explore potential collaborations to further enhance our organization's efficiency and competitiveness in the ever-evolving landscape of manufacturing and supply chain management.
ProMat 2023: Leading trade show for manufacturing and supply chain industry
At ProMat 2023, its exceptional status as a hub for discovering the evolving landscape of manufacturing and supply chain operations was solidified, with over 1,000 exhibitors converging at Chicago's iconic McCormick Place. Attendees were treated to an extraordinary display of trailblazing inventions and avant-garde robotic solutions, which hold the promise of reshaping the sector in the near future.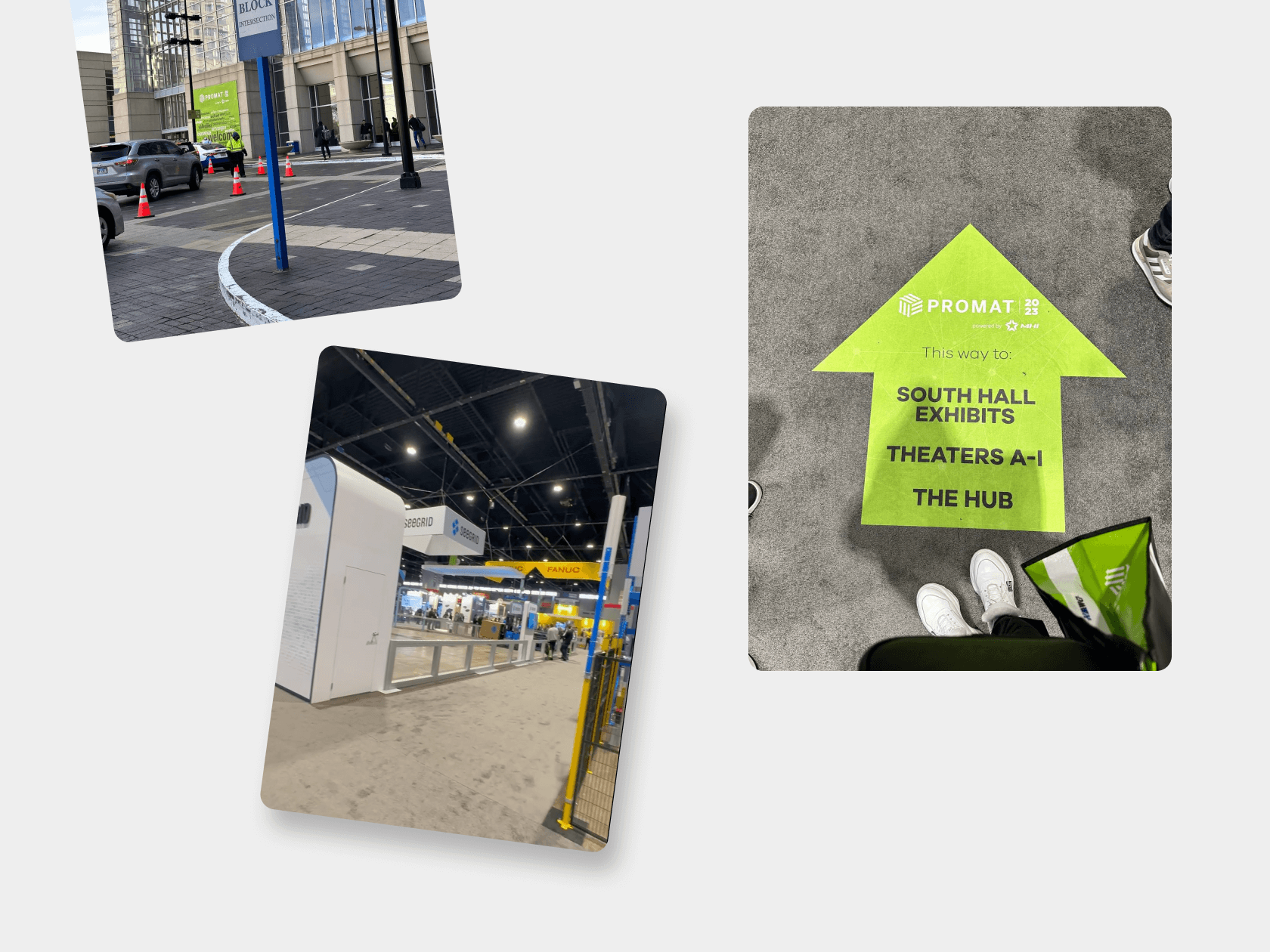 A day at ProMat 2023 was a comprehensive experience, immersing attendees in a bustling exhibition floor filled with advanced technologies and equipment designed to optimize supply chain processes. Participants had access to numerous educational sessions led by industry experts, covering topics such as warehouse automation, data analytics, robotics, and sustainability. These sessions offered valuable insights and best practices for staying competitive in an ever-evolving industry. The event also provided various networking opportunities, such as receptions, luncheons, and dedicated lounges, facilitating connections with peers, experts, and potential business partners.
What awaited ProMat participants this year?
A particularly noteworthy aspect of ProMat 2023 was the exhibition of top-tier robots within the sector. The audience was mesmerized by Agility Robotics' Digit, an innovative bipedal robot with the ability to transform automation in the realms of manufacturing and supply chain management. Stemming from over two decades of research and development, Digit exemplified how bipedal robots can execute tasks securely and dependably, reducing hazards for human employees. Equipped with capabilities like immediate deactivation when humans approach too closely, Digit showcased the potential of incorporating cutting-edge robotic technologies to bolster safety and productivity across diverse facets of the industry.
In addition to Agility Robotics' Digit, other remarkable robotic solutions and technologies were presented at the event. From autonomous mobile robots (AMRs) and automated storage and retrieval systems (AS/RS) to AI-driven solutions for predictive maintenance and real-time data analysis, ProMat 2023 offered a comprehensive overview of the current state and future direction of the manufacturing and supply chain landscape.
As a premier trade show, ProMat 2023 offered participants a wealth of knowledge on the most recent developments and technological breakthroughs driving the evolution of manufacturing and supply chain processes.
What are exhibitors sharing in 2023?

At ProMat 2023, the most prominent equipment providers for manufacturing and supply chain presented a wide range of robotic systems, making it a notable event. With more than 1,000 exhibitors in attendance, it was a major showcase for the industry. Among them were:
HUBMASTER to showcase Multi-Aisle Stacker Crane Technology at ProMat Show!
HUBMASTER Storage and Handling Solutions, a leading manufacturer of automated storage and retrieval systems, was at the upcoming ProMat Show in Chicago, Illinois. The event which took place from March 20-23, 2023, is considered the premier Showcase Fair for the latest material handling and logistics technologies.
Raymond Highlights Integrated Intralogistics Solutions at ProMat 2023 Innovative forklifts and technologies unveiled to support comprehensive intralogistics solutions
The Raymond Corporation, with a century-long history of innovation, is set to showcase the latest intralogistics and material handling solutions at ProMat 2023. Visitors can explore Raymond's cutting-edge offerings from March 20 to 23 at Chicago's McCormick Place Convention Center, at Booths S1903 and S1703, featuring a complete line of Raymond intralogistics solutions.
IKG Celebrates Successful Week at ProMat!
IKG has enjoyed a successful run at ProMat, showcasing our industry-leading Safety Flooring and Access Infrastructure solutions.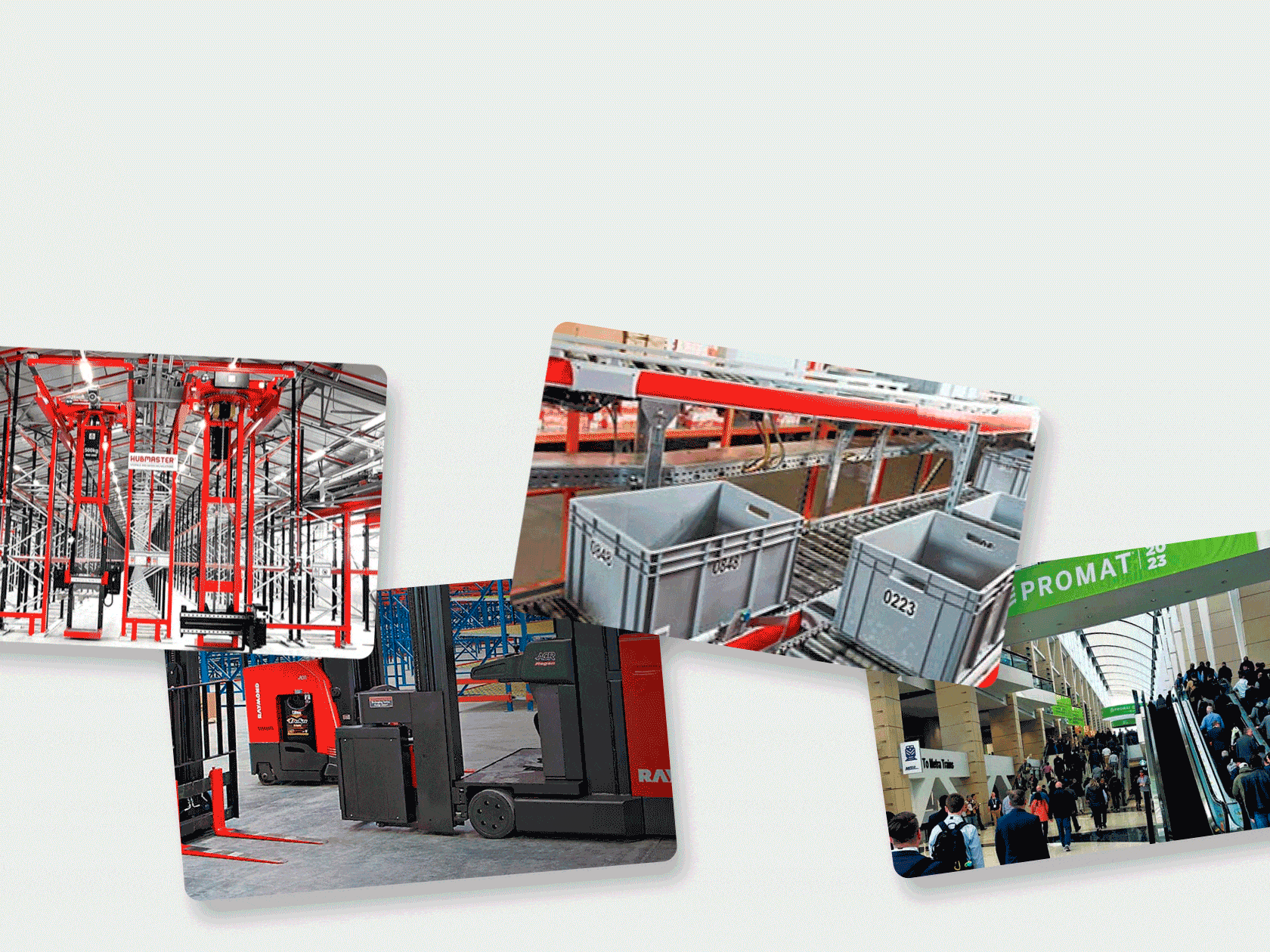 ProMat 2023 was a showcase for the world's leading manufacturing and supply chain equipment providers, with over 1,000 exhibitors presenting also a wide variety of robotic systems. Some of the most notable robots at the event included:
Digit by Agility Robotics: This bipedal robot is engineered to operate in confined spaces, away from human workers, with the goal of minimizing injuries from lifting or cuts. Digit took home ProMat's Best New Innovation Award.
Stretch by Boston Dynamics: A case-handling robot adept at unloading trailers, with aspirations for more advanced warehouse applications in the future.
Pickle Robot: A container unloading mechanism centered around a customized Kuka arm and suction grippers, capable of managing objects weighing up to 65 pounds.
RightPick by RightHand Robotics: An exceptionally precise and adaptable bin-picking robot featuring an autonomous suction cup exchanger for enhanced item gripping.
Autopicker by Brightpick: A mobile warehouse robot that retrieves totes from shelves and robotically selects items to combine orders directly in aisles, negating the need for human pickers.
TruckBot by Mujin: A robot crafted for unloading floor-loaded trailers and containers, able to unload up to 1,000 cases per hour.
Tuskrobots' self-governing pallet handler: A distinctive method for pallet transportation, with a compact design for operations in high-density storage zones.
SafeLift Suit by Verve Motion: An exoskeleton created to alleviate 40% of the strain experienced by workers during lifting, with the aim of enhancing workplace safety and diminishing on-the-job injuries.
AMR by Slip Robotics: An automated system for loading and unloading trailers, able to transport up to 8 full pallets and a total of 6 tons, designed for fluid movement between loading docks and trailers.
These robots highlight the ongoing innovation and development in the fields of manufacturing and supply chain management, providing glimpses into the future of these industries.
The 2023 MHI Innovation and Startup Awards winners were announced at ProMat 2023 after receiving 156 submissions. The awards recognized the most innovative products in three categories: Best New Innovation, Best Innovation of an Existing Product, and Best IT Innovation. The winners are Agility Robotics for Best New Product, OneRack for Best IT Innovation, and Hai Robotics for Best Innovation of an Existing Product. Additionally, sSy.ai won the 2023 MHI StartUp Award for its AI/ML technology that transforms standard cameras into sensors for object recognition and metric data extraction. The awards showcase the latest manufacturing and supply chain products and services, providing valuable insights to ProMat attendees.
What do participants and guests of ProMat 2023 say
Katie Juarez, Director of Sales at Bricz, reflects on her experience at ProMat 2023. Despite the physical exhaustion, she is grateful for the opportunity to reconnect with old friends and forge new relationships in the industry. She appreciates the educational aspect of the event, discussing emerging innovations and technologies with prospects, and values the human interaction that comes with attending such events. She wishes everyone safe travels and looks forward to the next gathering.
Hanna Nayak, a marketing and communications professional, celebrates the successful conclusion of ProMat 2023 in Chicago. She expresses her gratitude to the Körber Supply Chain marketing and sales teams for their hard work in making the event a success.
Ken Lawson, Vice President of Sales at Körber Supply Chain LLC, also praises the team for their efforts and is proud of their accomplishments. He thanks everyone who visited their booth and is eager to continue the discussions. For those who inquired about joining the Körber team, he assures them that they will be in touch.
Ivan Manuel, a Business Development Executive at LAB Midwest, highlights Simlog Inc. as the standout exhibitor at this year's ProMat 2023 conference in Chicago. He shares a photo that demonstrates how the company helps inspire and upskill individuals for careers in industries such as construction, distribution, and manufacturing.
Anuj Rajendran, a Partner at NCS Partners, shares his experience at ProMat 2023, expressing that it was a great venue and opportunity to reconnect with friends and former colleagues from various companies, such as Manhattan Associates, Osa Commerce, and TechSera. He emphasizes that everyone in the supply chain solutions industry is working on different aspects to improve the complex network of connected systems for the end customer.
Anuj highlights that one size or solution does not fit all, and at NCS Partners, they understand each customer's needs individually to provide the right solutions. He mentions the great sessions presented by Manhattan Associates on their unified active solutions cloud platform offering and the visibility Commerce platform demo from Osa Commerce, illustrating how these solutions fulfill different needs in the supply chain. He emphasizes the value of NCS Partners' expertise and experience in guiding, strategizing, selecting, and executing solutions based on clients' current and future needs.
Charlie Chan L., CEO/Co-Founder of FLOATIC, reflects on the final day of ProMat 2023, describing the experience as surreal. The company was excited to demonstrate its meaningful vision and technological capabilities to potential customers and partners, in line with current market trends.
Charlie is confident that FLOATIC will be a main exhibitor at MODEX 2024 in Atlanta next year. As a result, the company's vision has grown, become more concrete, and expanded. FLOATIC's sincere and profound philosophy knows no boundaries or limits, and Charlie encourages everyone to expect great things from the company in the near future.
What did we remember at ProMat 2023?
Serge Guzenko, the CEO, along with Project Manager and Managing Partner Eugen, shared their thoughts on their visit to ProMat 2023:
The most memorable exhibitors were those showcasing robotics and automation, with 50% of the equipment featuring robots. There were numerous pseudo platforms or loaders, micro-robots navigating the site, loading and unloading cargo based on sensors, as well as various racks, conventional lifts, engines, and platforms. Additionally, there was a significant presence of software solutions, all associated with workable technicians.
The team was impressed by the fact that warehouse robots are not exclusive to Amazon and are more accessible and closer than they had initially thought. ProMat 2023 highlighted various aspects of robotization in processes related to the tracking business, solutions to facilitate and control business conduct, and minimizing human participation in these processes, as well as robotization of everything related to production.
Safety was another key focus at the event, with control and devices for process control, automatic identification systems, and data collection being showcased.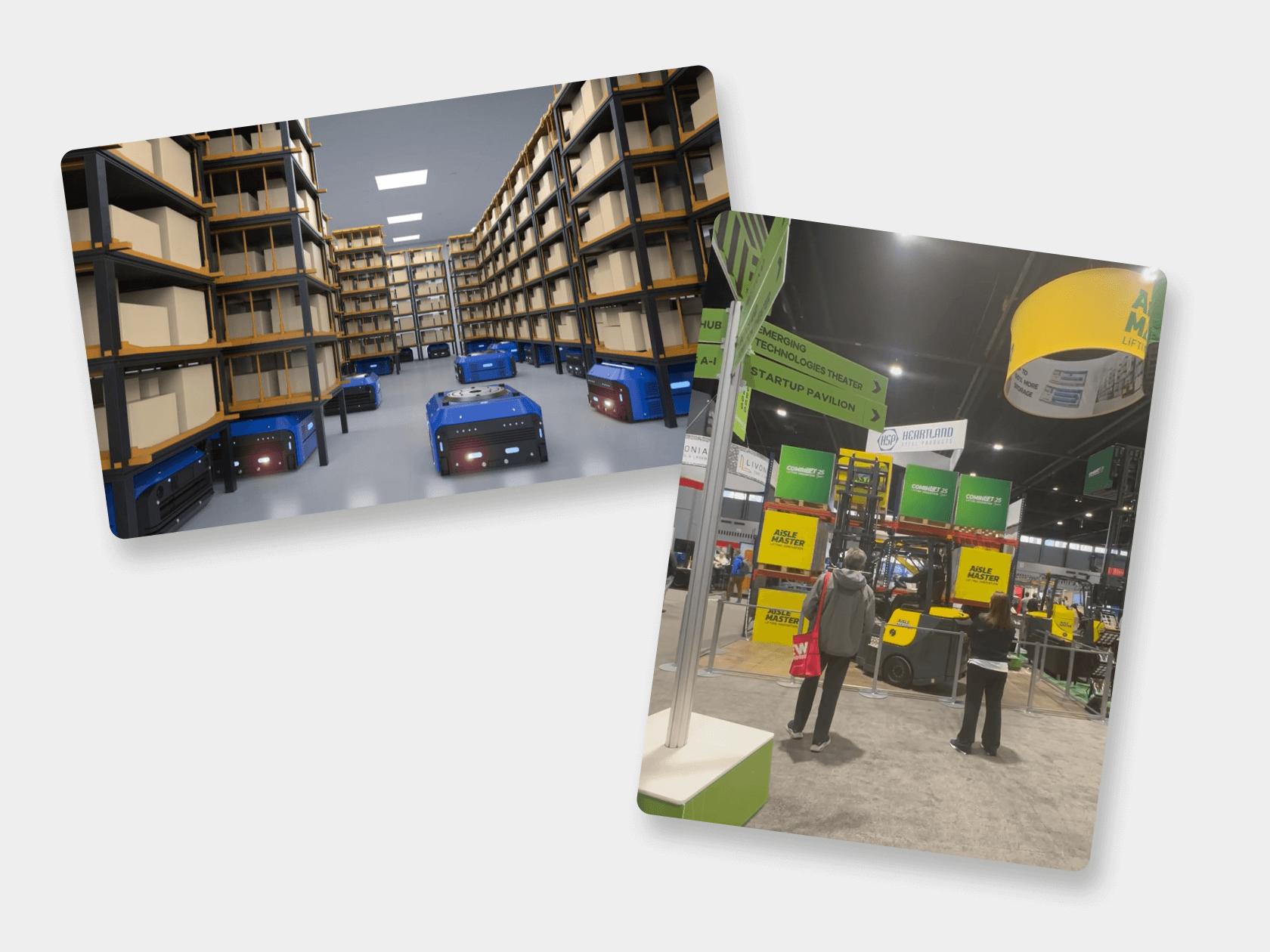 The team observed that the main directions of innovations and technologies presented at ProMat 2023 were indeed focused on robotization, artificial intelligence (AI), and original automation solutions. As suggested by the ProMat 2023 promo video, these innovations aim to help suppliers make their business more "sustainable and faster."
AI and computer vision were among the prevalent trends at the exhibition. The team saw an example of a camera that reads information and displays it on a dashboard, as well as a model that analyzes information using AI. These technologies are in line with the ongoing trend of developing more efficient and advanced supply chains.
The team mentioned that due to the vast size of the exhibition and the fast-paced nature of the event, they were unable to attend specific workshops or presentations by speakers such as Jose Andres or Ron Howard. The team focused on exploring the exhibition and the various technologies on display, rather than attending talks by individual speakers.
Serge was impressed by the large audience gathered at the event, noting that logistics enterprises could easily find service providers among the many exhibitors, including huge corporations. He also saw the exhibition as a showcase of new high-tech products for the logistics industry. Serge was amazed at the number of projects coming out of Silicon Valley, while Eugen was fascinated by the many innovative solutions on display, some of which he had never heard of before. The team also had the opportunity to meet a Ukrainian attendee who works in the industry and offered to connect with them in the future. Overall, they were impressed with the organization of the event and the large number of robotic solutions on display.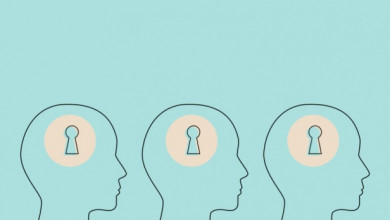 How do you rate this article?