The United States is a country that is well-known for its highways and truckers, so the heavy-duty vehicle maintenance market in the country is enormous. At the end of 2022, its volume was estimated at $13.7 billion. It is formed by dealer service centers, independent networks of service stations, and small private workshops.
Truck maintenance is a complex field that has many subtleties and challenges. From the outside, it may seem that all service stations are the same because their essence does not change in any case: they are hubs for the maintenance and repair of cars. But first impressions are misleading: Heavy Vehicle and Parts Service (SHAP) stations can differ from one another in at least a dozen various ways.
There are numerous types and varieties of SHAP. How can a carrier choose the right service for the individual needs? What to rely upon? How can the owner of a heavy-duty auto repair shop stand out from the competition? Let's figure it out in this article.
SHAP Classification: Types and Their Features
Service stations for heavy-duty vehicles have emerged as a tool to cover unique needs that conventional service stations cannot handle. Truck repair requires special equipment, special spare parts, and special specialists. The goal of SHAP is to ensure that heavy-duty tractors and trailers are in proper technical condition so that they do not pose a danger on the roads and do not fall out of supply chains due to sudden breakdowns. Let's have a look at the popular types of such stations.
Spare Parts Stores
This is a separate segment of retail outlets offering a range of spare parts and components for trucks. Most of these parts are not available in regular auto shops. Given the relatively high cost of such parts, it is simply not profitable for ordinary stores to keep them in warehouses. Therefore, SHAP offers 2 types of stores:
Specialized shops. In such shops, you can find rare parts, complex assemblies, or just specific spare parts that cannot be picked up on your own in regular stores. They can specialize in specific manufacturers of cars and components. There are stores that focus on a particular category of parts. For instance, on tires.
Department Stores. They offer a wider range, but often many parts can be purchased only by placing an order. Department stores also don't want to keep large stocks of expensive, infrequently used parts in stock.
Here it is probably worth saying a few words about the auto parts market as a whole. It includes original components from the manufacturer, they are also called OEM products. But there are also a variety of replicas and analogs of original spare parts, which are called "after-sales" (aftermarket parts). These are spare parts made by third-party manufacturers. Simply put, parts from Volvo and Freightliner are OEM, while parts from K&N or Denso are aftermarket.
And then there are the so-called "priority" spare parts (Premier Parts) – these are components from partner brands that the manufacturer recommends using. Therefore, when choosing a store, it is important to consider the assortment of the store – which categories of products it offers.
Experts insist that the use of non-original spare parts for the processes of maintenance and repair of trucks is one of the major reasons for their premature wear. Poor-quality components multiply losses and increase the risk of accidents on the roads. Mid-range and high-end stores strive to give carriers the easiest and most affordable way to replace parts that ensures the safety of the machine. Preference in such SHAP is given to original spare parts from the manufacturer.
On the other hand, successful replicas can be almost in no way inferior to OEM parts in terms of quality, and at the same time cost significantly less. And sometimes replicas simply have no alternatives. For example, when servicing old cars, for which original components are no longer produced. Or when a broken truck needs to be returned to the flight immediately, and the delivery of the original spare part from the manufacturer will take a week. It is only important to remember that a replica is a decision that requires special knowledge and caution.
Shops for Oils, Lubricants, and Filters
Lubricants and filters for heavy-duty vehicles are very popular consumables. This is exactly the reason why a whole segment of stores has emerged that specialize in this niche. Similarly, some heavy-duty and spare parts service stations specialize only in oil and filter changes.
Brand stores of oils and filters typically offer only original certified products. Their cost is higher, but this is an overpayment for the quality and full compatibility of spare parts and consumables with your truck. The best way to install a new fuel filter or change the oil is to go to a manufacturer-certified dealer service center.
Talking about aftermarket brands, many manufacturers of spare parts, oils, and filters sell their products themselves and cooperate with service centers.
For example, AMSOIL sells products through its own branded online store. And Denso on its website allows not only ordering products online but also offers a map of its partners -- outlets, and workshops. Thanks to the filter system, the driver can find the nearest service station that sells the consumables he needs. K&N, one of the leading filter manufacturers, also has a similar card. Stores with a wide range of goods offer more products -- both OEM and third-party brands. A wide range allows you to choose a component for almost any technique and situation, but competent selection will require technical knowledge and experience.
Examples include distributors such as Keller-Heartt Oil, Tracey Truck Parts, and Class8TruckParts – they offer both OEM and analog products. These stores include the largest online marketplaces – eBay and Amazon. They are often used to search for consumables and spare parts at competitive prices.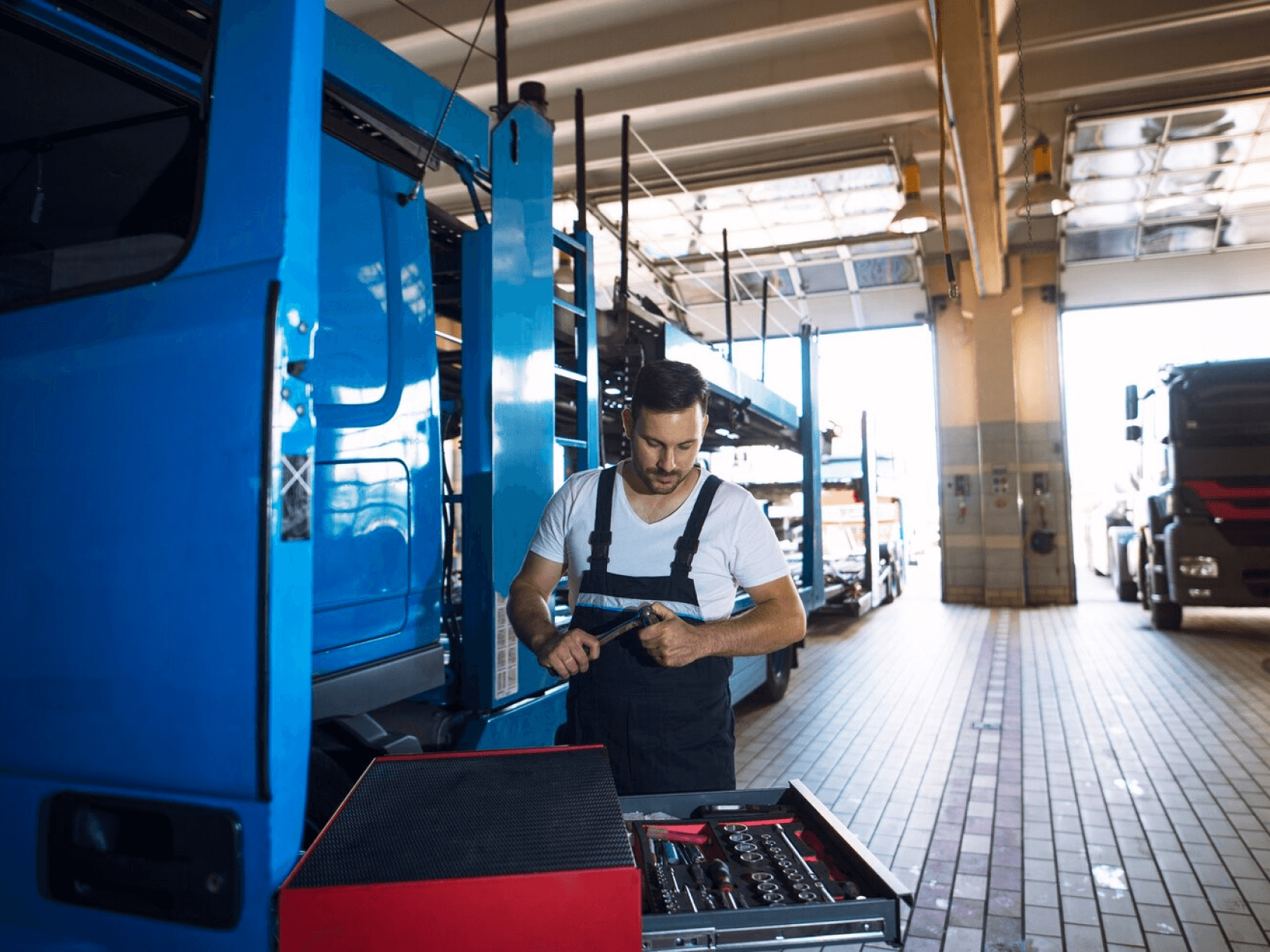 Workshops for Maintenance and Repair
Auto repair shops are the main type of SHAP, which directly provides diagnostics, maintenance, and repair of trucks. Conventionally, they are divided into two types:
Authorized service centers.

They specialize in servicing trucks of one or more brands. Receive certification from a distributor, have quality equipment and carefully select specialists. Technicians of such centers are required to receive ASE certification to work with all types of trucks.

Independent providers.

They service almost any heavy-duty vehicle, regardless of their brand and type, and often provide services outside of maintenance (for example, working with telematics, buying/selling used trucks, etc.). Although the lack of authorization from the manufacturer can inspire distrust, the cost of the service is usually more profitable. At the same time, independent networks strictly monitor the quality of services.
Examples of independent players: service center providers FleetPride, W.W. Williams, and Rush Truck Centers. These services offer customers their own network of service stations throughout the country, comprehensive services, and favorable prices. FleetPride ads, for example, urge customers to "don't queue at the dealer and don't pay dealer prices".
SHAP full service
These are "all-in-one" service centers that include all of the above types. In such a hub, you can buy consumables, filters, and spare parts, and carry out full maintenance or repairs.
It is believed that every truck should undergo intermediate maintenance every 15,000 miles. This service includes checking the brakes and headlights, as well as replenishing oils and technical fluids. But at least once a year, the truck must also receive complete maintenance. It is important to remember here that not every car service can provide such a service -- this requires special equipment and specialists.
Complete maintenance must include:
Change brake fluid, antifreeze, wiper fluid, and oil;

Engine diagnostics;

Checking and adjusting wheel bearings and shock absorbers, alignment, etc.;

Air filter replacement;

If necessary, replace fuel filters and spark plugs;

Checking the brakes, including brake pipes, hoses, and pads;

Exhaust and suspension check;

Checking the hand brake and clutch.
Ideally, even seat belts and onboard electronics can be tested. Timely and regular maintenance depends, among other things, on a successful vehicle safety inspection, which in the United States must be completed annually. Without it, the truck will not be released on the road.
Full-service SHAP can also be divided into two types: dealer-certified auto repair shops and independent stations.
Dealer service centers

receive a license and support from the manufacturer, the staff of such centers can even be trained at its factories. Examples of certified full-service SHAPs: are

MHC

,

Allstate Peterbilt Group

, and

Elite Support

auto services for Freightliner trucks.
Independent service stations offer full service for trucks of various brands. As a rule, the organization of service in such centers is simpler, and they do not have large-scale support from the manufacturer.
But then

independent stations

can offer attractive prices and provide unique services, such as deep modification of equipment and spare parts. Examples of independent service stations:

Action Truck

,

Custom Truck One Source

, and

EMS Truck Repair

.

There are also

intermediate options

: an independent car service can receive certification from one or more manufacturers. For example, the

FleetReady

workshop received certification from Hino, becoming the official supplier of its spare parts and services. But at the same time, it also serves the equipment of other brands.

Factors to Consider When Choosing a SHAP
So, the auto service market for trucks is very diverse, which means that quickly finding the right workshop can be a daunting task. Truck service stations differ in assortment, in the nature of relations with manufacturers, in technical capabilities and service, in pricing policy, and in the level of staff training.
All these are obvious factors for choosing a car service, from which you need to start your search. But there are other factors in choosing SHAP – less noticeable, but no less important for every car owner. Let's consider them below.
Assessment of Driver and Vehicle Requirements
Initially, it is worth deciding what service the truck needs. This can be intermediate or full maintenance, urgent repairs, or troubleshooting. Already at this stage, it is possible to cut off a number of unsuitable bus stations that cannot carry out a complex service or will carry out a simple service too expensive.
At the same time, it is important for the driver to understand when the service will be carried out and how soon he will be able to go on a trip by car.
Recommendation: Give preference to workshops with a wide range of services and full maintenance capabilities. The more service you can get in one workshop, the less time and money you end up losing. Full maintenance will also help the driver feel more confident on the road.
Quality of Service and Reputation of SHAP
Obviously, no one wants to trust their truck to a low-quality service. But the point is also that the SHAP market is highly competitive. When you have to choose between several similar service providers, their reputation becomes a big factor in choosing.
Recommendation: look for a car service that meets the following criteria:
At least 10 years of experience in the industry.

The price of errors in semi-trailer maintenance is too high to be trusted by newcomers and fly-by-night companies. Even if you give your truck to a young company, make sure that they have experienced specialists on their staff.

Cleanliness and organization.

It may seem ridiculous, but the interior of the workshop says a lot about its business. Beware of stations that are cluttered and untidy – if employees are not serious about simple cleaning, can they be trusted to repair a complex machine?

Feedback.

A customer-oriented approach works in all areas of business, including car service. Choose bus stations that cater to your needs and respond quickly to questions by phone and online. Often independent workshops and family businesses pay special attention to clients.

Positive customer feedback.

You can find reviews on the car service website, on its social networks, and in Google reviews. Do not forget about word of mouth, because the community of carriers is quite close-knit and quickly distances itself from services with a bad reputation.
Prices, Availability of Spare Parts, Availability of Services
Your goal is to get service quickly and at a reasonable price. Therefore, one of the worst things you can hear in a car service is the phrase "We don't have the spare parts you need". As a rule, this means that it will take several days for repairs to be completed. Another common reason for delays in repairs is the workload of the station, and the lack of equipment, space, and specialists. All this should be avoided.
Recommendations are:
Make sure that the workshop you are interested in has a stock of spare parts. The best options are a station with your manufacturer's certification or a service with its own multi-brand warehouse store.
Follow the spare parts market. If you want to sell budget aftermarket components at OEM prices, then you have clearly turned to the wrong workshop.
Make sure that the car service you are interested in is not packed to capacity, and there will definitely be a free compartment and a crane for repairs on it. The logical priority would be to find a large workshop with at least 10 compartments. Then your truck will probably be serviced on the day you apply, and the repair will not be delayed.
Geographic Location and Availability of SHAP
The successful placement of a car service remains one of the most important factors for its success. It directly affects the customer experience and the speed of returning the car to service (and, therefore, the carrier's income). One way or another, you will look for services in convenient transport interchanges, in areas with convenient infrastructure. All this reduces transport costs and downtime, making the driver's work more comfortable.
By the way, unlike Europe, in the USA there are no restrictions on the length of the body, and therefore large trucks with a hood layout are very popular. They are easy to operate but have less maneuverability compared to European tractors. In this regard, American drivers are even more fond of the lack of space, narrow city streets, and heavy traffic. Auto repair shops have to take this into account when choosing locations.
Recommendations:
Other things being equal, choose service stations in industrial zones and suburbs, away from city traffic. At the same time, convenient access to highways and transport interchanges is of great importance.
Consider infrastructure for drivers. The best truck stop stations provide not only maintenance and refueling but also all the amenities for recreation -- waiting areas, hotels, eateries, and shopping centers.
Range of Services Offered
We have already mentioned that service stations can provide maintenance at different levels: intermediate (interim), full (full), or maximum (major). In addition, certified dealers can provide a unique service for individual brands, and independent providers can provide their own custom service packages. At the same time, workshops can vary greatly in terms of workload, available equipment, and capacities. All this must be taken into account when choosing a SHAP.
Recommendations:
When choosing a station, look for workshops that have ten-ton cranes, extensive tool kits, and at least one leveling pit.
Pay attention to stations that cooperate with tow trucks and offer truck towing services to the workshop. This not only saves a lot of time but also indicates that the provider is focused on the needs of the client.
Look for car service providers with their own digital platforms. Firstly, it is convenient, because the digital service provides opportunities like an online queue and digital payment for services. Secondly, the very fact of having a digital platform usually indicates a serious approach to work and a high level of service.
Do Auto Services Need Digitalization?
As it has already been said, truck maintenance is a very complex area. For car owners and drivers, finding the right workshop can sometimes be like an equation with many unknowns. And for a service provider, this is always tough competition for a client in a very saturated market. Digitalization can make life easier for carriers and workshops alike.
Technically, creating a SHAP database with a map and a filter system is not difficult. There is, for example, the Find Truck Service application, which allows you to find the best car service nearby in a few clicks on your smartphone. Platforms for carriers PC Miler and Trucker Path are popular, which help to plot the route of the truck, taking into account stops, including for repairs.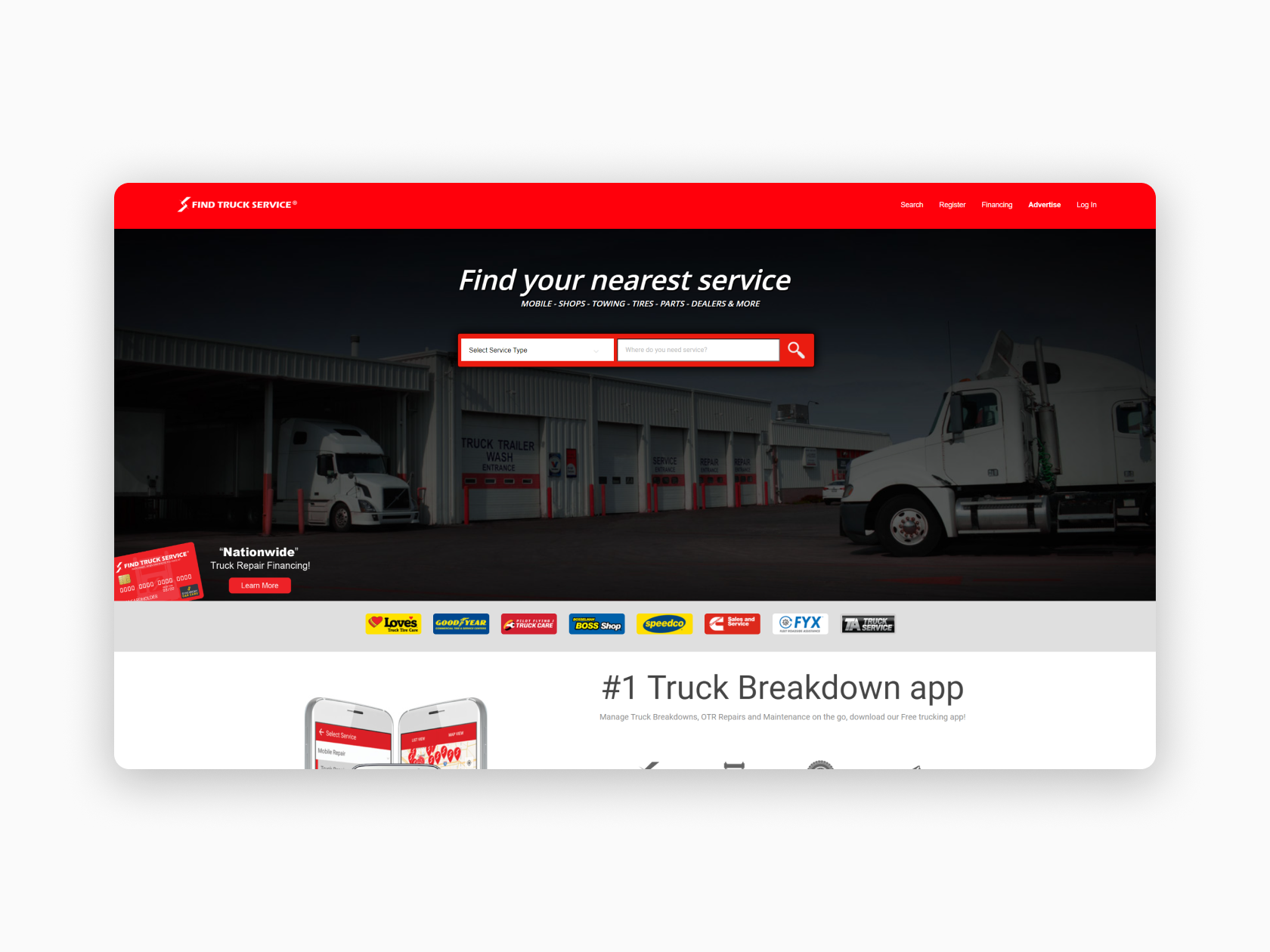 But development experience in logistics tells us that these ideas can be revealed much better -- to integrate such capabilities into the company's digital ecosystem and processes as a whole. For example, the SHAP search module can be integrated into TMS software and onboard equipment of a truck, and all this can be tied to an application for the driver. Drivers or dispatchers could choose car services with the same ease with which tourists choose their Airbnb accommodation today. And these are just the ideas that lie on the surface.
There is nothing fantastic in such technologies for a long time, any transport company with a hundred trucks, or any large network of car services can afford them. But the potential of IT is still not fully used by the transport business.
Benefits of Mobile Apps for SHAP
Web and mobile applications for a network of car services are a competitive advantage in a tough fight for a client, the ability to automate management and process more orders. Users of this service get the opportunity to find the best service station in a couple of clicks on their smartphone. For customers, this is not just a convenience, but also an opportunity to save time and money, and guarantee the reliability and safety of their machines.
We create mobile applications with a guarantee
Development and implementation of a mobile application to optimize your business and business processes in working with clients
In addition, the application will allow the service station network to combine all services on one platform and build the best customer experience. It can be integrated with an online store of consumables and spare parts, implement a loyalty program, regularly updated price lists, a help center, and a support service. A QR code scanner can be surprisingly useful -- with its help, you can easily identify cars and select spare parts for them, viewing the service history.
Integration of Car Service in Logistics Software
No less valuable is the functionality for working with SHAP in the software of transport companies. After all, most of these companies are somehow forced to solve the problem of repairing and maintaining their tracks. Many resort to the use of special software for fleet maintenance management (for example, the Whip Around platform), and use it in parallel with TMS systems and CRM.
As practice shows, the use of several services is an inconvenient and time-consuming solution that leads to confusion in processes and tasks. Why not combine the capabilities of different software in one custom platform created for the needs of an individual business? This is a more elegant solution, and given the cost of subscribing to several third-party platforms, it will also be economical.
Imagine that a dispatcher can solve the problems of a driver with a sudden breakdown of the truck in a matter of minutes by guiding him to the nearest suitable workshop or sending a mobile car service to the place. This can be achieved through the integration of the SHAP module directly into the custom TMS or CRM system of the transport company.
New technologies come to logistics slowly, just some 5-7 years ago, almost all of the transport companies in the United States conducted their work "on paper". But in the coming years, digitalization will certainly be one of the main drivers of truck maintenance market growth. We affirm this by seeing the gulf between the current state of the industry and the opportunities that "digital" can give it.
It remains only to take the technologies that have been tested for a long time and create working solutions with their help. We have created a number of such IT solutions for the transport business and are ready to share our experience and cases with you.
The Role of SHAP in the Heavy-Duty Vehicle Industry
Service stations are the technical foundation that drives the entire transportation industry. Without a huge SHAP network, heavy trucks will very quickly lose the ability to deliver goods across the country.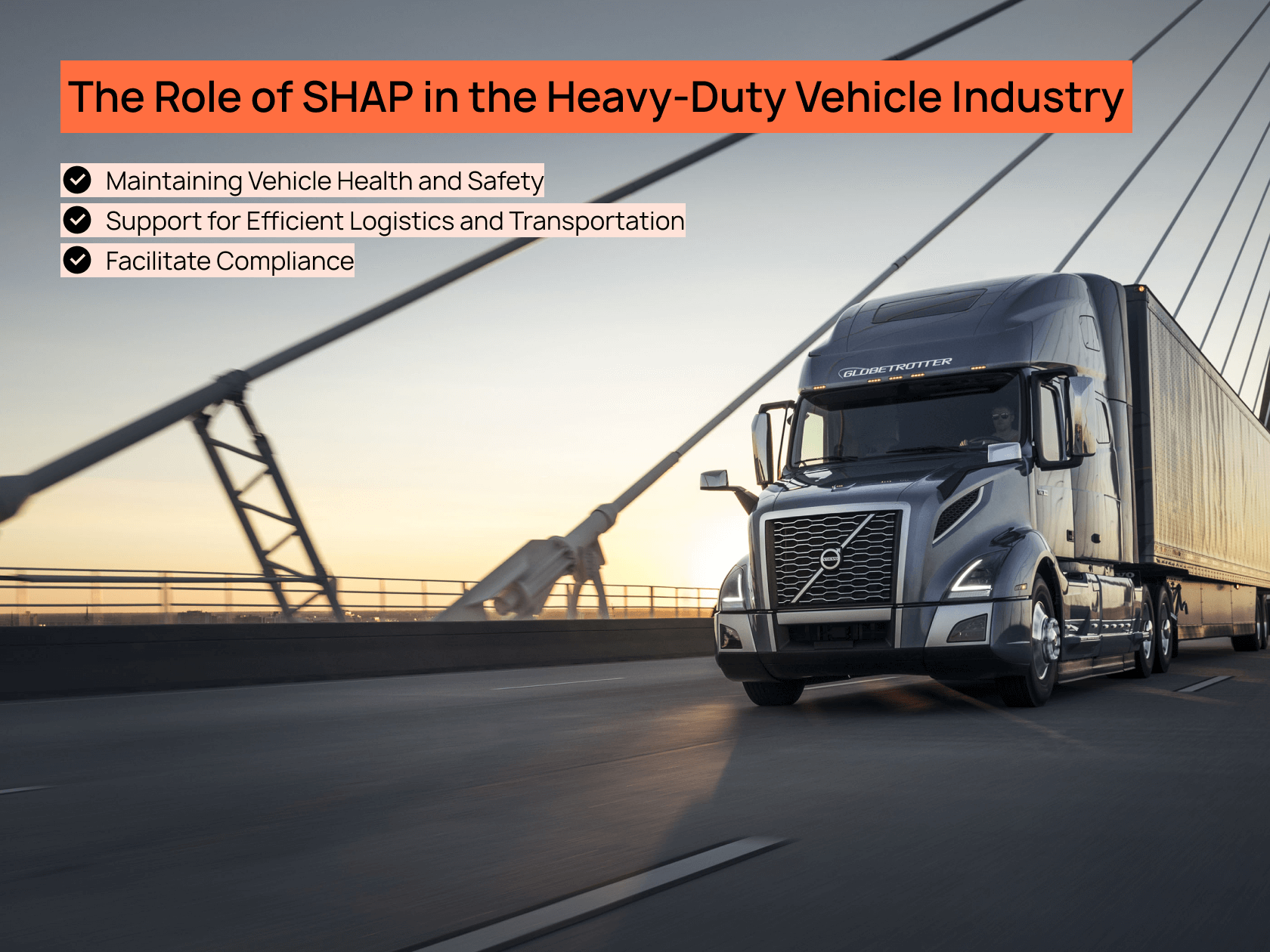 Maintaining Vehicle Health and Safety
Does the condition of the car affect the logistics system and the financial side of the company? Of course. The well-functioning operation of truck components allows you to avoid additional costs, downtime, and other financial costs. In addition, if the truck is not serviced on time, then small technical problems can turn into serious breakdowns with expensive repairs.
Support for Efficient Logistics and Transportation
Maintenance, diagnostics, and repair of trucks must be systematic and regular, the reliability and integrity of supply chains depend on this. Service problems harm logistics both directly (breakdown of vehicles en route, inability to deliver cargo on time) and indirectly. For example, outdated fuel gaskets can increase fuel consumption. It's not just about safety, it's also about savings.
Today, many companies are coming to understand these logistical risks and are creating their own field repair services to provide faster truck repairs almost in the field. As practice shows, this helps the carrier save time and money, be independent, and ensure delivery reliability.
Facilitate Compliance
Proceedings, additional expenses for fines, problems with crossing the border, and an increased level of driver danger -- all this is directly related to poor quality service and non-compliance with standards and requirements during cargo transportation. To avoid this, it is necessary to carry out a service for the repair of trucks and trailers in a timely manner.
So How Do You Choose the Best Service Station?
As you can see, SHAPs are very different -- they work according to different models, differ in scale and range of services, provide a heterogeneous service, and offer a completely different range of consumables and spare parts. And besides, the choice is influenced by geography and fierce competition.
Choosing the right SHAP can be a daunting task at times. Remember that it is important to take into account a number of non-obvious factors: the experience and qualifications of the team, reviews about the workshop, the location of the car service, the equipment of the station with cranes, and the availability of spare compartments for repairs.
It would seem that truck maintenance should not be so difficult, because it is an absolutely routine job. Auto repair shops and transport companies should take this state of affairs as a signal for change. The work of SHAP must become more efficient, more friendly to drivers and dispatchers, more cost-effective, and more technologically advanced.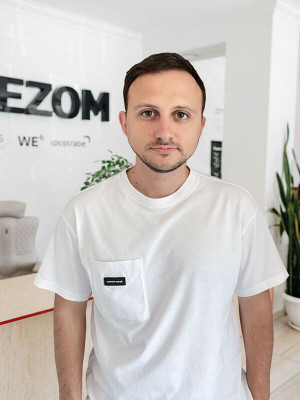 Let's discuss your project!
Interested in mobile applications for a network of car services? Or maybe you want to make a custom solution with SHAP search integration?
How do you rate this article?