In the present-day society, it has become imperative to maintain a fast pace in order to keep up with the ever-growing array of trends. To progress and achieve success, businesses must embrace all available resources, particularly those related to information technology. With each passing year, the number of these resources continues to rise — ranging from novel development tools and cloud platforms to edge computing and artificial intelligence.
This prompts us to ponder: how can technological advancements be efficiently integrated within a company and how can employees be persuaded to utilize them? Is there a specific methodology to follow in this regard?
What is ERP?
An ERP system, or an enterprise resource planning system, is a special type of software solutions used to integrate the management of key business processes, often in real-time, by implementing software and technology.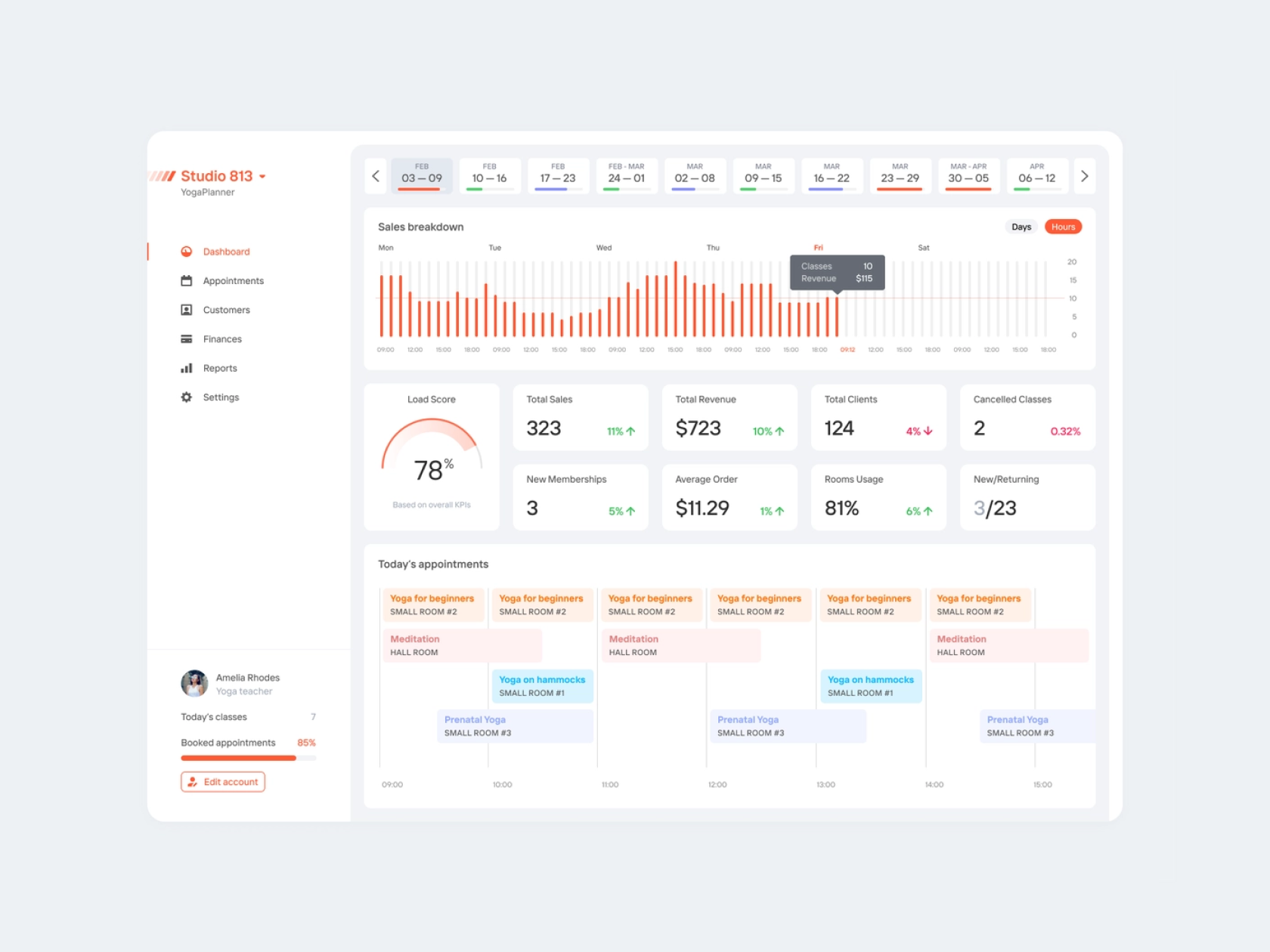 How Does an ERP System Work?
An Enterprise Resource Planning (ERP) system helps companies run more efficiently, by organizing tasks and activities in a much better way. An ERP system allows you to define the company's strategy and track the work of each department. The main task of such a solution is to combine all internal processes of an enterprise into one environment where each participant will have clearly defined duties and responsibilities.
Generally, an ERP solution works by integrating and centralizing data from various departments and functions within an organization into a single database. It automates and streamlines business processes, allowing real-time data sharing and collaboration across different departments. The system provides modules tailored to specific business functions, enabling efficient management of operations, resource allocation, inventory control, financial processes, and reporting.
Benefits of ERP implementation
By using an ERP system, you can manage your business from one place and improve most of its processes. Even though the features of these IT solutions can vary depending on the needs of each business, here are the main benefits of ERP:
Creating a unified environment. It allows businesses to speed up internal communication and decision-making, as well as coordinate organizational issues and user requests.
Distribution of access rights. Ensures an appropriate level of data confidentiality, and each employee receives only the information to which they have access.
Consolidation of financial data. A single information base allows you to track each department of the company and its financial statements. This helps to avoid misuse of funds and control financial flows within the company.
Automation of business processes. Ensures high speed of coordination of actions, distribution of roles, and access rights within the company, as well as operational planning, availability, and reliable data storage.
The implementation of an ERP system allows a company to quickly facilitate the work of management, speed up the interaction with the leadership, optimize communication between departments, and make financial reporting transparent.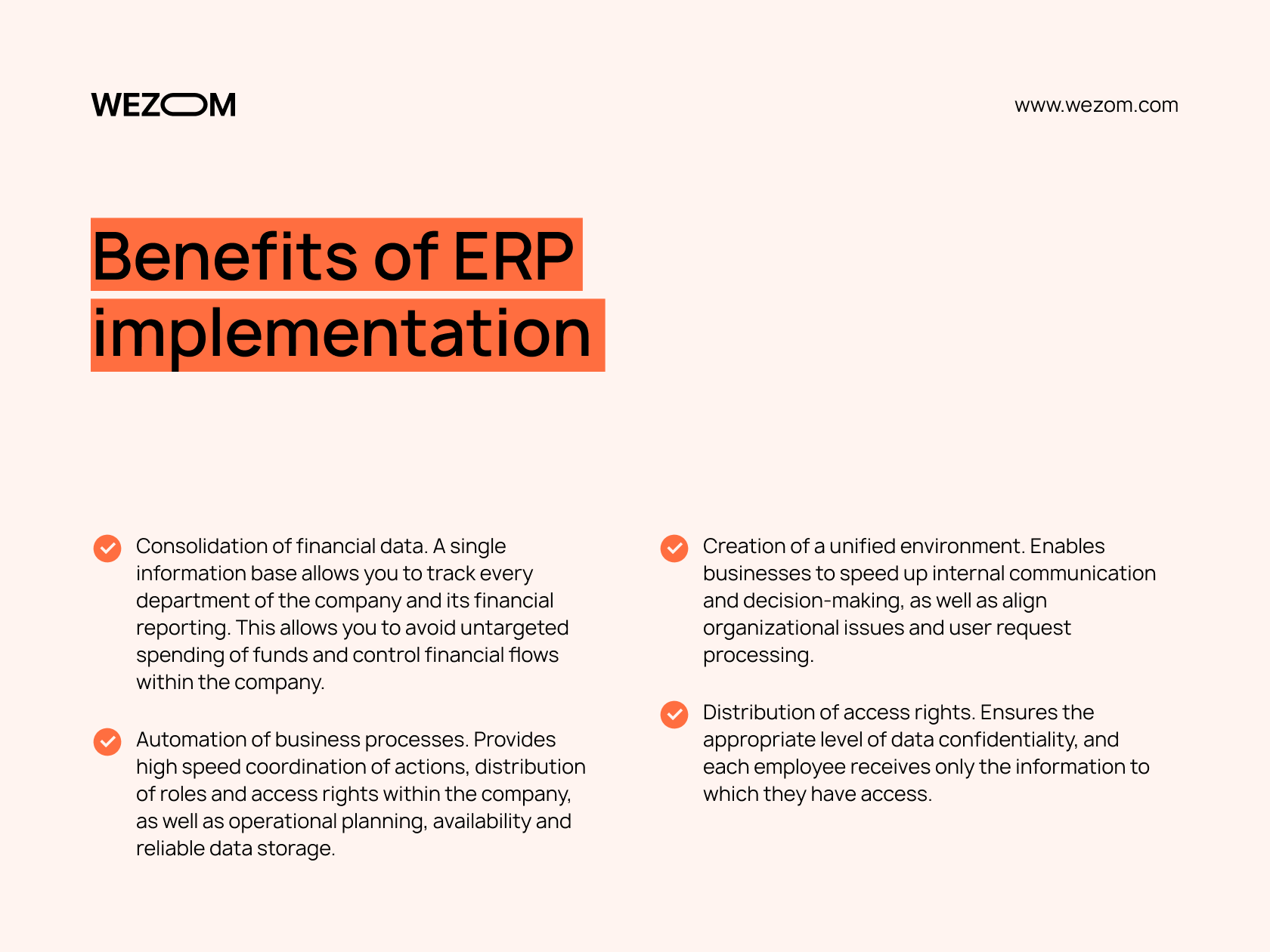 Who Uses ERP?
Enterprise resource planning (ERP) systems are widely used in various industries to streamline and integrate business processes across different functions and departments:
Healthcare Industry: The healthcare industry focuses on providing medical services, including hospitals, clinics, and other healthcare facilities.
Logistics Industry: The logistics industry involves the movement, storage, and management of goods and resources across the supply chain. It includes transportation, warehousing, distribution, and inventory management.
Energy Industry: The energy industry encompasses the production, distribution, and management of various energy sources.
These industries rely on ERP systems to integrate and automate their business processes, ensuring efficient operations, cost control, improved decision-making, and regulatory compliance.
Types of ERP Deployment Models
There are three primary types of enterprise resource planning deployments: Cloud ERP (SaaS) or On-Premise ERP, and Hybrid ERP. In an on-premises ERP deployment, the organization installs and maintains the software on its own infrastructure.
SaaS or
Cloud-based ERP
SaaS ERP, or Software as a Service for enterprise resource management, is a cloud-based deployment model where the ERP software is hosted and provided as a service by a third-party vendor. Instead of installing and maintaining the software on-premises, users access the ERP system through the internet, paying a subscription fee for usage. SaaS ERP offers organizations scalability, flexibility, and cost-effectiveness, as the vendor takes care of infrastructure, updates, maintenance, and support.
On-premises ERP
On-premises ERP refers to the traditional deployment model of an Enterprise Resource Planning (ERP) system, where the software is installed and hosted on the organization's own infrastructure. The organization is responsible for purchasing, setting up, and maintaining the hardware, servers, and software required to run the ERP system within their own data centers. This deployment model offers greater control and customization over the ERP system but requires substantial upfront investment and ongoing IT resources to manage and maintain the infrastructure.
Hybrid ERP
Hybrid ERP systems combine elements of both on-premises and cloud-based deployments. Organizations can choose to keep certain ERP modules on-premises while utilizing cloud-based services for others.
This allows for a more flexible and tailored approach, leveraging the benefits of both deployment models to meet specific requirements, such as maintaining sensitive data on-premises while utilizing the scalability and accessibility of the cloud for other functions.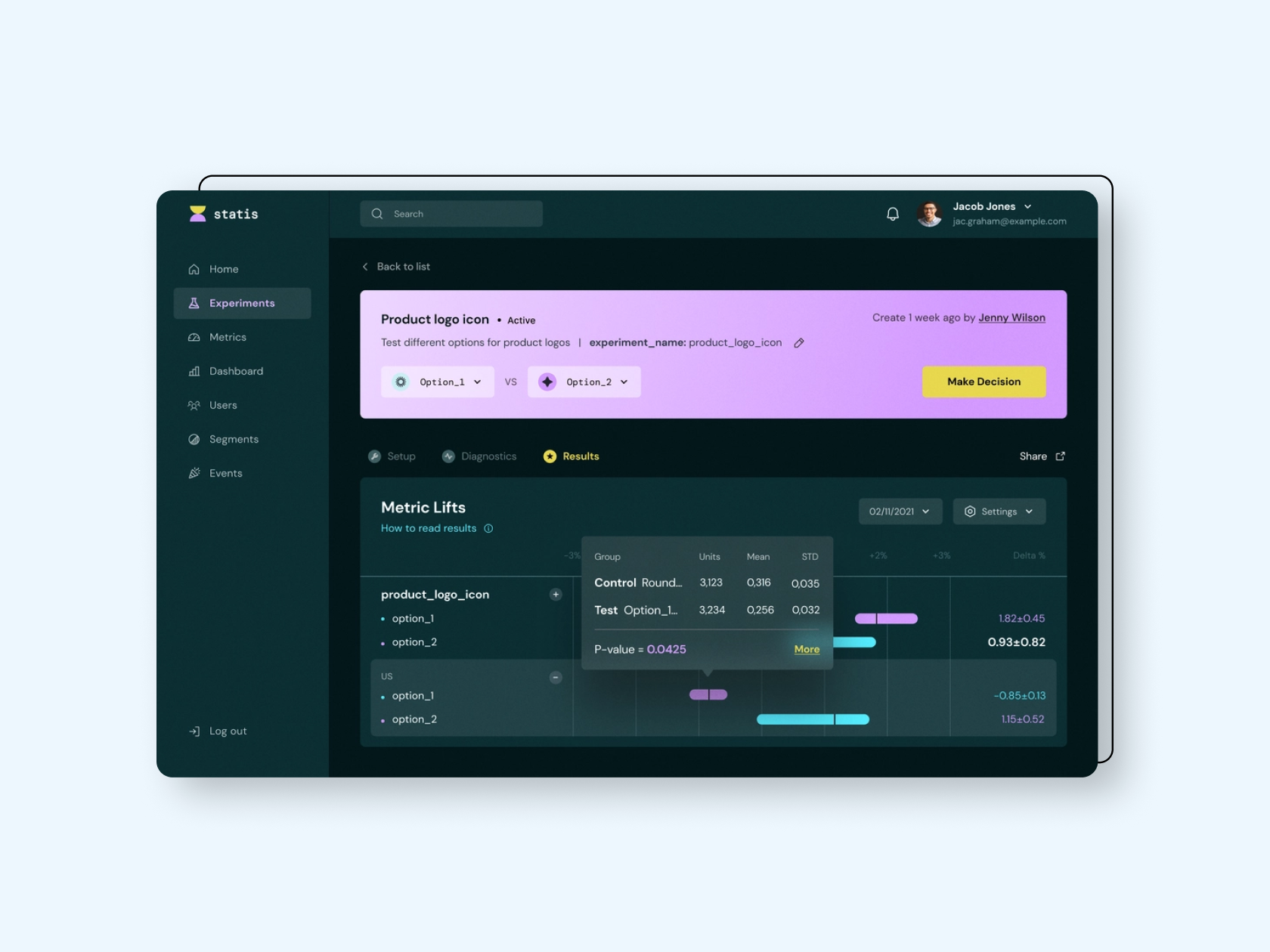 ERP Systems by Business Size
ERP solutions can be categorized based on business size as follows:
Small and Medium-sized Enterprises (SMEs): ERP solutions for SMEs are typically streamlined and modular, focusing on essential functionalities such as finance, inventory, sales, and customer management. They are often cloud-based and offer cost-effective, scalable options to meet the specific needs and budget constraints of smaller businesses.
Large Enterprises: ERP solutions for large enterprises are comprehensive and feature-rich, designed to handle complex business processes across multiple departments and locations. They often offer extensive customization options, advanced analytics, and integr
Why do attempts to implement an ERP system fail?
Many companies introduce new technologies into their business processes after months of research and planning, only to be surprised to find that employees are not using them. Here are some of the most common explanations:
The technology is too complicated. Because there are so many layers involved in building large ERP systems, they are extremely vulnerable to errors. Such a system can have many functions and modules, and any misconfiguration can have serious and costly consequences.
New technology does not integrate with existing software. Anyone would be frustrated by the technology that doesn't integrate well with existing software and applications. This leads to complicated processes that slow down everyone's work and discourage employees from using the new technology.
Employees don't understand the value of the new technology. If your employees don't understand the challenges that the new technology you've introduced to their workplace is supposed to address, it won't have any effect.
Although ERP offers significant benefits, you may not realize them if you don't use innovation properly.
Implementation of technologies, especially cutting-edge ones, should start with detailed business analysis, preparation of a detailed implementation plan, and preparatory work within the company. You should consider not only all the benefits of the project, but also all the possible risks and obstacles that could hinder its success.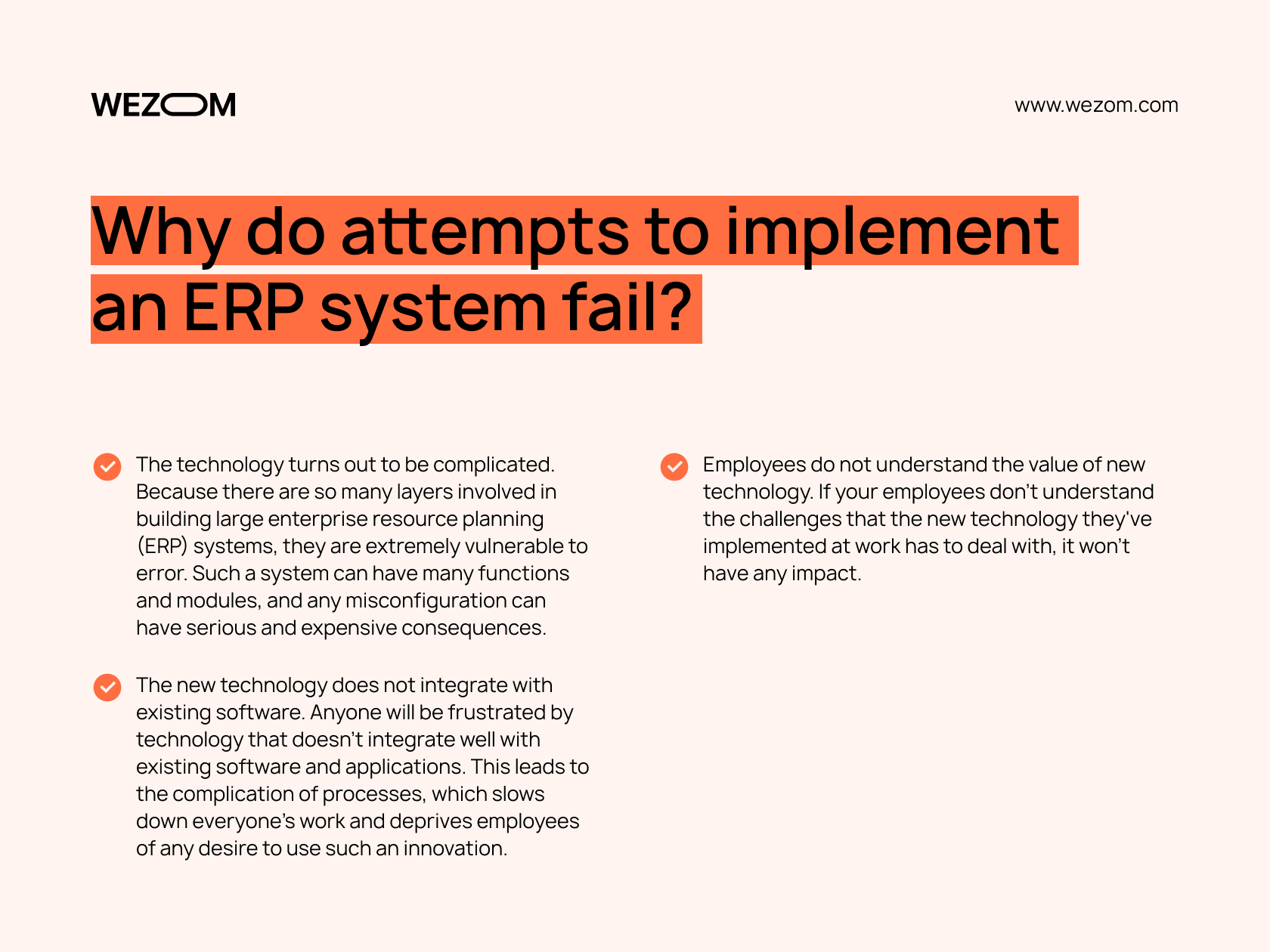 How do you start implementing innovations in a company?
Companies often rush to launch new technologies that do not integrate well with their existing workflow. To avoid this, you should first analyze your business and define the tasks that the ERP implementation should solve.
To do this, it is extremely important to understand the scale of the business, production processes, and the principles of interaction between the company's departments. Based on this data, a report is prepared that allows you to plan further work and the terms of reference for implementation specialists.
Key Steps for Successful Integration of New Technologies
You can't avoid implementing new processes and additional tools in your business, even if it's difficult. But we'll give you some tips below to make it easier. Transferring responsibility and duties to implement your plan is extremely important. In particular, who will oversee all stages of the company's innovation process? There will be a lot of these stages, and here are some tips on how not to give up during their implementatio
Transferring responsibility and duties to implement your plan is extremely important. In particular, who will oversee all stages of the company's innovation process? There will be a lot of these stages, and here are some tips on how not to give up during their implementation:
Understand the reason for choosing an ERP system. It all starts with a simple understanding of the benefits. This can be done with a personalized presentation, where you can ask questions and see the technology in action to understand its full potential. This is the easiest way to determine if your investment in this system is worthwhile.
Don't be discouraged by employee resistance. Launching a new system always takes some time and patience, as it can cause resistance among employees.
Make sure your team understands the benefits. Encourage team leaders to emphasize the benefits of the ERP system to each employee individually to ensure that everyone is on board.
Involve employees. Companies often make the mistake of introducing innovations without consulting the people who are already using them. Always take into account the advice of your teammates on how to best use ERP.
Encourage your colleagues to share their knowledge. No one likes to go through a tedious training course. If you do it right, your employees won't even know they're learning.
Provide support. The question "how do I do this?" may surprise you. But this is part of the learning process. Although your new software will contain all the necessary instructions and tips, your employees may still want to seek advice from professionals.
Insist on feedback. Your employees' engagement will increase significantly if managers are not indifferent to integration issues. It's also a great chance to develop team leadership.
Regularly evaluate the success of the integration. Find out which aspects of the ERP system are of most interest to each team member. Also, determine which workflows have been improved and where time and money have been saved.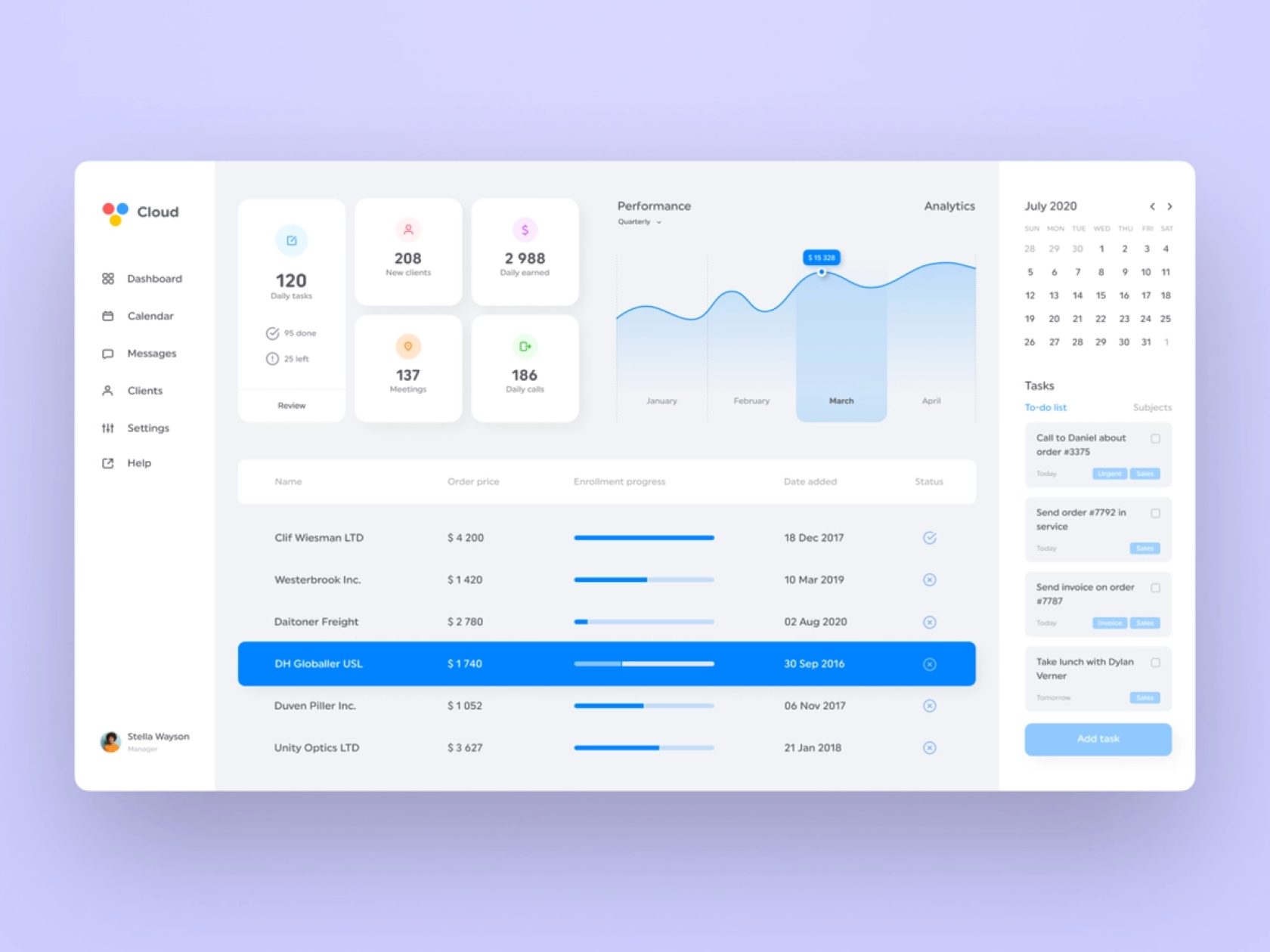 Make a plan
The more detailed your plan to solve the problem, the better. Therefore, develop a step-by-step strategy on your goals, requirements, and how the new technology can solve them.
Your new software will need to be implemented in stages, which means the following steps:
Assessment of all the functional tasks that the ERP is supposed to solve.

Explaining to employees the essence of innovations.

Creating an implementation team.

Appointment of a person responsible for the implementation process.

Transfer of data.

Training of employees.

Pilot launch of innovations.

Study the first week/month of using the new system.

Providing ongoing technical support.

Performance evaluation every 6 and 12 months.
Conclusion
This is what you need to know about ERP systems to make the most out of the organization of processes within your business. Use it for ensuring success in managing duties.
Sooner or later, any business faces the need to implement an ERP system to optimize its processes. This is an integral part of the development and scaling of every company, as automation accelerates the pace of production and business promotion. To make all the innovations easier, make sure you take into account all these factors before implementing new software or infrastructure:
Train your employees

Personalize training and change its methods

Stimulate initiative in the team
This will greatly simplify the introduction of new technologies, but it will not eliminate difficulties. To quickly overcome them, it is better to seek help from time-tested teams of professionals who have many successful cases of solving such problems.
Understanding this will help you prepare in advance for systemic changes in the company and successfully implement them without losing time, image, and profits.
Interested in a Custom ERP Solution for your Business?
Choose our ERP software company and receive complete automation of your digital and offline workflows!
How do you rate this article?