"It's sometimes easier to acquire technology that's already winning in the marketplace and complements what you're doing and adds to your bevy of tools."

James Langley, senior vice president at Trimble Transportation
If we look at the cross-section of the IT market for the period of the last five years, we notice a tremendous growth in the delivery and transportation segments. What's more interesting is that most of the demand in this growth is directed towards custom and individual software development.
The global logistics market continues to evolve beyond the planned forecasts. For example, XPO Logistics Inc., a logistics provider with headquarters in Greenwich, Connecticut, has recently announced results for the third quarter of 2021. Their revenues have increased by 22% from $2.86 billion to $3.27 billion compared to the same period of the year 2020.
Malcolm Willson, the CEO of @XPOLogistics_Eu, explains the growth in the demand for digital logistics solutions as the aftereffect of an innovative leap regarding the technologies used. An example could be their own platform that allows them to track vehicles and loads in real-time.
In Europe, road transportation remains one of the most dominant logistics modes with vast volumes of transport streams.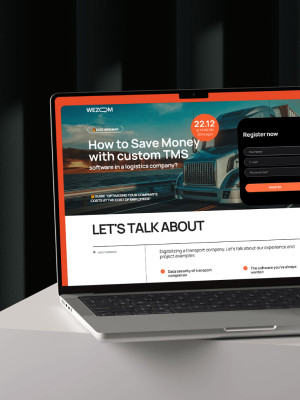 Free webinar!
Register for a webinar by WEZOM
What are the reasons for choosing a custom solution, and who dictates the amount of time and financial resources? It may seem that the market is full of prepackaged software that does what it is supposed to do, so why even bother dealing with custom development of logistic management software if thousands of companies use SaaS? Most out-of-box providers would claim that their solutions help businesses optimize operational performance by reducing fuel expenses by 30%, reducing the average vehicle mileage by 35%, reducing the time for route planning by 2.5 times, and increasing the load capacities of vehicles by 20%.
Obviously, all software providers would show the results by using the best cases of software implementation. However, it is far from the truth that every business would experience the same results by utilizing logistic tracking software. By the end of the day, each company is individual with its own model, processes, workflows, standards, goods, informational systems, and metrics by which they benchmark the performance. These are the factors impacting the benefits of software integration. We believe that the best results could be achieved only with custom logistics software development with the help of the logistic software market. If a business goes with a prepackaged solution, it nearly always puts itself in a position where there are not enough features, or it provides too many unnecessary ones. When it comes to business, generalizations will cost you money.
Let's try to understand the reasons and find some factual background allowing us to determine whether we should choose our own path or stick to prepackaged alternatives offered by the software market for transportation.
Why Exactly Road Transportation?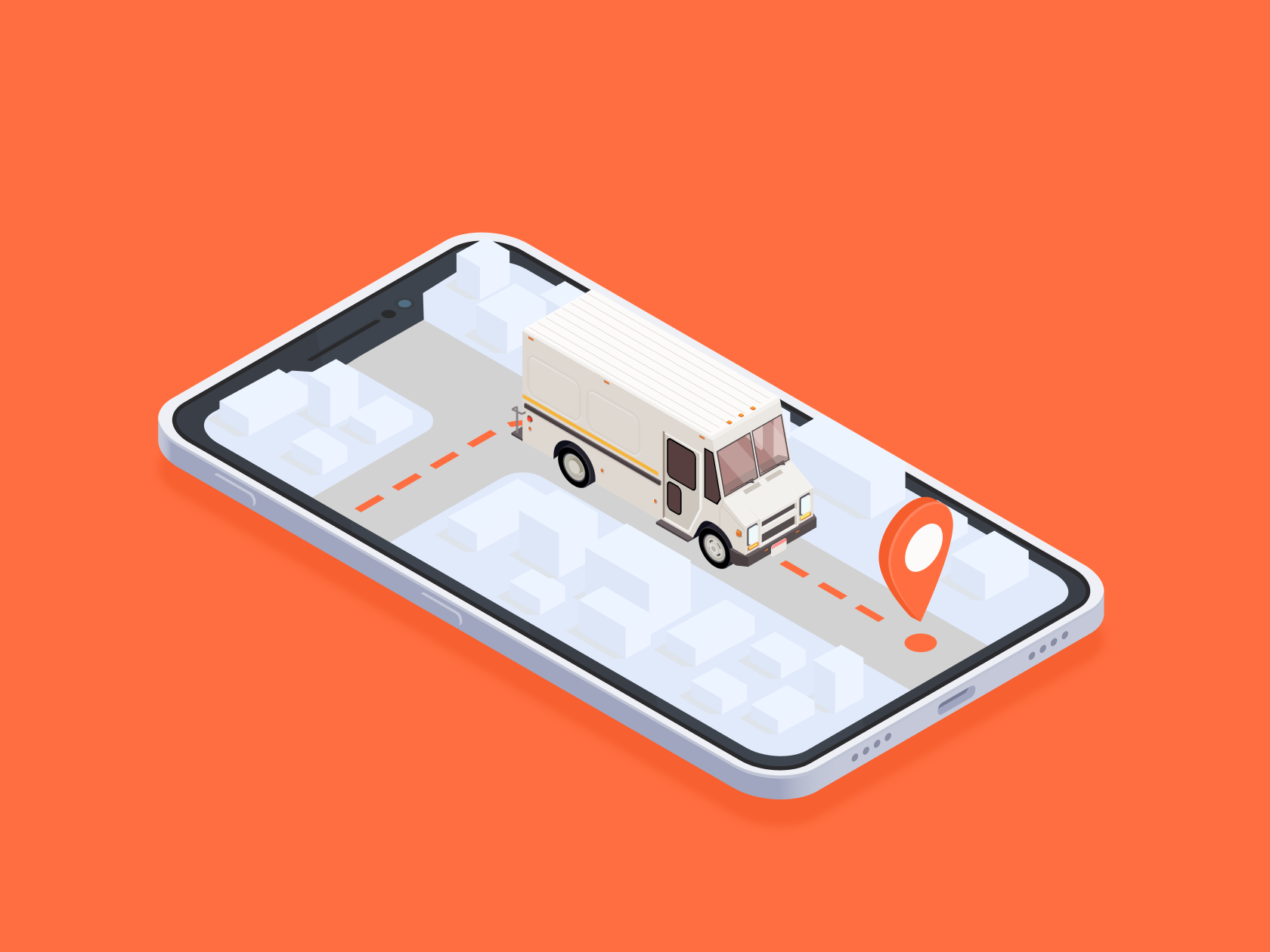 The total length of the global road network is more than 14 million miles. One-third of the roads are located in North America, one-fourth - in Western Europe. Although these areas are the densest in terms of the road space per square foot, they are the most flexible for transportation. Factually, these networks allow freight delivery to any point on the map, as long as there's road infrastructure. In addition, road transportation could be easily (speaking in logistics terms) combined with other types of transportation, and, although it's more expensive than rail transportation, it is also faster and nearly irresistible to the climate conditions. Road transportation is excellent for container and oversized load transportation.
Before we begin the analysis, let's clarify that we (a software development company with 8 years of experience in building custom solutions for a variety of industries) are trying to be as unbiased as possible in this discussion.
There are 5 key variables that play a significant role in choosing a digital solution for logistics processes:
Cost-Effectiveness
Basic Features
Niche-specific features
Broad-spectrum of features
The resolution of bureaucratic disorganization
Let's analyze each of these in more detail.
Cost-Effectiveness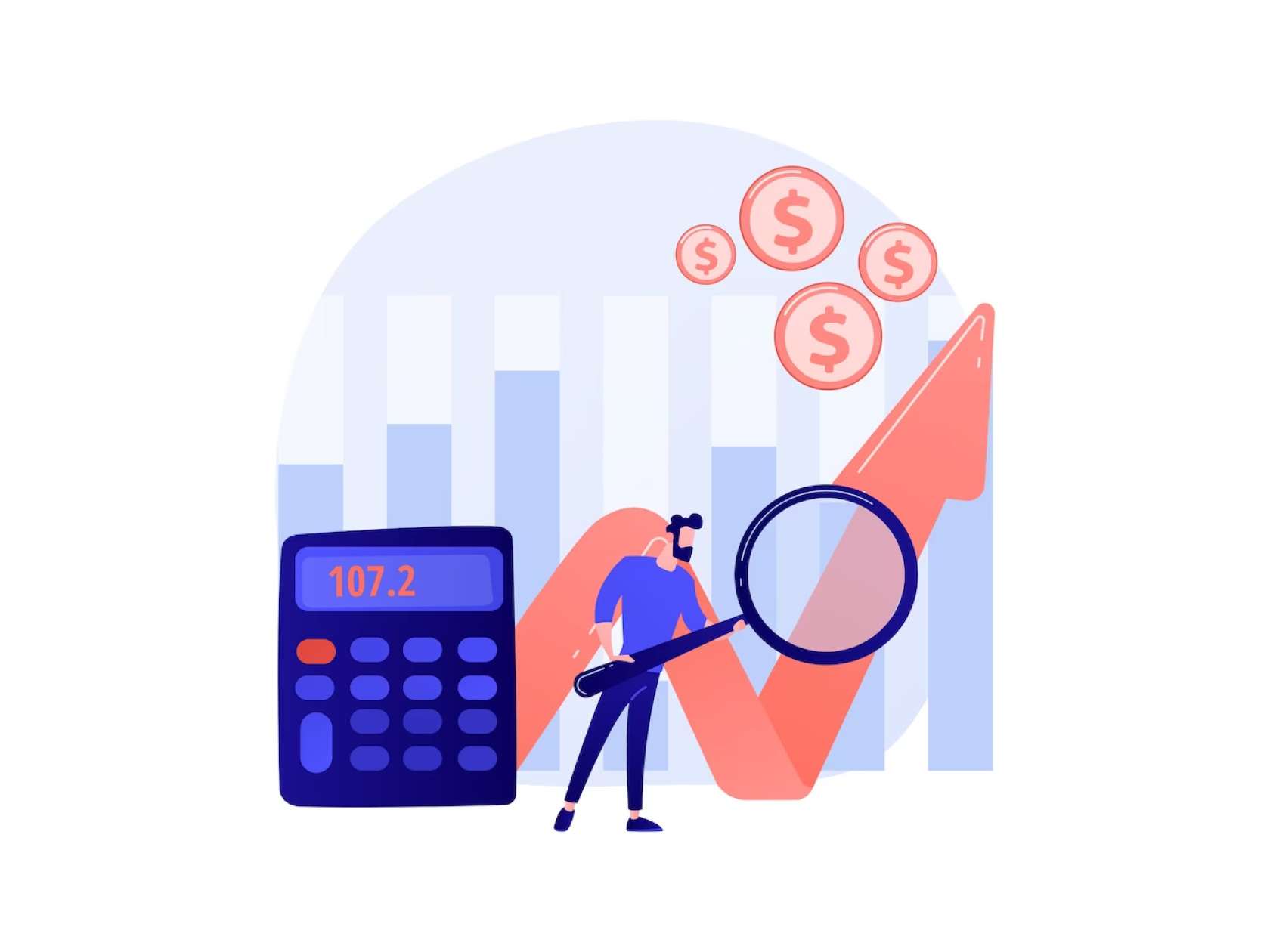 Many transportation companies choose custom software development over prepacked solutions because of the price. Yes, it is correct; there's a point where out-of-box subscription-based solutions accumulate into hundreds of thousands of dollars. Typically in the US, companies like Central Dispatch, Super Dispatch, or 1Dispatch charge you around $60 per truck/driver. Let's say we have a company with 150-180 trucks. By the end of each year, a business would be paying up to $130,000 dollars for using the software, and this is without taking into account the fact that you will be adding more trucks into your network. This is already a good enough reason to switch. Now, let's consider some of the pros of using a custom solution:
For a company with around 300 vehicles, a custom logistics solution pays off within about 2 years after the implementation;
The ability to have a solution that is specific for your business (custom niche-specific modules with a centralized control unit)
You can invite third-party small carriers and truck owners and offer them to use your custom solution at a price that is cheaper than a prepacked one. This will allow you to gain additional income, have more data to make strategic decisions, increase customer loyalty.
Basic Features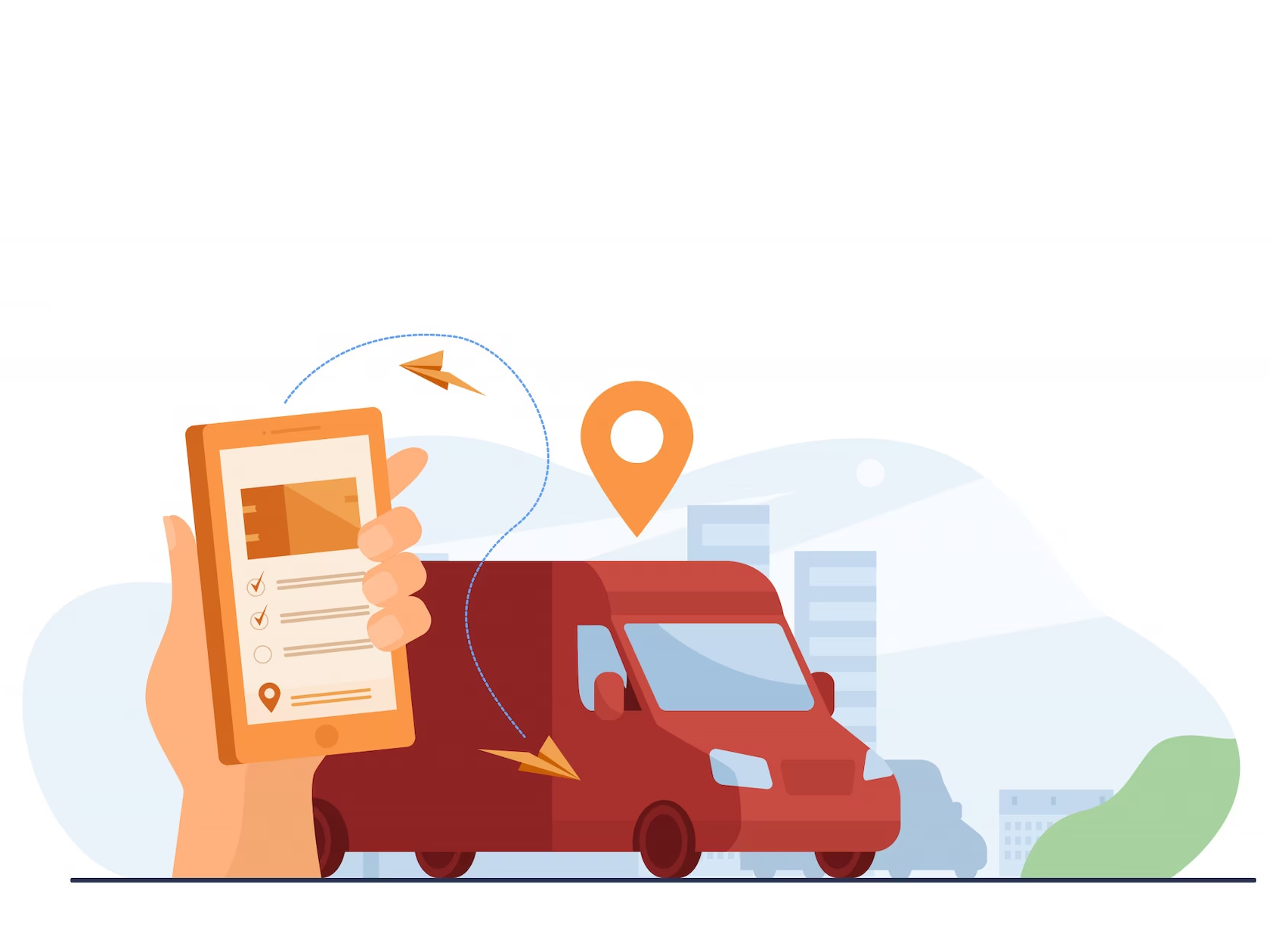 As a rule, the first version of a custom solution you build should meet the following criteria:
minimum time for employee training and adaptation into your business processes
easy and convent order processing
minimum time for managers and dispatchers to map out the delivery route
minimum time for managers and dispatchers for customer communication and support without losing the quality
digitalization of current business and fleet operations
scalability - the ability to evolve and manipulate the system
real-time visibility of supply chain network and load statuses
the ability to upload, generate, and download invoices, BOLs, and other relevant documentation
include solutions that deal with reverse logistics
The approximate time it takes to design and develop a tool that satisfies the criteria mentioned would be 10+ months.
A custom-made system must be simple, intuitive, and cover all of the essential logistics tasks with minimum time.
It is a common requirement that is demanded by the manufacturers, carriers, brokers, last-mile delivery companies, and other entities that deliver oversized or temperature-controlled goods to the end customer. Small and niche-specific industries also prioritize such criteria. Therefore, paying for a transportation management system (TMS) with an excess number of features and capabilities is simply unnecessary, even if everything is packed in a centralized control panel. On the contrary, switching from the analog business management format is necessary, considering today's environment with the COVID-19 pandemic adding even more urgency.
The centralized control unit of a custom logistics software is typically built with a product that already has a designated number of features. An example of this product could be cloud-hosted SQL or NoSQL databases like Firebase, AWS, or MongoDB. Suppose a company wishes to use mobile apps, for instance, for drivers to receive notifications, updates conveniently, and communicate with the dispatcher. In that case, there are solutions like Cordova or Flutter for cross-platform experience or Swift and Kotlin for platform-specific native apps.
This approach allows your product to be ready in a matter of a couple of months; however, it would have limitations in terms of the capabilities and perspectives for further scaling. Often, solutions of such kind don't require integration with some CRM system. Simple explanations with functionality that cover basic local tasks require around four months of development.
Niche-Specific Features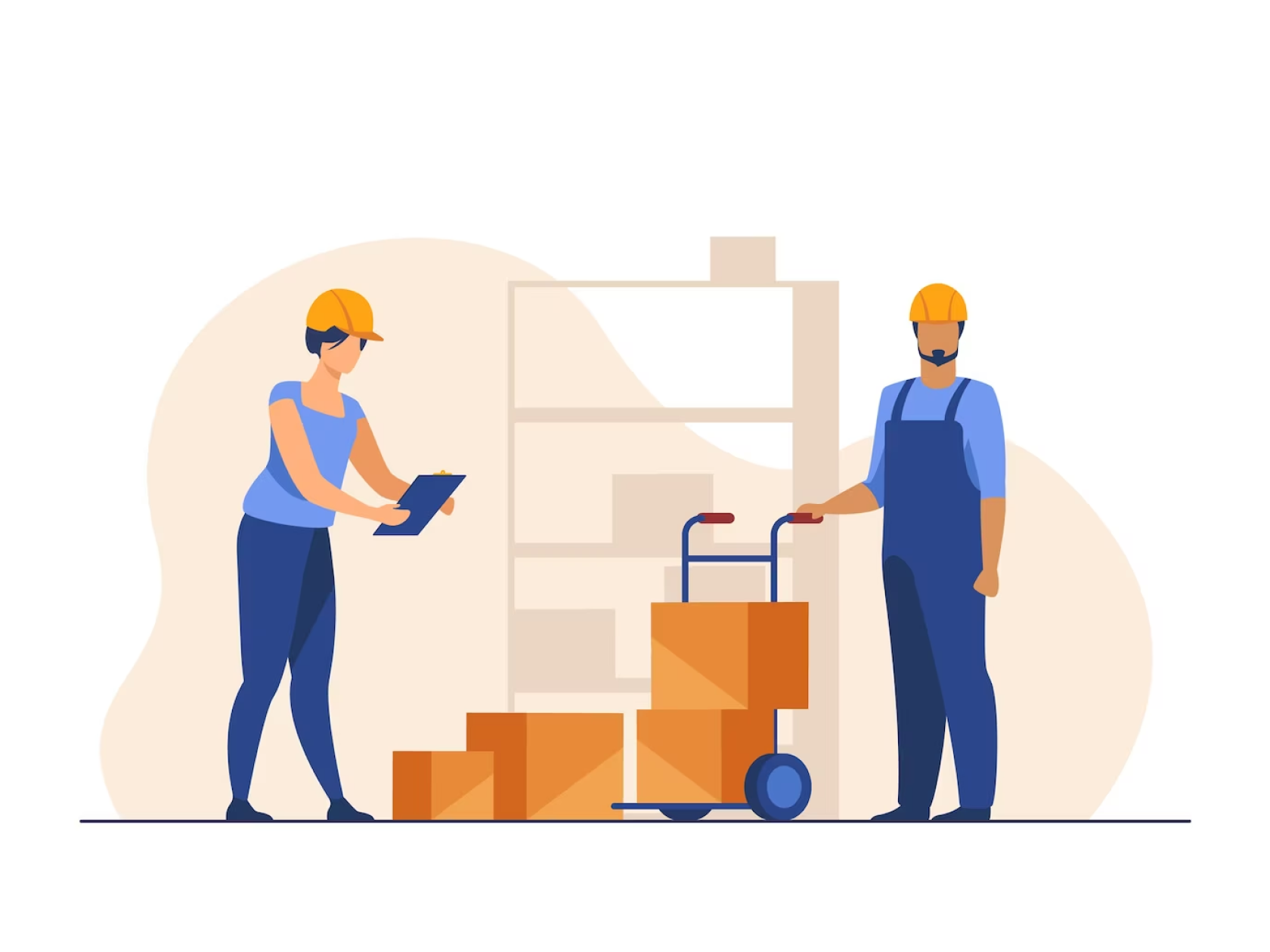 Besides having a convenient control panel with basic features, some companies desire to have a unique set of digital instruments that are particular to their business. For instance, an auto transport company may want to have a vehicle inspection tool integrated within the system so that drivers can record the overall condition of the vehicles that are being transported. FTL and LTL carriers may want to have their own transportation management tools as the number of orders increases and the delivery timeframes start to shrink. Let's say you're a carrier and your fleet consists of 10 trucks. Typically, it would take around 3-4 days, which is quite enough for a dispatcher to plan out the delivery schedule. In cases where there isn't a time window with this much time, the dispatcher begins to struggle and makes mistakes. Yes, if you deal with 5 trucks, you control and communicate using your phone. However, suppose your fleet exceeds this number. In that case, you hire additional employees, which requires onboarding, training, and salaries, or you buy a system that automatically takes care of the issue. If the latter is the case, managers would no longer need to deal with information collection; the system does it for them. Managers analyze the data from the system and focus on strategic decision-making.
Another segment that is highly interested in logistics software is retail businesses, which deal with much of order nomenclature and many short-haul and long-haul transportation processes. Then, we have logistics providers, manufacturers, and distribution companies, which operate with warehouses, order fulfillment, and delivery processes. Another segment is companies that specialize in courier deliveries with their own logistics planning. Thanks to TMS, they become more competent because the end-product could be priced at a lower price point. This price reduction can be possible because the company has optimized route planning, cross-docking, and other logistics processes, allowing it to save resources for the transportation stage. The next category of software users is carriers. They use the system to maximize the operational management of their fleet (when there are more than 10 vehicles). The software allows them to reduce ineffective transportation costs from fleet usage and, therefore, expenses associated with the logistics processes.
To the list of requirements that deal with "what and why" reasoning, we should add the following criteria:
1. Flexible route mapping algorithms, which depend on the road type and conditions, should reflect upon the following parameters:
Road type
Road surface
Private vs. public roads
Average vehicle speed
Speed index
The ability to dictate the priorities of road type before mapping the route
The ability to change routes in real-time
zoning of road parameters with zone indexes
2. Optimized load planning of cargo:
Calculation of container capacity
Planning of additional goods loading
Planning of load pressure on axles
Visualization of cargo inside a container
Accounting of maximum capacities/incompatible item groups
3. During the planning stage of transportation, a set of other parameters gets considered:
Vehicle's dimensions, carrying capacity, and type;
Type of goods ordered, their weight, and dimensions;
Delivery time frames
Deliveries with minimum expenses
The balance between cost and time
Priorities
LTL consolidation
Grouping of delivery nodes
Geo-zones and geo-zone groups
Cross-routing
Multi-haul routing
Long-haul and short-haul routing
Broad Spectrum of Features
Some players with logistics processes desire to develop a solution capable of managing the whole supply chain network of operations. These enterprises and large corporations often deal with their own fleet, warehouses, and other logistics resources. Systems that cover the whole spectrum of supply chain operations must ensure the correctness and proper functioning of the following modules:
Transportation Management
Billing, invoices, and settlement of accounts
Carrier management
Customer management
CPQ system
Trade management
Discounts management
Fleet management
Real-time driver tracking
Order management
Route management
Planning
Fleet Management
Dispatch management
Employee management
GPS tracking
Inspection management
Inventory management
Maintenance management
Routing
VIN search
Workflow management
Logistics
Barcode/QR-code/RFID creation and management
Customer relationship management (CRM)
Cross-docking
Forklift management
Inventory management
Order management
Delivery management
Supplier management
Transportation management (TMS)
Supply Chain Management
ELD (electronic logging devices)
Import management
Export management
Order fulfillment
Operations planning
Sales planning
Transportation planning
Warehouse management (WMS)
Multi-mode and multi-location management
Purchases
Quality assurance
Real-time data synchronization
Inbound logistics management
Outbound logistics management
Returns management
Delivery management
Reverse logistics management
Supply chain management solutions become competent for the whole network of resource transportation and handling activities. These solutions can be used for global logistics operations and a variety of niches within the industry. The development, release, and updates could take a couple of months to a half of a year in work time. The development and support would require full involvement from the side of the development team, which besides designers, front-end, and back-end developers, would require specialists from financial, business, marketing, and other areas.
The Resolution of Bureaucratic Disorganization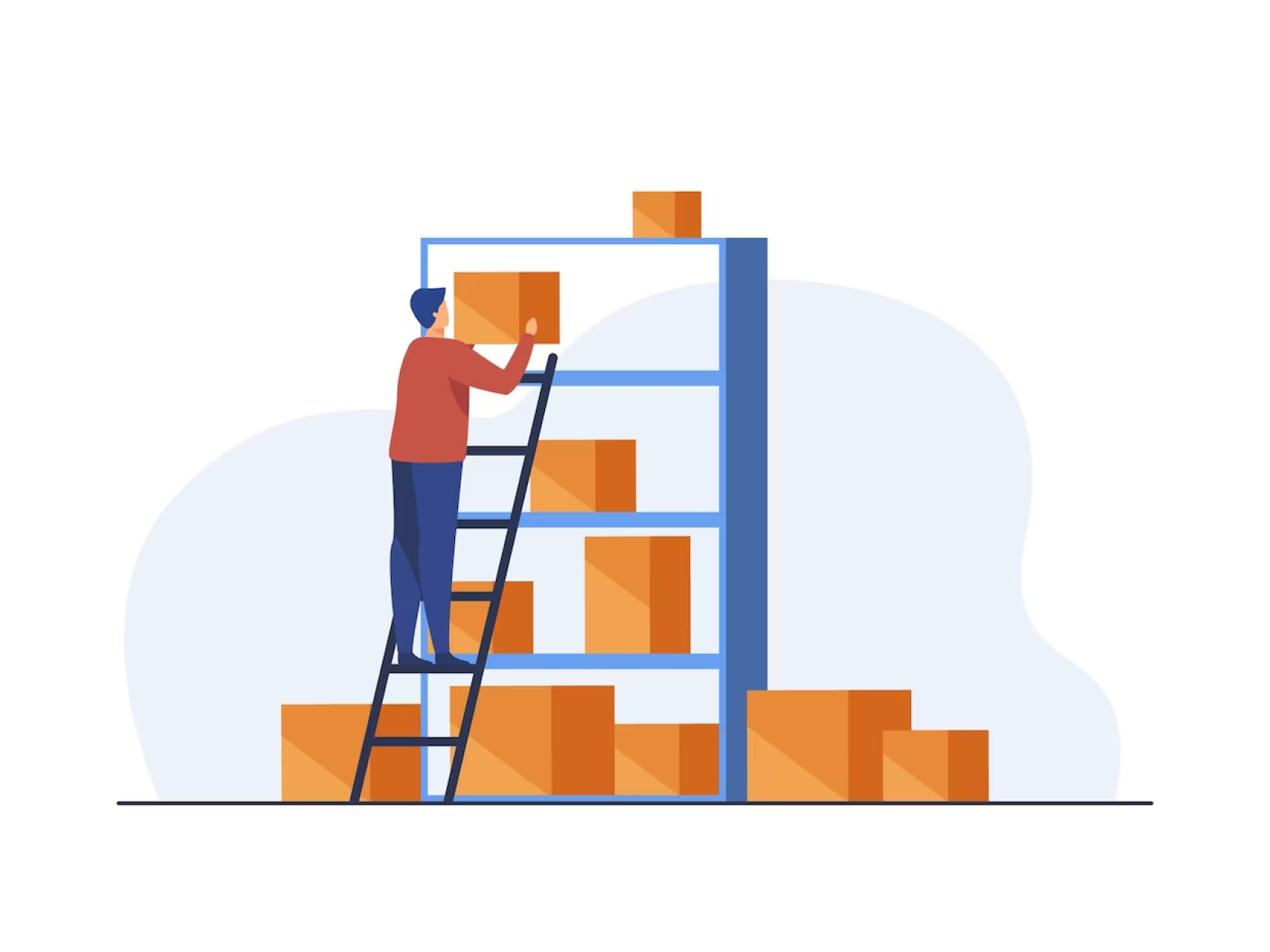 Businesses turn to digital logistics solutions for the optimization of document handling, generation, and management. The laws and requirements differ from place to place. This is often a subject that is brought by the client during the formation of technical assignments.
Each year, The World Bank Organization ranks countries by logistics performance index (LPI). Obviously, despite the number of international agreements, conventions, and standards established by the United Nations and similar organizations, there are countries with chaotic, unorganized bureaucratic processes that negatively affect supply chain workflows' overall efficiency.
The bureaucratic areas that companies in the logistics segment wish to digitize in this regard include:
Regulations concerning perishable goods, hazardous substances/items, livestock, controlled territories (e.g., military units, medical centers), medical goods, phytosanitary items, and others;
Norms regarding transportation permits as to licenses, exploitation of regulated transportation procedures, and drivers' and qualifications for the operation of certain vehicles in particular territories;
Insurance documentation;
Agreements between parties;
Regulations concerning the employees' on-the-clock and off-the-clock time periods;
Regulations concerning the medical examination of employees and corresponding reporting practices;
The list is not complete, and it varies depending on the location, industry, services, or goods that a company deals with. Other bureaucratic processes can interfere with the modules and segments mentioned in the first four sub-topics we discussed.
The final decision as to whether a company should choose a solution that is already available to purchase on the logistics software market or move towards a custom development is an individual choice. Anyone who participates in this dilemma must weigh all the pros and cons. This process takes a while since there are many risks associated with the decision. Being in the business for more than 90 years, one of the largest European operators, Raben, with revenues surpassing $1.26 billion, was able to transfer only 70% of order-related documentation to the newly developed system.
At the same time, out of all services that Raben Group proposes for its customers, auto transport carrier services occupy the majority of them (66%). Contract logistics services take up 13%, FTL - 8%, fresh logistics - 8%, lead logistics provider - 4%, and sea & air services - only around 1%.
In order for this article to be maximally fruitful, we included links to some of the most popular logistics SaaS software directories so you can be familiarized with what's trending, reviews, and features each of them offers. Analyze the tools, understand the advantages and disadvantages of the ones that fit your business, and make the right decision.
We wish you luck and prosperity in your business!
How do you rate this article?