Trucking software can help you a lot with its powerful potential because in this way you get much higher efficiency and process optimization. Trucking software is a reliable business solution that allows you to take your daily operations to the next level and achieve many more important business advantages.
Trucking is a huge and elaborate field. It consists of a huge number of processes. Imagine if you had to constantly deal with work, without any system and order. Trucking solutions will allow you to achieve the necessary order and optimization in your work, which will lead to the best result.
Nowadays, technology can give trucking businesses huge potential. In addition to general automation and organization of all operations, the software can help you take into account the small details that appear in various workflows and better cope with possible difficulties. There is a lot of planning in trucking, and a lot of the need to properly manage time and resources – which implies a high responsibility that falls on your team members. You can help them tremendously and get powerful, timely help when you use robust software solutions.
What Is Trucking Software and What Are Its Main Features?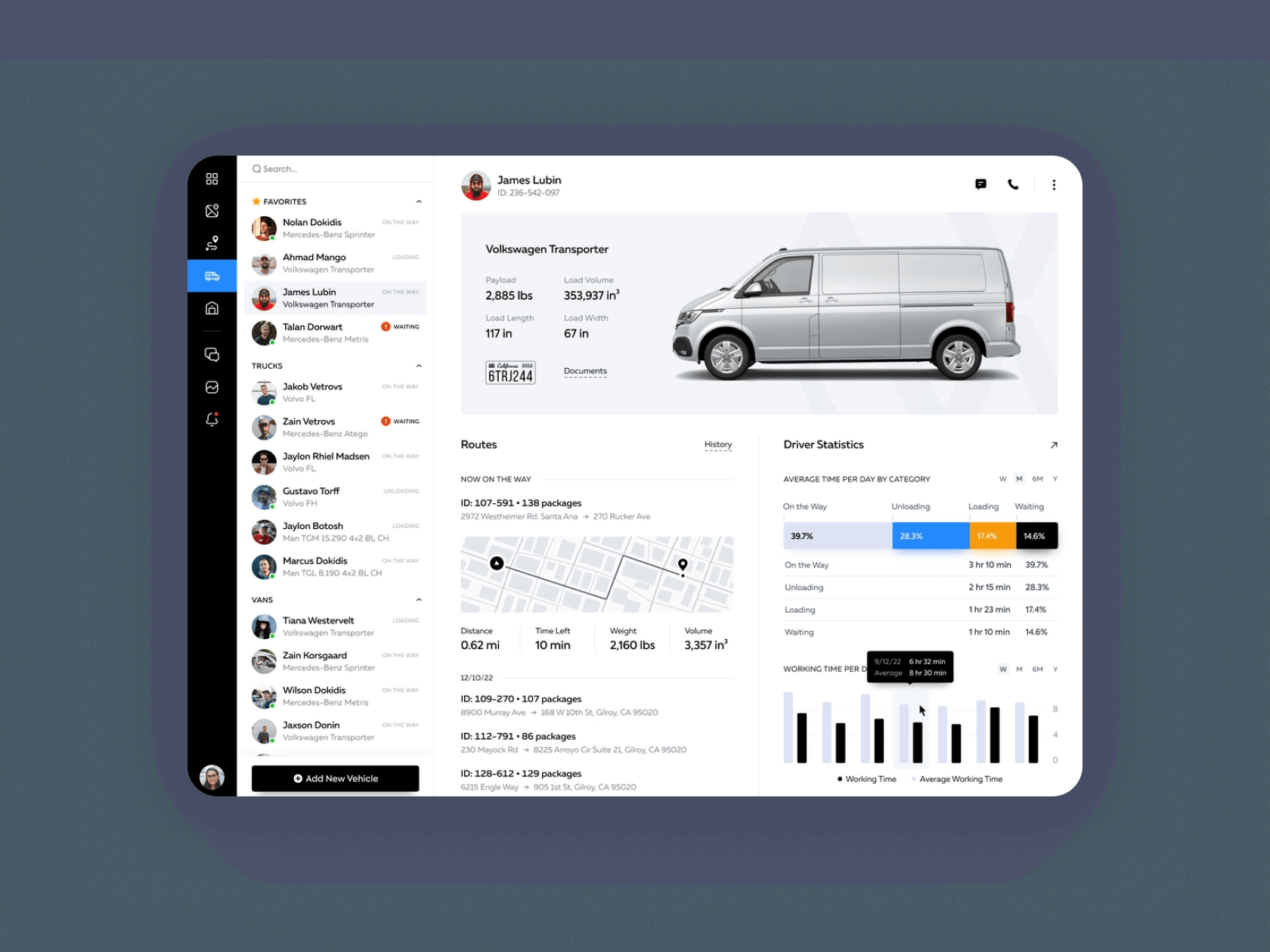 Generally speaking, trucking software helps optimize trucking operations. Trucking software is a type of transportation management software that helps companies in streamlining operations and making them more efficient. By managing different aspects of trucking, this type of digital solution helps companies optimize processes and improve overall performance.
Especially during the pandemic, trucking software has been saving various aspects of transportation businesses with the automation it offers and how quickly you can resolve issues. In addition to routine tasks, you will be able to deal with a number of business-critical problems. Maximize your efficiency and find new, better ways of addressing problems at the same time
The Importance of Trucking Software Solutions
Trucking software helps to minimize processes requiring human intervention and increases efficiency by minimizing errors and risks. It is a significant bonus for companies as risks related to human errors are often underrated. Of course, the potential for such problem-solving is enormous. Instead of long, inefficient, and frustrating work, you can get previously unavailable results in a short time. Modern technology is highly efficient in minimizing the chances of failure by reducing human errors.
Generally, such technological solutions are intended for carriers, but it is only suitable for them. As the world increasingly goes through the process of digital transformation, which makes it more technologically advanced, the need for such systems is growing more and more.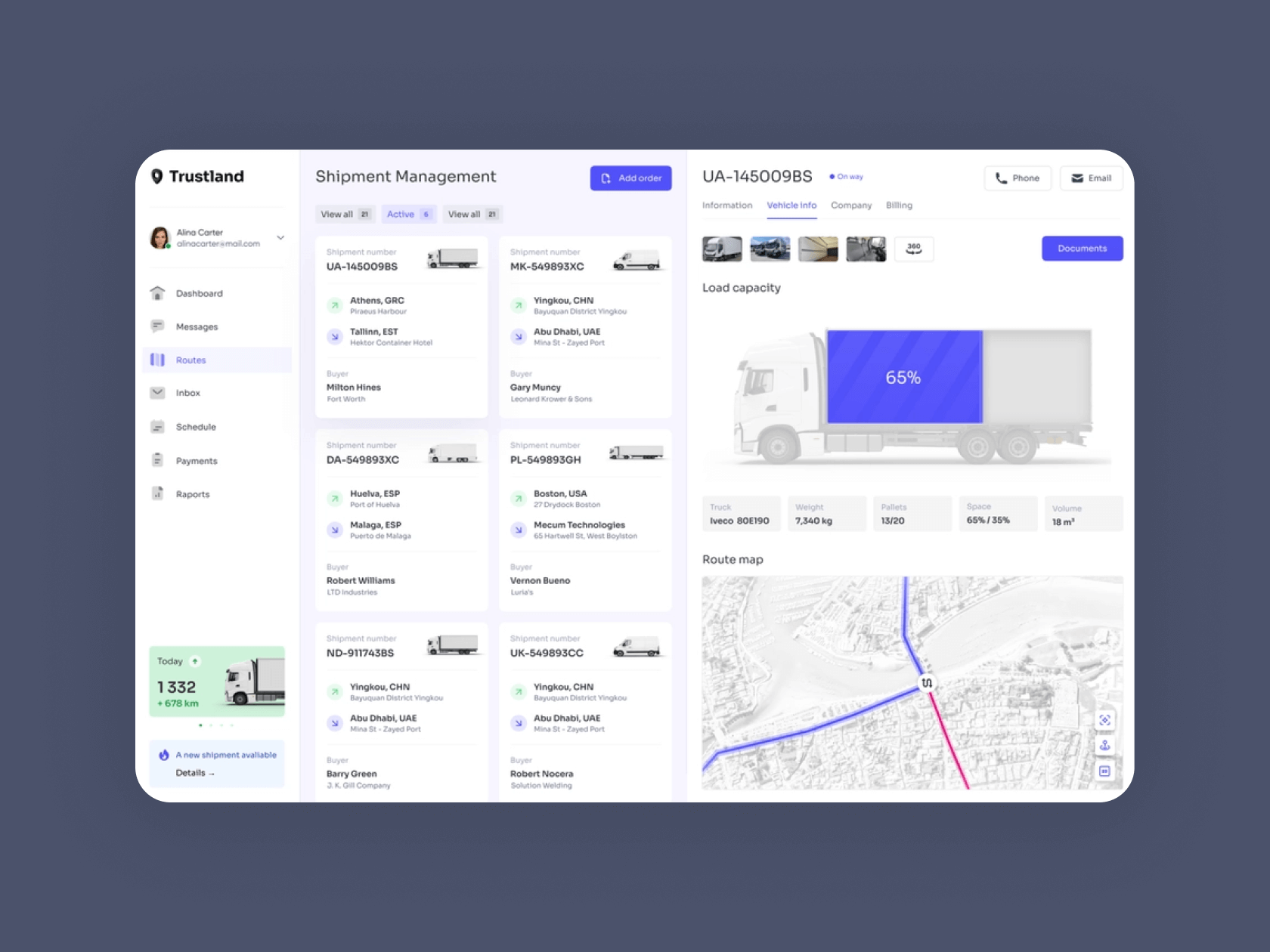 The main processes that trucking software helps companies with are the following:
dispatching;
safety management;
accounting and reports;
fuel management;
and so on. In the trucking business, every detail matters. Since you have to manage a whole system of complex processes every day, in which everything is interconnected, small mistakes can easily lead to big risks. A high-quality digital solution can help you cover daily tasks and always achieve your goals.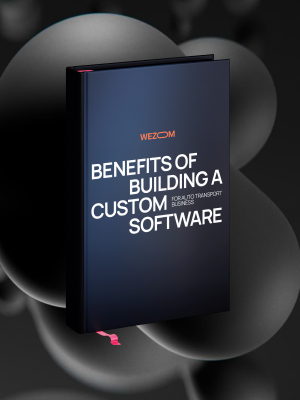 Benefits of Building a Custom Software for
Auto Transport Business
Custom software for transport and logistics is an efficient and innovative solution that can improve your company in many ways.
Since a single solution can effectively cover a range of issues, you don't have to spend time on the details. You will be able to focus on higher priority tasks and save effort that could go to other aspects.
Also, with efficient software, you get such an important advantage as the ability to manage multiple processes simultaneously without losing in terms of quality. You will not need to look for various digital solutions to complete essential tasks and remain efficient. This is a critical moment in terms of time management and work tasks, as you can focus on solving important tasks and not on unnecessary work.
Dispatch and Tracking
Dispatch is vital for ensuring that different processes of delivery go smoothly. Since it is very important in order to ensure a positive customer experience and a good professional reputation for the company, dispatch is the key to efficient processes and quality organization. The negative customer experience from delivery can have a significant negative impact on the company's performance.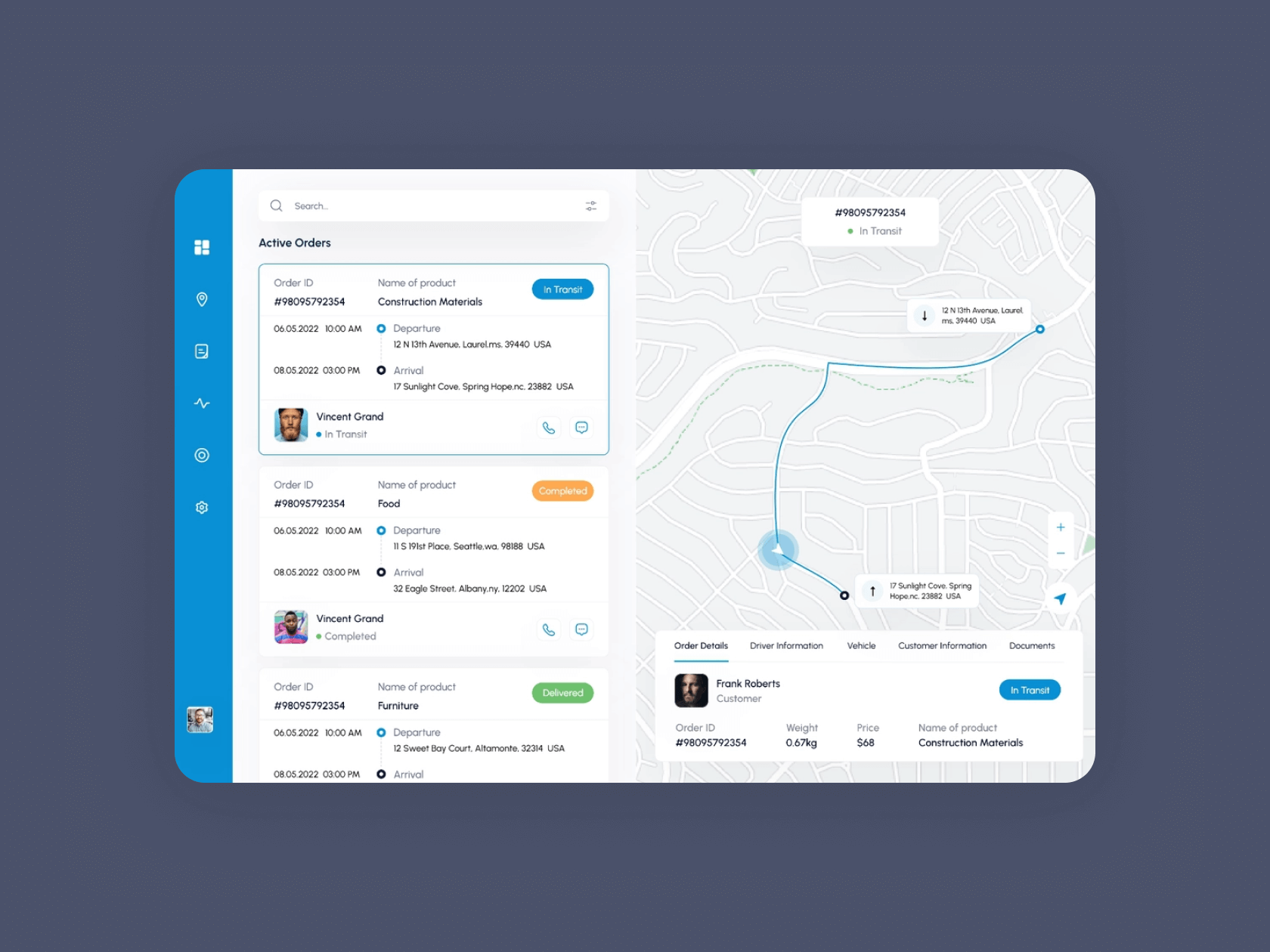 Dispatch operators are a link that unites many processes, such as organizing loads, and helping with scheduling and organizing the work of drivers. Digital solutions will make your process of dispatching more efficient and make sure that in the overall system, none of the processes will lead to unplanned errors.
Dispatch Process and Its Main Challenges
The process of dispatch consists of important sub-tasks, such as coordinating and scheduling processes, organizing loads, and scheduling. Because procedures can be complex, dispatch operators have a heavy burden. A lot depends on how well everything will be organized, so all operations that include arrangements and administrative tasks should be done with extreme caution.
In addition, the factor of communication with customers is important so that they can receive all the information they need in a timely manner. At the same time, it is very important that all information is transmitted on time and reaches the right person. To do this, you need to provide dispatch operators with all the necessary conditions for work. Technological solutions can make it much easier for them to do their jobs and make sure they have the information they need at their fingertips because, without the software, operators will have too many distractions and tasks.
How Software Helps with Dispatch and Fleet Tracking
Modern technologies allow you to combine all the necessary information in one place. So you can have access to all the necessary data without being distracted by other sources. In addition, it is much more efficient to store everything in one place. So you can work much more efficiently and it will be much easier for you to distribute tasks.
Truck Routing
Finding the right routes for trucks is not an easy task due to various factors. The feature that enables effective routing may come as a part of the dispatch functionality, or be a separate tool. Truck routing is an important feature for multiple routing problems and can help transportation businesses find efficient itineraries. For improving performance, it is also essential to manage time and minimize fuel costs.
In terms of routing, optimizing it with the help of a digital solution can address a range of issues. This method will allow you to remain competitive and find the best possible routes.
Routing Challenges
Planning routes without all the necessary information are not just challenging, it may also result in inefficiency. The importance of routing software is that it allows companies to build the most efficient route while taking into account all the possible restrictions and problems that they will encounter on the road. The software can handle this task much better than a human. Digital solutions can also help you a lot with time management.
Routing Software Opportunities
Routing features in software are indispensable for building optimal routes. They take into account many factors, and based on them, can help you make the right decision. You can also make your route even more efficient by improving various parameters. The software offers you various options in this regard.
Safety and Maintenance
Safety and maintenance are two important aspects in the industry of transportation in general. Also, these factors affect professional reputation and finance. Tracking software solutions can help you in both storing all the information that is needed for passing audits and ensuring your equipment and drivers are compliant with governmental requirements.
The software will allow you to improve the state of affairs in which safety is in your company, and make it so that various structures do not have questions for you. In modern realities, this is easily possible, the main thing is to pay attention to this field.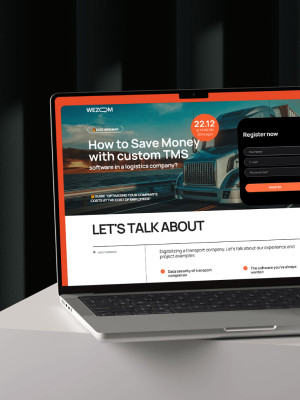 Free webinar!
Register for a webinar by WEZOM
Fuel Management
With the help of efficient fuel management through modern trucking solutions, you can analyze how you use fuel. This will help you better manage this process. As a result, you can significantly reduce costs and help your finances. For a company, reducing fuel costs can be a significant and very helpful factor.
Accounting and Reports
Managing finances and issues related to bookkeeping is important for every transportation company. Many different aspects depend on it. Trucking software solutions can have accounting functionality, and it will make your job a lot easier. It can help you with such fields as payments, reporting, and invoicing. A robust solution can assist you in controlling the accounting and reports aspect, and can also help with analytics.
Accounting is far more productive when it is organized and automated well. In the modern world, it is almost impossible for companies to rely on older models of coping with accounting tasks, so you can save yourself a lot of effort by choosing a robust digital solution.
Conclusion
Since trucking is not easy, and you need to keep many tasks under control at the same time, with the help of digital solutions, you can achieve much better performance of these tasks. Modern businesses can no longer perform various tasks efficiently without the widespread penetration of technology into transport processes and digitalization.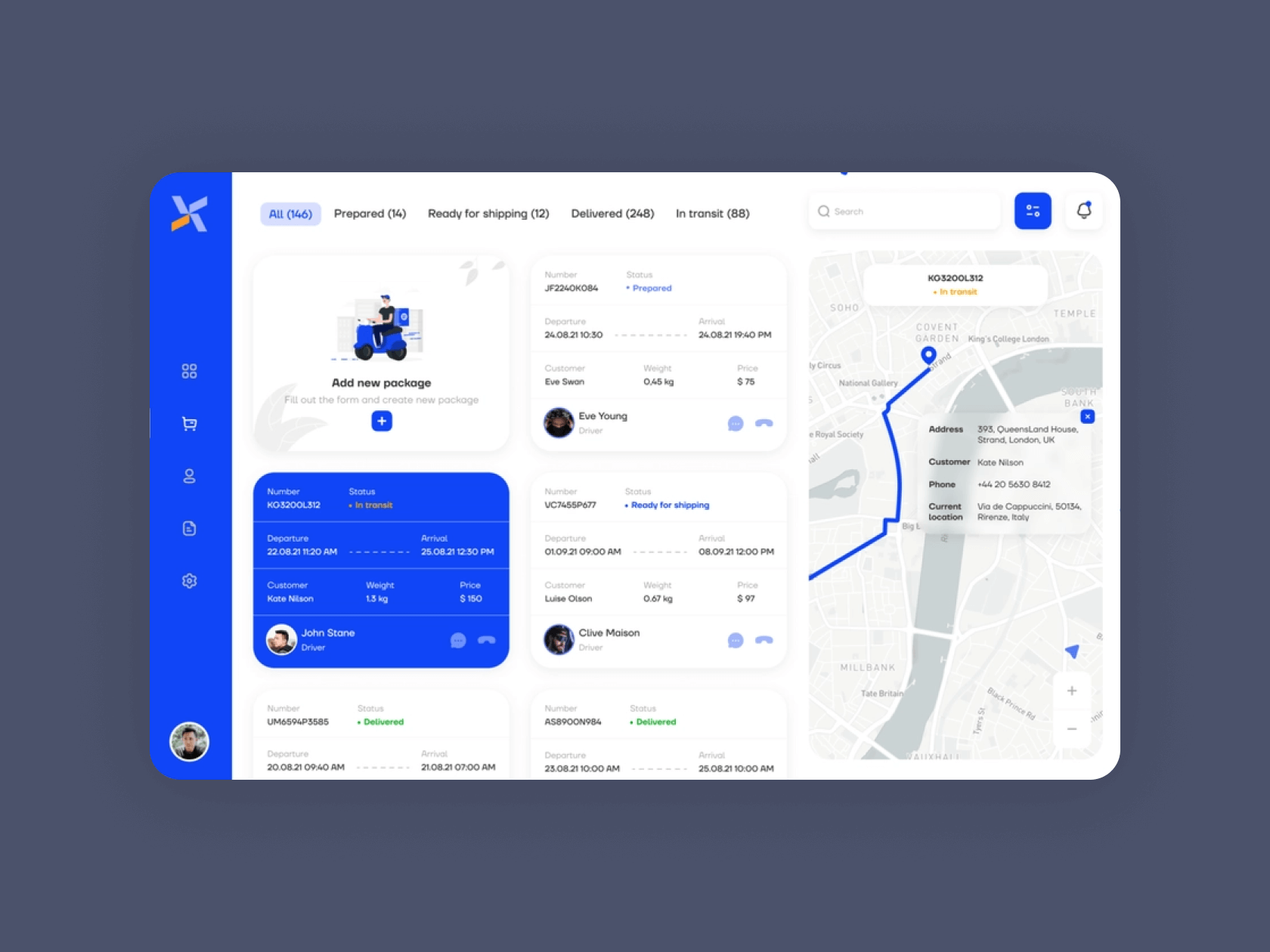 Instead of inefficient manual labor, modern transportation companies are increasingly switching to technological solutions that allow them to better understand the various areas of their work. The trucking industry is no exception. Automation and organization of workflows with the help of software can help you in areas such as reporting, dispatch, and truck routing. It is much better to optimize work with the help of technology than to be constantly distracted by difficult tasks and spend time on difficult tasks yourself. With the help of the software, you can both work out your weak spots and improve your strengths at work.
This approach makes everything much more streamlined and successful, and you can save both effort and time. Entrust different tasks to the software and gradually improve your results to achieve much more!
Remember: in any, even the most complex aspect of the transportation industry, the software can take on so much of tasks and free up your time in such a way that the efficiency of your company's operations will increase significantly. If you're really aiming for better results, choose the option in the marketplace that will solve your problems and make your business productive.
How do you rate this article?