Electronic Health Card Development Services
Launch your turn-key solution to boost the patient experience by storing key medical data, medication history, electronic prescriptions, social security numbers, etc.
What is an electronic health card?
Transfer the processes of working with your patients to the online plane, getting rid of paper documentation – implement an electronic health card system containing all the relevant information about each of them. In particular, you can contact us to create a scalable and secure solution that can be easily integrated with your healthcare facility's IT infrastructure.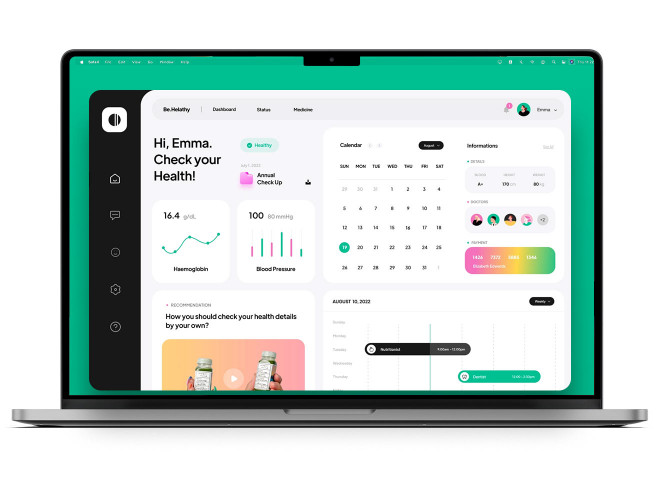 1. cutting-edge software solution
The WEZOM team will develop a cutting-edge software solution to enhance your workflow efficiency.
Capability to receive technical support services upon request.
Availability of software updating services upon request.
Keeping your digital product relevant
5. protect business and reputation
Proactive issue resolution to protect your business and its reputation.
Components of an electronic health card
Let's consider the core features of a standard electronic health card system.
Patient's profile
All patient data will be stored here, from contact information to medical history. In general, you will find here everything that was previously stored in a disparate format in paper documentation.
Contact form for communication with doctors
We will create a convenient form for instant remote interaction of patients with their attending physicians so that they can, if necessary, stay in touch 24/7. Thus, you will be able to provide an even better quality of service.
Appointment form and schedule
We will make it so that your patients do not have to wait for one of your medical staff to pick up the phone to make an appointment – with this feature, they will be able to do it themselves through an online form.
Online prescription
Our specialists will simplify the procedure for issuing prescriptions for certain groups of drugs so that your patients do not have to visit your doctors in person to obtain the appropriate approval.
Questions & Answers
Check out some of the most common questions asked by the clients
What is an electronic health card?
Electronic health cards, or electronic health information cards are tools that have the potential to improve the patient experience by storing key medical data and medication history. Electronic health information cards can also automate work and be helpful both in terms of patient satisfaction and working with data easier.
What is the benefit of e-health cards?
The importance of an electronic health card lies in the fact that it makes it easier to securely access, share and manage your medical records digitally, which is an essential aspect as data plays a huge role in medicine and medical technology. With an electronic health card, it is easy to store all of your medical records in a safe environment, especially compared to physical or traditional medical documents.
How does a health card work?
Electronic health card systems allow the use of electronic health cards as a health insurance identity proof that holds your personal medical details, policy information, and financial coverage under a health insurance plan. In addition to it, electronic health cards offer patients cashless payment options so you can pay for the medical bills that arise from hospitalization and other treatment charges.
Efficient Electronic Health Card Solutions: Transforming Healthcare Management
Unlock the Power of Electronic Health Card Technology
In the digital age, electronic health cards have become a cornerstone of efficient healthcare management. At Wezom, we specialize in providing advanced software solutions for electronic health cards. Our comprehensive technology is designed to revolutionize healthcare organizations by streamlining patient data management, improving accessibility, and enhancing overall patient care.
Enhance Healthcare Management with Cutting-Edge Electronic Health Card Software Solutions
Are you searching for ways to optimize patient data management and improve healthcare delivery? Look no further! Our software solutions are meticulously designed to address the unique challenges faced by healthcare organizations in implementing electronic health cards. Here's how our innovative technology can transform healthcare management:
1. Streamlined Patient Data Management Our software solutions centralize patient data and enable seamless management of electronic health records (EHRs). Access patient information instantly, track medical histories, and update records efficiently. Streamline workflows, reduce paperwork, and improve data accuracy with our intuitive patient data management features.
2. Enhanced Accessibility and Interoperability Improve accessibility and promote interoperability among healthcare providers with our software solutions. Our technology enables secure sharing of patient data across different healthcare settings, facilitating collaboration and continuity of care. Enhance care coordination, reduce duplicate tests, and improve patient outcomes.
3. Comprehensive Health Analytics and Insights Leverage the power of health analytics to drive informed decision-making and improve patient care. Our software solutions provide advanced analytics tools to analyze health data, identify trends, and generate comprehensive reports. By harnessing these insights, healthcare organizations can optimize treatment plans, identify risk factors, and improve population health management.
4. Secure Data Protection and Privacy Ensure the confidentiality and security of patient data with our software solutions. Our technology employs robust data encryption, access controls, and compliance with data protection regulations, such as HIPAA. Protect patient privacy, mitigate security risks, and maintain compliance with industry standards.
5. Seamless Integration with Existing Systems Our software solutions seamlessly integrate with existing healthcare systems, such as electronic medical records (EMRs), laboratory systems, and billing software. This ensures a smooth transition to electronic health cards and maximizes the value of existing infrastructure investments. Enjoy interoperability, minimize disruptions, and optimize system efficiency.
Partner with Wezom for Advanced Electronic Health Card Solutions
Embrace the digital transformation of healthcare management with Wezom's innovative software solutions. Our advanced technology revolutionizes electronic health card implementation, streamlines patient data management, and enhances overall healthcare delivery. Gain a competitive edge and unlock the full potential of electronic health cards with our highly customizable software solutions.
Contact us today to schedule a consultation and discover how Wezom can transform your healthcare organization into a seamless, efficient, and future-ready system. Experience the future of electronic health cards with Wezom's cutting-edge software solutions.