Fleet Management System
Maintain an up-to-date overview of all your fleet management aspects while simultaneously reducing manager workloads.
WHAT IS FLEET MANAGEMENT SYSTEM?
Fleet management refers to an organization of vehicles to function in a particular manner. When it comes to business, the goal is to optimize any fleet operations to ensure driver safety, reduce operational expenses associated with transportation of goods, and provide accurate reporting with predictive analytics to track the performance over time.
Any efficient fleet management system should provide real-time visibility over vehicles' locations. The system integrates GPS technology to track your drivers' locations to ensure the delivery is processed without delays or interruptions. Sensor data from the vehicles will be used to monitor fuel consumption, speed, technical condition, and maintenance records.
Whatever we build custom software for our clients, we ensure that all the instruments are compact and easily accessible from a control panel. Your fleet-related data will be presented most consistently and intuitively. Whether you want to see your overall fuel consumption over a time period or check the status of an individual vehicle, it all will be accessible with just a few clicks.
3. SAFETY AND REGULATIONS
We make sure our system captures the most crucial information to ensure safety for your drivers, vehicles, and loads. Keep track of data on trajectory changes, sudden stops, accidents, or repairs. We also guarantee that our software is compliant with relevant government regulations.
Keep all your job postings and communication with applicants in one place. Specific management roles will have access to screening and background check information. Onboarding and interview processes are now automated for your convenience.
Well-done analytics and reporting ensure cost-effective and practical decision-making. We make sure to collect and demonstrate the essential fleet metrics, trends, and other essential telematics data to ignite valuable insights that further optimize your logistics processes.
What is Included in the Fleet Management System
By creating a custom solution for fleet management, we focus on business challenges unique to the company. That is why each system is individual, focusing on a specific niche exclusive to the business.
GPS tracking
Locate your vehicles on a map, cluster vehicles by categories based on their location, receive notifications if a vehicle approaches its destination
Fuel Management
Keep records of fuel consumption of each vehicle in MPG or any convenient format, understand your fuel costs, have the ability to upload fuel receipts, and receive custom notifications whenever there's unusual activity in fuel consumption
Driver Safety
Enabling fleet monitoring and visibility allows you to know both the condition of vehicles and drivers who operate them; set up safety rules for your drivers, whether it's daily inspection checks or maintenance reports
Analytics and Reporting
Whether it's maintenance reports, fuel consumptions, mileage summaries, or driver violations, all the data will be clearly visualized with custom filtration options
Video Telematics
A fleet management system with a dashcam integration provides real-time video reporting to monitor driver activity and stay updated and informed about what's happening in the driver's cabin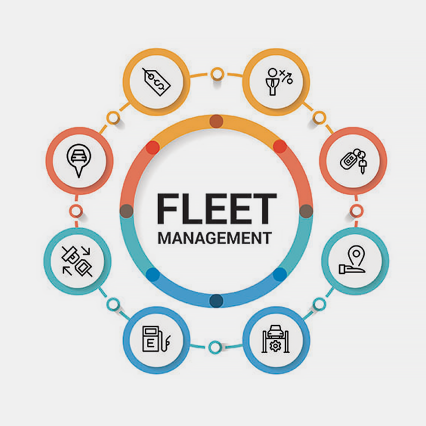 Fleet Management Development Stages
We take care of your projects with proven agile methods that are designed to get all stakeholders in alignment. Our workflow faster turnarounds to achieve even the most ambitious goals.
Project Evaluation
System and Functionality Specifications
UI/UX Design
Development
Testing
Deployment and Support
Preliminary work assessment: estimating the time and cost for the development.
Questions & Answers
Check out some of the most common questions asked by the clients
What is the function of fleet management?
Fleet management definition implies that this set of activities helps manage the fleet in the most effective way, with the help of improving safety and increasing the productivity of drivers, equipment, and vehicles. Fleet management in trucking is often achieved through vehicle tracking, monitoring the behavior of drivers, and vehicle maintenance management. According to fleet management meaning, it is the management activity, which implies that proper organization is the key to successful results.
What are some key elements to look for in a fleet management system?
Fleet management systems include different features that help company owners increase fleet productivity and ensure safety. Some of the main elements such a system should have are those that help with the organization of the work of drivers, vehicles, and equipment. Fleet monitoring systems can also integrate with other software like CRM or inventory management, so it may be beneficial for the proper organization of processes.
What are the types of fleet management?
Different kinds of fleet management can depend significantly on various types of fleets as there are different needs within each fleet. Also, there are different services associated with fleet vehicle management, such as supply chain management, fuel management, vehicle leasing, etc. Car fleet management can be performed by the company itself, or it can be done with the help of a third-party fleet management company. Depending on the needs, business owners can choose the way that is suitable for their situation and use technology to help make the process more organized and efficient. The main goal of fleet management is to make the working process effective and improve safety, so there is no one-size-fits-all approach.
Fleet Management Software Solutions
Fleet management software does more than track vehicles. If you have a logistics and transportation business, fleet management is vital to ensure your logistics and assets are coordinated smoothly. Modern solutions are expected to handle other operations for the company to improve its productivity. Read on to learn what is fleet management software solutions and how companies benefit from them.
What Exactly is Fleet Management?
Fleet management is the application and technologies a business uses to optimize the efficiency of its vehicles. The platform connects cargo, mobile workers, and stationary assets. The goal of this management is to enhance logistics efficiency. If you want to maximize your logistics and transportation processes, it is crucial to consider fleet management software development for tracking the status of your vehicles, reducing costs of operation, and complying with regulations. Therefore, businesses need to utilize fleet management software to eliminate manual labor and improve the coordination of logistics and transportation processes. A software-dependent system is not only accurate but cost-effective. Combining this technology with machine learning improves efficiency through the reduction of manual labor.