If you are faced with the choice of TMS and are looking into all the difficulties of the TMS change process, we are ready to satisfy your interest. Let's have a look at what you need to know about the transition to a custom solution, what problems may arise, and how you can be ready.
Transition from ProTransport to Your Own TMS: Considering ProTransport
ProTransport is a fleet management software solution. It is based on cloud technology and covers the needs of transportation professionals, including different types of shipping (such as less-than-truckload and over-the-road), as well as of intermodal trucking companies.
It allows you to monitor current fleet locations, as well as send ETA alerts in a highly convenient way. Below, we will have a look at some of the benefits and disadvantages of ProTransport so that you can more comprehensively understand the features of this program and its role in the transition of businesses to a customized version of TMS systems.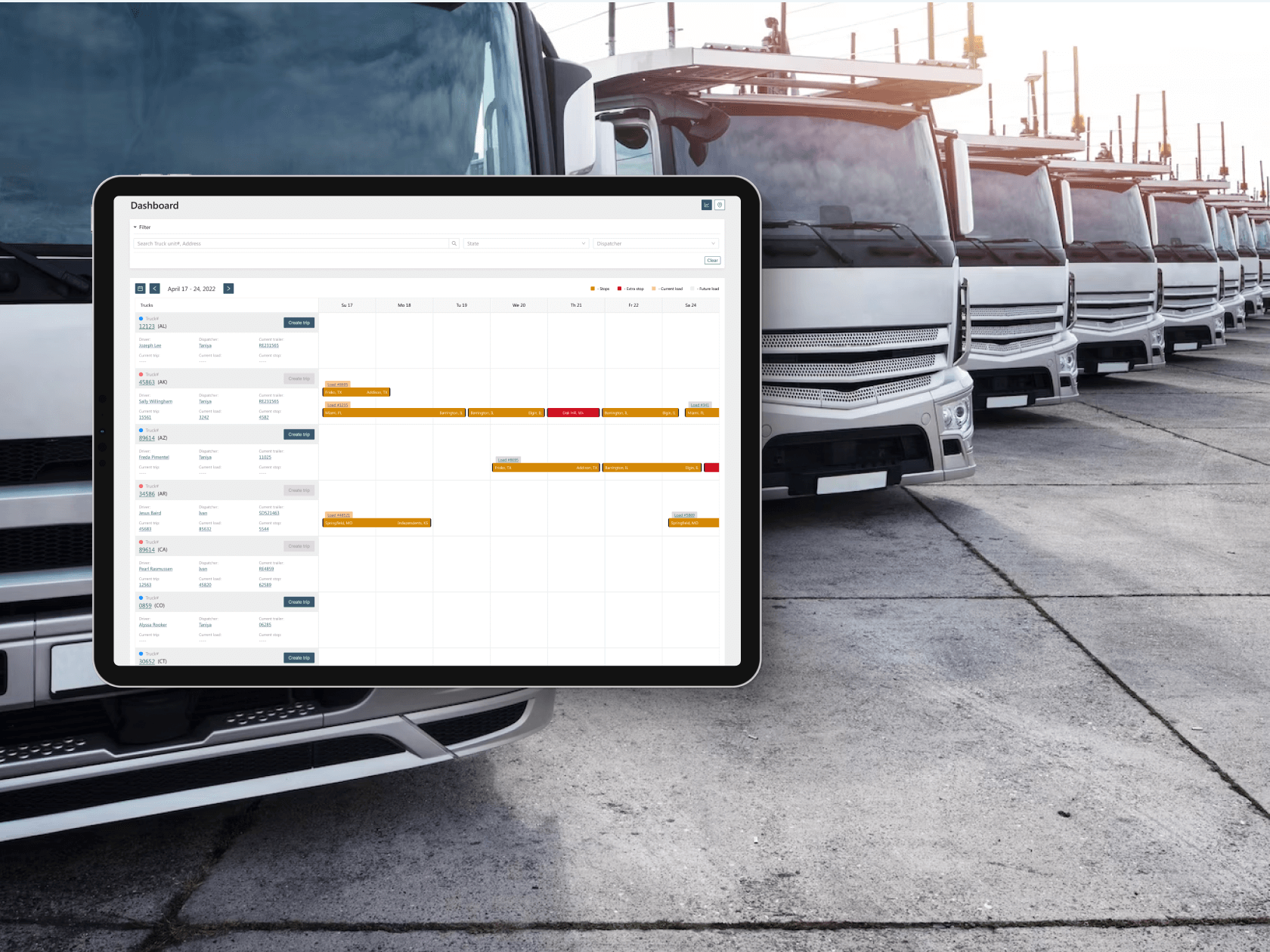 Speaking in general, when it comes to the shortcomings of ProTransport, they relate to the fact that this program is not fully suitable for modern requests because of its inflexibility. Also, it is difficult to access. However, there are different sides to ProTransport that need to be considered.
As for the functionality of ProTransport, its functions revolve majorly around accounting, this is why, in this regard, it is quite an important tool. Its functionality has been appreciated by market players for a long time. It accounts, searches, and tracks all transactions and you can monitor them all in one system. In addition to it, key features of this app include security, accounting, reporting, and other possibilities. In general, with ProTransport, you also can monitor a live dispatch board and reap all the benefits of its functions such as quality reporting.
Main Features of ProTransport
The main functions include computer-aided dispatch, scheduling, routing, vehicle tracking, a customer database, load optimization, and fuel management. ProTransport even has a whole module dedicated to accounting and helps create invoices, prepare different statements, and manage general ledgers, balance sheets, uncollected loads, and trial balances.
It also has a special dispatch tool, by utilizing which you can handle driver schedules, available loads, EDI capability, and trip planning, as well as share the location status of vehicles with team members.
ProTransport's integration with Google Maps allows businesses to receive notifications regarding dispatch delays, while also offering tools for generating reports on drivers, trucks, and equipment to analyze business performance. ProTransport caters to a diverse range of clients, including large enterprises, mid-sized businesses, and small businesses.
The platform supports English, Croatian, and Serbian (Cyrillic) languages and integrates with popular applications such as Omnitracs, M2M In Motion, Motive, QuickBooks Online Advanced, and Samsara. ProTransport also provides multiple support options, including phone support, email/help desk, and a knowledge base.
ProTransport: Pros and Cons
As a solution, ProTransport has its own unique peculiarities in comparison to other systems. Some of them can be understood better through user reviews, and we have analyzed them to highlight their unique advantages and disadvantages. Let's have a look at some of them in detail:
Some of the advantages of ProTransport are the following:
The system is quite user-friendly and allows for a comfortable experience;

According to many users, ProTransport has almost any feature a company needs;

The system is developed in such a way it will be easy for well-trained staff to learn and be comfortable;

Customer support is on a decent level;

Generally, it is easy to use after you learn it.
ProTransport is a comprehensive software solution designed to optimize transportation operations. With features such as real-time data, automated scheduling, and dispatch management, the software enables companies to streamline their processes and improve efficiency. ProTransport also offers tools for driver and vehicle management, fuel usage tracking, and accounting integration, making it a quite widespread solution for businesses in the transportation and logistics industry.
On the other hand, some of the disadvantages of this solution are:
It is quite difficult to upload bank statements or credit cards into the solution.

It is also challenging to attach pictures and maintenance entries.

There are not enough features for larger fleets.
As ProTransport lacks some of the important features, it needs to be compensated with the help of additional integrations which may be expensive. In general, ProTransport lacks aspects such as inventory tracking, motor pool management, purchase order management, real-time monitoring, real-time notifications, real-time reporting, real-time updates, route history, route management, and route optimization.
Without inventory tracking, it is not convenient to keep track of stocks or it is necessary to integrate a third-party solution for an additional cost. This issue creates additional expenses that are inconvenient for companies.
What Customers Told?
Clients who applied for the development of individual products in WEZOM told us about the following reasons:
They were dissatisfied with the experience with ProTransport.
There was a need for a custom solution.
There were specific requirements that required the development of a custom solution that fits the needs of the business.
STL Transportation initially utilized the TMS system Protransport to manage their operations. However, in their pursuit of continuous improvement, they collaborated with a dedicated team to develop a custom software solution. This tailored solution has revolutionized their processes, offering enhanced functionalities and seamless integration, empowering STL Transportation to exceed client expectations and maintain their industry-leading position.
However, there were also clients who decided to stick with ProTransport due to its different specifics and also due to the price of development works that usually are challenging for companies. Yes, a tailored custom-made solution may be extremely flexible for your work, but some clients are unwilling to invest in such projects due to their high cost.
Gamma TMS, having previously used ProTransport, has made the decision to continue leveraging its features and capabilities for ensuring that their transportation management is efficient. By sticking with ProTransport, Gamma TMS ensures a seamless workflow and maintains trust in the software's reliability to meet their logistical needs effectively.
As for the outcomes of using ProTransport and custom-made solutions, individual cases matter. As it is difficult to rely on statistics in this matter because of the variability of results, regarding the benefits of using a custom-made solution, but we can say that each company uses both custom-made options and ProTransport in their own way so it is worth analyzing whether specific indicators meet the needs of your company.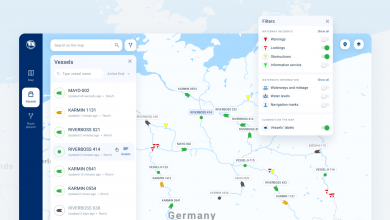 Different client cases highlight the different aims we have when choosing a TMS and the different benefits we can get from using custom-made and ready-made solutions. Custom-made solutions are quite popular, but there are options for everyone and you need to choose the one that suits you, not a popular option.
As for our work, we make a product that meets the needs and realities of the market. As ProTransport has not been changing during the last 30 years, we offer a solution that can provide you with much more. And for this ready-made solution, the absence of major changes makes it weak. Also, we can make additions depending on the clients' needs. This is a substantial bonus point as it gives you a huge potential.
Additionally, if you choose solutions that are made by us, you get the protection of your personal and commercial data, as well as a separate app for drivers.
The Transition from ProTransport to Own TMS
A TMS system is an irreplaceable tool for your transportation business. Also, there are advanced modules for certain needs. Nowadays, there are plenty of ways you can choose in this situation, so let's have a look at the ways to make a transition from one TMS solution to another.
When deciding whether to invest in a Transportation Management System (TMS), it's important to consider several factors that can influence your decision, including the functionality of such a solution, its price, your specific goals, the available resources within your organization, and the complexity of the transportation management application you require.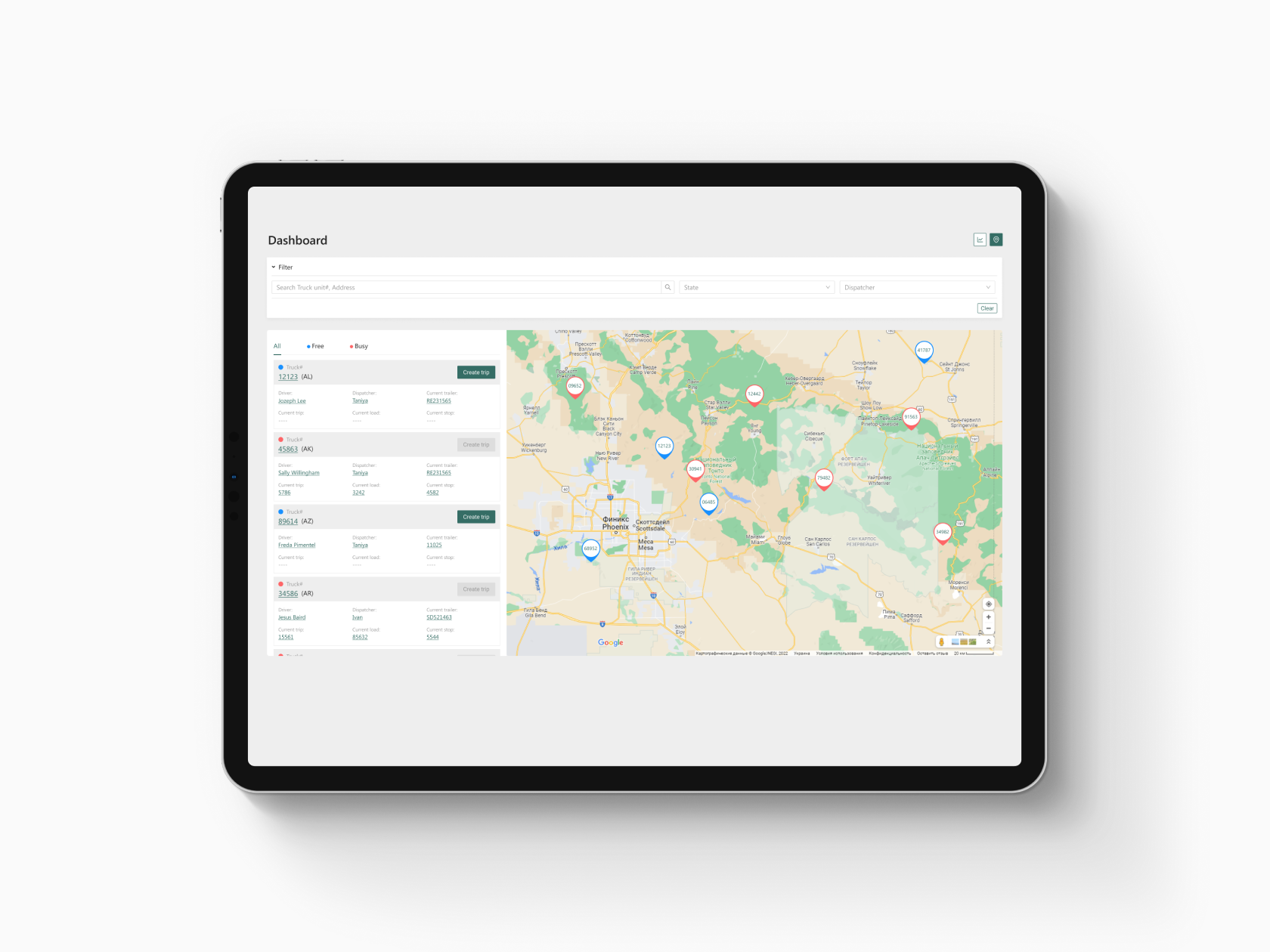 As all of these factors can be overwhelming when selecting the best solution, it's crucial to also consider the financial aspects. This will help ensure that the decision is more justified and realistic, aligning with your budget and generating profits rather than financial issues and complications.
It's worth noting that custom development may require a significant amount of time, possibly a year or more, and this should be taken into account, as not every business is ready to commit to such a timeframe. Additionally, there are inherent risks involved. Therefore, it is essential to be prepared and not skip this step, as finances play a crucial role.
However, a well-designed TMS empowers companies to streamline and automate routine processes, eliminate unnecessary steps, enhance quality control, and improve overall work quality by proactively addressing operational issues and preventing problematic situations.
Furthermore, it provides transparent analysis that identifies problem areas within the business, serving as the foundation for company growth.
Not every company needs a custom transportation management solution. The realistic approach will be your best guide when it comes to making such a decision, however, if you want to solve your complex issues and achieve unparalleled efficiency with the help of just one solution that fits you perfectly, invest in a quality custom-made TMS.
How to choose a TMS for a company of 100 and more trucks
For companies with more than a hundred trucks, it is essential to keep different departments under control. A transportation management system can help to organize them properly.
The Benefits of a Custom TMS
Some of the main benefits of a custom TMS solution include flexibility, effective analysis, and a high potential for process optimization. But when choosing the format of your TMS, pay attention to other benefits:
Such a TMS is customized for the needs of your company and provides a tailored approach to the business processes of your company.
Such a solution can provide you with an ability to ROI through sales or as a boxed product or SaaS, which is important for you to maintain efficiency.
Why You May Need Advanced Modules
As businesses grow, conventional transportation management systems may no longer meet their needs, necessitating advanced modules such as distributed order management and management by exception.
The former allows the integration of orders from multiple channels into a single ecosystem, while the latter automates regular order processing and notifies managers of unexpected events.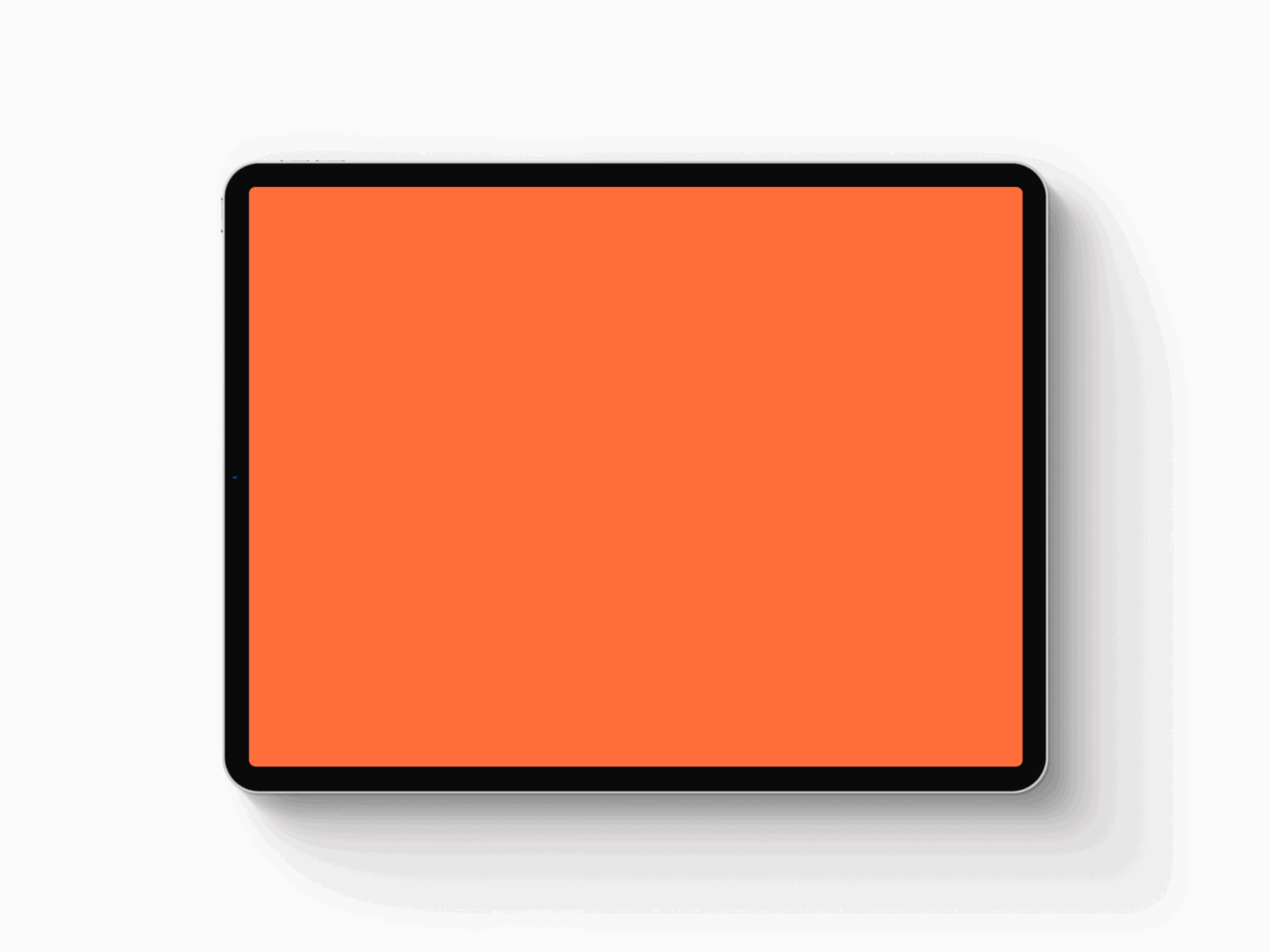 These modules can save time and increase efficiency, making them essential for businesses managing hundreds and thousands of orders per week.
Key Problems of Implementing Your Own TMS
There will always be certain issues in implementing your own TMS system that can stop you from progressing. Some of them refer to the aspect of price, some to the time required, but apart from the common issues, there are deeper problems not all companies face. We have gathered some of the major ones to help make the transition process seamless.
Some of them include:
No clear goals in the implementation of the new TMS;

The price of such solutions;

Non-compliance with such a system

;

Lack of clear understanding of the necessary TMS options;

The extent of training and training of personnel on the use of the new TMS, and so on.
However, realizing for yourself that these problems exist, you are already half done, because of the process of switching from a ready-made solution, such as the ProTransport app which is one of the solutions that offer similar and versatile functionality to businesses and their owners and therefore is popular , to a customized version, largely depends on the strategy and answers to your own questions about TMS.
Do not neglect the issues of strategy and this will positively affect your work with such a system.
Here are some additional critical challenges that organizations may encounter when switching TMS vendors:
Data migration: Migrating data from an old TMS to a new one can be a complicated process that necessitates careful planning and execution. It is essential to ensure that all data is transferred accurately and securely to enable the new TMS to operate efficiently.
Scalability: As an organization expands and its transportation needs grow, the TMS may need to expand its capacity to accommodate a larger volume of data and users. This can be a complex process that requires thorough planning and execution.
Integration with other systems: The TMS must integrate seamlessly with other systems used by the organization, such as customer relationship management tools, project management software, and content management systems. Ensuring seamless integration can be a challenging process that requires substantial effort and experience.
User adoption: After a TMS has been implemented, organizations must ensure that their employees are trained to use it effectively. This can be a challenge, especially if the TMS is complex or unfamiliar to users.
Maintenance and support: A TMS requires ongoing maintenance and support to operate efficiently once it has been deployed. This can be a significant ongoing cost for organizations, particularly if they lack the technical expertise to handle any issues that may arise.
Our team will study your business processes and identify growth points in them. And then it will offer the optimal solution for them. Our custom solutions will be great for the needs and challenges that arise specifically in your business.
Getting Your Staff on Board
As it will definitely be hard for somebody to change, you may need some additional measures to bring them on board. To prepare your staff before this event, let's have a look at some helpful recommendations to ensure all of your staff knows what's going on and why.
Firstly, your team should be familiar with the goals regarding the system and why you need it in concrete tasks. Also, there is a need to ensure all of your staff know how to use the TMS, are well-trained in it, and understand what issues may arise in the process of training and using it.
It is a common occurrence for some staff to resist change, and this can be a challenge during TMS implementation. However, your staff plays a critical role in ensuring the success of the TMS.
Therefore, it is essential to communicate with everyone in your company before implementing the TMS to ensure that they understand what is happening and why. Failure to do so can lead to a lack of acceptance or understanding from those who need to use the TMS regularly.
To ensure a successful TMS implementation, it is crucial to prepare your staff and get them excited about the new system. You can assign a project manager to oversee the TMS implementation, create a committee to manage and organize the implementation, dedicate additional IT resources to the project, host meetings with relevant stakeholders, use clear communication to keep everyone updated and plan for potential challenges or setbacks.
TMS implementation can take varying durations, depending on your needs. Therefore, it is essential to create a clear plan with a reasonable timeline, budgeting, and action points to keep your team on track and maintain momentum throughout the process.
Additionally, documenting everything as you proceed can help you remain organized as you move forward.
Investment in TMS: Risk or Success?
In general, in order to more accurately hit your specific need and reduce risks, it is recommended to make a list of those risks that you are afraid of when investing in TMS.
However, there are other sides you should consider.
There are additional factors in the TMS that make it suitable for you: they refer to financial issues, the details that refer to the functionality, and the way the set of functions corresponds with your practical needs. Don't pay attention to the type of solution only.
Then, calculate the return on investment for this project by establishing your expectations for the future system and determining the method that will enable you to meet those expectations as quickly as possible.
Note that internal system development may take a long time to implement and may not meet all your expectations initially due to a lack of experience, bugs, and underdeveloped features.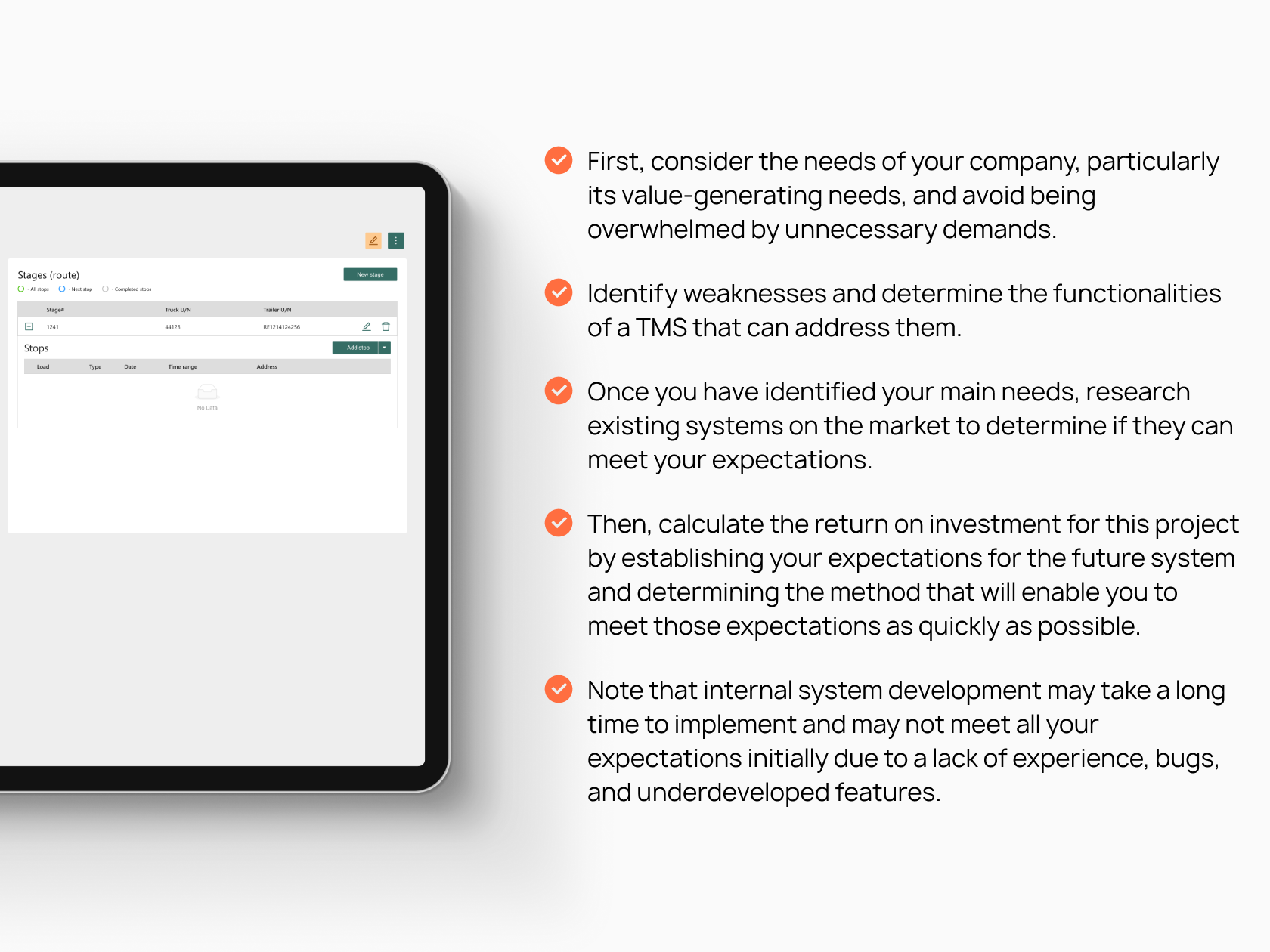 How WEZOM Team Can Help You
WEZOM's custom software solutions are specifically tailored to meet the unique needs of businesses in the transportation industry, ensuring increased efficiency and productivity.
By choosing WEZOM's custom software solutions, businesses can streamline their workflows and processes, reduce costs, and improve overall performance, making it a more suitable option than ready-made solutions that may not be able to provide the same level of customization and flexibility.
A Custom Solution that Actually Covers Your Needs
A custom software solution is better than a ready-made one because it is specifically designed to meet the unique needs of a business, ensuring that it is a perfect fit for their workflows and processes. This leads to increased efficiency, productivity, and cost savings in the long run. Additionally, custom software can be easily scaled and adapted as a business grows and evolves.
This is why we recommend performing a brief analysis of your own situation to ensure you choose what is best and don't settle for the option that only seems suitable.
Get Custom Logistics and Transportation Software
Streamline the shipping processes and make them easier to manage and optimize your transportation operations with your custom TMS software!
How do you rate this article?