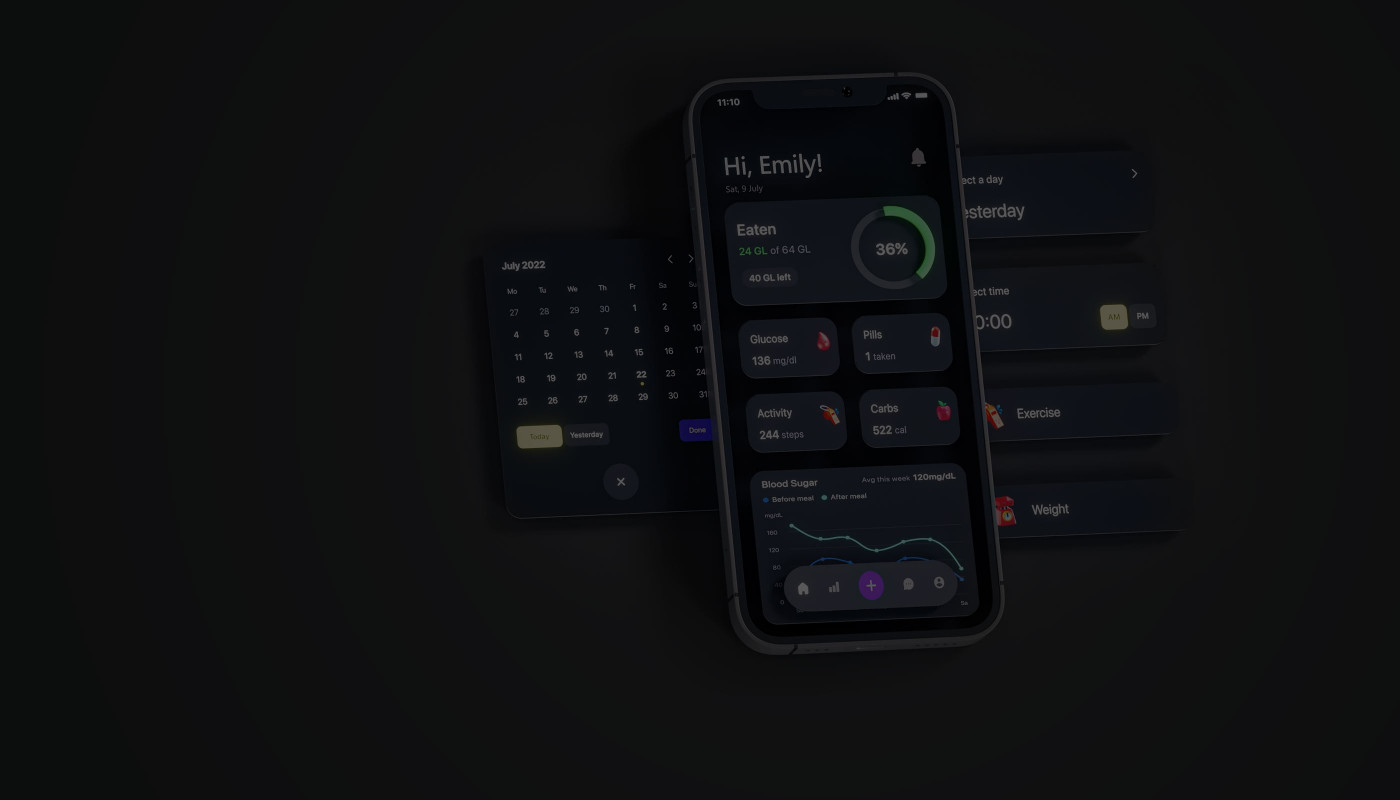 M-health Applications Development
Use mobile devices to educate consumers about preventive healthcare services as well as help them to communicate with your medical staff.
What are M-health applications?
Use digital technologies for the benefit of your patients – launch your own m-Health application for smartphones to automatically detect and measure health-related behaviors. Thanks to this, you will be able to provide round-the-clock monitoring of the health status of your patients wherever they are, at home or in your medical center. If you need such a software solution, feel free to contact us.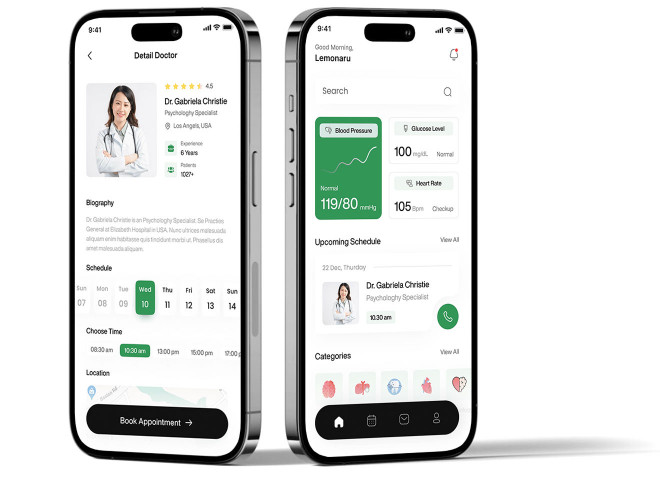 1. manage health status remotely
Creation of cutting-edge M-health applications to manage patients' health status remotely.
Provision of technical support services upon request by our experts.
Availability of maintenance services upon request to keep your app running smoothly.
Updating the app as needed.
Components of M-health applications
Let's consider the core features of standard mHealth apps for patients.
Patient's health status monitoring
We will leverage your patients' mobile devices' hardware, such as the Global Positioning System (GPS), accelerometer, microphone, speaker, and camera to reliably capture their critical health metrics in real time.
Electronic health card
Our experts will create clear and convenient patient cards where their contact information and data from their medical history (diseases, prescribed drugs and procedures, etc.) will be centrally stored and updated.
Appointment form
Our team will create a user-friendly appointment form for your patients so they don't have to wait in a telephone line to make an appointment with their primary care physician according to their business hours.
Telemedicine
To enable you to provide instant remote medical assistance to your patients with critical health indicators, we will implement telemedicine so that your doctors can call them and tell about the emergency measures that they can take at the moment.
Questions & Answers
Check out some of the most common questions asked by the clients
What are mHealth applications?
mHealth applications are software solutions that use tools that are inbuilt in smartphones, such as the Global Positioning System (GPS), accelerometer, speaker, microphone, and camera to automatically detect and measure health-related behaviors. Mhealth applications market allows for effective recognition of health-related behaviors.
What is the goal of mHealth?
Some of the main goals of mHealth are to improve the quality and coverage of care, increase access to health information, services, and skills. Also, custom mhealth applications can promote positive changes in health behaviors in order to prevent the onset of acute and chronic diseases.
How much does it cost to develop a mHealth app?
On average, the cost of an mhealth application platform may be around $50,000–80,000 depending on the complexity of the application and other significant factors. When it comes to more complex mhealth application platforms, they can cost you about $80,000–120,000 for the development itself and include other costs. Consider $80,000 as an average price.
Revolutionize Healthcare with Cutting-Edge M-Health Applications
Transforming Healthcare Delivery with M-Health Applications
In today's digital age, mobile technology is revolutionizing the way healthcare services are delivered. At Wezom, we specialize in providing advanced software solutions for M-Health applications. Our comprehensive technology is designed to empower healthcare providers and patients by leveraging the power of mobile devices to enhance accessibility, improve communication, and revolutionize healthcare delivery.
Enhance Healthcare Accessibility with Next-Generation M-Health Applications
Are you searching for ways to leverage mobile technology to enhance healthcare accessibility and improve patient outcomes? Look no further! Our software solutions are meticulously crafted to address the unique challenges faced by healthcare organizations in implementing M-Health applications. Here's how our innovative technology can transform healthcare delivery:
1. Seamless Patient Engagement and Communication Our software solutions enable seamless patient engagement and communication through mobile devices. Empower patients to access their health records, schedule appointments, and receive personalized health information. Enhance communication between healthcare providers and patients, leading to better care coordination and improved patient satisfaction.
2. Efficient Remote Monitoring and Telemedicine Leverage the power of mobile technology for remote monitoring and telemedicine services. Our software solutions enable healthcare providers to remotely monitor patient vitals, manage chronic conditions, and conduct virtual consultations. Improve access to healthcare services, reduce hospital visits, and enhance patient convenience.
3. Comprehensive Health Information and Education Empower patients with comprehensive health information and educational resources through mobile applications. Our software solutions provide access to reliable medical information, personalized health tips, and self-management tools. Promote health literacy, empower patients to make informed decisions, and improve overall wellness.
4. Secure Data Exchange and Privacy Ensure the confidentiality and security of patient data with our software solutions. Our technology employs robust data encryption, strict access controls, and compliance with data protection regulations. Facilitate secure data exchange between healthcare providers and patients, maintaining patient privacy and trust.
5. Integration with Existing Healthcare Systems Our software solutions seamlessly integrate with existing healthcare systems, such as electronic medical records (EMRs) and appointment scheduling platforms. This ensures a smooth transition to M-Health applications and maximizes the value of your existing infrastructure investments. Enjoy interoperability, minimize disruptions, and optimize system efficiency.
Partner with Wezom for Advanced M-Health Application Solutions
Embrace the digital transformation of healthcare with Wezom's innovative software solutions. Our advanced technology revolutionizes the implementation of M-Health applications, enhancing healthcare accessibility, communication, and patient engagement. Gain a competitive edge and unlock the full potential of mobile technology in healthcare with our highly customizable software solutions.
Contact us today to schedule a consultation and discover how Wezom can transform your healthcare organization into a seamless, efficient, and future-ready system. Experience the future of M-Health applications with Wezom's cutting-edge software solutions.