Payments Management System
Get your own FinTech software for your company's transactions to handle expenditures, cash disbursements, and other matters of cash management.
What is a payments management system?
Create an automated payments in practice management system to help your clients manage their financial flows more intelligently. We will enrich it with all the necessary security tools and adapt it for different platforms to provide unparalleled compatibility.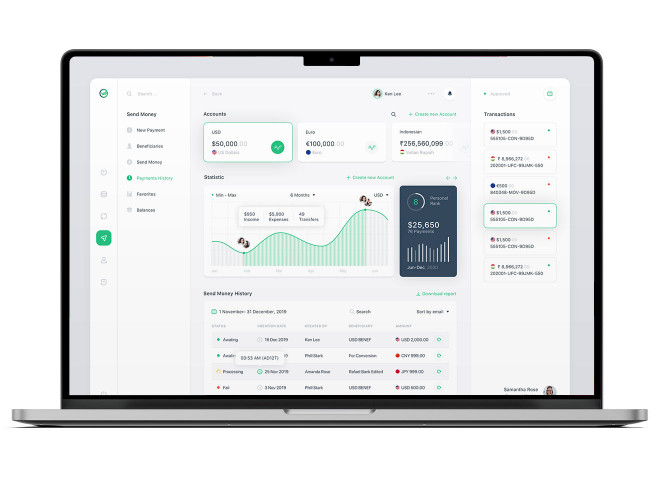 Creation of a universal digital assistant for your customers by our team.
Provision of necessary tools for customers to manage their financial flows conveniently.
Regular updates to your product.
Ensuring the long-term viability of your product.
Payments management system components
Let's find out what functions your payments management system can have.
Payment processing
We will develop a secure solution for instant online payments that will comply with all necessary standards.
Reporting and analytics
Our team will provide your customers with intuitive tools to visualize their spending so they can manage their finances even more efficiently.
Funds management
Our specialists will provide your clients with convenient tools for managing their financial assets online.
Fee notifications
We will connect tools to send background notifications to your customers' user devices so that they do not forget about recurring payments.
Transaction history
Our team will create a convenient visualization of your clients' balance data so that they can rationally plan their funds in the future.
Online customer support
We will reduce the load on your live employees by creating a smart chatbot that will automatically answer your customers' questions online.
Fintech
E-Groshi
IN A MONTH AND A HALF AND IN THREE STAGES, WE CREATED AN UPDATED PRODUCT WITH POSITIVE EFFECT ON THE E-GROSHI SERVICE.
Questions & Answers
Check out some of the most common questions asked by the clients
What is a payment management system?
A payment management system, or a PMS system, provides services that include cash management, disbursement, grant monitoring, reporting, to awarding agencies and grant recipients. With the help of payment management solutions, users can manage their awards more effectively. PMS services are a great way to make processes way faster.
Why is payment management important?
Payment management provides different opportunities to make payments faster and more accurate. As the processes within this procedure can be quite complex, a payment management system or a PMS can make everything much easier and streamline management. The role of software lies in organizing work.
What is included in payment management software?
A PMS service usually includes contact info, tax forms, payment methods, and preferred currency. Also, PMS vendors may include different possibilities for the businesses to upload invoices, generate their own invoices, and conduct other payment-related processes either manually or automatically. A PMS program usually includes various opportunities for secure payments. Generally, these solutions cover the entire accounts payable workflow cycle.