Payments Management System
Get your own FinTech software for your company's transactions to handle expenditures, cash disbursements, and other matters of cash management.
What is a payments management system?
Create an automated payments in practice management system to help your clients manage their financial flows more intelligently. We will enrich it with all the necessary security tools and adapt it for different platforms to provide unparalleled compatibility.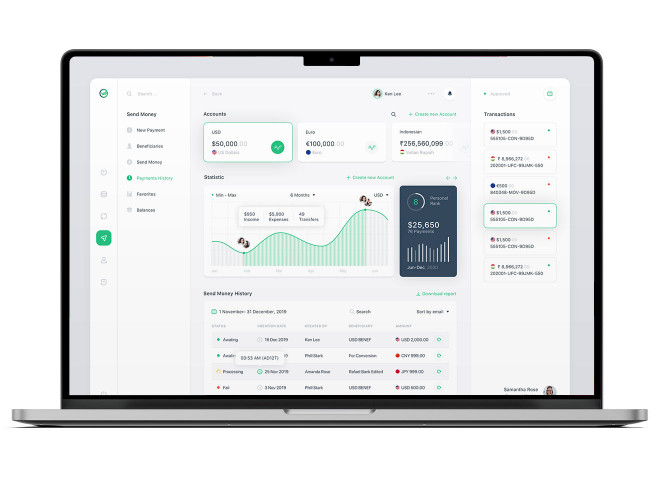 Creation of a universal digital assistant for your customers by our team.
Provision of necessary tools for customers to manage their financial flows conveniently.
Regular updates to your product.
Ensuring the long-term viability of your product.
Payments management system components
Let's find out what functions your payments management system can have.
Payment processing
We will develop a secure solution for instant online payments that will comply with all necessary standards.
Reporting and analytics
Our team will provide your customers with intuitive tools to visualize their spending so they can manage their finances even more efficiently.
Funds management
Our specialists will provide your clients with convenient tools for managing their financial assets online.
Fee notifications
We will connect tools to send background notifications to your customers' user devices so that they do not forget about recurring payments.
Transaction history
Our team will create a convenient visualization of your clients' balance data so that they can rationally plan their funds in the future.
Online customer support
We will reduce the load on your live employees by creating a smart chatbot that will automatically answer your customers' questions online.
Questions & Answers
Check out some of the most common questions asked by the clients
What is a payment management system?
A payment management system, or a PMS system, provides services that include cash management, disbursement, grant monitoring, reporting, to awarding agencies and grant recipients. With the help of payment management solutions, users can manage their awards more effectively. PMS services are a great way to make processes way faster.
Why is payment management important?
Payment management provides different opportunities to make payments faster and more accurate. As the processes within this procedure can be quite complex, a payment management system or a PMS can make everything much easier and streamline management. The role of software lies in organizing work.
What is included in payment management software?
A PMS service usually includes contact info, tax forms, payment methods, and preferred currency. Also, PMS vendors may include different possibilities for the businesses to upload invoices, generate their own invoices, and conduct other payment-related processes either manually or automatically. A PMS program usually includes various opportunities for secure payments. Generally, these solutions cover the entire accounts payable workflow cycle.
Unlock the Power of Efficient Payment Management: Next-Generation Software Solutions
Streamline and Optimize Your Payment Management System
Efficient payment management is crucial for businesses to thrive in today's fast-paced digital landscape. At Wezom, we specialize in providing advanced software solutions designed to streamline and enhance your payment management system. Our comprehensive technology empowers businesses to optimize processes, improve security, and deliver exceptional payment experiences.
Revolutionize Your Payment Management with Tailored Software Solutions
Are you searching for ways to simplify your payment management system and provide seamless experiences for your customers? Look no further! Our software solutions are meticulously crafted to address the unique challenges faced by businesses in managing payments. Here's how our innovative technology can transform your payment operations:
1. Streamlined Payment Processing and Integration Experience seamless payment processing and integration capabilities with our software solutions. Consolidate various payment channels into a centralized system, enabling you to accept and process payments efficiently. Our technology supports online transactions, mobile payments, recurring billing, and more. Simplify your payment workflows and provide a seamless experience for your customers.
2. Robust Security and Fraud Prevention Measures Protecting sensitive payment data is of utmost importance. Our software solutions incorporate robust security features, including advanced encryption protocols, tokenization, and proactive fraud detection mechanisms. By implementing these measures, you can safeguard customer information, prevent fraudulent activities, and build trust among your clientele.
3. Advanced Reporting and Analytics Gain valuable insights into your payment operations with our software's advanced reporting and analytics capabilities. Track transaction trends, monitor payment performance, and analyze customer behavior to make data-driven decisions. Leverage actionable data to optimize your payment strategies, improve operational efficiency, and enhance customer satisfaction.
4. Customizable Payment Solutions We understand that every business has unique payment requirements. Our software solutions are highly customizable, allowing you to tailor the system to your specific needs. Whether you need support for multiple currencies, integration with various payment gateways, or custom payment workflows, our technology can be adapted to suit your business processes seamlessly.
5. Seamless Integration and Scalability Integrating new software into your existing infrastructure shouldn't be a hassle. Our software solutions are designed for seamless integration, ensuring minimal disruptions to your operations. Additionally, our technology is highly scalable, capable of accommodating the growth of your business and the increasing demands of your payment management system.
Partner with Wezom for Cutting-Edge Payment Management Solutions
Embrace the digital transformation of payment management with Wezom's innovative software solutions. Our advanced technology will revolutionize your payment operations, optimize efficiency, and deliver exceptional payment experiences for your customers. Stay ahead of the competition and unlock the full potential of your business with our highly customizable software solutions.
Contact us today to schedule a consultation and discover how Wezom can transform your payment management system into a seamless, secure, and customer-centric solution. Experience the future of payment management with Wezom's advanced software solutions.