Personal Accounts for Private Clinics
Streamline patient management tasks like patient accounts, collections, and copays, as well as handle back-office and billing functions with our custom solution.
What are personal accounts for private clinics?
Currently, clinics increasingly try to move to a digital environment, avoiding paper documentation. First of all, this concerns the medical records of patients or the so-called personal accounts. It stores such important information about the client as personal data, contacts, as well as medical history and prescribed treatment. If you want to create a scalable and user-friendly personal account system for your private clinic, please, contact us.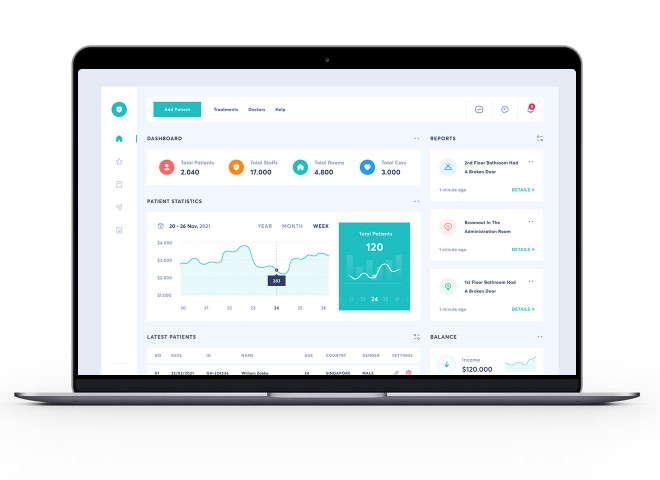 1. advanced software solution
Implementation of an advanced software solution for managing patient data.
2. manage data centrally and remotely
Capability for your medical staff to manage patient data centrally and remotely.
Provision of technical support services upon request by our experts.
Provision of update development services upon request.
Efforts to eliminate downtime in your workflows.
Components of personal accounts for private clinics
Let's consider the main features of average accounts for private clinics.
Personal data and contact information
We will develop a user-friendly and scalable database for storing critical information about your patients so that your medical staff can instantly understand which of your patients they are currently dealing with.
Medical history and prescribed treatment
Our team will create a user-friendly registry of your patients' diseases and prescribed procedures and medications to help your doctors accurately select the next course of treatment for each of them.
Appointment form
To reduce the burden on your call center and provide an even better quality of service to your patients, we will develop an online appointment form so your patients can schedule their next visits online.
Online payment
Our team will integrate a payment gateway into your patient card system so that they will be able to pre-pay for their treatment and also get the option of regular debiting when it comes to providing medical services on credit.
Questions & Answers
Check out some of the most common questions asked by the clients
How can I make my clinic more efficient?
To improve a private clinic's efficiency, learn to manage more effectively, delegate, and improve patient flow. Also, enhancing communication with handouts and confirming appointments can be helpful for private clinics seeking to improve their productivity in simple steps. Use a good scheduling system and focus physician time on patient care to achieve better results in terms of efficiency.
How can you cut costs in a private clinic with software?
For doing it, you can allow patients to schedule appointments on their own with a patient portal, use a practice management system to reduce incorrect billing, and automate work to reduce manual labor and mistakes for more productivity and less routine work. Use software for private clinics for streamlining tasks.
Streamline Your Clinic Operations with Advanced Personal Accounts Software Solutions
Elevate Clinic Management with Tailored Personal Accounts Software
In the ever-evolving landscape of private healthcare, effective clinic management plays a vital role in delivering quality patient care and ensuring operational efficiency. At Wezom, we specialize in providing state-of-the-art software solutions for personal accounts management in private clinics. Our comprehensive technology is designed to streamline administrative processes, enhance financial management, and optimize overall clinic operations.
Revolutionize Clinic Operations with Cutting-Edge Personal Accounts Software Solutions
Are you searching for ways to streamline your clinic's financial processes and enhance patient billing management? Look no further! Our software solutions are meticulously crafted to address the unique challenges faced by private clinics in managing personal accounts. Here's how our innovative technology can transform your clinic operations:
1. Seamless Patient Billing and Invoicing Simplify patient billing and invoicing processes with our software solutions. Generate accurate and detailed invoices, track outstanding balances, and manage payment records effortlessly. Our user-friendly billing features streamline financial workflows and improve cash flow management.
2. Efficient Claims Processing and Insurance Management Streamline claims processing and insurance management with our software solutions. Easily submit and track claims electronically, streamline insurance documentation, and expedite reimbursement cycles. Our technology integrates seamlessly with insurance systems, reducing errors and improving overall efficiency.
3. Comprehensive Financial Reporting and Analytics Gain valuable insights into your clinic's financial performance with our software solutions. Generate comprehensive financial reports, monitor key performance indicators, and analyze revenue trends. Our advanced analytics tools help you make data-driven decisions and identify areas for financial improvement.
4. Appointment Scheduling and Reminders Efficiently manage patient appointments and minimize no-shows with our appointment scheduling and reminders feature. Our software solutions offer online appointment booking, automated reminders, and synchronization with patient calendars. This streamlines appointment management, improves patient experience, and optimizes clinic workflow.
5. Secure Patient Data Management Protect patient privacy and maintain data security with our software solutions. Our technology incorporates robust data encryption, strict access controls, and compliance with data protection regulations. Safeguard sensitive patient information, ensure HIPAA compliance, and build trust with your patients.
Partner with Wezom for Personal Accounts Software Solutions
Embrace the digital transformation of clinic management with Wezom's innovative software solutions. Our advanced technology revolutionizes personal accounts management, streamlines administrative processes, and enhances financial efficiency. Gain a competitive edge and unlock the full potential of your private clinic with our highly customizable software solutions.
Contact us today to schedule a consultation and discover how Wezom can transform your personal accounts management into a seamless, efficient, and future-ready solution. Experience the future of personal accounts for private clinics with Wezom's cutting-edge software solutions.