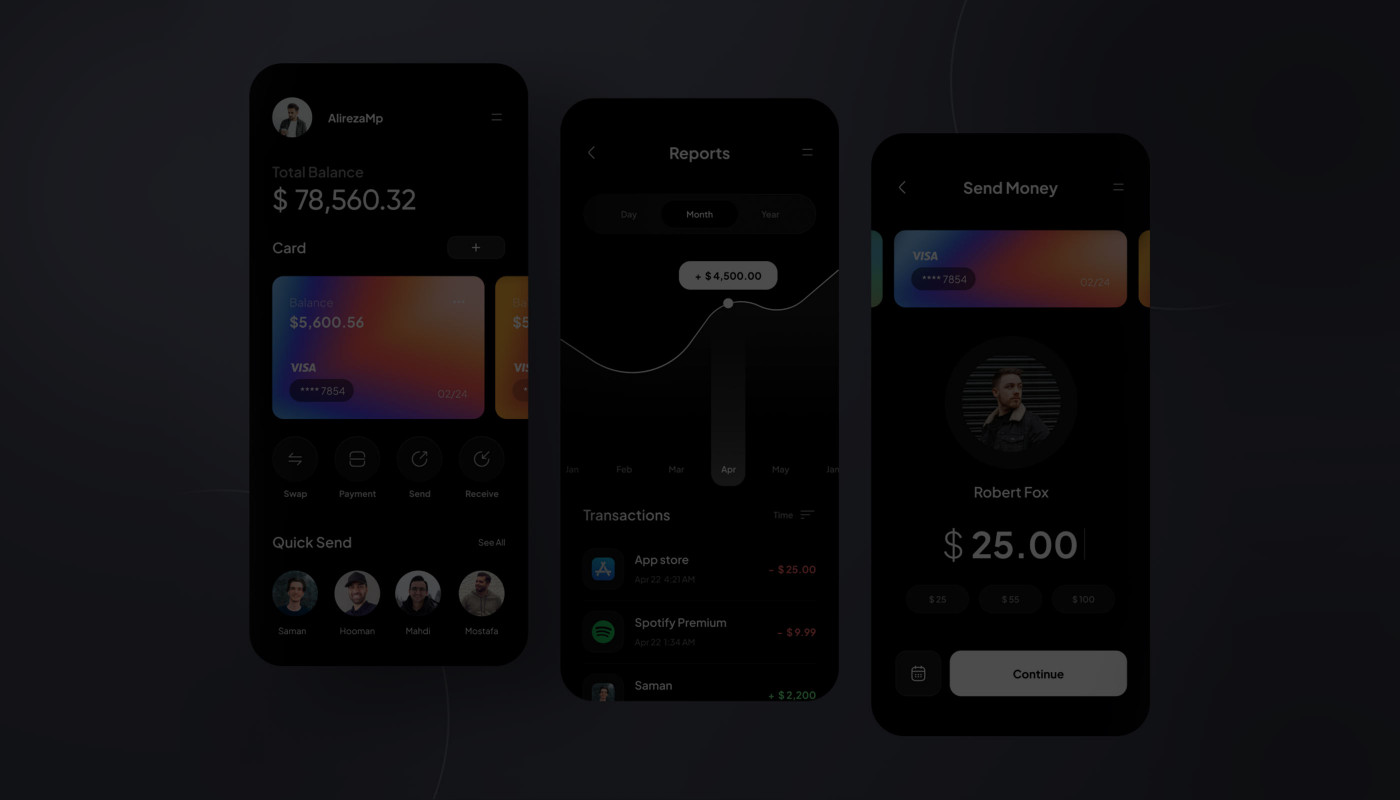 Personal Banking
Provide your customers with financial services to manage their money, have access to credit, and deposit their money in a secure manner.
What is personal banking?
Provide your bank customers with the opportunity to manage their financial assets on their own through their personal devices. We will create a secure digital solution inspired by the best practices of world leaders in the financial industry.
1. comprehensive solution
The WEZOM team will build a comprehensive personal banking solution for your customers.
Provision of tools for customers to analyze their financial status.
Ability for customers to complete transactions and other banking activities such as lending and opening new accounts.
Provision of technical support upon request for your personal banking services.
5. expand the functionality
Ability to expand the functionality of personal banking services as needed.
Personal banking app components
Below we will consider the main features that your custom personal banking additional services can be endowed with.
Tool for transactions
We will develop a completely secure money transfer tool so that your users can pay bills and goods from their personal devices.
Financial advice
Our specialists will create a tool for online interaction between your consultants and clients to reduce the workload of offline departments of your bank.
Tax management
Our team will build a convenient tool for calculating taxes and provide it with the functionality necessary for paying them online.
Customized services
We will help improve your organization's image by providing your clients with a wide range of customized online services.
Loan calculator
Our experts will simplify the lending process by making it possible to receive and issue loans through your online banking application.
Money box
We will provide your clients with the opportunity for long-term accumulation of funds through the automatic daily transfer of fixed money amounts to the money box.
Fintech
E-Groshi
IN A MONTH AND A HALF AND IN THREE STAGES, WE CREATED AN UPDATED PRODUCT WITH POSITIVE EFFECT ON THE E-GROSHI SERVICE.
Questions & Answers
Check out some of the most common questions asked by the clients
What is meant by personal banking?
Personal banking services refer to all the services companies in the banking sector offer to individuals rather than businesses. Among the examples of personal banking, there are checking and savings accounts, credit and debit cards, loans, and other services.
What are the benefits of personal banking?
Personal banking benefits include convenience, safety and security, an opportunity to save money, affordability, and an easy access to credit. Personal banking is a comfortable way to engage in financial operations, it does not contain major risks, it is an affordable way to use a bank account and you can easily save money using personal banking services. Convenience is the key when it comes to banking.
What types of personal banking are there?
Different types of personal banking include saving accounts, checking accounts, money market accounts, mortgage cards, and certificates of deposit (CDs). Personal banking software can also help you with mortgage loans, auto loans and overdraft lines of credit. Banking software makes banking processes way faster and more efficient.