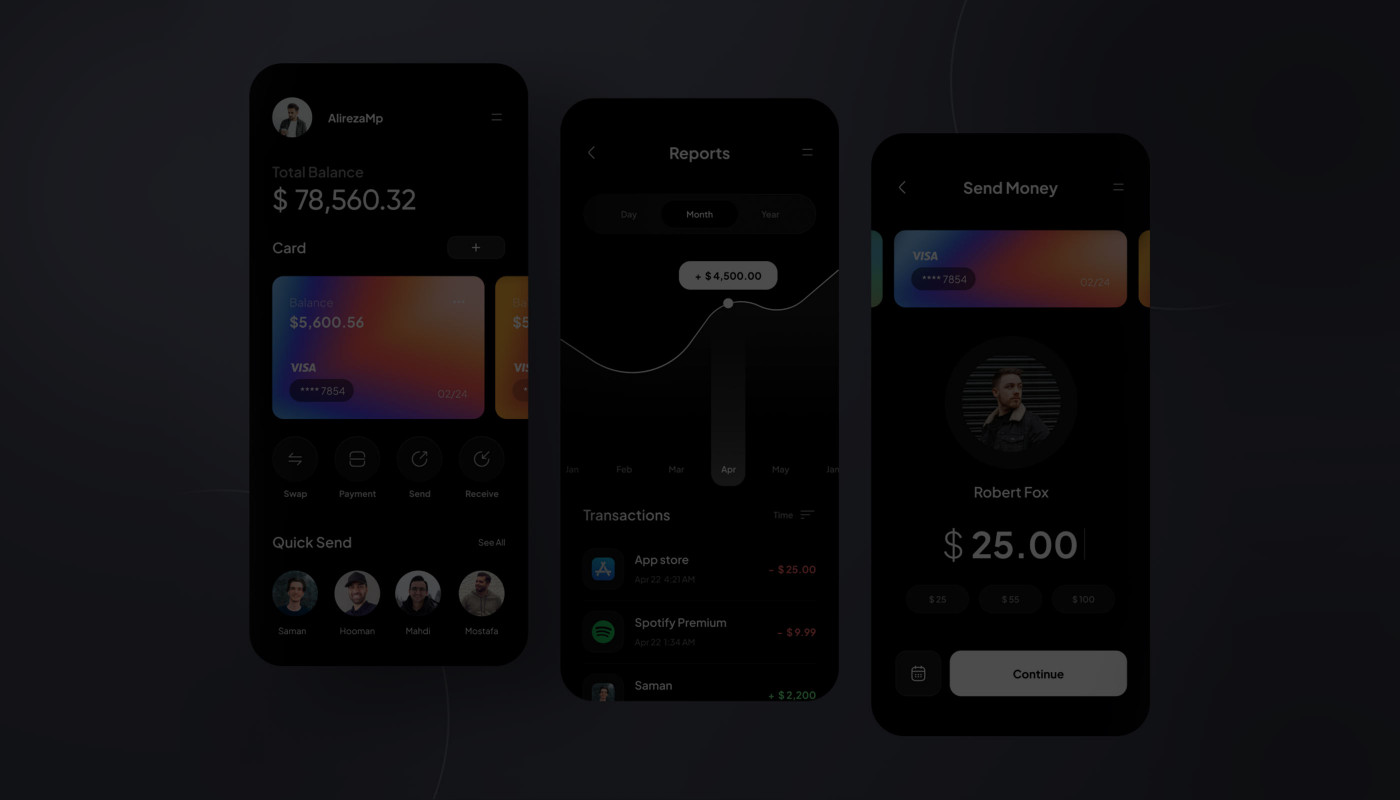 Personal Banking
Provide your customers with financial services to manage their money, have access to credit, and deposit their money in a secure manner.
What is personal banking?
Provide your bank customers with the opportunity to manage their financial assets on their own through their personal devices. We will create a secure digital solution inspired by the best practices of world leaders in the financial industry.
1. comprehensive solution
The WEZOM team will build a comprehensive personal banking solution for your customers.
Provision of tools for customers to analyze their financial status.
Ability for customers to complete transactions and other banking activities such as lending and opening new accounts.
Provision of technical support upon request for your personal banking services.
5. expand the functionality
Ability to expand the functionality of personal banking services as needed.
Personal banking app components
Below we will consider the main features that your custom personal banking additional services can be endowed with.
Tool for transactions
We will develop a completely secure money transfer tool so that your users can pay bills and goods from their personal devices.
Financial advice
Our specialists will create a tool for online interaction between your consultants and clients to reduce the workload of offline departments of your bank.
Tax management
Our team will build a convenient tool for calculating taxes and provide it with the functionality necessary for paying them online.
Customized services
We will help improve your organization's image by providing your clients with a wide range of customized online services.
Loan calculator
Our experts will simplify the lending process by making it possible to receive and issue loans through your online banking application.
Money box
We will provide your clients with the opportunity for long-term accumulation of funds through the automatic daily transfer of fixed money amounts to the money box.
Questions & Answers
Check out some of the most common questions asked by the clients
What is meant by personal banking?
Personal banking services refer to all the services companies in the banking sector offer to individuals rather than businesses. Among the examples of personal banking, there are checking and savings accounts, credit and debit cards, loans, and other services.
What are the benefits of personal banking?
Personal banking benefits include convenience, safety and security, an opportunity to save money, affordability, and an easy access to credit. Personal banking is a comfortable way to engage in financial operations, it does not contain major risks, it is an affordable way to use a bank account and you can easily save money using personal banking services. Convenience is the key when it comes to banking.
What types of personal banking are there?
Different types of personal banking include saving accounts, checking accounts, money market accounts, mortgage cards, and certificates of deposit (CDs). Personal banking software can also help you with mortgage loans, auto loans and overdraft lines of credit. Banking software makes banking processes way faster and more efficient.
Unlocking the Potential of Personal Banking: Empowering Customers with Advanced Software Solutions
Elevate Your Personal Banking Experience with Next-Generation Software Solutions
In the rapidly evolving landscape of personal banking, staying ahead requires leveraging innovative software solutions that optimize efficiency, enhance security, and deliver exceptional customer experiences. At Wezom, we specialize in providing cutting-edge technology that empowers individuals and financial institutions to streamline their personal banking processes and embrace the digital transformation.
Revolutionize Personal Banking with Tailored Software Solutions
Are you searching for ways to optimize your personal banking services and provide seamless digital experiences to your valued customers? Look no further! Our comprehensive software solutions are meticulously designed to address the unique challenges faced by the personal banking industry. Here's how our advanced technology can revolutionize your banking operations:
1. Streamlined Account Management and Robust Security Features
Our software solutions offer intuitive features for streamlined account management, enabling individuals to effortlessly monitor balances, track transactions, and manage their financial portfolios. With robust security measures, including cutting-edge encryption protocols and multi-factor authentication, we prioritize the protection of your customers' sensitive data.
2. Seamless Digital Banking Experience
Deliver a seamless digital banking experience that caters to the evolving expectations of today's tech-savvy customers. Our software empowers users to access their accounts anytime, anywhere through user-friendly web and mobile applications. From fund transfers to bill payments and account inquiries, our solutions simplify banking processes, offering convenience and control at your customers' fingertips.
3. Personalized Financial Planning Tools and Insights
Empower your customers to take charge of their financial futures with personalized financial planning tools. Our software solutions provide robust features such as budgeting, goal setting, and investment tracking, enabling individuals to make informed decisions and achieve their unique financial objectives. By offering these tailored tools, you can foster deeper customer engagement and build lasting relationships.
4. Advanced Fraud Detection and Prevention Mechanisms
Safeguard your customers and your institution from fraudulent activities with our advanced fraud detection and prevention mechanisms. Leveraging cutting-edge technologies, our software employs sophisticated algorithms and comprehensive transaction monitoring to identify and mitigate suspicious behavior proactively. Protect your customers' assets and maintain their trust in your institution.
5. Actionable Data Analytics and Intelligent Insights
Harness the power of data to gain actionable insights into customer behavior, preferences, and emerging trends. Our software solutions provide robust data analytics tools that enable you to uncover valuable intelligence, refine your marketing strategies, and deliver personalized banking experiences that resonate with your customers. Leverage data-driven decision-making to drive growth, enhance customer satisfaction, and stay ahead of the competition.
Partner with Wezom for Cutting-Edge Personal Banking Solutions
Embrace the digital transformation in personal banking with Wezom's innovative software solutions. Our advanced technology will revolutionize your operations, elevate customer experiences, and position your institution as a leader in the industry. Stay ahead of the competition and unlock the full potential of personal banking with our highly customizable software solutions.
Contact us today to schedule a consultation and discover how Wezom can transform your personal banking services into a seamless, secure, and customer-centric experience that sets you apart. Experience the future of personal banking with Wezom's advanced software solutions.