Wealth Management Services
We will create for you a digital solution that automates holistic financial advice to help your clients grow and protect their wealth.
What is wealth management?
Launch your own wealth management services to address the needs of affluent clients. We will build an effective wealth management strategy focused on a holistic view of a client's financial picture. Contact us to bring your business idea to life.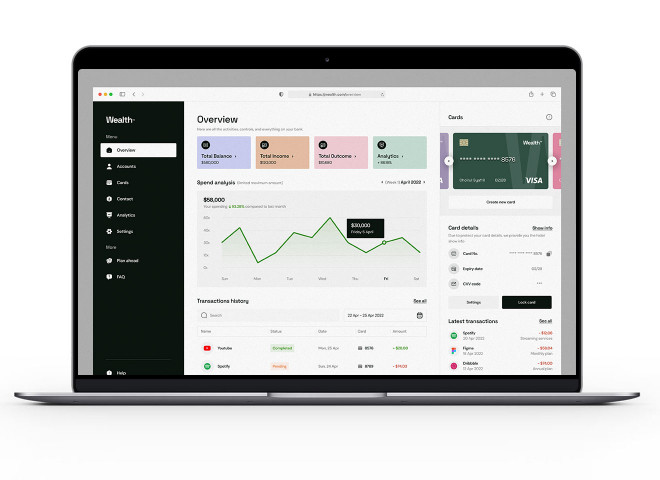 Creation of advanced wealth management software by our team.
Software designed to help achieve your most ambitious business goals.
Provision of necessary tech support services.
Ensuring timely updates of the software
Modernization of software functionality as needed.
Wealth management app components
Below we will explain what features the average wealth management solutions can have.
Net worth
We will connect to your project all the necessary data sources about your customers to speed up and optimize the procedure for calculating their net worth.
Investments
Our team will create a single digital investment management tool to make financial transactions more convenient than ever before.
Spendings
Our experts will save your users from misunderstanding where and what their money is spent on.
Budgets
Our team will help your customers to wisely plan their budget within what is permitted and, therefore, spend less.
Customer support
Our team will build an intelligent module for online support to speed up the processes of addressing your customers' issues
Loan planning
We will help your users plan their financial strategies by matching them to their credit prospects.
Questions & Answers
Check out some of the most common questions asked by the clients
What does wealth management do?
Wealth management services refer to the combination of financial planning and investment strategies. With the help of strategic wealth management, you can grow your wealth using easy and proven methods. Wealth management companies can help you with retirement planning, estate planning, and other goals as they use wealth management software to improve efficiency. Wealth management software is the best way to automate wealth management.
What are the different types of wealth management?
Wealth management services include asset allocation, financial management, estate planning, asset management, and more. Strategic wealth management can help you grow your wealth through strategic planning. Wealth management software can assist you in all of these aspects, and can also simplify mobile wealth management. Wealth management systems automate processes and reduce errors. A financial advisor can help you with wealth management, as well as with wealth management solutions.
What is the key objective in wealth management?
Wealth management is aimed at financial decisions based on a timeframe. Wealth management companies, as well as financial advisors, consider different financial aspects and use wealth management solutions when making decisions and setting goals. Software for wealth management helps make the process effective. With the help of a wealth management solution, you can make your goals more productive and achieve more.
SaaS: Shaping the Landscape of Wealth Management
In the rapidly transforming world of finance, wealth management has been significantly influenced by the rise of technology. Software as a Service (SaaS) has emerged as a key catalyst, offering robust, adaptable, and cost-effective solutions for wealth management firms.
SaaS: The Game-Changer in Wealth Management
SaaS for wealth management is a holistic digital solution that simplifies the complex processes involved in managing wealth. It provides a unified platform that allows wealth managers to effectively monitor, analyze, and manage their clients' portfolios. This innovative technology solution offers a range of features, from real-time data analytics to automated reporting, enabling wealth managers to make informed decisions and provide personalized services to their clients.
The inherent scalability of the SaaS model allows wealth management firms of all sizes to leverage advanced technology without a significant upfront investment. It offers flexibility, allowing firms to adjust their operations based on their needs. Moreover, with SaaS, firms can stay abreast of the latest technology advancements without worrying about maintenance or upgrades, as these are typically managed by the service provider.
The SaaS Advantage in Wealth Management
Streamlined Efficiency and Productivity
SaaS solutions automate routine tasks, freeing up wealth managers to focus on strategic decision-making and client relationship management. They offer integrated tools for portfolio management, risk assessment, and compliance, reducing the time and effort required to manage these aspects manually.
Enhanced Client Engagement
With SaaS, wealth managers can provide their clients with access to user-friendly digital platforms where they can view their portfolio performance, make transactions, and communicate with their advisors. This not only improves client engagement but also enhances transparency and trust.
Data Security and Compliance
SaaS providers typically have robust security measures in place to protect sensitive financial data. They also ensure that their solutions are compliant with the latest financial regulations, relieving wealth management firms of these responsibilities.
In conclusion, SaaS is revolutionizing the wealth management industry, offering firms a way to enhance their services, improve efficiency, and stay competitive in the digital age. As technology continues to evolve, the role of SaaS in wealth management is set to become even more significant.