Distribution needs ERP solutions. Processes, general performance, risk management – everything depends on these solutions and their potential to make the planning and optimization of resources more Basically, ERP software is one of the most prominent necessities in today's market.
Choosing the best software for your company is not easy, though. What are the parameters for choosing the best software? How do I make sure I include all of the functionality I need? What are the key moments I should remind myself of when choosing among different examples of such a solution?
The choice between ready-made and custom ERP solutions is a pivotal decision that can significantly impact the efficiency and success of operations. Ready-made solutions offer quicker implementation and cost savings, but they might not always align perfectly with the unique needs of a distribution business.
Let's have a look at the process of choice when it comes to an ERP system for your business, and some of the best solutions available.
Features to Look for in ERP for Distributors
Distribution businesses need a certain set of functions when it comes to ERP solutions, as not all the software examples present on the market cover different needs. As the distribution industry model itself may be quite complex, considering distribution ERP software features is a must. Also, the solutions themselves have different levels of complexity for different companies.
When choosing an ERP (Enterprise Resource Planning) system for distributors, it's essential to look for features that address the specific needs and challenges of the distribution industry.
Warehouse Management
With proper warehouse management in an ERP, you can get way more accurate inventory information. Which, in turn, will allow you to make wiser choices related to your warehousing and manage risks. Warehouse management features that may be present in ERP systems include:
picking procedures;
demand correlation;
slotting optimization;
shipping management;
kitting functions;
and so on.
Sales Order Management
In modern ERP solutions, there are features like sales order processing, sales order promising, and sales order reporting, that enable successful and effective sales order management.
By pulling data from omnichannel ordering tools, sales order management tools in distribution ERP software allow for automation of many processes, including order processing, sales analytics, and sales channel management.
Customer Relationship Management
When business owners have account, contact, and customer identifiers synced to their distribution ERP solutions, it can be very helpful for general performance. In addition to that, you can have greater customer satisfaction, as you can predict what will make customers happier and make your relationship stronger.
Inventory Management
Inventory management is as vital as other features. By integrating inventory data with other modules such as procurement, order fulfillment, and financials, the ERP facilitates real-time visibility into stock levels, supplier relationships, and order fulfillment timelines.
Top Ready-Made ERP Distribution Solutions
Let's discuss popular ready-made solutions that can cover the needs of different businesses in the sphere. As there is no one-size-fits-all solution, businesses need a range of software options available so they can choose a suitable one.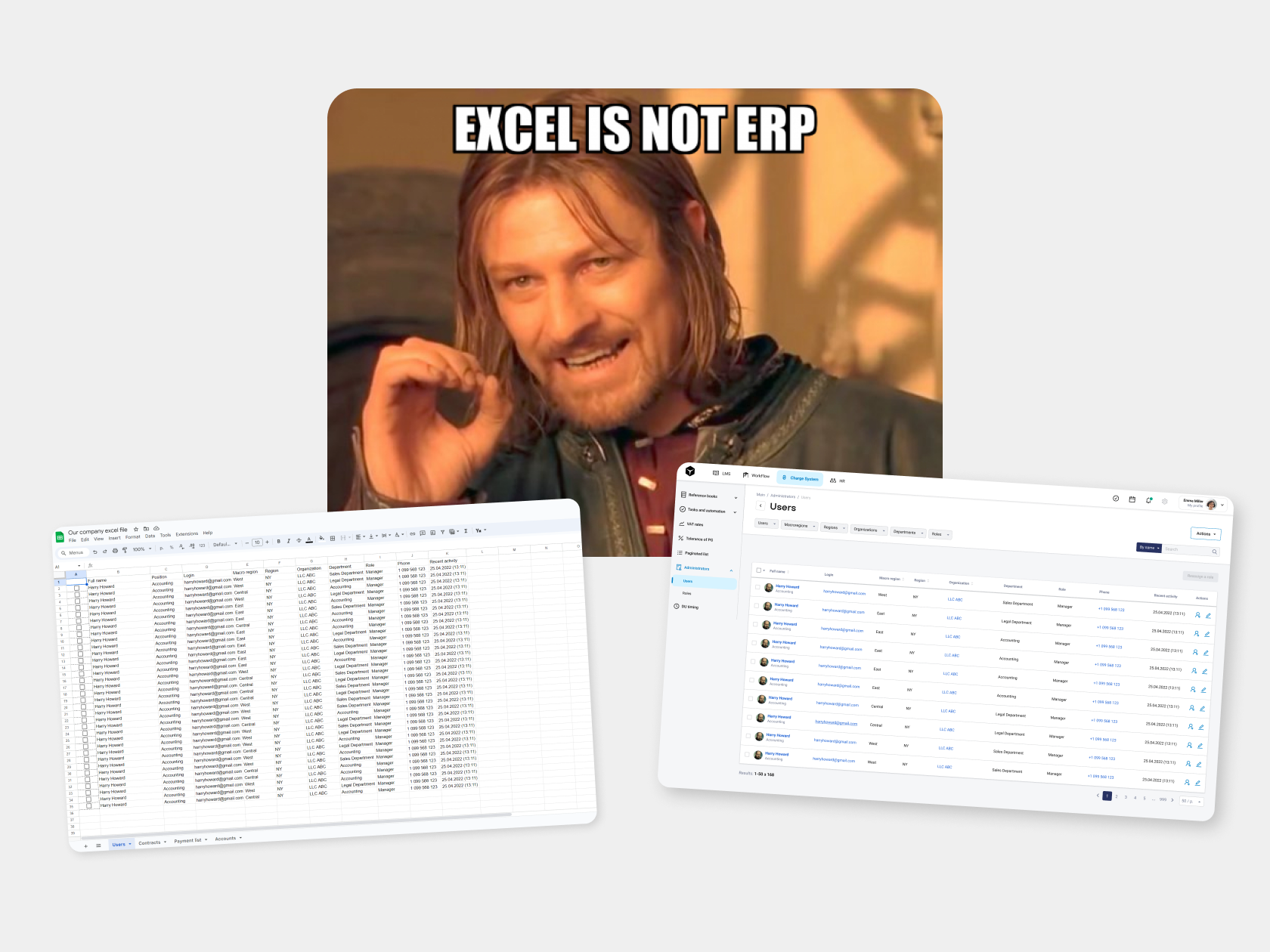 Your Excel Spreadsheet
While the appeal of using Excel templates lies in its cost-effectiveness – demanding no additional financial investment and leveraging an existing platform – it comes at a considerable cost to operational efficiency. The shortcomings manifest in the form of frequent errors and a notable deceleration of workflow processes. These issues will be explored more comprehensively in our article, which underscores the imperative for businesses to reevaluate their dependence on Excel spreadsheets.
Oracle Cloud ERP
A cloud-based SaaS suite called Oracle Cloud ERP will help you with the basic functionality of an ERP solution, namely accounting, project management, procurement, and other functions as well. The product runs on Oracle technology in Oracle cloud centers. It can be accessed through both public and private cloud implementations and supports hybrid deployment.
The modules that the Oracle ERP system consists of include:
Financials Cloud.
Project Portfolio Management Cloud.
Procurement cloud.
Risk Management Cloud.
SAP Business One
SAP ERP system is an excellent tool for distribution business owners. It collects all of the operations, financials, purchasing, sales, as well as CRM data, in one system. Also, in addition to that, you will have advanced reporting available. Some of the major clients of this ERP include Bosch Group and the Bank of China.
It is one of the most widely used and comprehensive ERP systems globally, designed to streamline and optimize business processes across various departments within an organization.
Microsoft Dynamics 365
Microsoft Dynamics 365 allows for higher efficiency, greater customer satisfaction, and flexibility, due to its different functions. This solution by Microsoft is one of the popular options on the market due to the potential to simplify processes without overpaying.
It is part of the larger Microsoft Dynamics product line, and it is designed to help organizations unify their business processes, improve customer engagement, and gain valuable insights from data.
Acumatica
This solution has a special edition dedicated to distribution, as well as features such as sales order, inventory, requisition, and purchase. Also, Acumatica allows for seamless planning and scheduling of warehousing processes.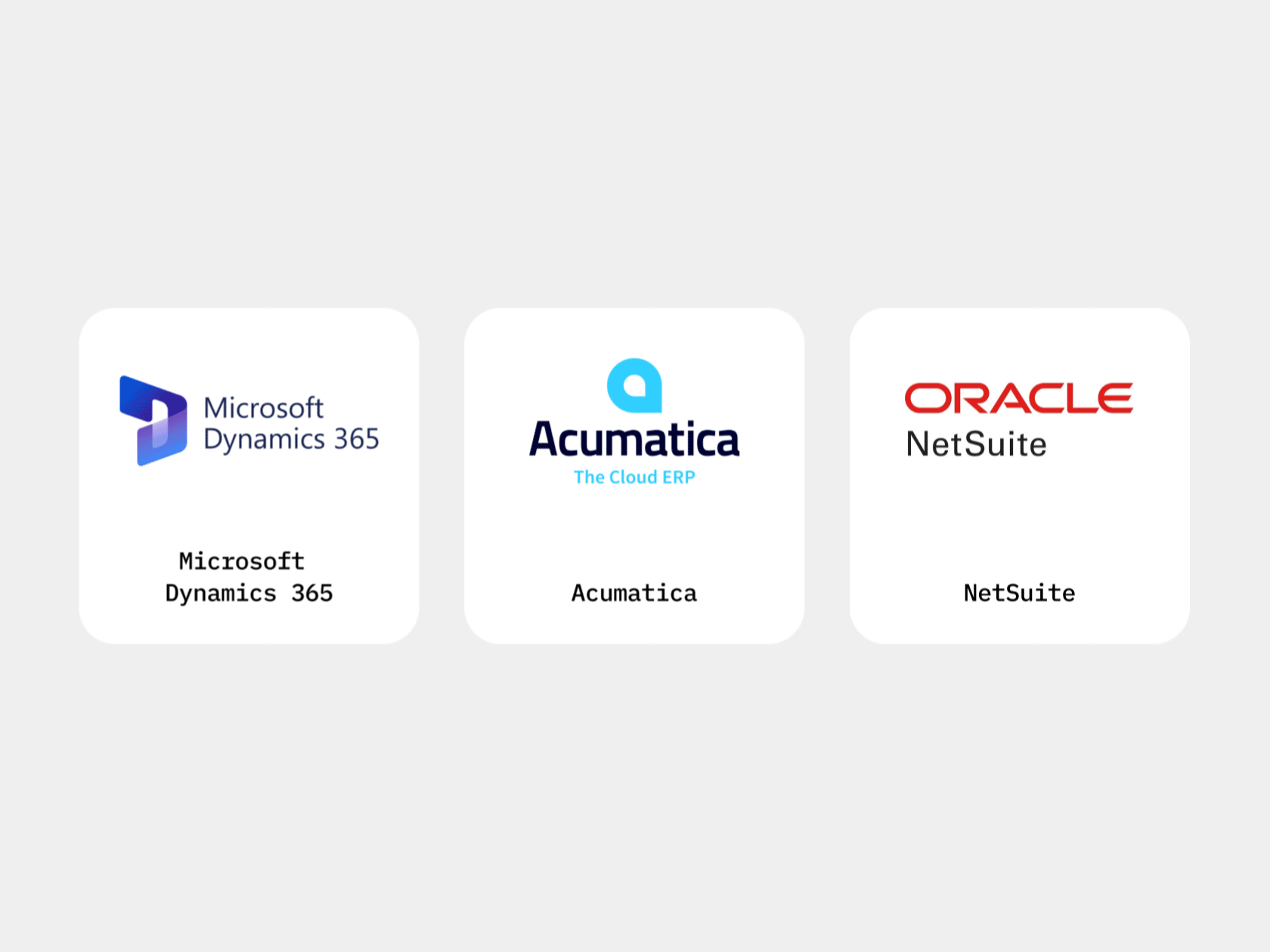 NetSuite
NetSuite is one of the leaders of the top ERP solutions list due to its capabilities to streamline areas like warehouse management and inventory planning. It also has a strong CRM component for optimizing processes. NetSuite's cloud-based nature offers the advantage of accessibility from any location with an internet connection. This scalability and flexibility make it suitable for businesses of various sizes and industries. Moreover, NetSuite is known for its regular updates and improvements, ensuring that users have access to the latest features and capabilities to meet evolving business needs.
Is Custom ERP The Best Option?
In some cases, the need for customized ERP software is more pronounced than in other ones. It's normal as customized ERP solutions have a substantial advantage: they allow for a more tailored approach to your company's needs in comparison to ready-made equivalents, but this is not the only detail to consider.
Custom ERP software for wholesale distributors is developed according to your needs and requirements, it has different functionality and potential for changing things that you want to change. However, there are cases when a ready-made option is needed so don't hesitate to contact WEZOM for a consultation about what is suitable in your individual case.
Advantages of Custom ERP Solutions
Since distribution businesses differ greatly in many ways, there is a need for different ERPs for distribution companies as well. Custom ones are well-known for their tailored way of covering users' demands, but this is not their only benefit. Here are some of the main benefits of these systems:
Custom ERPs are designed to meet the specific needs and requirements of a distribution business. This tailoring ensures that the system aligns perfectly with the unique processes, workflows, and challenges of the business, providing a more efficient and effective solution compared to generic off-the-shelf options.
By eliminating unnecessary features and focusing solely on the functionalities relevant to the distribution business, custom ERPs can significantly enhance operational efficiency.
Distribution businesses often experience growth and changes in their operations over time. Custom ERPs are built with scalability in mind, allowing them to adapt and expand along with the business.
Integration with Existing Systems.
Custom ERPs can be seamlessly integrated with existing systems, promoting a cohesive and interconnected IT environment. This integration helps streamline processes, reduce data silos, and provide a unified view of the entire business operation.
The integration of custom ERPs acts as a catalyst for organizational synergy, breaking down traditional barriers between disparate systems. This not only enhances operational efficiency but also lays the foundation for future scalability and adaptability, ensuring that the distribution business remains agile in a constantly evolving market landscape.
Custom ERPs are designed with the end-users in mind, considering their specific roles, preferences, and skill levels. This user-centric approach enhances user experience and makes the system more intuitive. As a result, employees are more likely to adopt the custom ERP with enthusiasm, leading to increased productivity and a smoother transition during the implementation phase.
Disadvantages of Custom ERP
While custom ERPs offer numerous benefits, they also come with potential disadvantages that should be carefully considered. One significant drawback is the high initial cost and time investment associated with development.
Building a custom ERP system tailored to the specific needs of a distribution business requires a substantial financial commitment and can take a considerable amount of time before it becomes fully operational. Moreover, ongoing maintenance and updates may also incur additional costs.
Another challenge is finding and retaining skilled IT professionals who can design, implement, and support the custom ERP. There is also a risk of over-customization, where the system becomes too intricate and may pose difficulties in adapting to future changes or integrating with new technologies.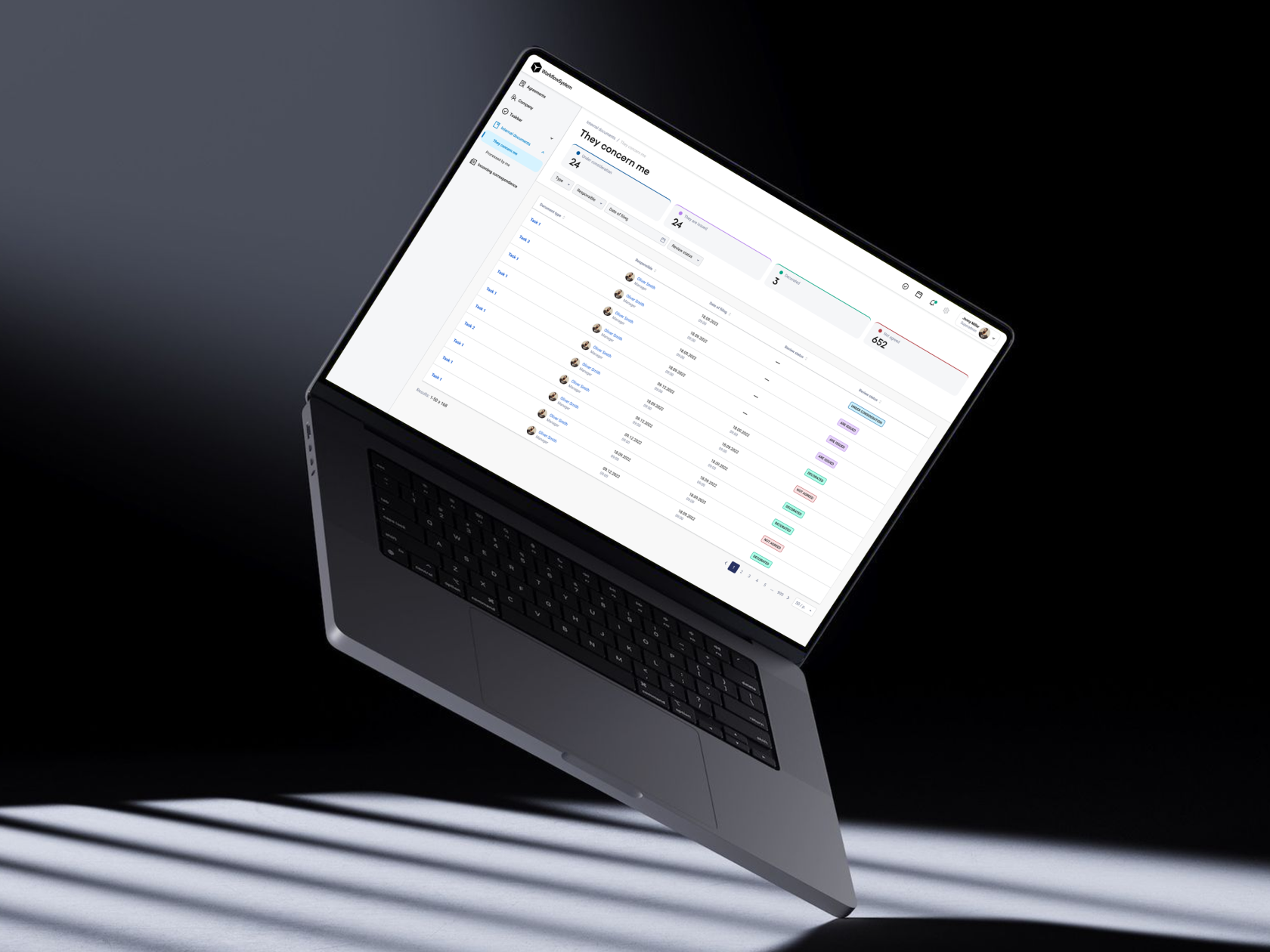 Our Experience
WEZOM also has experience in creating custom ERP solutions which we would like to share with those who need information about it. In a particular case, we created an example of ERP software for oil and gas. The development was quite complex, but, with the help of a dedicated team, we successfully built a custom ERP system for oil and gas.
The tech stack included:
Elasticsearch
Redis (cache/queue)
Java 11+
Spring
GraphQL
and more technologies, whereas in this case, we also integrated a range of services with the help of API, including:
Internal Revenue Service (IRS)
DocuSign
QuickBooks
FedEx.
What To Choose: Custom ERP or Ready-Made Solution?
This choice – whether you need to choose a ready-made, custom, or customizable ERP, may be quite difficult, but there is a clear need to choose if you have even the slightest doubt that the ERP for distribution businesses covers your needs.
Choosing between a custom ERP (Enterprise Resource Planning) system and a ready-made solution involves careful consideration of various factors, each with its own set of advantages and disadvantages. The decision ultimately depends on the specific needs, goals, and resources of your business.
Although it usually depends on the specific case, you can always consult WEZOM for further information. Our specialists know a great deal of practical information with concrete details that will help you to make a wise decision for the maximum performance of your distribution business.
Conclusion
It is vital to make your choice of software wise and practical, as software may be the core of many different processes that are equally important for your general success. In the case of ERP solutions, it is all about the resources. However, many solutions that are present on the market are not suitable for different companies' needs. This is where the need for a custom solution emerges.
So make sure you choose according to your situation, as custom development gives you advantages such as flexibility and an individual approach. Also, custom development of ERP for the distribution industry is handy when you need details included. And, finally, you need to consider whether you should stick to a ready-made solution or a custom one if you have certain goals in mind. However, thorough research and careful consideration of different systems' strengths and weaknesses will solve your problems.
So trust innovative solutions, invest in reliable solutions, and prioritize software that allows you to grow and progress.
Interested in a Custom ERP Solution for your Business?
Choose our ERP software company and receive complete automation of your digital and offline workflows!
How do you rate this article?