Mobile app market mortgage calculator
Simplify the procedure of mortgage calculation with your own digital solution and provide the best customer service even at a distance.
What is a mobile app market mortgage calculator?
Simplify and automate the mortgage estimation process for your customers with a mobile mortgage calculator – expand the self-service opportunities for your real estate business with the WEZOM team.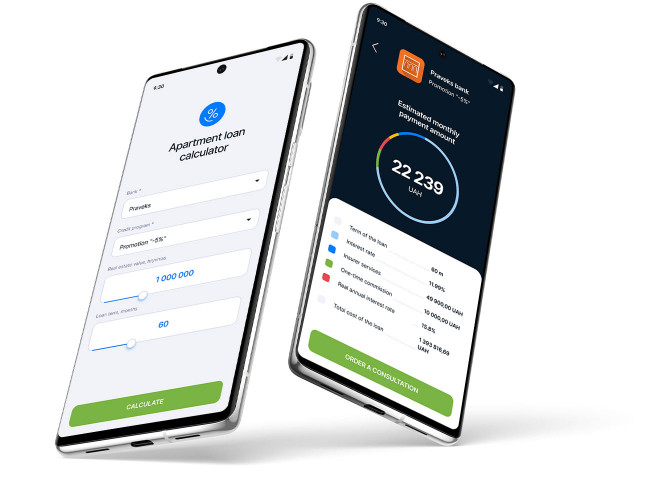 Eliminate the burden of trivial tasks like calculating mortgages from your employees.
2. Calculations by customers
Allow customers to perform these calculations themselves.
Creation of an intuitive solution for mortgage calculations.
4. calculate in a few clicks
Ability to calculate mortgage payments in a few clicks.
Helps customers determine their payments before they contact your business.
Mobile app market mortgage calculator modules
Here is the basic functionality of the market mortgage calculator that we implement. We can also add other features upon your request.
Payment breakdown
Help your customers calculate their monthly mortgage payment and understand what it includes.
Current mortgage rates
Invite your clients to find out what real estate rates banks offer in their locations.
Amortization
Let your customers figure out how to pay off the debt over time in equal installments.
Taxes, insurance, HOA fees
Expand the basic functionality of your calculator with additional options that will make it even more convenient.
Questions & Answers
Check out some of the most common questions asked by the clients
What is a mobile app market mortgage calculator?
A mobile app market mortgage calculator is an online application in the form of a calculator that is able to calculate mortgages. A mortgage market calculator is able to calculate mortgages and show you how much money you can borrow, and what deposit you will need and show you if you are overpaying.
Who needs a mobile app market mortgage calculator?
A mobile app market mortgage calculator can be helpful for those seeking a mortgage calculator for professional needs or for those interested in details about possible mortgages, deposits, mortgage rates, and other aspects. This tool can easily provide you with all the necessary information regarding mortgages, payments calculation, mortgage rates, and loans.
How much does the mobile app market mortgage calculator development cost?
The overall price of mortgage market calculator development depends on the complexity of the applications and the set of functions you want to include. A commercial mortgage calculator will typically cost you about $1000 a year, but the fewer functions are included, the more affordable the application is.
Streamlining Mortgage Calculations with Mobile Technology
In the era of digital convenience, why should calculating a mortgage be any different? Our custom mobile app brings mortgage calculations to the palm of your hand. No longer will your employees be burdened with trivial tasks like calculating mortgages. Instead, empower your customers to do it themselves.
User-friendly and Intuitive Design
Our mobile app boasts an intuitive design that makes calculating mortgages a breeze. With just a few taps on the screen, your customers can determine their mortgage payments, providing them with valuable insight before they even contact your business. This user-friendly solution enhances customer experience and boosts your business's efficiency.
Tailored to Your Needs
We understand that every business has unique needs. Therefore, our custom mobile app is designed to cater to your specific requirements. Whether you need advanced features or simple functionality, we can create a mortgage calculator that perfectly aligns with your business model.
Stay Ahead in the Competitive Market
In the fast-paced world of real estate, you need an edge to stay ahead of the competition. Our custom mobile app market mortgage calculator offers you just that. It not only simplifies mortgage calculations for your customers but also streamlines your operations, making your business more competitive.
Invest in the Future of Real Estate
Join the digital revolution and redefine the way your customers calculate mortgages. Invest in our custom mobile app and let technology do the work for you. Transform your real estate business today with a tool that's as forward-thinking as you are.