Frontend developement
We use the most popular frontend frameworks like React.js, Vue.js, and Angular that enable us to create the surface layer of your product.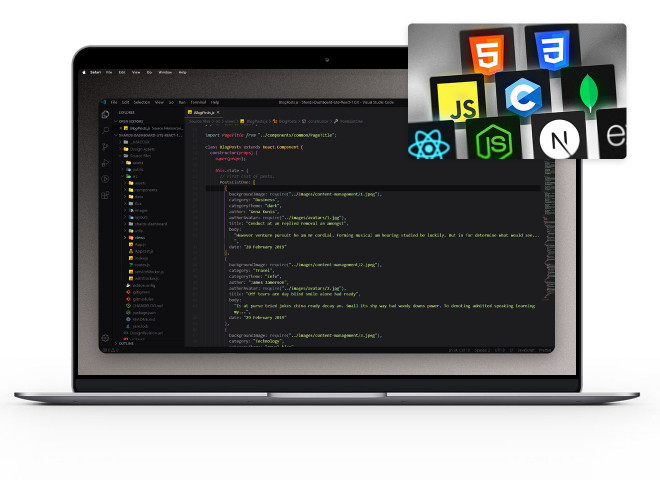 USER-DRIVEN OUTCOMES
Meet the user's needs and expectations with intuitive web interfaces.
FAST RESPONDING FEATURES
Get a quickly reacting application powered by the latest frameworks.
HIGH-SCALABLE APPS
Get ready for growth and easily manage numerous user engagements at the same time.
EFFECTIVE BRANDING
Build a strong brand with custom front-end development services.
Start cooperation with our frontend development company to create an excellent client-side for your digital solution.
Security and reliability
Impressive UI/UX
Using trending technologies
Transparent process
On-time delivery
Stable code
Custom development
Web Platform
Database
Cloud & DevOps
Mobile apps
Questions & Answers
Check out some of the most common questions asked by the clients
What are frontend technologies?
The term "frontend technologies" refers to the set of technologies that are used in frontend development and constitute what we see as the visitors of a website, or as the end-user of a mobile app.
What is the most popular front end?
Among some of the most popular frontend frameworks, there are React, Angular, and Vue. These frameworks are some of the tops and this is not by accident.
What are front-end development services?
Frontend development services for an app or a website, are commonly referred to as web development. Front-end developers that specialize in frontend web development services have strong skills that help build products like PWAs or any other idea dependent on web technologies
Choose us to create an excellent UI
Order our frontend development services to create a custom solution for the client side of your digital project and thus, achieve its high competitiveness. We will make sure that your project is completed within clearly defined time frames and at the same time ensure its cost-effectiveness.