Product to market launch service
The product launch is a crucial stage in the product roadmap. Ensure your launch is a success by having the right strategy in place.
We will help you
Not only the development of a software product, but also its launch on the market. We will support you at all stages for the success of your product.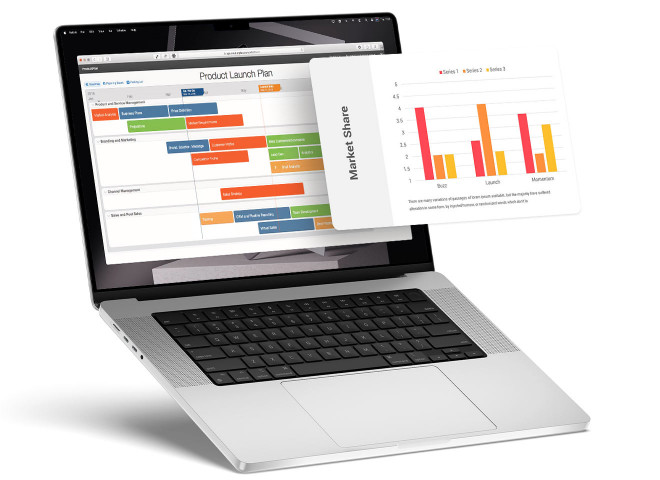 Cost-efficiency
We will ensure that your solution is delivered on time, which means you will not face extra costs due to a delayed release.
Fast product launch
Our experts will select the best strategy for implementing your solution to accelerate its launch to the market.
Constant product optimization
Our experts will plan the development process so that it is improved not only at the final stages but throughout the entire life cycle.
Reduced development time
We will speed up and optimize the process of product implementation so that you can reduce development costs.
Achieving long-term business goals
Our experts will turn your business goals into project specifications so that it brings you the desired level of income.
Lightning-fast maintenance and support
We will provide you with technical support for your project so that you do not face costly downtime.
Build a successful product launch plan with us to ensure its quick payback.
Lightning-fast maintenance and support
Achieving long-term business goals
Reduced development time
Constant product optimization
Fast product launch
Cost-efficiency
Lightning-fast maintenance and support
Web Platform
Database
Cloud & DevOps
Mobile apps
Questions & Answers
Check out some of the most common questions asked by the clients
What is the product launch process?
The product launch process refers to the procedure of launching a product that includes several obligatory steps. A new product launch process is a stepwise process followed by companies when they want to launch their product in the market using product launch strategies. A successful product launch process requires careful planning and has to be carried out systematically to ensure that customers receive the product positively.
What are the three types of product launches?
The three most popular types of product launches include: - Breaking ground. - Brand Extension and Expansion. - Conquering New Territory. Whether it's the company's first launch or its hundredth, unpacking these differences and tailoring each launch accordingly is critical in driving the launch's success.
What are the stages of a product launch?
●Pre-launch: This phase involves market research, product development, testing, and creating marketing strategies to generate buzz and build anticipation. ●Launch: The actual release of the product, including marketing campaigns, distribution, and sales efforts to reach the target audience. ●Post-launch: Monitoring customer feedback, analyzing sales data, gathering insights, and making necessary adjustments to ensure ongoing success and growth of the product in the market.
Choose WEZOM to speed up the launch of your project
Tell us about your business idea and we will build a go to market strategy for product launch at a reasonable price.